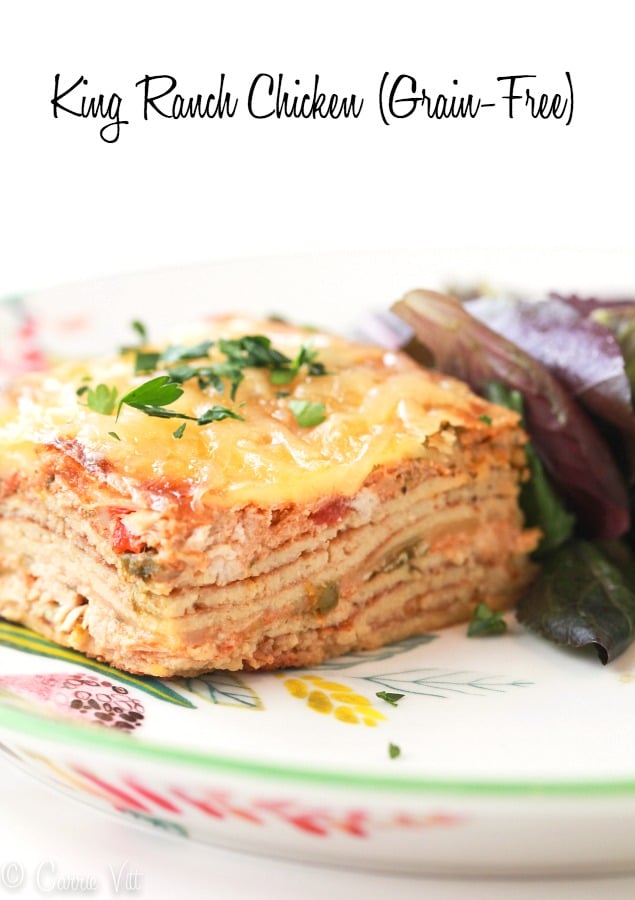 I have fond memories of devouring King Ranch Chicken at potlucks and family gatherings when I was a kid. For Texans, it's Tex-Mex laid out in a casserole full of spiciness, creaminess and chicken.
Traditionally, corn tortillas get layered between the creamy chicken layers, but I used my grain-free crepes instead. If you can tolerate soaked corn tortillas, you're welcome to substitute those for the crepes in this dish.
The casserole freezes and reheats well and makes enough to feed a large group. Because there is a bit of hands-on work for this recipe, I recommend cooking the chicken and making the crepes the day before. Then assembling the casserole won't take as much time on the day you'd like to serve it.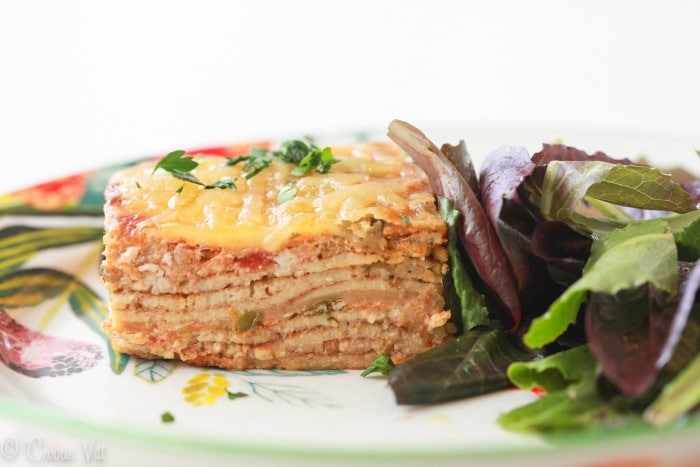 I also have a fun offer to share with you!
As I've mentioned before, I purchase most of my pantry staples at Thrive Market (think Costco and Whole Foods combined). They've made organic, real food more affordable for my family. I can stock up on my favorite pantry staples, supplements, and bath and body products and save 25-50% off retail. Plus, I can do most of my grocery shopping on my computer and have it shipped to my front door. So, I've partnered with them to bring you some free pantry staples!
If you place a $50 or more order, you'll receive one of the following free gifts:
And, if you're a first time customer, you'll receive an additional 15% off your order!
I know many of you are already Thrive customers, so here's your chance to grab a free gift of your choice before supplies run out!
King Ranch Chicken (Grain-Free)
Adapted from Southern Living
1 hrPrep Time
1 hrCook Time
2 hrTotal Time
Ingredients
3 tablespoons butter or ghee
1 large yellow onion, chopped
1 large red bell pepper, chopped
2 medium poblano peppers, seeded and chopped
1 jalapeño pepper, seeded and chopped
2 cloves garlic, chopped
1 tablespoon chili powder
1 tablespoon ground cumin
1 teaspoon Celtic sea salt
1 tablespoon coconut flour
1 3/4 cups chicken stock or bone broth
1 1/2 cups crushed tomatoes
4 ounces diced green chilis
1 1/2 cups sour cream
5 cups shredded chicken
1 cup fresh cilantro, chopped
4 cups Cheddar cheese, grated
16 grain-free crepe or Siete tortillas
Instructions
Preheat the oven to 375º F and adjust the rack to the middle position. Melt the butter in a large skillet over medium heat. Add the onion, bell pepper, poblanos and jalapeño to the pan. Cook for about 8-10 minutes, until softened. Stir in the garlic, chili powder, cumin, and salt and cook for 1 minute.
Sprinkle the coconut flour over the vegetable mixture and cook for 1 minute while stirring continuously. Stir in the stock and bring to a simmer. Simmer for 4 minutes. Remove from the heat and stir in the tomatoes, chilis and sour cream.
Place the chicken and cilantro in a large bowl. Pour the vegetable mixture over top and stir until combined.
Place 8 crepes on the bottom of a 13x9 - inch buttered casserole dish . Top the crepes with half of the chicken mixture and then half of the cheese. Repeat with remaining ingredients. Bake for 45-50 minutes until cheese is bubbly and the edges of the casserole are just turning golden brown. Let stand 10 minutes before serving.
7.8.1.2
3724
https://deliciouslyorganic.net/king-ranch-chicken-grain-free/
Copyright 2016 Deliciously Organic