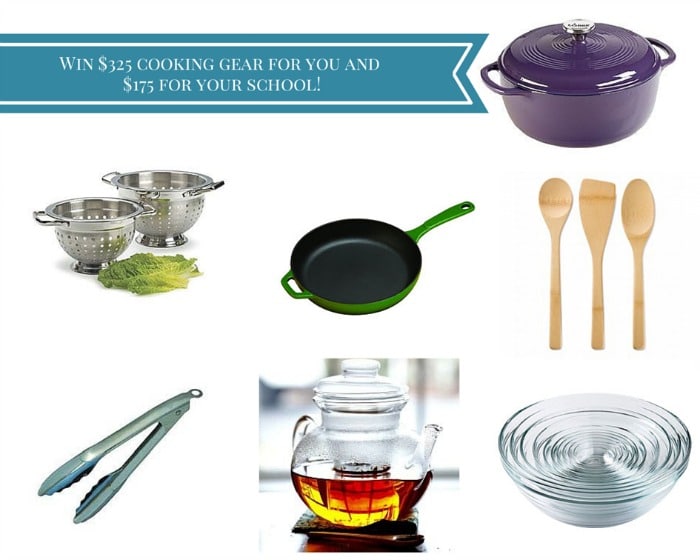 Here at Deliciously Organic, we're counting down to the release of my cookbook on Tuesday and I've partnered with Mighty Nest to bring you some great celebratory giveaways! And, don't forget to take advantage of the cookbook preorder bonus. The offer expires on Monday!
As you know, I love the products from Mighty Nest because they're free of known toxic ingredients like BPA, PVC, phthalates, lead, formaldehyde, flame retardants, parabens and others. Plus, they donate a very generous amount of 15% of each order to the school of your choice! Anytime I need something for my kitchen (especially school lunches), I order from them so I can also support my school!

Today – with the countdown at 5 days before release – we're giving away a collection of my favorite healthy cookware from Mighty Nest valued at $325 plus $175 for your designated school!
Bamboo Kitchen Utensil Set (great utensils make a huge difference in your cooking)
20 Piece Stackable Glass Bowl Set (I use these every day in the kitchen!)
Locking Tongs (I have 3 pair of these and always feel like I could use another pair)
Glass Tea Pot (I love this pot! It's so pretty!)
Stainless Steel Colander (this one will last you a lifetime!)
Colored Enameled Cast Iron 11″ Skillet (choose from green or blue)
Color Enamel Cast Iron Dutch Oven (such a beauty and a piece you'll use day after day in your kitchen!)
Click the blue button below to enter. Good luck!