Peach Galette is an open-faced rustic peach pie and is a fabulous end to a summer meal!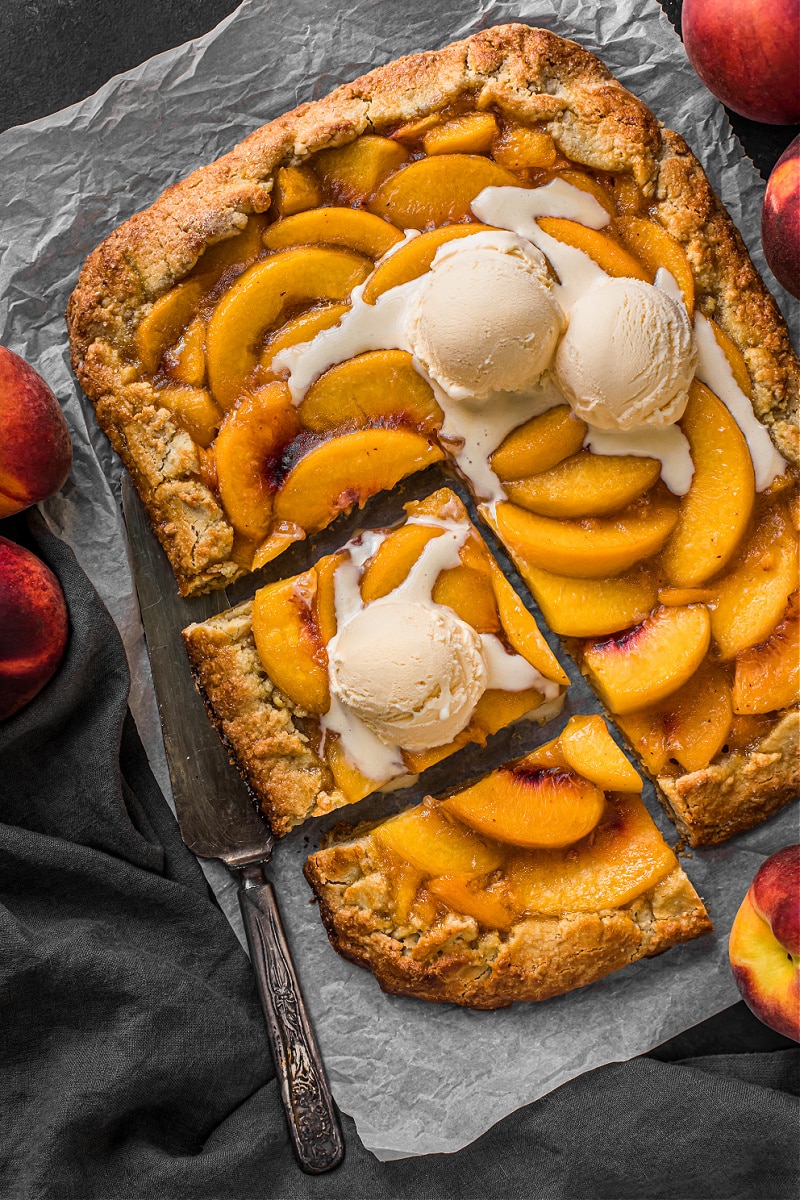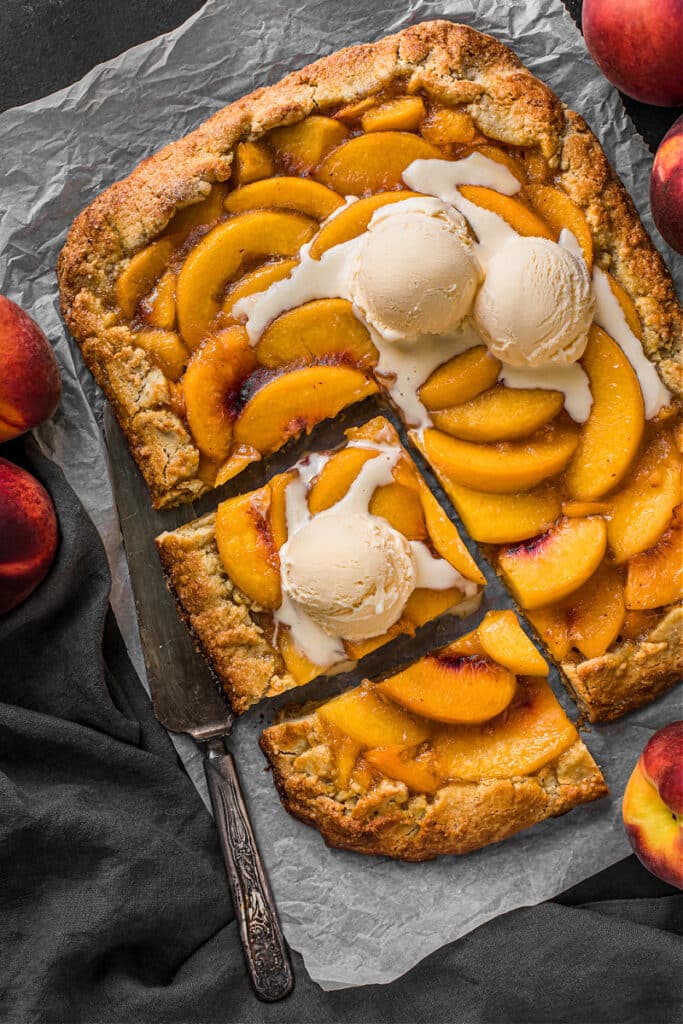 I love making a galette because has all of the elements of pie, but it's much less fussy, there's no par-baking and it bakes in much less time.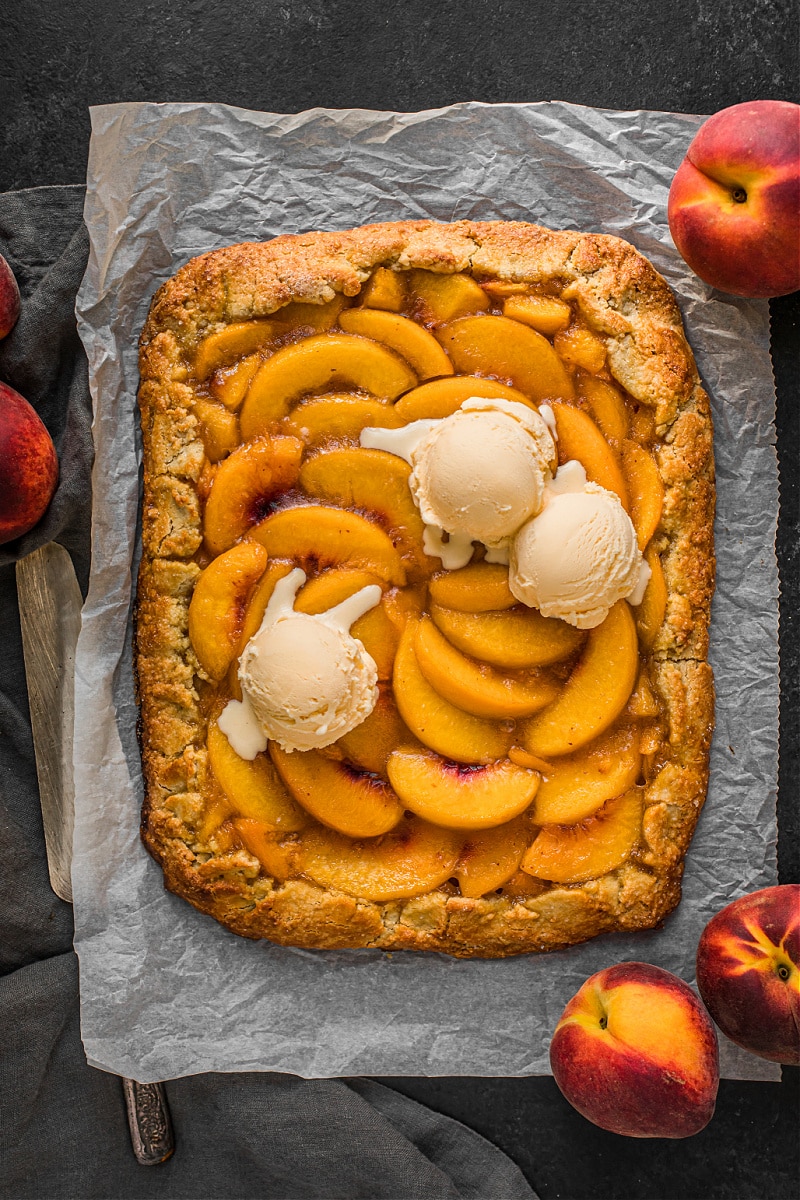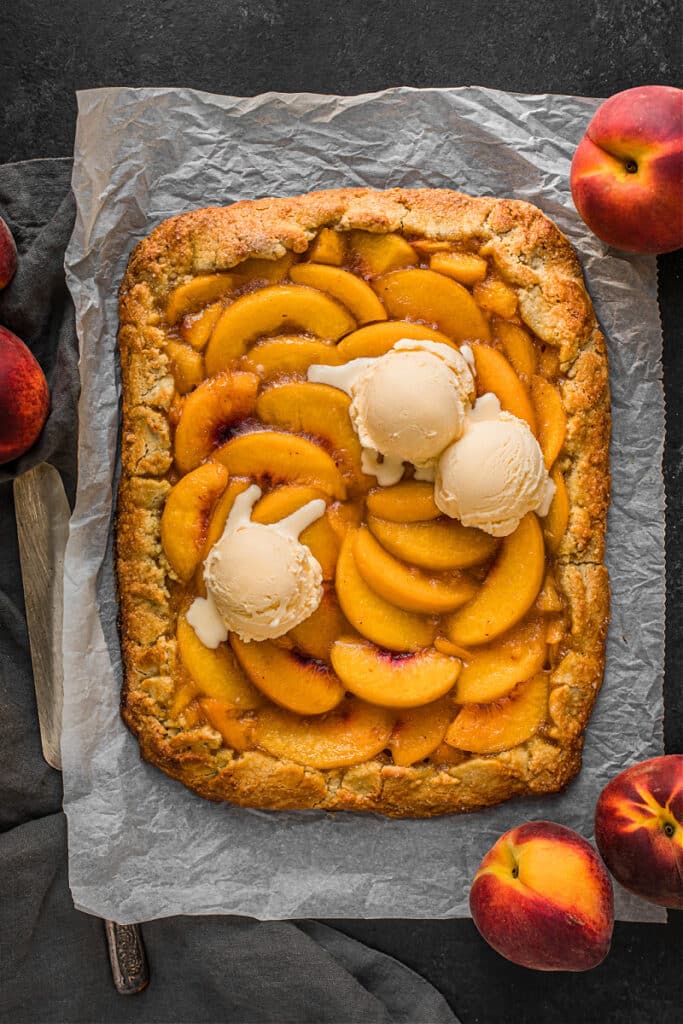 For this peach galette, you can use frozen and thawed peaches or fresh, depending on what you have on hand.
You can serve with vanilla ice cream, whipped cream or cream fraiche. A bit of almond extract and honey whipped into some raw cream would definitely take this dessert to the next level!
I also have a Salted Butter Apple Galette that you should try when the fall comes. It's so much easier to make than an apple pie!
Print
Peach Galette
Author: Carrie Vitt
Prep Time:

1 hour 45 minutes

Cook Time:

30 minutes

Total Time:

2 hours 15 minutes

Yield:

1 galette
For the crust:
For the Peaches:
2

(10oz.) bags frozen peaches, thawed (or

5

ripe peaches, pitted, skins removed and slices)

1/4 cup

organic cane sugar

1/3 cup

apricot jam

1/2 teaspoon

almond extract

1 teaspoon

vanilla extract

1 1/2 tablespoons

tapioca flour|https://amzn.to/3dbBU4D]

1 teaspoon

lemon juice
For the topping:
1

egg

1 tablespoon

organic cane sugar
Instructions
Place the almond flour, tapioca flour, arrowroot flour, coconut sugar and sea salt in the bowl of a food processor. Pulse 8-10 times to blend. Add the butter and pulse for 8 one-second pulses. Add the egg and process until the crust comes together into a cohesive ball. Place the dough on a large piece of plastic wrap. Form the dough into a 9-inch disk, wrap and place in the refrigerator for 30 minutes.
Preheat the oven to 350ºF and adjust the rack to the middle position.
Place the peaches and sugar in a bowl, stir to combine and leave at room temperature for 1 hour. Reserve 1 tablespoon of the juices and then drain (you can use the excess peach juices in lemonade, or combine with sparkling water for a fun drink). Add the jam, extracts, tapioca, lemon juice and 1 tablespoon reserved peach juice to the drained peaches and stir to combine.
Roll the dough on a piece of unbleached payment paper into a rough 14×10" rectangle about 1/4" thick. Transfer the crust to a large baking sheet.
Arrange the peaches on top, spreading them out evenly, leaving a 1½" border. Gently, lift edges of the dough over peaches, tucking and overlapping as needed to keep rectangular shape. If the dough breaks, use your fingers to pinch the dough back together.
Beat the egg with 1 teaspoon of water in a small bowl and brush the crust with egg wash. Sprinkle the entire galette with the tablespoon of sugar. Bake until crust is golden brown, 30-35 minutes. Let cool slightly on baking sheet before slicing. The galette is best eaten the day it is baked.