There's nothing more fun than ending a meal with a skillet chocolate chip cookie topped with vanilla ice cream!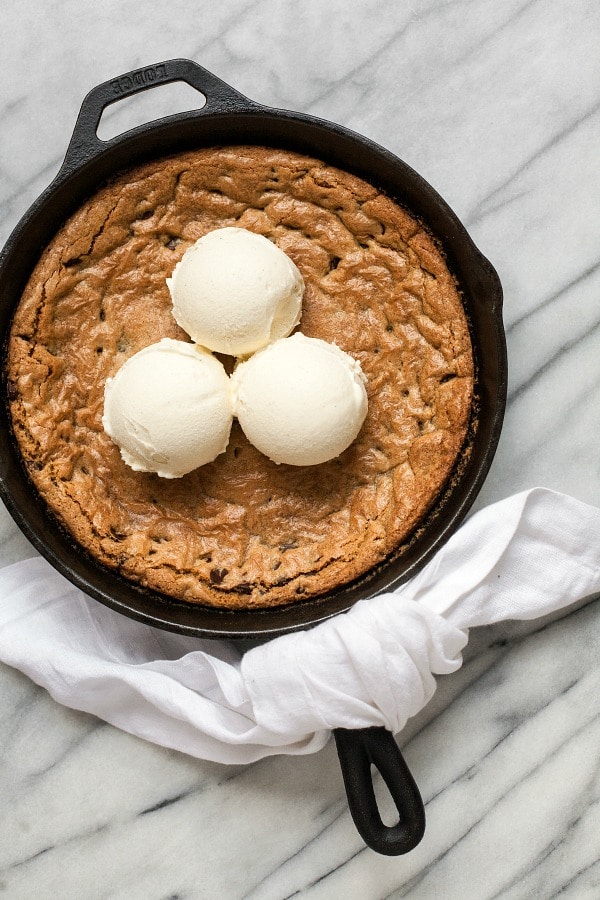 In this recipe, the butter is browned to give it a nutty, deep flavor, and I kept with nut-free and egg-free ingredients, so more of you could enjoy this dessert.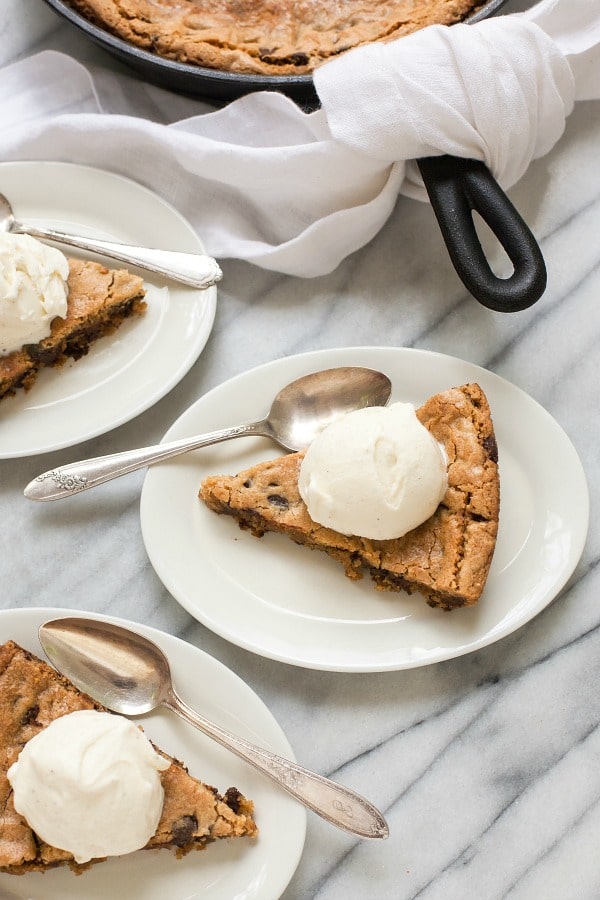 The cookie is crisp on the edges and chewy in the center. It's a fun dessert for a special celebration or to finish out a comforting family dinner.
Print
Skillet Chocolate Chip Cookie (Grain-Free, Gluten-Free, Egg-Free)
12 tablespoons

unsalted butter

3/4 cup

organic brown sugar or muscovado

1/4 cup

coconut sugar or maple sugar

2 teaspoons

vanilla extract

1 teaspoon

Celtic sea salt

2 1/4 teaspoons

unflavored grass-fed gelatin, divided

5 tablespoons

boiling water

1/2 cup

plus 2 tablespoons coconut flour

1/2 cup

plus 1 tablespoon arrowroot flour

1/2 cup

plus 1 tablespoon tapioca flour

1/2 teaspoon

baking soda
Instructions
Preheat the oven to 375ºF and adjust the rack to the middle position. Melt 9 tablespoons of the butter in a 12-inch cast-iron skillet (or enameled cast iron like Le Creuset or Lodge) over medium heat, stirring constantly until the butter is dark golden brown, has a nutty aroma, and foaming subsides, about 5 minutes. Pour the browned butter into a large bowl and add the remaining 3 tablespoons of butter into the hot butter and stir until melted.
Whisk the sugars, vanilla and salt into the melted butter until smooth.
Place 1 3/4 teaspoons of gelatin into a measuring cup. Add 5 tablespoons of boiling water and immediately blend with an immersion blender for 30 seconds until frothy. Pour the gelatin mixture into the butter mixture and whisk for 30 seconds. Let the mixture sit for 3 minutes and then whisk again for 30 seconds. Repeat the process of resting and whisking 2 more times until the mixture is thick, smooth and shiny.
Whisk the coconut flour, arrowroot flour, tapioca flour, baking soda and remaining 1/2 teaspoon of gelatin in a small bowl. Add the flour mixture to the butter mixture and stir until combined, about 1 minute. Stir in the chocolate chips and make sure there aren't any flour pockets remaining.
Pour the dough into the now-empty skillet and using a spatula, spread the dough evenly on the bottom of the pan. Bake for 20 minutes, until cookie is golden brown and edges are set. Cool for 30 minutes. Slice into wedges and serve with vanilla ice cream.
Notes
I only test the recipes on my site with the listed ingredients and measurements. If you would like to try a substitution, you are welcome to share what you used and how it turned out in the comments below. Thanks!
Photos by Becky Winkler