Twice Baked Spinach Potatoes has been a staple recipe in my kitchen for many years. They contain healthy complex carbohydrates, healthy fats and a bit of greens to round things out.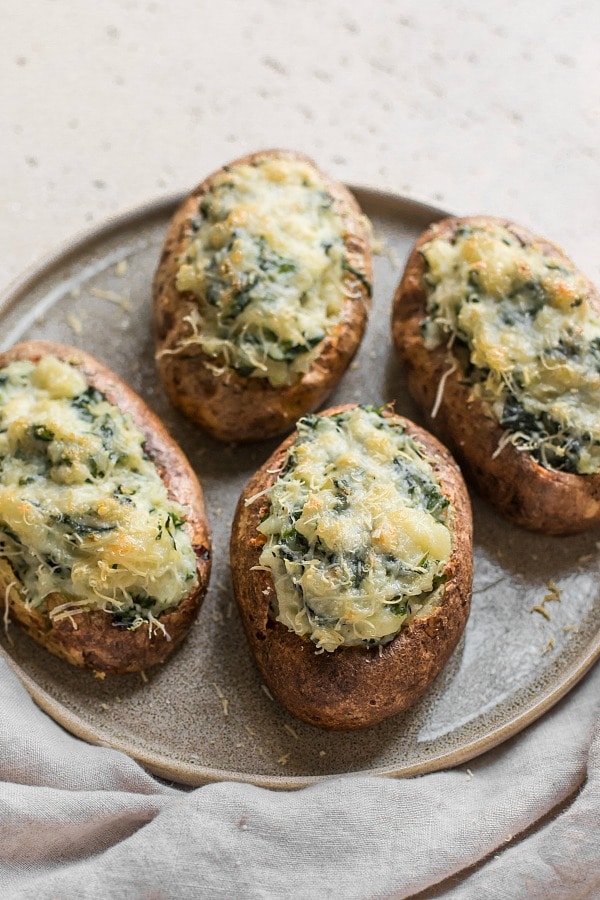 While the current trend is to be super low-carb, I don't recommend that kind of diet if you have thyroid hormone imbalance. The adrenals need the carbohydrates to function properly and the liver needs the glucose so it can properly convert Ft4 to Ft3.
Eating a diet that is too low in carbs can cause further thyroid hormone imbalance, so I recommend getting around 100g of complex carbs daily.
Here's a short list of healthy complex carbs:
Leafy Greens
Broccoli
Cauliflower
Peas
Legumes (soaked)
Lentils (soaked)
Grains (soaked)
Potatoes (all kinds)
Root vegetables
Carrots
Plantains
Asparagus
Bell peppers
Tomatoes
Eggplant
Zucchini
Leeks
Beets
Berries
Of course, always make sure to eat your complex carbs with plenty of healthy fats such as butter or ghee!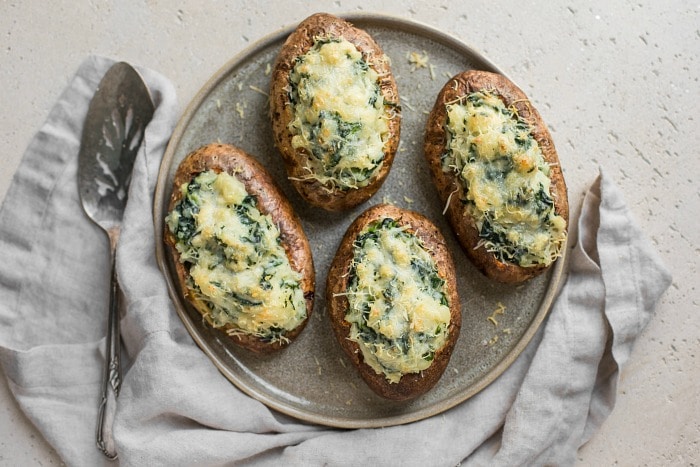 And, these twice-baked potatoes freeze very well! To reheat, place in a 420ºF oven for about 45 minutes until hot.
Print
Twice Baked Spinach Potatoes
Prep Time:

15 minutes

Cook Time:

1 hour 20 minutes

Total Time:

1 hour 35 minutes
4

baking potatoes, cleaned and dried

1 tablespoon

ghee, melted
Celtic sea salt for sprinkling

1/2 cup

butter, softened

1/2 teaspoon

fresh dill, chopped

1/4 cup

milk

1/4 cup

cream

1/4 teaspoon

freshly cracked pepper

1 teaspoon

sea salt

1 tablespoon

sour cream

6 cups

spinach, cooked down and excess liquid squeezed out (or

1

package of frozen chopped spinach, thawed)

1/2 cup

parmesan cheese, grated
Instructions
Preheat oven to 400° F and adjust rack to middle position. Generously oil skins of potatoes with one tablespoon ghee and sprinkle generously with salt. Place the potatoes on a baking sheet lined with unbleached parchment and bake for about 1 hour, until soft.
Cut a small slice off the top of potato, scoop out the flesh and place in a large bowl. Arrange empty shells on a baking sheet and place them back in the oven.
Add butter, dill, milk, cream, pepper, salt, sour cream, spinach, and 1/4 cup of parmesan cheese in the large bowl with the potato flesh. Mash everything together until combined. Remove the shells from the oven, turn oven to broil, and then the spoon mixture into crisped shells.
Top each potato with remaining 1/4 cup parmesan cheese and broil until cheese is melted and golden brown, about 2-3 minutes.