These whole wheat tortillas are made with soaked grain and are a great source of carbs without inhibiting digestion.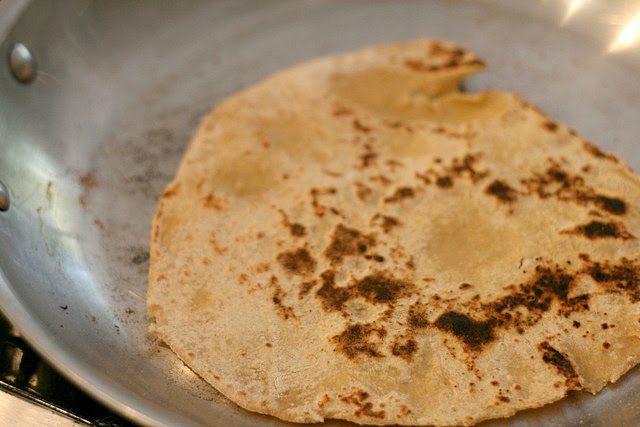 Grains contain a high amount of phytic acid and enzyme inhibitors that make it difficult for the body to digest, but if grains are soaked in an acid liquid (buttermilk, lemon juice, sour cream, etc.) the phytic acid and enzyme inhibitors break down so the body can digest the nutrients more easity. It sounds like a lot of work, but in reality it only takes a minute or two of prep the night before and of course, some forethought. If you have had problems with wheat and other grains, I encourage you to read about this further because it might just be the solution you've been looking for.
Soaking grains has been something that I've eased into, not because it was something I didn't want to do, but in the past, when I tried recipes with soaked grains, I was very disappointed. When I began eating a full organic diet I promised myself I would find a way to cook, using these new ingredients, in a way that tastes just as good as the foods I'd eaten before. I still can't convert every single recipe I have to using soaked grains; some of them work beautifully and some just don't, but my goal is to provide you with as many recipes as possible that have soaked grains (I will you give both ways of cooking the recipe, in case this is something you aren't ready for). I have actually been very busy re-working many of the recipes in my upcoming cookbook to provide a "soaked" option for those who want to do so.
There are also sprouted or soaked flours you can purchase if soaking is not something you want to attempt. I ordered some a few weeks ago and tried it and had great results with baking loaves of bread but because it's "hard" wheat and has more protein than "soft" or "pastry" flour it doesn't produce great results for cakes and cookies.
Here's a wonderful recipe for Whole Wheat Tortillas. You can substitute just about any grain (kamut, spelt, etc) for these, but I prefer making them with whole wheat flour for the buttery flavor. This is also a perfect "first" recipe to try if you've never soaked your grain becuase it's very simple. You can cook and eat them with a generous pat of butter, throw some salad in the middle and have a salad wrap, melt cheese and beans in the middle for quesadillas…really the possibilities are endless.
I'd love to know what your thoughts are on soaking your grains and if it's something you could see yourself doing in the future.
Serves: Makes 8 tortillas
Whole Wheat Tortilla Recipe
If you forgot to soak the grains the night before (or you're not yet convinced about this whole "soaking method") then mix the flour, buttermilk and sour cream and let it sit at room temperature for at least 30 minutes before proceeding.
Adapted from Martha Stewart Living.?
Ingredients
2 cups whole wheat flour (either pastry or hard wheat flour)
2/3 cup buttermilk
6 tablespoons sour cream, preferably cultured
1/2 teaspoon baking powder
1/2 teaspoon coarse sea salt (I prefer this brand)
Instructions
Combine flour, buttermilk and sour cream in a medium bowl. Tightly cover with plastic wrap and leave at room temperature overnight or up to 24 hours.
After the flour has soaked overnight, knead in the baking powder and sea salt. Divide dough into 8 sections and roll each section out on a floured surface to an 8-inch round. Place tortilla on a parchment lined plate and as you roll out the tortillas layer a square of parchment paper between each tortilla. Let rest for 30 minutes.
Place a large skillet over medium heat. Cook 1 tortilla about 1 minute per side until spotty brown. Serve immediately.
NOTE: This recipe was posted before I made the transition to all grain-free recipes on the blog. If you can tolerate grains, then this soaked tortilla recipe is a fun recipe to add to your repertoire!
7.8.1.2
4155
https://deliciouslyorganic.net/whole-wheat-tortillas/
Copyright 2016 Deliciously Organic