You may have read about detox diets, therapies and supplements, but do you know how to detox your home?!
We spend a lot of time, money, effort and energy in detoxifying our bodies and remediating symptoms. But whenever possible, I believe the best approach is preventative.
We can actually consume (through food, air, water, etc.) a lot less toxins if we rid our environment of them in the first place. The benefit? No need to detox those excess toxins from our bodies in the aftermath!
It's so encouraging to know we can significantly decrease the toxic load on our bodies by removing them from our surroundings. And while we can't control everything, there is so much we can do within the four walls of our home to create an extremely low-toxin environment.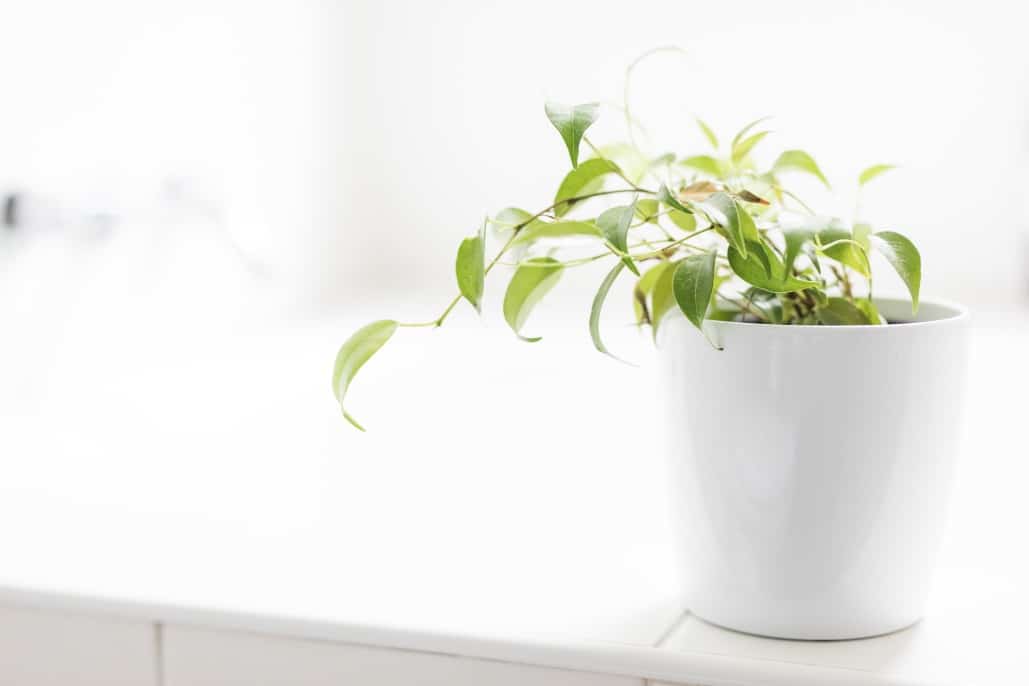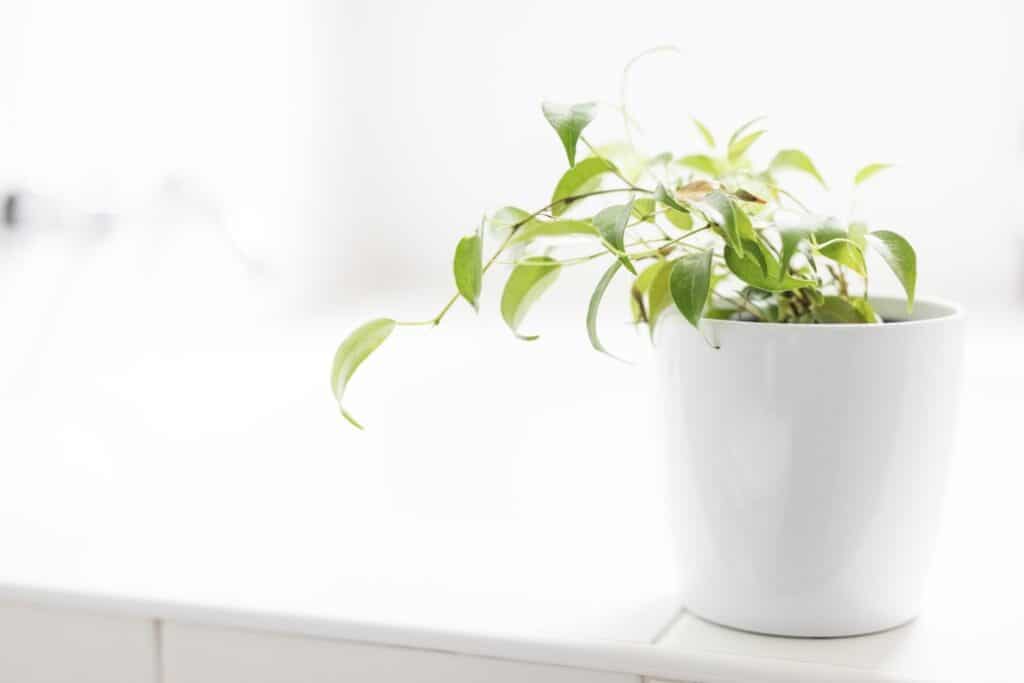 Why does my home need detoxing?
Recently there has been more attention called to the state of our indoor air quality. And with good reason.
According to the EPA, levels of indoor air pollutants are often 2 to 5 times higher than outdoor levels. In some cases these levels can exceed 100 times that of outdoor levels of the same pollutants.
Put simply, sometimes the air inside can be more harmful than the air outside.
Indoor pollution sources that release gasses or particles into the air are the primary cause of indoor air quality problems. This includes things like gas stoves, fireplaces or space heaters.
Other sources of indoor air pollution includes VOC-off gassing products such as rugs, furniture, paint or cleaning products. Additionally, bacteria contaminants such as mold, mildew, bacteria and more can also be found in high amounts, especially within poorly ventilated homes.
In addition to air, toxins can be found in alarmingly large amounts in the water within our homes. Chemicals like lead, mercury, chlorine, fluoride, pharmaceuticals and radon are in many of our drinking and bathing water.
If we work on our health without improving our living environment, we may be frustrated by slow progress or the inability to overcome certain symptoms.
It is absolutely necessary, in order to enjoy our best health, to take measures to detoxify our homes of the harmful toxins that are so often found within it.
What are VOCs, anyways?
Volatile Organic Compounds, or VOCs, are something we need to understand when talking about detoxing our home. VOCs are chemicals produced by products or processes.
VOCs have a high vapor pressure and low water solubility. This means these chemical compounds easily emit into the air as gasses from liquid or solid sources.
They are found in an incredibly large amount of places within the home including: paint, varnishes and finishes, caulks and sealants, carpets and rugs, pressed wood products, cleaners and disinfectants, furniture, pesticides, air fresheners, cosmetics and deodorants, fuel, oil, gasoline, dry-cleaned clothing, gas-burning stoves or fireplaces and more.
Common VOCs you may have heard of include: benzene, formaldehyde and toluene.
Concentrations of VOCs are consistently higher indoors (up to ten times higher) than outdoors. 
Many VOCs are harmful by themselves, and others react with chemical compounds already found in the air to create toxic substances.
Breathing VOCs can irritate the eyes, nose and throat, can cause difficulty breathing and nausea, and can damage the central nervous system, the endocrine system and other organs within the body. Many VOCs have also been found to be cancer-causing. 
Now that we've talked about why it's important to detox the home and what are the types of things we're going to remove from the home, let's get to it!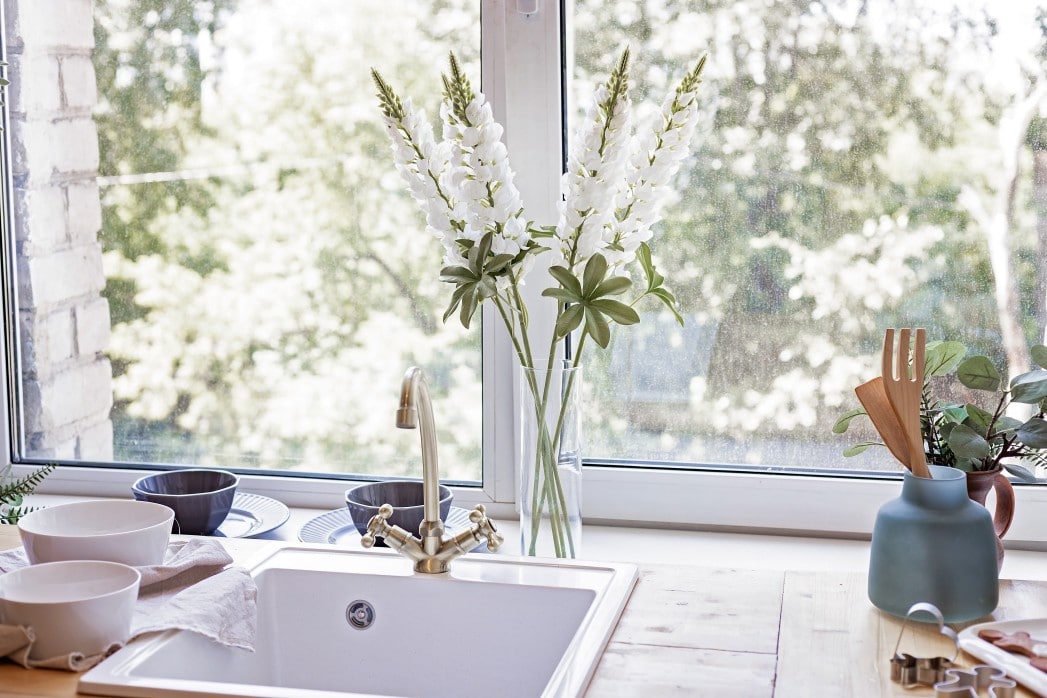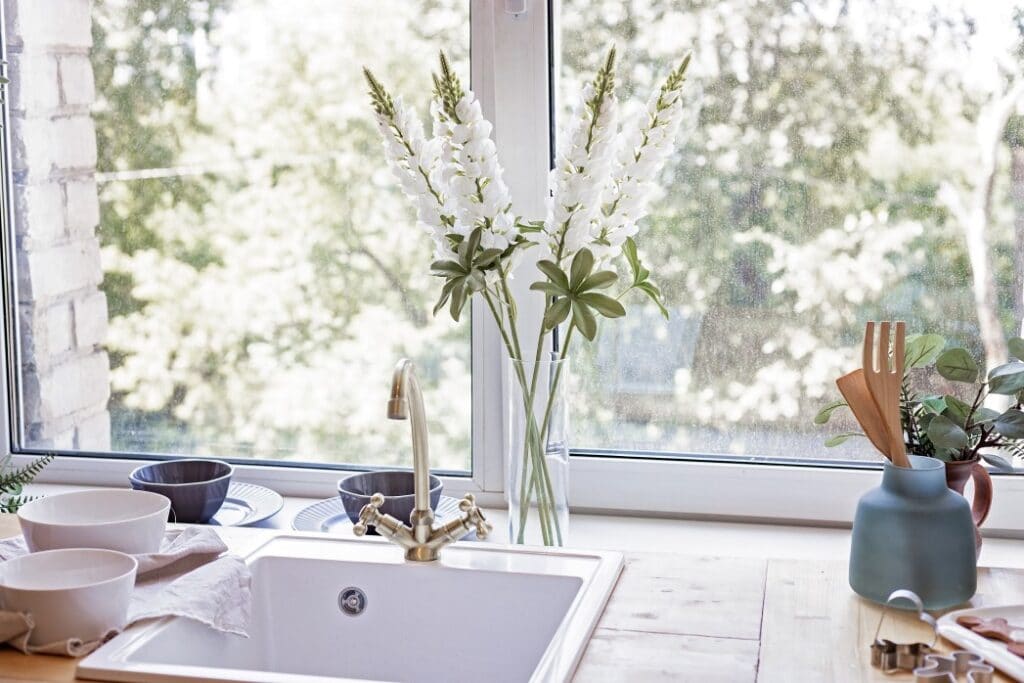 The following list includes my top 15 ways to detox your home and promote a healthy environment:
1. Remove pesticides, herbicides, weed killers and other harmful chemicals from your garage or anywhere else you might store them.
Without even stepping foot inside your home, you can make a huge impact on the toxins that might be found in it. Pesticides, herbicides, weed killers and chemicals can emit their harmful gasses – even when closed – into the air and where it can easily seep through ducts, doors and cracks inside of the home.
An Environmental Testing Professional even noted, "Often I'll be testing a living room and the chemical levels are off the charts. But there is no chemical source indoors. When this occurs the first place I look is the garage."
A Canada study showed that homes with attached garages have elevated levels of benzene. According to the CDC, short-term symptoms of benzene exposure include drowsiness, dizziness, headaches, tremors, and confusion. Long-Term exposure can cause blood disease, increased chance of infections, and cancer. Other studies found significant evidence of carbon monoxide leaking into homes from
The Tennessee Poison Center called the garage "a resting place for many toxins, chemicals and potential hazards."
This doesn't need to be the case for you. There are non-toxic alternatives to many of the harmful products in your garage.
The Organic Lawn Care Manual offers fantastic alternatives to conventional products. Ant problems can be remediated with diatomaceous earth or essential oils like peppermint or tea tree. There are non-toxic alternatives to almost anything you could think of!
Ditch the chemicals in your garage, and it'll positively affect the quality of your home and your health!
2. Detox negativity.
This one doesn't seem so obvious, but the direction of your thoughts and attitude absolutely impacts your environment. And your health.
A science experiment was conducted where two plants were placed in the same conditions and for 30 days, one was "spoken to" daily with praise and positivity while the other was "spoken to" negatively. At the end of the 30 days, the positive input plant was healthy and the negative input plant was droopy and unwell.
Our words, thoughts and attention carry energy that can either foster health or hinder it.
Did you know? "The nervous system controls and coordinates all organs and structures of the human body." Gray's Anatomy, 29th, Ed., p.4. And, guess what plays a huge part in how your nervous system functions? Your thoughts!
I'd encourage you to take inventory of your own thoughts and words. Are they fostering your best health and creating an oasis of joy in your home? If not, it might be time to change them.
Other beneficial practices could be turning off the news, reading good books or articles, limiting time on social media, journaling, meditating, and praying. All of these practices can help create an environment for you to thrive.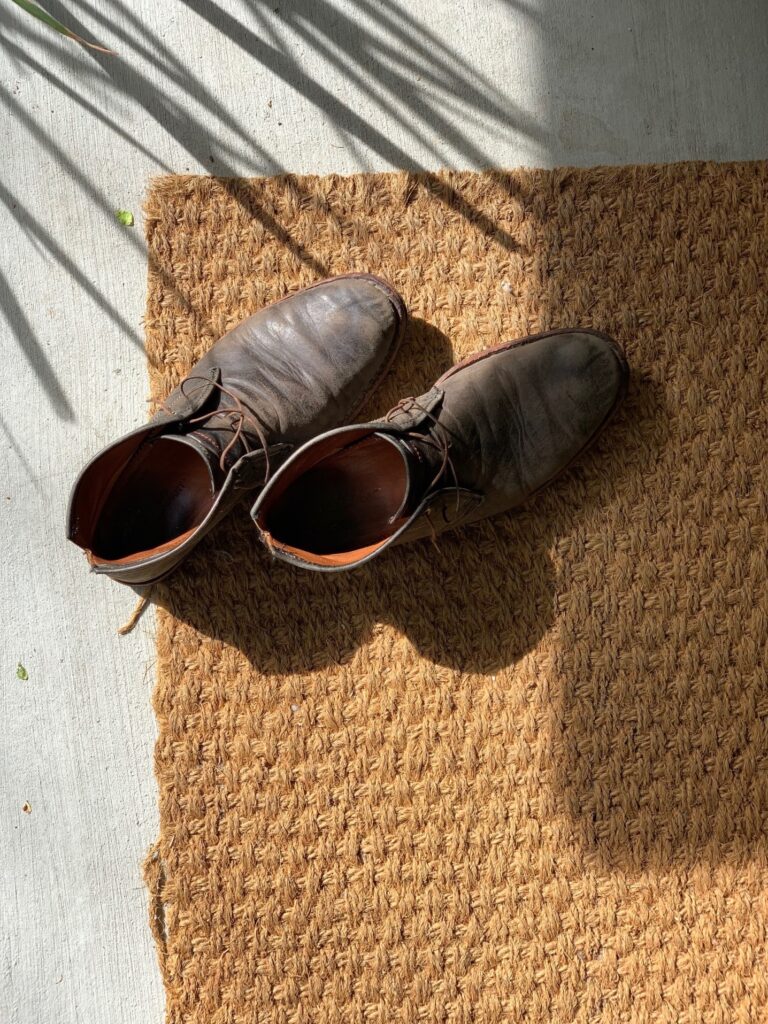 3. Take your shoes off inside.
This is an easy and effective way to significantly reduce toxins in the home.
When we walk around outside, we not only get dust and dirt on our shoes, but we pick up all kinds of chemicals on the soles of our shoes. These are not things we want to be tracking into our homes!
A government funded study showed that weed killers and other pesticides applied to lawns can be tracked into homes by people and pets up to a week after treatment, causing unnecessary exposure to these harmful substances. By removing shoes before entering the house, consumers can substantially reduce the track-in of chemicals, concluded the study.
4. Off-gas new furniture/rugs/blankets/etc. outside in the sun for a day before moving them inside.
Most new home furnishings off-gas potentially harmful chemicals into the air.
But what exactly is off-gassing? It's the airborne release of a chemical in vapor form. Whenever you smell a product, it's off-gassing. And it most often happens when a product is new.
A good solution for harmful off-gassing is moving the items of concern outside. When we leave a product outdoors for a time, a large amount of the chemicals can be released into the open air instead of into your home.
To speed up the off-gassing process, allow the product to sit in the sunshine, which will increase the rate at which its chemicals can be released. Sunshine is beneficial in off-gassing almost all materials except for foam or latex, which it will actually damage via breaking it down.
I've personally done this with couch cushions, a mattress, new pillows, and more. It's easy and it's free!
5. Consistent damp dusting and vacuuming with a HEPA filter vacuum.
Ditch the toxic Pledge and opt for a barely-damp cloth instead. When you wipe the surface with the damp cloth, you should hardly see any wet residue.
The science behind why damp dusting is more efficient than a dry cloth comes from the fact that a damp cloth introduces capillary force to the dust particles. In short, the damp cloth draws the particles in and lifts dust from the area instead of moving them around.
I also suggest consistent vacuuming with a HEPA-filtration vacuum. This is the one I use.
Why does a HEPA-certified filter matter? Because a HEPA filter ("high efficiency particulate air [filter]") can remove at least 99.97% of dust, pollen, mold, bacteria, and airborne particles with a size of 0.3 microns.
Essentially this means you can be sure you're actually sucking up the bad stuff you don't want circulating in your air or around your home when you use HEPA technology.
Dusting and vacuuming, as boring and common as they may sound, can go a long way in keeping the quality of your home's air as clean as possible.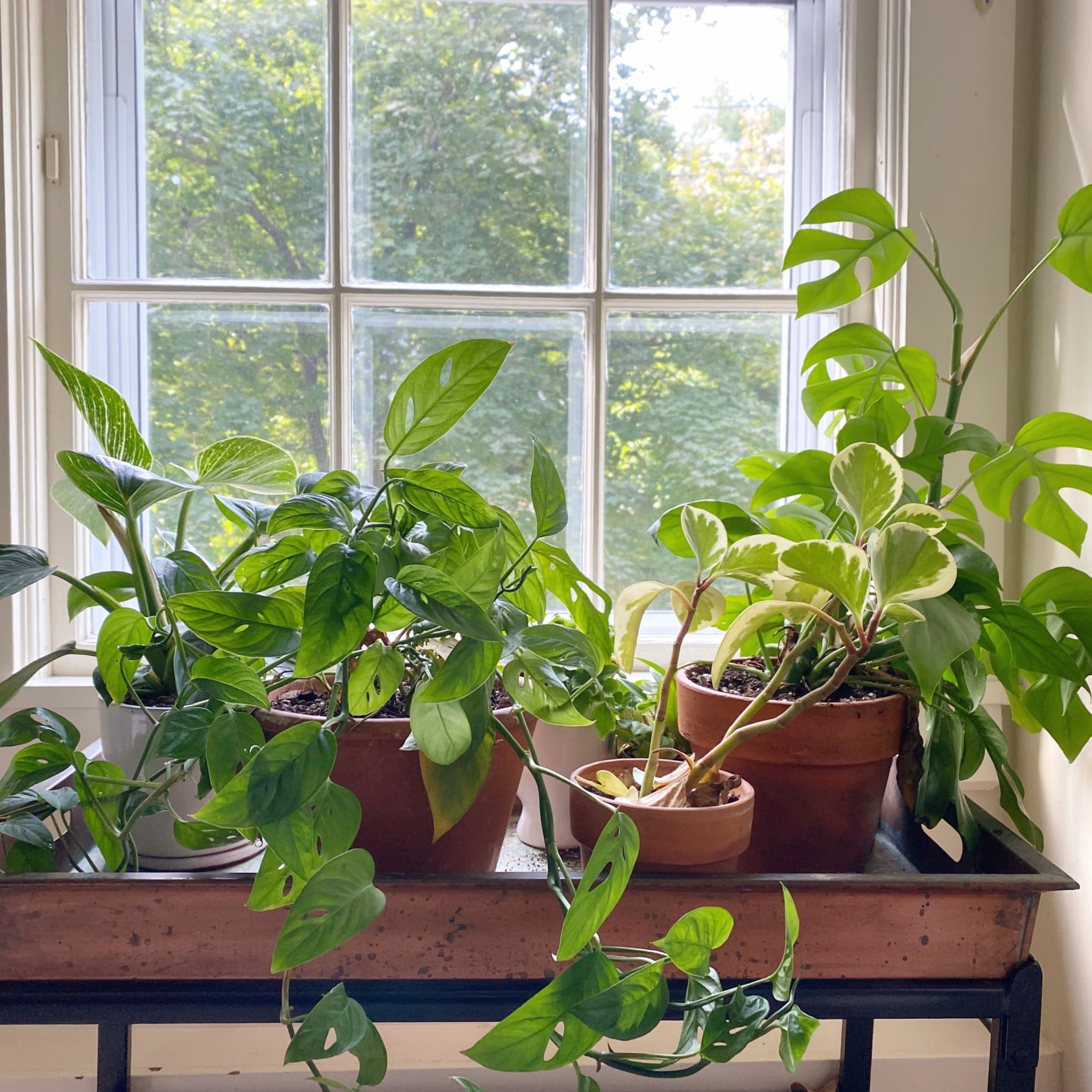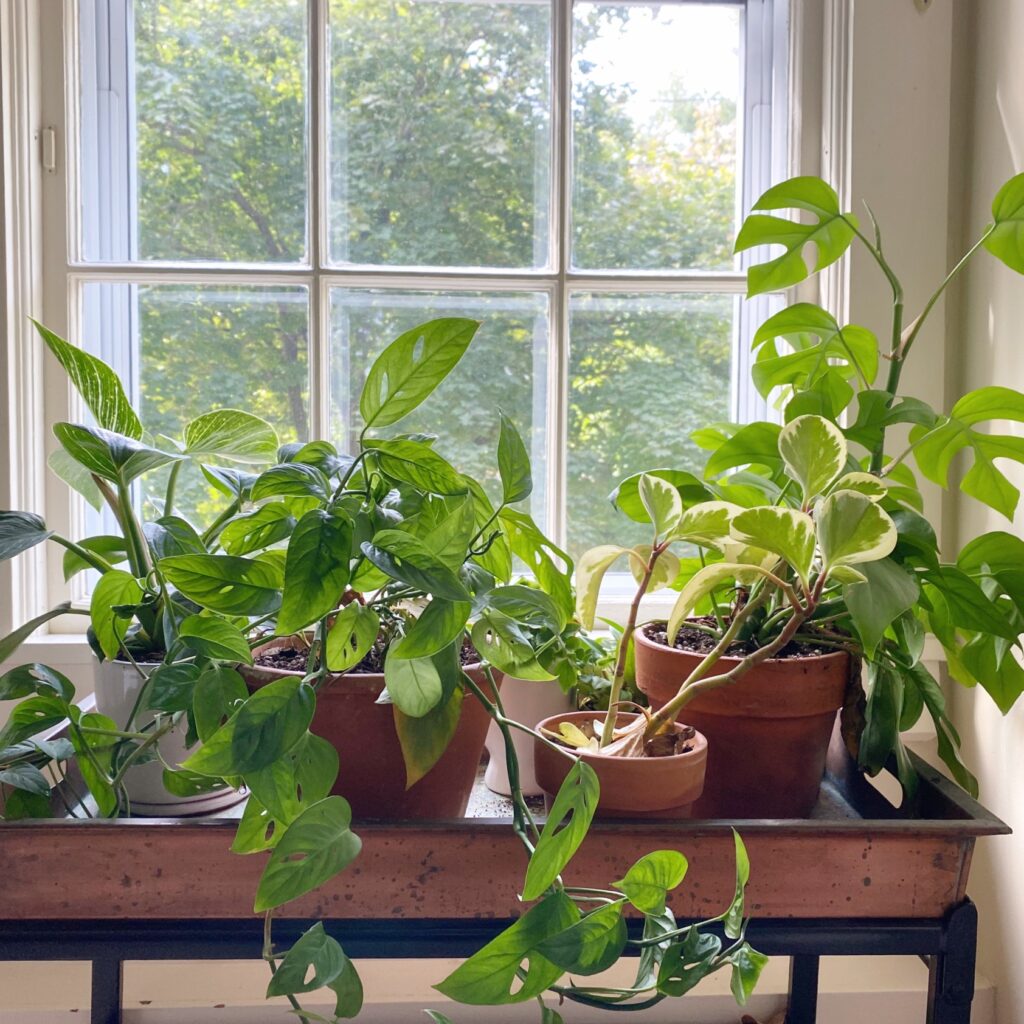 6. Buy house plants!
Not only are house plants attractive and add to the overall feel of the interior aesthetic of your home, they're beneficial for your health, too!
House plants have science-backed benefits, some of which include: improving air quality, reducing stress levels, improving attention and increasing productivity.
A NASA study found low-light-requiring houseplants have demonstrated the potential for improving indoor air quality by removing trace organic pollutants from the air in energy-efficient buildings.
Some of the most beneficial plants to improve indoor air quality include: English ivy, peace lily, mother-in-law's tongue and golden pothos among others.
I love following the instagram account @happyhappyhouseplant for fantastic tips on plant care!
7. Buy an air purifier.
We already learned that the indoor air quality is oftentimes so much poorer than outdoor air quality. But what can we do about it?
Purchasing a high quality air filter for your home is one of the best moves you can make to clean up the quality of the air you breathe daily.
You'll want to make sure the air filter is HEPA certified, and in addition, that it contains a carbon filter. The HEPA filter will remove dirt, mold, bacteria and more. But it is the carbon filter that has the power to remove VOCS and other harmful gasses.
My personal favorite air filters are the Austin Air and Air Doctor. While it's an investment, I do believe it is well worth the money over the long-term.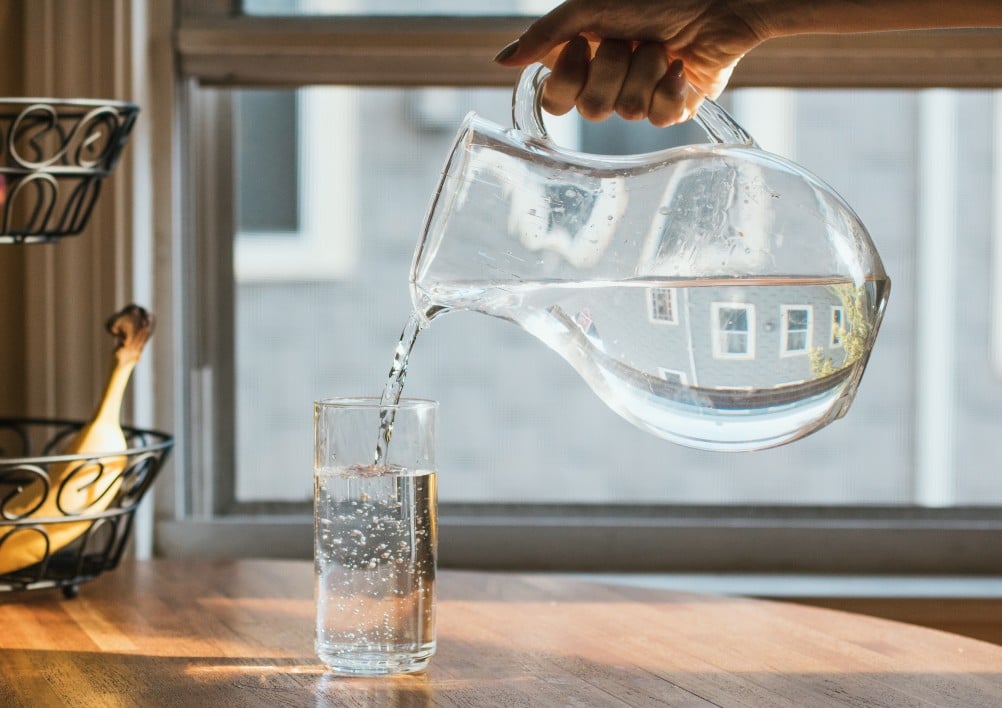 8. Drink filtered water.
Air and water are things we consume every day, all throughout the day. For that reason, it's so important to do everything we can to ensure our air and water are as toxin-free as possible.
Unfortunately, the tap water we'd all like to believe is benign can still be loaded with harmful toxins.
The EWG states that lead, arsenic, the "forever chemicals" known as PFAS and many other substances are often found in drinking water at potentially unsafe levels, particularly in low-income and underserved communities.
I suggest finding a filter that removes chlorine (or chloramine, depending on what your city uses to clean its water), and if possible, fluoride as well.
Here are some of my favorites at a variety of different price points:
Clearly Filtered pitcher (use the code ORGANIC15 to save 15%)
Berkey countertop gravity filter (use the code ORGANIC5 to save 5%)
Clearly Filtered under sink filter (use the code ORGANIC15 to save 15%)
Radiant Life Whole House Filtration system
Replacement filters that you can use in your Berkey water filter
Radiant Life Shower Filter
Radiant Life Bath Dechlorinator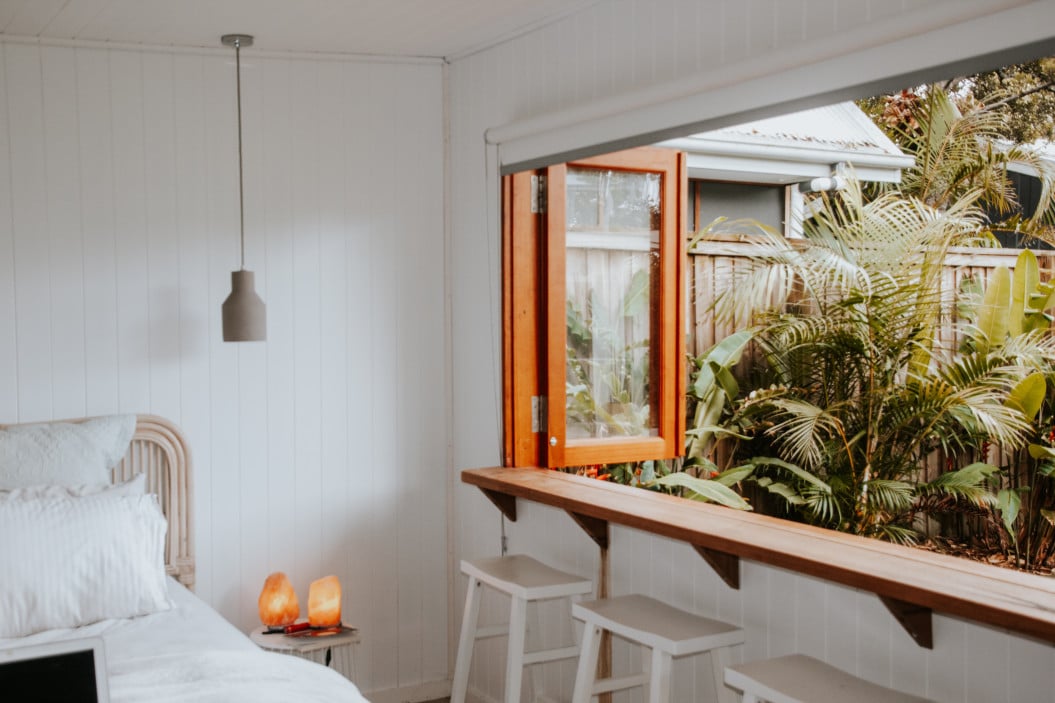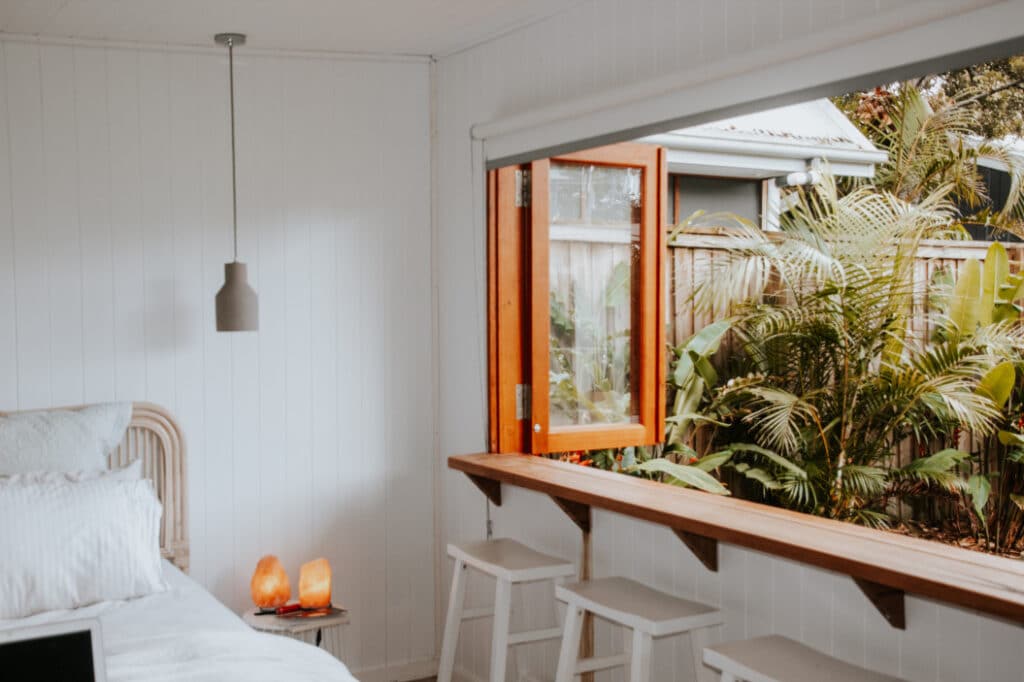 9. Open your windows for at least 10 minutes every day.
This is standard practice in many places in Europe!
Did you know that by simply opening your windows for a short period each day, you can flush out a lot of toxins from the interior of your home?
The EPA says that ventilation via open windows can help remove or dilute indoor airborne pollutants coming from indoor sources. This reduces the level of contaminants and improves indoor air quality (IAQ).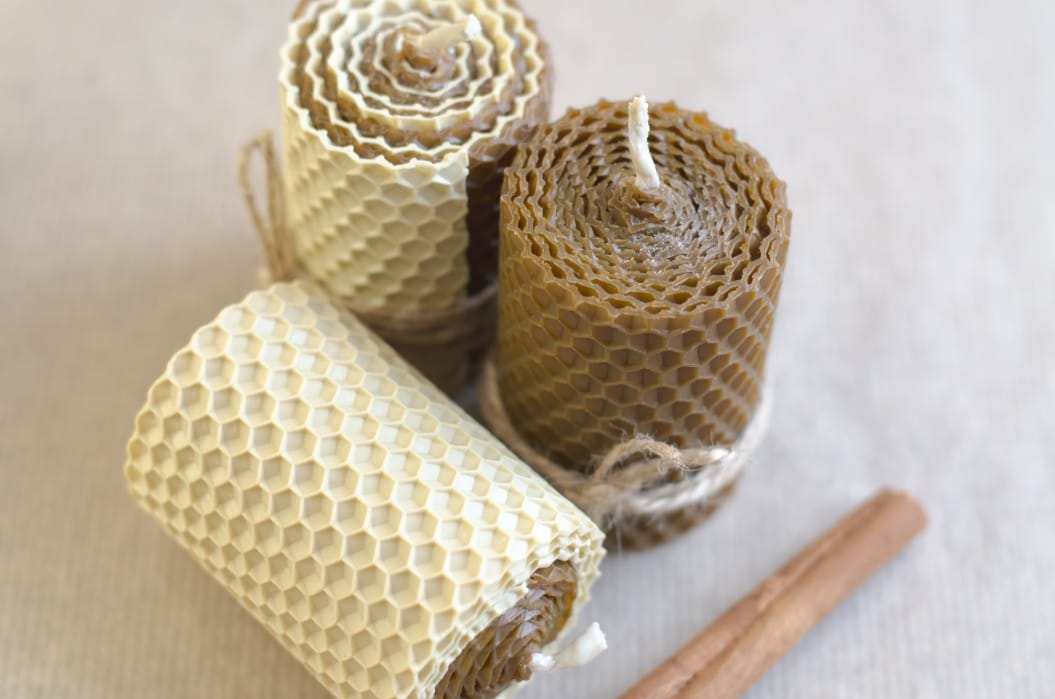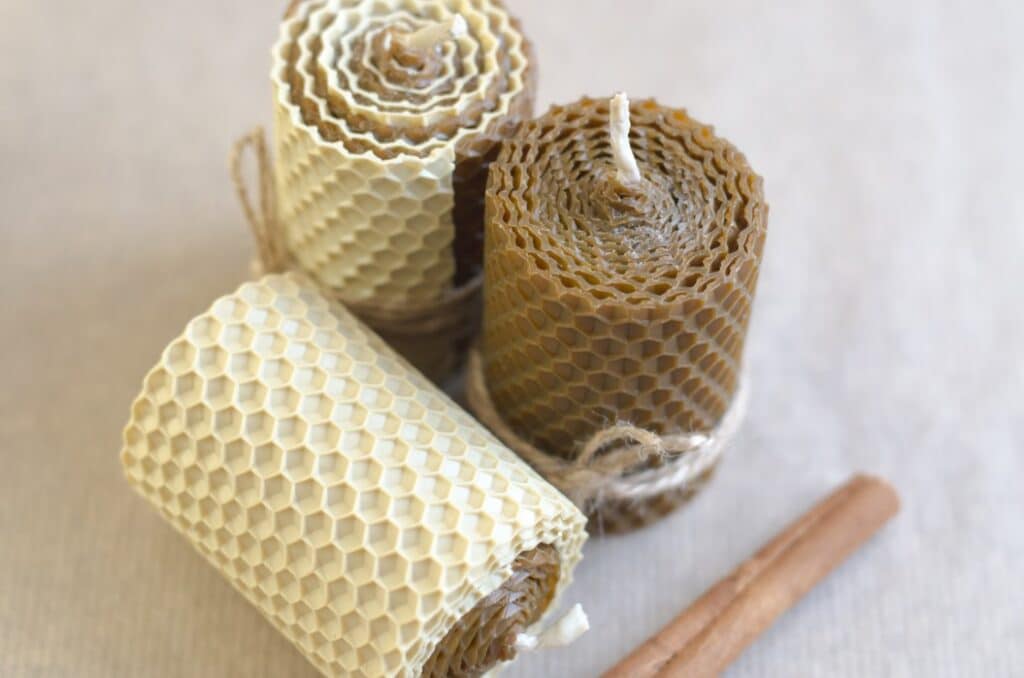 10. Get rid of all synthetic fragrances eg. scented candles, plug-in fresheners, potpourri, conventional room sprays.
Some health professionals are now referring to "fragrance" as the new second hand smoke.
While the name "fragrance" looks unassuming, it absolutely is not. These engineered scents can contain any combination of 3,000+ chemical ingredients and are linked to numerous health issues including hormone disruption, respiratory problems, allergies, skin sensitivities, kidney damage, birth defects and disease.
Safe alternatives to conventional fragrance products include: pure essential oil diffusers, pure beeswax candles, non-toxic scented candles (you can use the code ORGANIC15 to save 15%), or a non-toxic room spray such as Primally Pure's room spray (use the code ORGANIC10 to save 10%).
It is possible to have a lovely smelling home without the dangers of chemically-laden fragrances!
11. Switch out all cleaning products for non-toxic alternatives.
This includes but is not limited to wood cleaner, glass/mirror cleaner, floor cleaner, kitchen and bathroom sprays and disinfectants, carpet cleaners and more.
The chemicals in your cleaning products can be disruptive to not only your eyes, skin and lungs, but they can also be harmful for your hormonal balance and endocrine system.
Some chemicals and VOCs from cleaning products can even affect sperm quality, studies have shown.
If you've ever walked by a cleaning product – even if it's sealed – and smelled it, then you can be almost sure that the cleaning product is off-gassing VOCs into the air.
There are alternative, non-toxic cleaning product options that are every bit as effective as conventional toxic products. Aunt Fannie's brand is a favorite of mine. It works wonderfully, and I love knowing it is completely safe! You can get this cleaner at Thrive Market or Amazon.
Here are the basics that I use to clean my home:
Aunt Fannie's All-Purpose Vinegar Cleaner purchase at Thrive Market or Amazon.
Aunt Fannie's Window and Glass Cleaner 
Aunt Fannie's Hardwood Floor Cleaner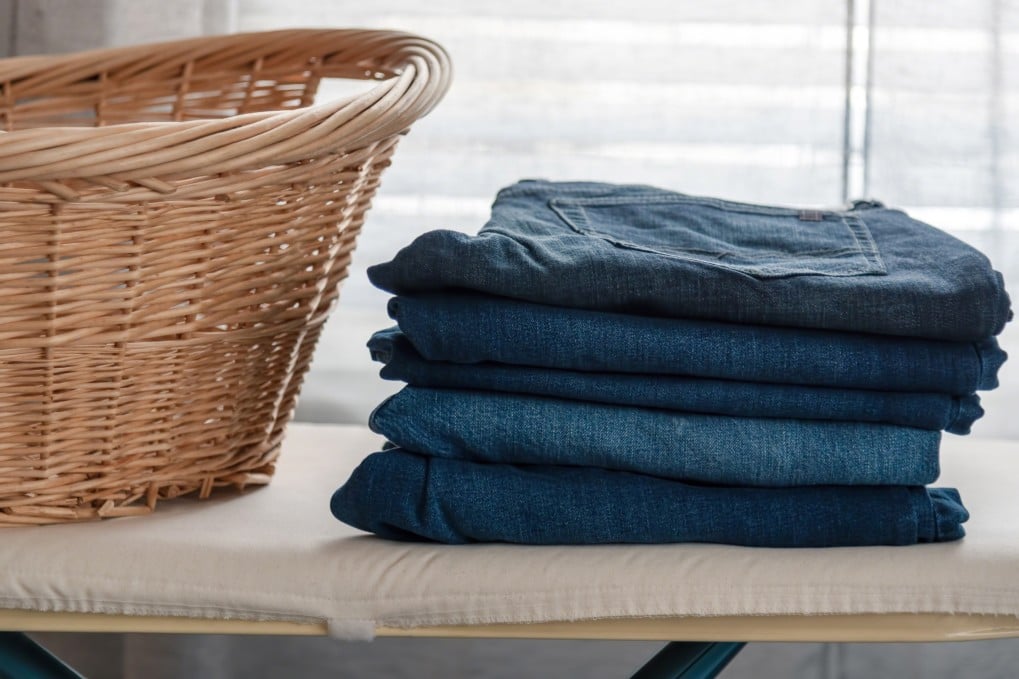 12. Switch out washing products to non-toxic alternatives.
This includes everything from laundry detergent to dishwashing and hand washing soaps.
Just like cleaning products, conventional washing products contain endocrine disruptors and carcinogens.
My favorite non-toxic laundry alternatives include:
Molly's Suds laundry detergent
Wool dryer balls (with a few drops of essential oils) to soften clothes and reduce static
White organic vinegar for an all-natural fabric softener (I add it to the softener dispenser)
Dish soap for grease or oil stains
Puracy stain enzyme treatment for stubborn stains
My favorite non-toxic dishwashing products include:
Puracy dish soap
Puracy dishwasher packets
My favorite hand soap is from Kosmatology.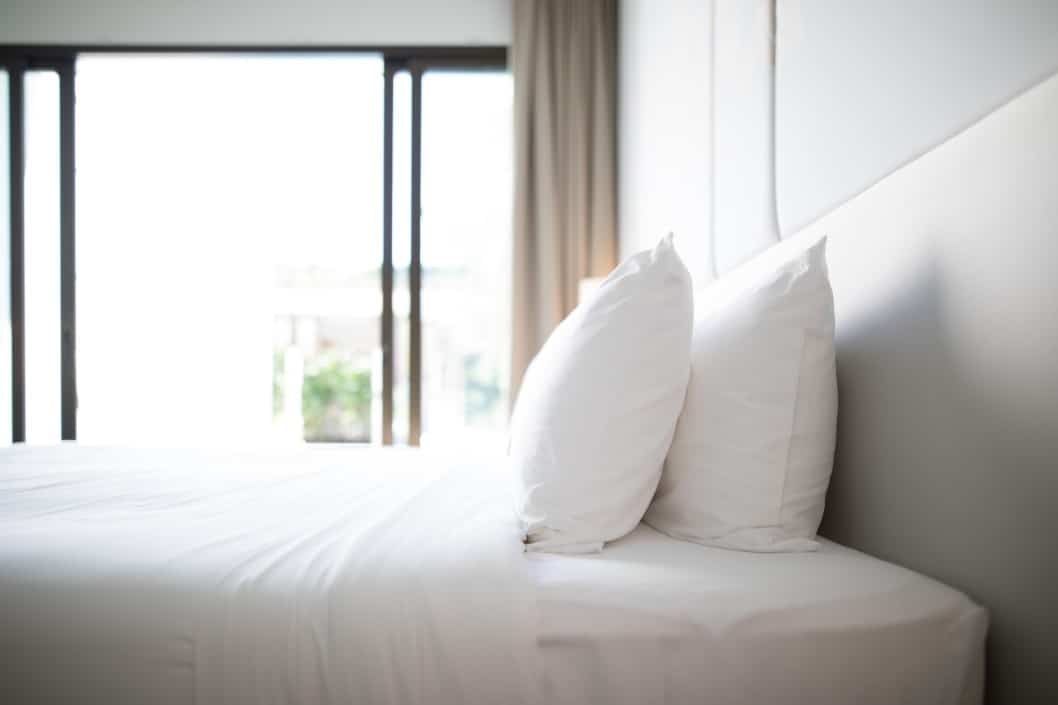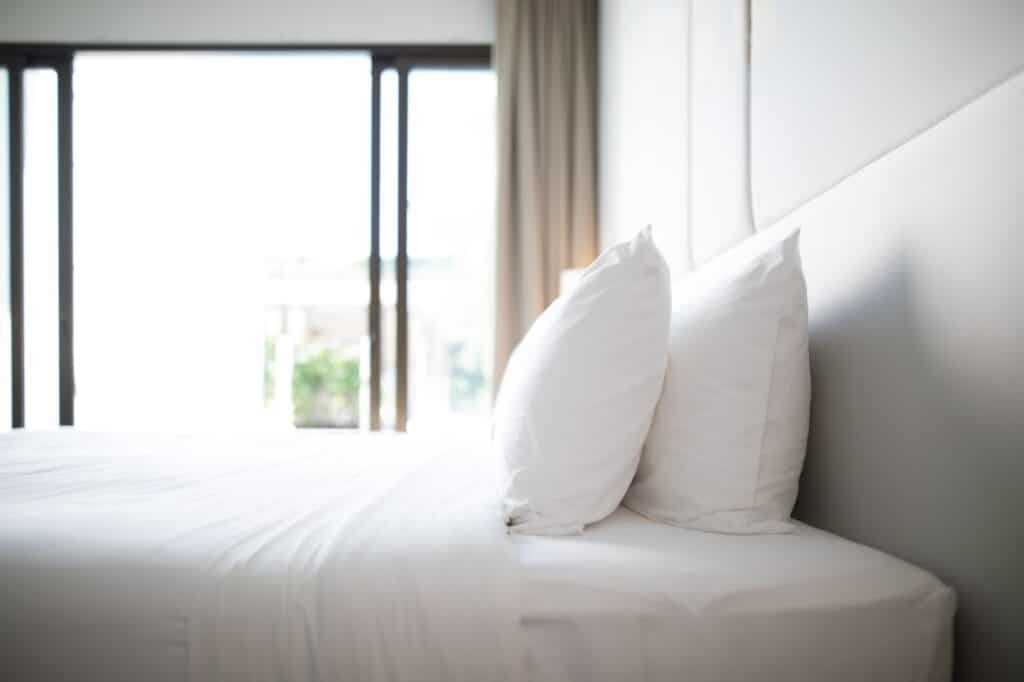 13. Slowly transition to non-toxic "bigger ticket items."
This one can feel overwhelming, but don't let it be! Start your non-toxic transition with the easier steps mentioned above.
When you feel comfortable, begin to address the bigger or more expensive swaps. It can be helpful to do this slowly and with a one-at-a-time approach. You don't have to do everything all at once!
A mattress is a great place to start because you're sleeping on it and breathing into it for so much of your life! Paint if repainting or remodeling. My favorite is the Organix by Intellibed mattress (you can use the code ORGANIC10 to save 10%).
If repainting or remodeling, choose a low-VOC/no-VOC paint such as ECOS or Benjamin Moore Natura.
Switch out towels and sheets to 100% organic cotton. West Elm, Target and Pottery Barn have fantastic options.
Try to choose solid wood furniture over MDF or composite wood furniture, which tends to off-gas harmful chemicals from glues and adhesives used to make the wood.
14. Turn off your wifi at night or during the day when you're not using it.
Electric and magnetic fields (EMFs) are invisible areas of energy, often referred to as radiation, that are associated with the use of electrical power and various forms of natural and man-made electricity.
The International Agency for Research on Cancer (IARC) has classified non-ionizing EMFs, such as those from cell phones, smart TV's, wifi, tablets and other smart devices, in the radiofrequency range as Group 2B, a possible human carcinogen. Observation and studies have shown possible links between EMFs from cell phones and brain cancer. Other links have been made between EMFs and leukemia in both children and adults.
It is unnecessary to be exposing ourselves to constant EMFs within the home via wifi, especially when we are not using it!
For that reason, I highly suggest turning your wifi off when you're not using it, and at the very least, at night.
I've found that this remote is the easiest and most convenient way to be sure I'm diligent about turning my wifi off every single night.
Here are additional peer-reviewed studies on EMFs for further reading.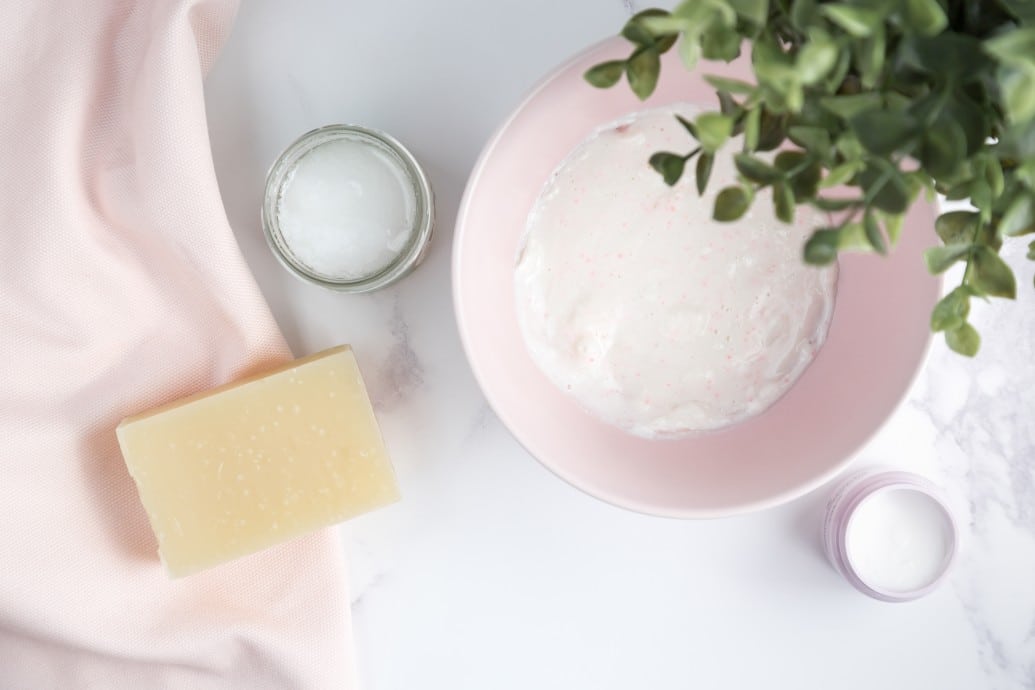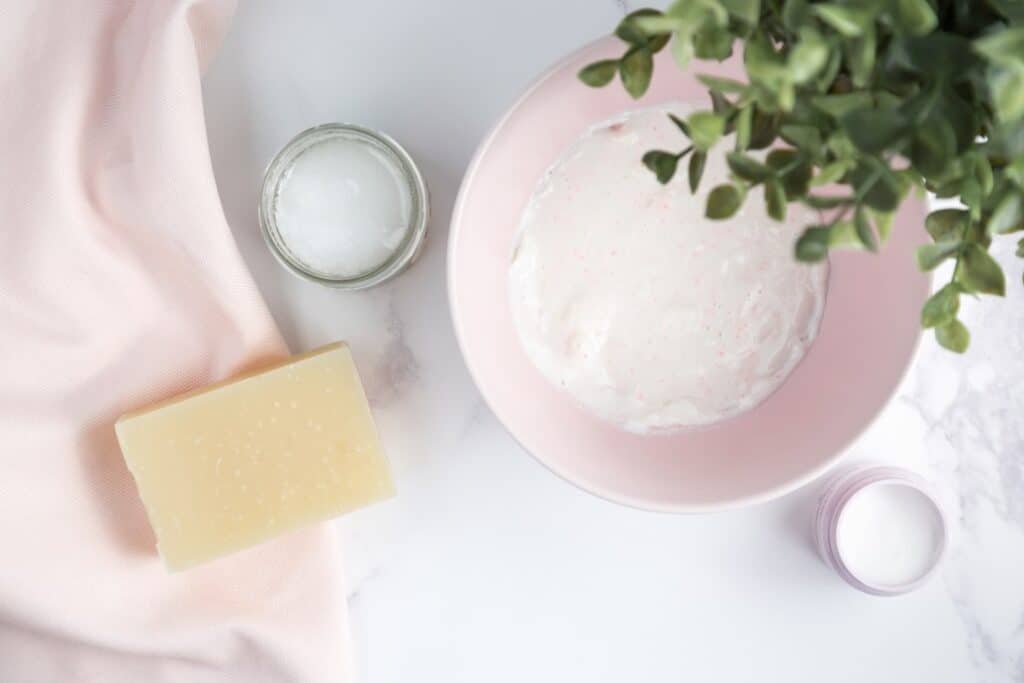 15. Swap out all personal care products for non-toxic products.
The average woman lathers herself in 515 or more synthetic chemicals DAILY. This is absolutely troublesome.
Most of these chemicals have been relatively new inventions and have had zero testing as to whether or not they are even safe. If they are anything like the majority of synthetic chemicals we have tested that are already in personal care products, they are likely carcinogens, endocrine disruptors, allergens and worse.
If you're curious about the safety of a product you already own, use the Environmental Working Group's Skin Deep website to determine for free whether or not the ingredients are okay. I like to keep all of my products at a rating "1" or under.
You can find my favorite non-toxic products for cleaning, beauty, skincare, and more in my Complete Healthy Product List.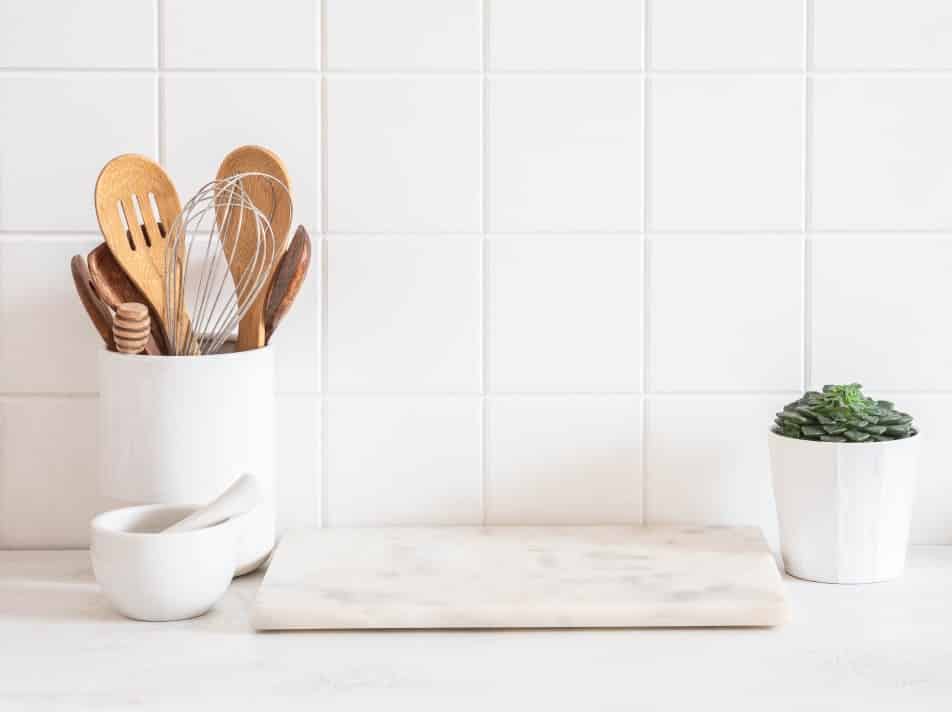 As you can see, there are SO MANY ways you can detoxify your home. Small, consistent steps will get you there.
I want to encourage you to refrain from being overwhelmed feel the need to overhaul everything at once. Start with things that are easy and that you use/come into contact with every day.
As you build momentum, you can move through the list and eventually address some of the bigger, more expensive, or seemingly confusing changes.
One small change might not seem like much. But these small changes – combined and added up over time – will hugely impact your health for the better!
You can do it, and I'm so happy to be a resource in any way I can!