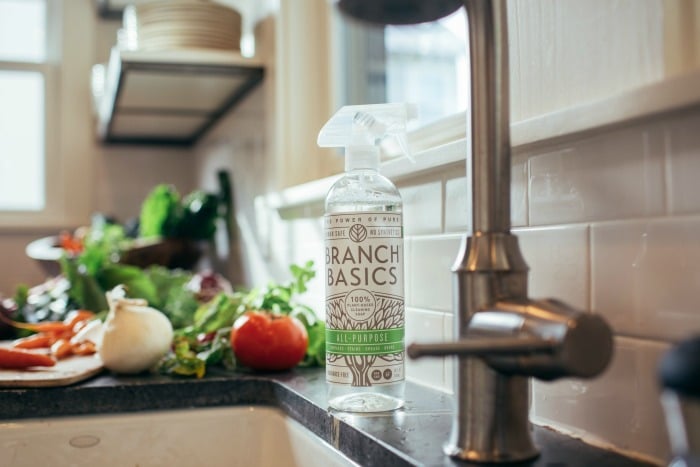 Our homes should be a safe haven, a place for our families to restore and rejuvenate. Instead, the EPA says the air is up to 10 times more toxic than the outdoors. Ironically, the products we clean with are often to blame. Today there are over 17,000 chemicals allowed in conventional cleaning products, many of which are linked to respiratory issues, learning disabilities and cancer.
Even many of the so-called "green" products contain potentially not-so-safe ingredients. The multi-billion-dollar household cleaning product industry is largely unregulated, so I recommend we do the homework ourselves to protect our families.
It's also important to realize that if you struggle with autoimmune disease using products with harmful chemicals can put stress on the liver. If your liver is overtaxed, then the body can have a hard time detoxing. "When the detoxification pathways that line the gut are compromised, chemical sensitivity can arise. Furthermore, the leakage of toxins overburderns the liver so that the body is less to handle everyday chemicals in foods, water and air." (source)

So how do you start detoxing your home?
1. Read the labels on your household cleaning products – If it has ingredients that you can't pronounce, consider finding something else to use in your house. As a rule, I recommend using cleaning products that are chlorine bleach free, phosphate free, non-petroleum-based and chemical fragrance free. (See below for my favorite non-toxic soap)
2. Open Your Windows – The air inside our homes can be more polluted that the air outside, especially if we're using chemical cleaners. Open the windows and let some fresh air in.
3. Take off Your Shoes – Removing your shoes before you enter your home can help prevent heavy metals, pesticides and other chemicals from coming into your home attached to the soles.
4. Bring nature inside – Indoor plants act as living air purifiers and provide a wonderful aesthetic benefit! If you have small children or pets, make sure the plants aren't poisonous if ingested.
5. Get rid of synthetic fragrances – Synthetic fragrances emit dozens of chemicals into the air. This applies to air fresheners, laundry detergents, fabric softeners and dryer sheets.
"In one study, a plug-in air freshener was found to emit 20 different volatile organic compounds (VOCs), including seven regulated as toxic or hazardous under U.S. federal laws. These chemicals were not included on the label — only the word "fragrance" is required to be listed. The actual composition of the fragrance is considered a 'trade secret.'"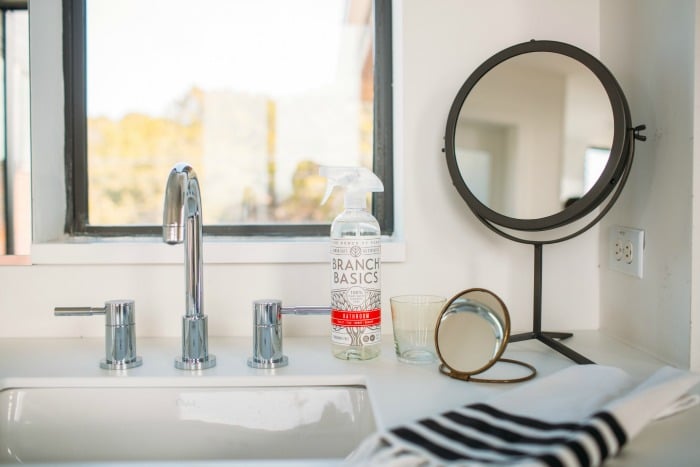 A few years ago I discovered Branch Basics and was so impressed with the product that I've gotten rid of all other cleaning products (except dish detergent) in my home! I use Branch Basics as a cleaner for my kitchen, bathrooms, windows, vegetables and fruits, car, as a hand soap, laundry detergent, carpet cleaner, and as stain remover.
What's in Branch Basics?
Ingredients: Purified Water, Coco Glucoside (Sugar-Based Cleanser), Chamomilla Recutita (Chamomile) Flower Extract*, Decyl Glucoside (Sugar-Based Cleanser), Sodium Citrate (Food-Grade Emulsifier), Lauryl Glucoside (Sugar-Based Cleanser), Sodium Bicarbonate (Food-Grade Baking Soda), Sodium Phytate (Plant-Based Antioxidant), Sapindus Mukorossi Fruit (Soapberry) Extract*
Here are some of the ways you can use Branch Basics:
All-Purpose: Appliances, Dishes, Granite, Grills, Highchairs, Jewelry, Marble, Natural Stone, Pacifiers, Pots & Pans, Stains, Stovetops, Sticky Spills, Yoga Mats
Bathroom: Tile, Grout, Countertops, Sinks, Showers, Tubs, Toilets, Fixtures, Shower Liners, Soap Scum
Streak-Free: Windows, Mirrors, Glass Surfaces, Computer Screens, Phones and Tablets, Fixtures, Aquariums, Shower Doors, and Picture Frames
Other: Laundry, Stainless Steel, Wood and Vinyl Floors, Carpet
Branch Basics is also:
Human-Safe
100% plant and mineral-based
Synthetic-Free
Biodegradable
Cruelty-Free
Non-GMO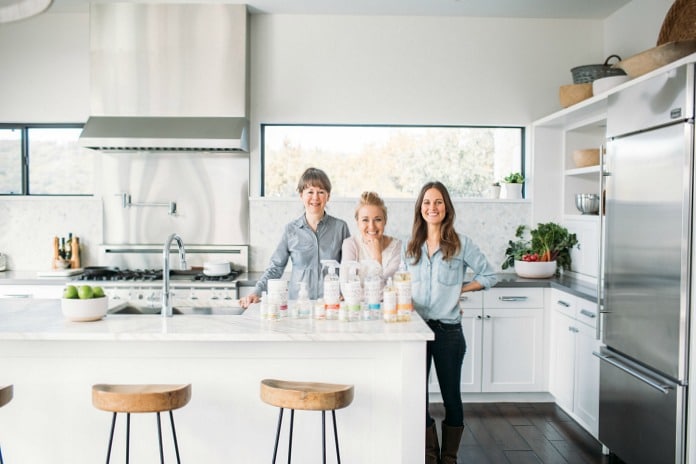 The ladies who run Branch Basics – Marilee, Allison and Kelly (I'm proud to call them my friends!)
They just came out with beautiful new packaging and a concentrate that's 2x as strong (for reduced shipping costs)!

With the 64 oz concentrate, you can make:
16 All-Purpose bottles ($3.06 each)
10 Bathroom bottles ($4.90 each)
240 Streak-Free bottles ($0.20 each)
192 Laundry loads ($0.26 each)
17 Foamer Bottles (10 oz), at $2.88 each ($0.28 per oz)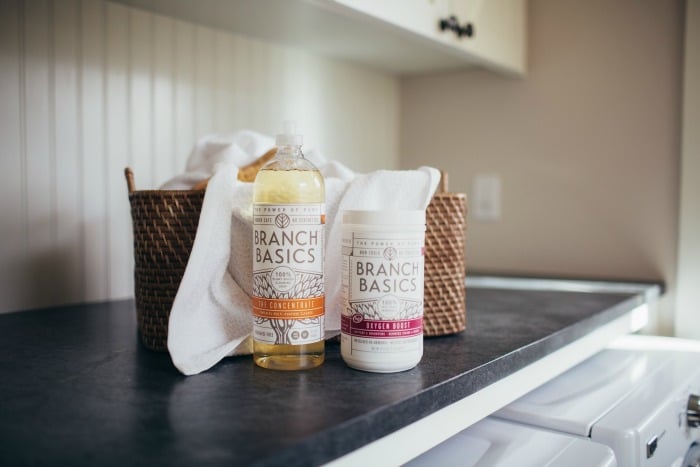 They also have a new product for whitening, brightening and stain-fighting called Pure Oxygen Boost. It's wonderful either alone or partnered with Branch Basics Soap. It whitens and brightens fabrics and removes stains and odors, yet keeps you and your family safe from fragrances, binding agents, solvents, etc. It's fabulous for cleaning grout!
It's free of bleach, ammonia, dyes, and fragrances — and it's safe for septic tanks.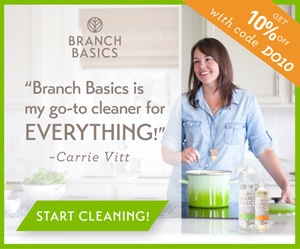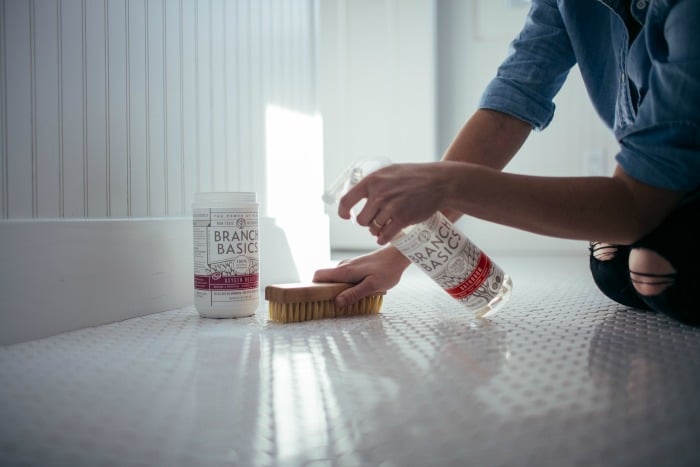 Questions about their product? Click here to read their FAQs.