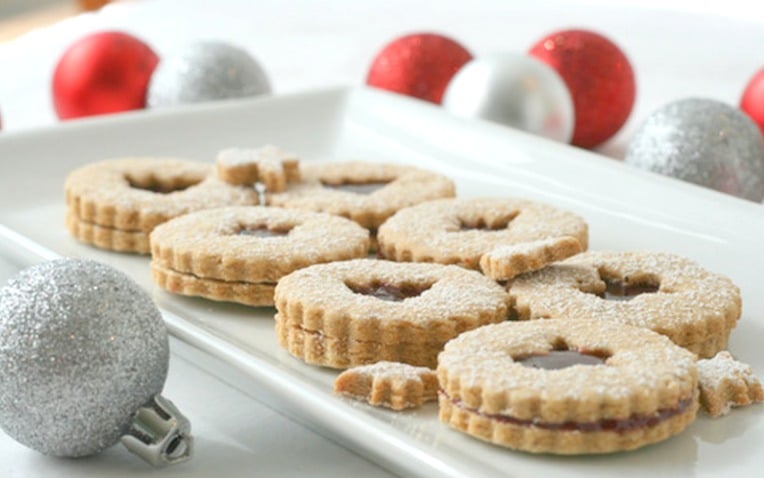 Today I am thrilled to be involved in the "13 Days of Christmas Cookies" event! I'm united with 12 other fabulous food and craft bloggers to bring you a Christmas cookie celebration. To see all of the participating bloggers and learn about the fantastic give-aways go check out The Baker's Dozen website at www.13cookiechristmas.info.
Last month when I recieved the email that we all needed to come up with a cookie, honestly, I laughed. Baking cookies with whole wheat flour (especially if it's fresh ground wheat) is one of the most challenging things for me to create. It took me over 30 tries to come up with my Whole Wheat Chocolate Chip Cookie recipe for my upcoming cookbook (sorry, can't share now, but it will be worth the wait!) so I knew this was going to be a challenge. My girls and I got out a few cookbooks to get some ideas, flagged 10 different recipes, made a grocery list, and started testing. It took about a week until we finally decided this was the cookie.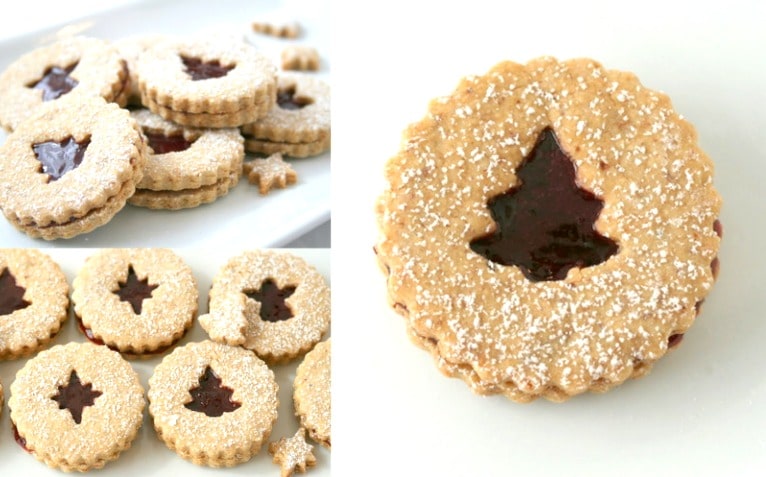 I love how whimsical and delicate these cookies are. They have a slightly sweet shortbread-like cookie with a sweet almond-cherry filling. You can use special linzer cookie cutters that I got here (they have a huge selection) or use your favorite Christmas cookie cutters and create a sandwich  cookie. They are perfect to make for your neighbors, a hostess at an upcoming Christmas party, or for friends coming by for a visit.
Serves: Makes about 2 dozen cookies
Almond Linzer Cookies
This recipe was published before I began only posting grain-free recipes. For a grain-free slice and bake cookie recipe (that will work great as a Linzer cookie dough) click here .
Ingredients
3/4 cup almonds, soaked and dehydrated
1/8 teaspoon sea salt
1/8 teaspoon ground cinnamon
2 cups plus 2 tablespoons whole wheat pastry flour
1/2 teaspoon baking powder
1/2 cup plus 1 tablespoon cold butter, cut into pieces
1/4 cup organic whole cane sugar or sucanat
1 teaspoon vanilla extract
1 large egg
1/2 cup cherry preserves
1/2 teaspoon almond extract
Instructions
Pulse together almonds, salt, cinnamon in bowl of food processor until finely ground. Transfer almond mixture to bowl of a standing mixer. In a small bowl whisk together flour and baking powder, set aside. Add the butter and whole cane sugar to the almond mixture and beat on medium speed until fluffy, about 1 minute. Add vanilla and egg and mix until just incorporated. Pour dough out onto the counter, shape into a disk and wrap tightly with plastic wrap and refrigerate until firm, about 2 hours. (This dough can be made ahead of time and stay fresh in the refrigerator for up to 3 days.)
Preheat oven to 375 degrees. Roll dough out on a lightly floured surface to 1/4 inch thick. Cut cookies using cookie cutter and place cookies on baking sheet lined with parchment paper. Bake until they are just turning golden brown, about 8 minutes. Transfer to racks to cool.
In a small bowl stir together preserves and almond extract (if there are lumps in your preserves your can pulse it in the food processor a few times). Spread 1/2 teaspoon preserves onto uncut cookies and top with the cutout ones. These cookies are best eaten the day they are made.
*I sprinkled the cookies in my pictures with a little powdered sugar. This is not a sugar that I cook with, but I just couldn't resist giving the cookies a light dusting to make them look a bit more festive.
7.8.1.2
4154
https://deliciouslyorganic.net/almond-linzer-cookies/
Copyright 2016 Deliciously Organic