My watermelon, arugula and feta salad is the perfect refreshing salad for a hot summer day!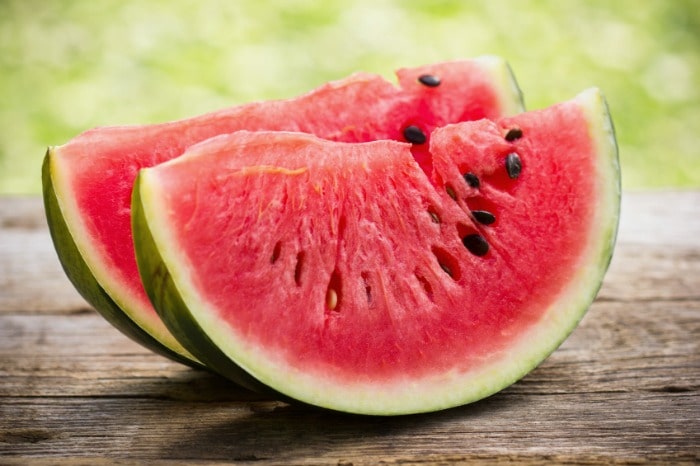 This week we have been in TX and I have been able to spend lots of time with my Mom, which has been great. I love talking and going through all of her recipes looking for new ideas. Since her recipes are under lock and key, I always feel like I am going into a secret vault that only few have access to. A few days ago she pulled out a recipe for watermelon salad and showed me how she changed it up a bit. The days here have been extremely hot and this salad was just the thing that was needed on such a hot day. The contrast of the sweet cool watermelon with the tangy feta and zing of the jalapeno is absolutely delicious. The salad should be served ice cold and make sure to toss in the arugula just before serving so it stays crisp.
Watermelon, Arugula and Feta Salad
Ingredients
1 cup olive oil
2 T. fresh lime juice
2 T. white balsamic vinegar
1 jalapeno chile, stemmed, seeded and diced
2 teaspoons fresh thyme
1 small seedless watermelon
1/3 pound feta cheese, crumbled
1 large bunch arugula, washed and torn into bite-size pieces
Instructions
Whisk together olive oil, lime juice, vinegar, thyme, and jalapeno chile. Put in fridge to chill. Remove rind from watermelon and cut into bite-sized cubes. To assemble salad, place watermelon in large bowl along with feta and arugula. Pour 3/4 of dressing over salad and gently toss. Add more dressing if needed.
7.8.1.2
3506
https://deliciouslyorganic.net/watermelon-arugula-and-feta-salad/
Copyright 2016 Deliciously Organic
***I had help with the photo this week so props to Dan "to-the-max" Korem 🙂