Caramel Apple Coffee Cake is a delicious way to bring in the fall!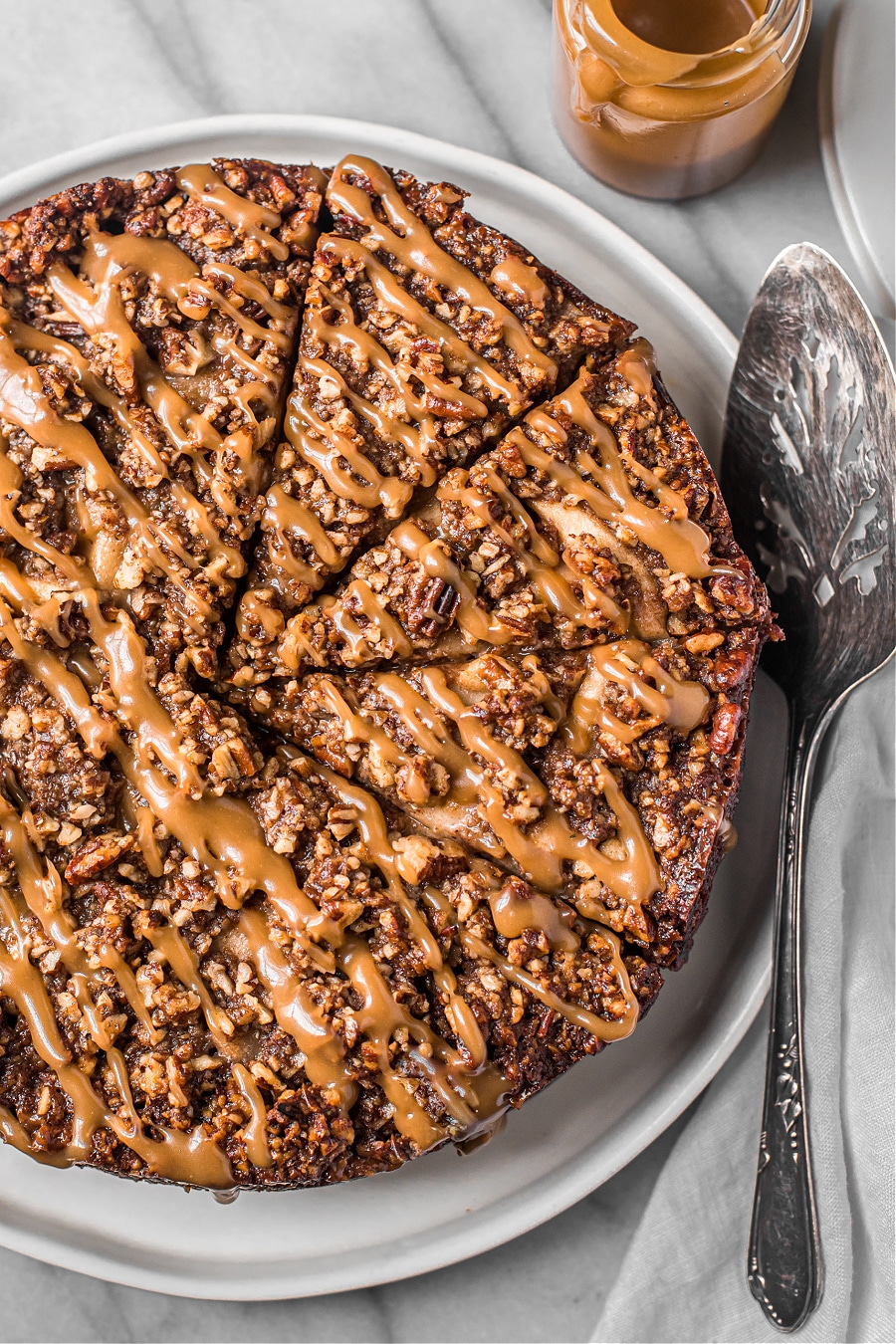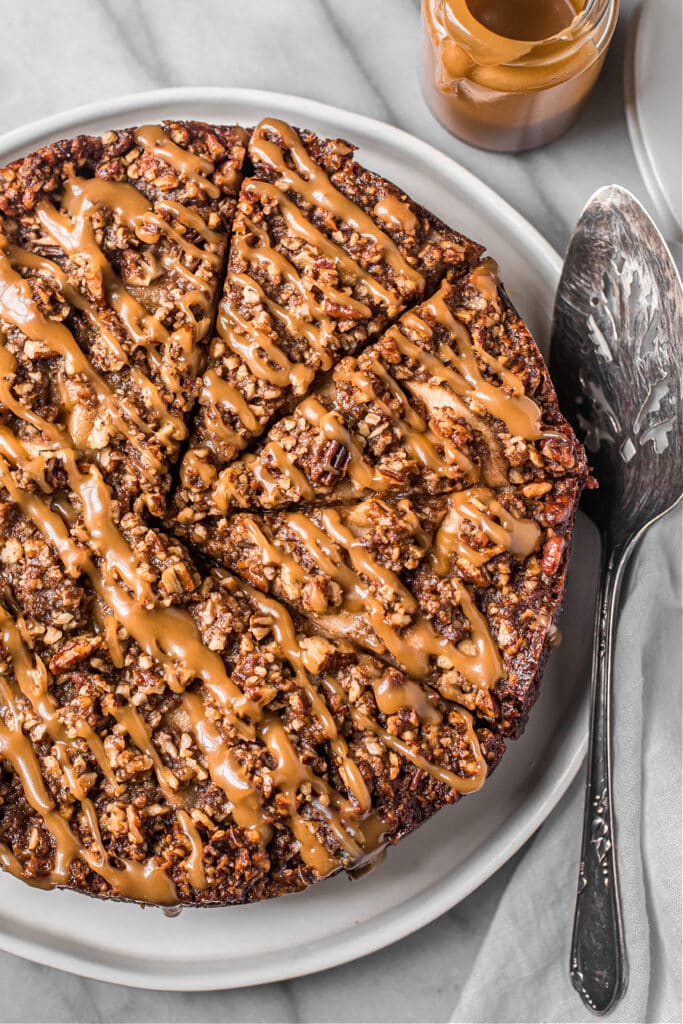 Only three weeks until my new cookbook, The Grain-Free Family Table, hits shelves! I'm thrilled, nervous, excited, and anxious to share this book with you.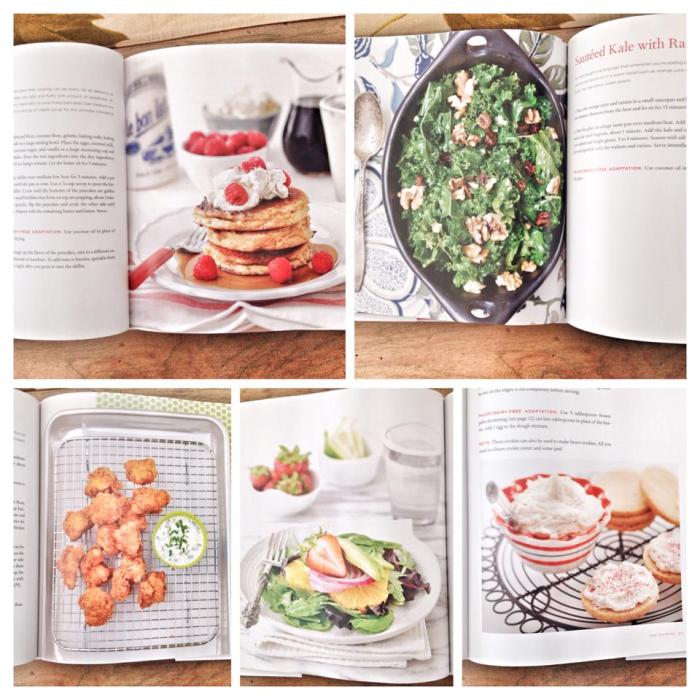 Here's a pic I posted on Instagram featuring some of the book interior. Pictured above: my Fluffy Pancakes, Sautéed Kale with Raisins and Walnuts (a GREAT dish for Thanksgiving!), Chicken Nuggets (my kids' ultimate fav), Mixed Greens with Strawberry, Oranges and Avocado, and Slice and Bake Cookies with Dairy-Free Frosting (you need this one for the holidays – the frosting is so, so good!).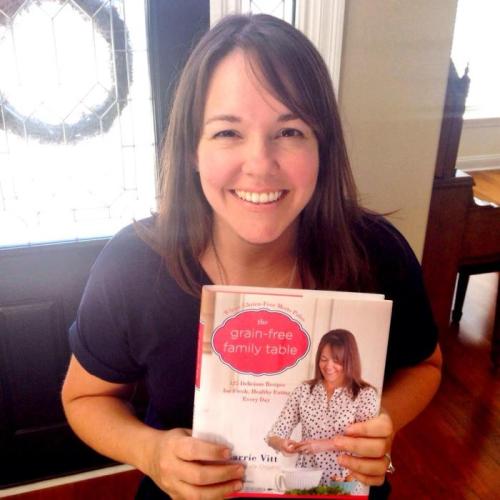 A pic of me last week when I received my first copy of the book! After all of the struggle and hard work, it felt so good to hold this in my hands. I think you're going to love it!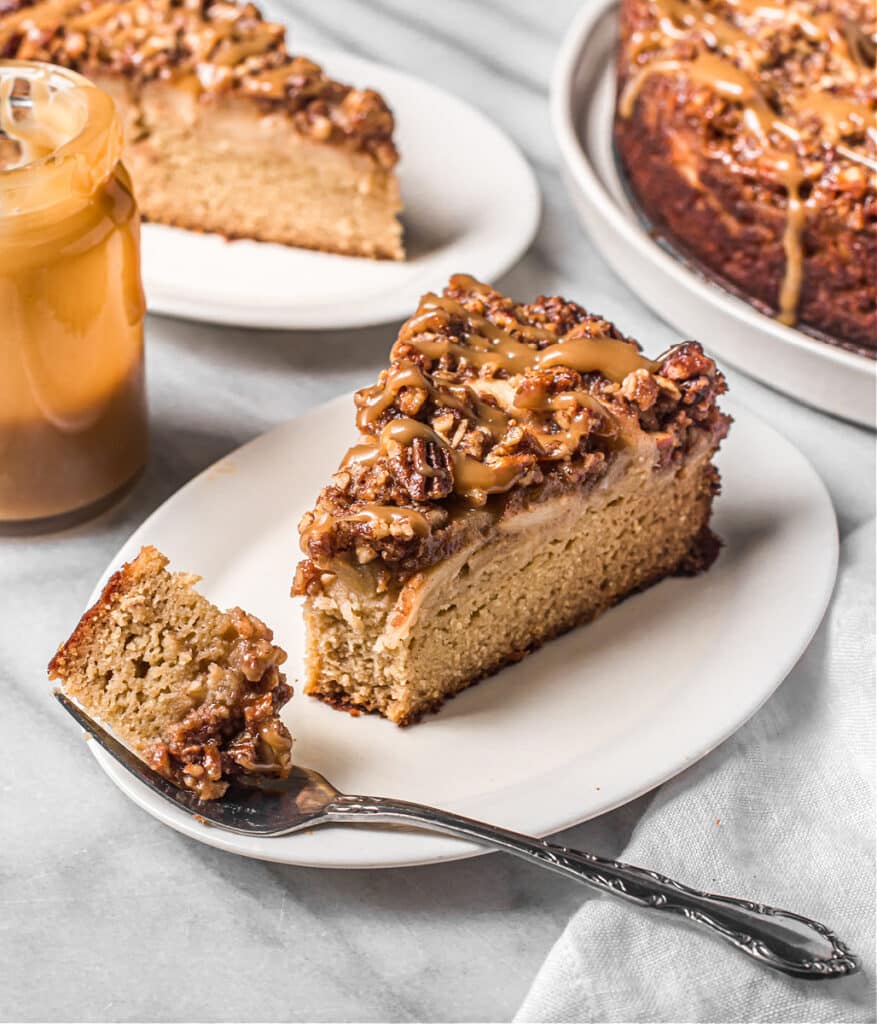 I saw a version of this caramel apple coffee cake in Southern Living magazine a couple of months ago and adapted their ideas using my grain-free coffee cake recipe. It's a dynamite cake for a fancy breakfast or for dessert after dinner.
Print
Salted Caramel Apple Coffee Cake (Grain-Free)
Author: Deliciously Organic
Prep Time:

20

Cook Time:

1 hr 25 minutes

Total Time:

27 minute

Yield:

Makes one 9" cake

Category:

brunch

Diet:

Gluten Free
For the Apples:
4 apples, peeled, cored and sliced thin (I used Granny Smith)
2 tablespoons of coconut oil
1/2 teaspoon ground cinnamon
For the Salted Caramel:
1/4 cup unsalted butter
1/2 cup maple syrup
3/4 cup heavy cream
1/8 teaspoon coarse Celtic sea salt
For the Cake Batter:
1 cup coconut flour
1/2 teaspoon Celtic sea salt
1 teaspoon ground cinnamon
8 large eggs (organic and pastured preferred)
1 teaspoon baking soda
1/2 cup plain whole yogurt (use strained plain, coconut milk yogurt for Paleo/dairy free)
6 tablespoons unsalted butter or coconut oil, melted
1/2 cup honey
1 tablespoon vanilla extract
For the Topping:
1 1/2 cups nuts (almonds, pecans, cashews, etc.)
2 teaspoons cinnamon
4 tablespoons honey 
4 tablespoons unsalted butter or coconut oil cold, cut into tablespoons
Instructions
For the Apples: Melt butter in a large sauté pan and add apples. Cook for 15 minutes, stirring every-so-often until apples are beginning to turn soft. Sprinkle with cinnamon. Cool completely. 
For the Salted Maple Caramel: Melt the butter in a medium saucepan over medium heat. Whisk in maple syrup and bring to a boil. Whisk constantly for about 2 minutes. Slowly pour in cream. Bring to a boil, whisking often. Boil until sauce thickens and coats the back of a spoon, (or reaches 220ºF) about 5 minutes. Remove from heat and whisk in salt. Let cool for 10 minutes.
For the Cake: Preheat oven to 350ºF and adjust rack to middle position. Place all the batter ingredients in a food processor or blender and blend until smooth. Pour batter into a buttered 9-inch springform pan. Place apples on top of cake batter in an even layer (some will overlap a bit). Pour 1/2 of the caramel over the apples. Drop spoonfuls of topping over batter. Cover loosely with a foil. 
Bake for 25 minutes and then remove the foil. Bake an additional 20 minutes until golden brown and a cake tested inserted in the middle of the cake comes out clean (the tester might have a bit of caramel on it, just make sure there isn't any batter on the tester). Cool for 1 1/2 hours. Cut and serve with remaining caramel sauce.
For the Topping: Wipe out food processor bowl with a paper towel or cloth. Place nuts, cinnamon, honey and butter in the bowl of a food processor. Pulse until nuts are coarsely chopped and ingredients bind together. 
Keywords: caramel apple coffee cake