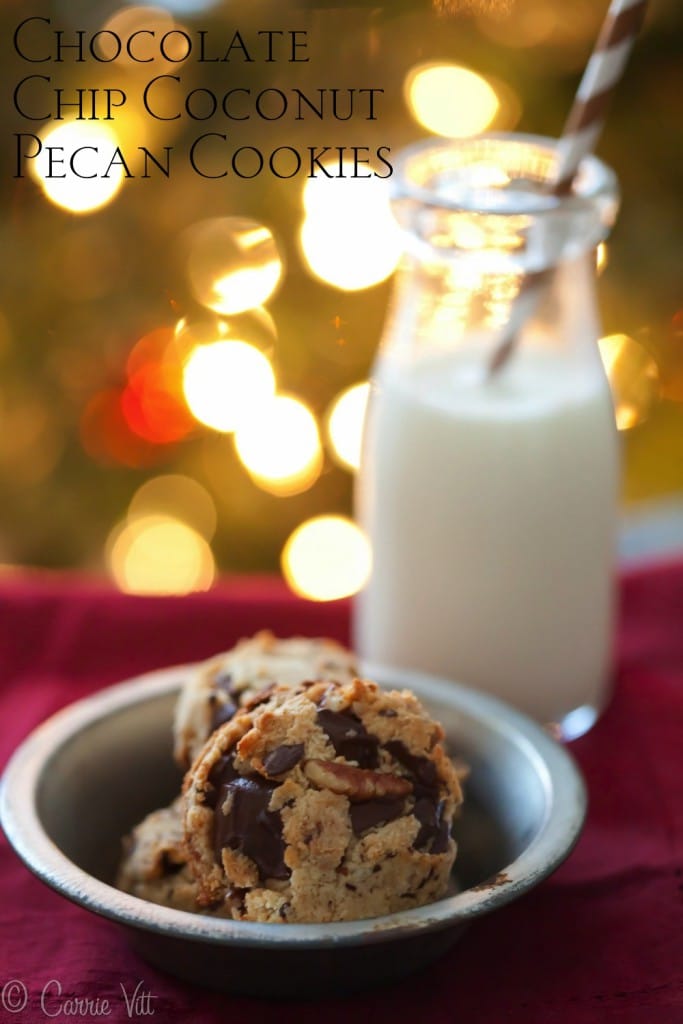 It's the holiday season – let's start off the month with some cookies! My brother loves Chocolate Chip Coconut Pecan cookies. He and his wife will celebrate Christmas with us in just a few weeks, so I created a grain-free version we can all enjoy. You can make cookie dough ahead of time and freeze it in an airtight container for about three months. I like to scoop the cookies, freeze them, then pop them into the oven straight from the freezer – just add about 5 minutes of baking time. This way, you can always have some treats on hand when family or friends pop by!
Makes about 1 dozen cookies
Chocolate Chip Coconut Pecan Cookies (Grain-Free)
The gelatin and cashew butter give the dough structure and are needed for this recipe. If you'd like you can trade out the coconut and pecans for your favorite dried fruits and nuts.
Ingredients
2 cups almond flour
2 tablespoons coconut flour
1/2 teaspoon unflavored grass-fed gelatin
1/2 teaspoon Celtic sea salt
1/2 teaspoon baking soda
6 tablespoons unsalted butter, melted
1/4 cup raw honey
2 tablespoons cashew butter (I make this with soaked cashews and a bit of water)
1 tablespoon vanilla extract
1/2 cup unsweetened coconut flakes
1/2 cup soaked and dehydrated chopped pecans
3 ounces bittersweet chocolate, chopped
Instructions
Preheat oven to 350 degrees F and adjust rack to middle position. Whisk almond flour, coconut flour, gelatin, salt and baking soda together in a large mixing bowl. Stir in butter, honey, cashew butter and vanilla. Fold in coconut and chocolate. Using a 2-inch cookie scoop, spoon cookies on to a baking sheet lined with parchment paper. Gently press on each cookie to make each cookie about 1-inch thick. Bake for 12 minutes. Serve.
7.8.1.2
4245
https://deliciouslyorganic.net/chocolate-chip-coconut-pecan-cookies-grain-free/
Copyright 2016 Deliciously Organic