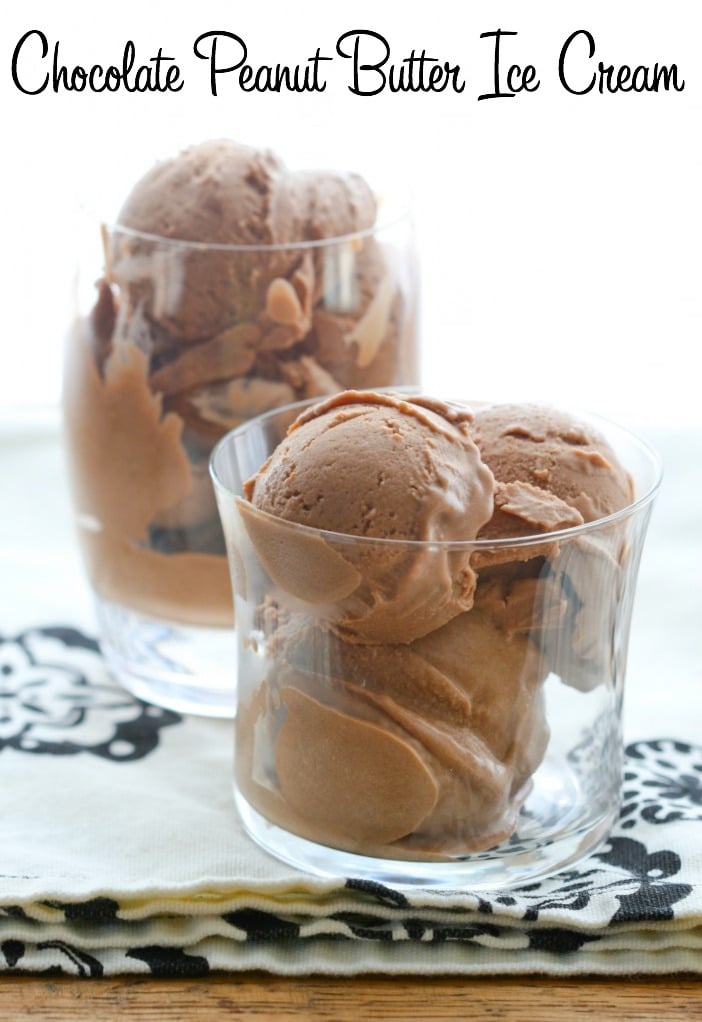 Last week we wore sweaters and slept under blankets and this weekend it's 90 degrees and we're sporting shorts and tees. We spent Saturday at a track meet in the blazing hot sun and arrived home with sun-kissed cheeks and shoulders. The air-conditioner is on and we're doing our best to keep cool. I reached for my favorite ice cream book for a smooth and cold creamy dessert. This chocolate peanut butter ice cream is one of the best ice creams I've ever had! It's ultra creamy and has an intense chocolate flavor. I used coconut milk instead of heavy cream and we were all pleased with a creamy, rich, and chocolaty dessert with minimal effort. I've discovered that the white sugar called for in most ice cream recipes can be replaced with maple syrup or honey without making any major alterations to the end product. . If you're looking for a good ice cream book for the warmer months, I highly recommend David's book.
Chocolate Peanut Butter Ice Cream
If you'd like, you can substitute the peanut butter for another nut butter, the honey for maple syrup, or heavy cream for coconut milk.
Adapted from The Perfect Scoop
Ingredients
2 cups coconut milk (I prefer Native Forest . It's an organic coconut milk without a BPA-lined can)
1/4 cup cacao powder
1/2 cup maple syrup
1/2 cup smooth peanut butter
Instructions
Place coconut milk, cacao powder and maple syrup in a medium saucepan. Heat the mixture over medium heat, whisking constantly until it comes to a simmer. Remove from heat and whisk in peanut butter. Place a fine mesh sieve over a bowl and pour chocolate mixture through the sieve. Cover the bowl tightly and place in the refrigerator to chill for about 2 hours. Freeze mixture in your ice cream maker according to manufacturer's directions. Serve.
7.8.1.2
3362
https://deliciouslyorganic.net/chocolate-peanut-butter-ice-cream/
Copyright 2016 Deliciously Organic