Fermented Sourdough Cinnamon Rolls are so fun to make on a special occasion. You might notice that this is the same dough as my Fermented Brioche Cinnamon Swirl Bread, but this time, it's rolled with cinnamon sugar and topped with a sweet glaze!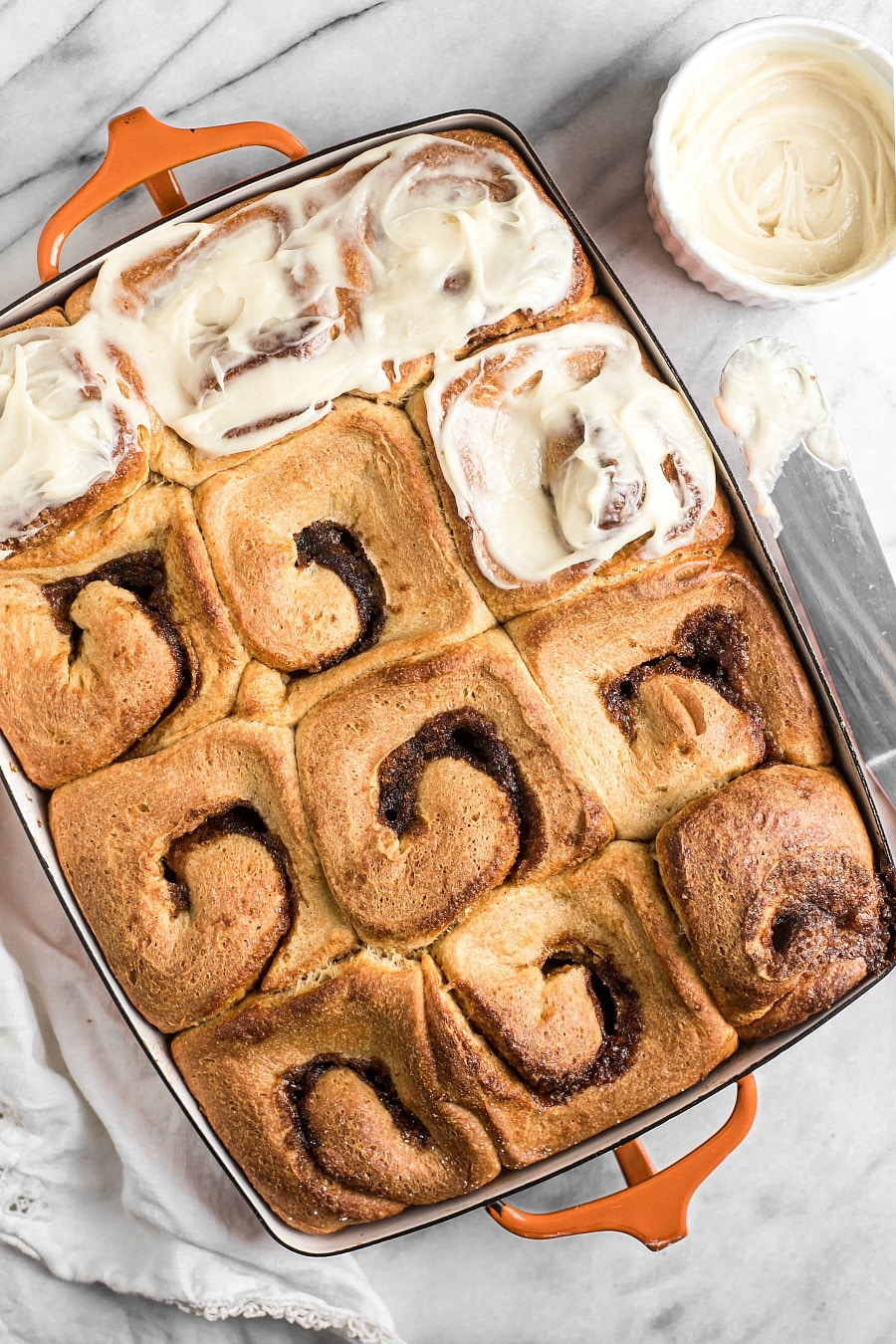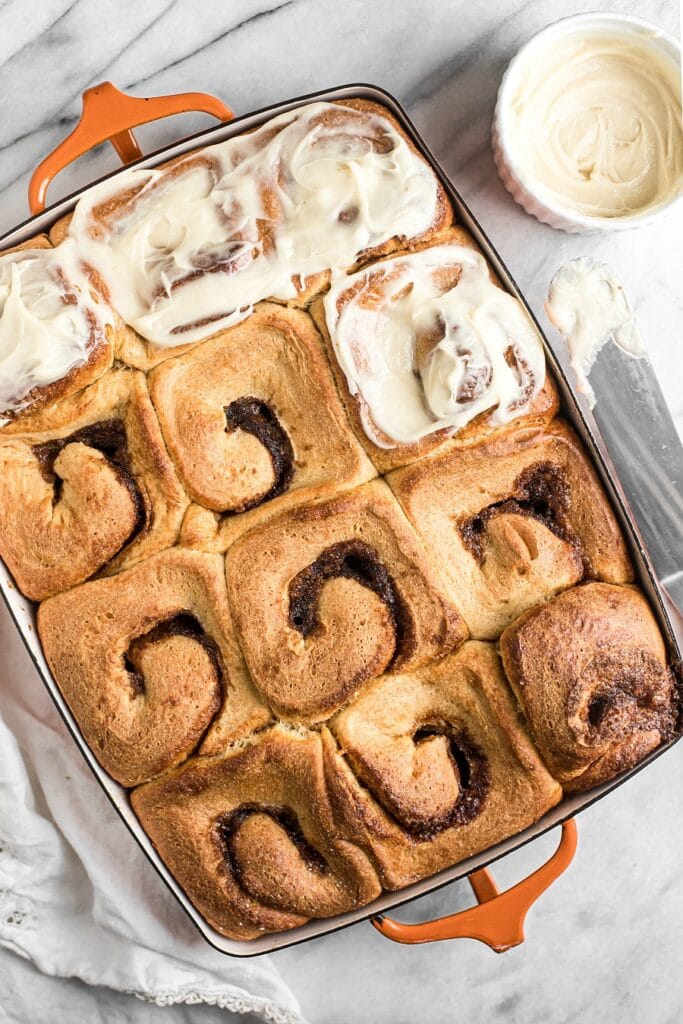 Did you know that forty-eight hours of slow fermentation will destroy 97% of all the gluten in the bread? The fermentation process also breaks down the sugars and contains probiotics. How amazing is that?!
To learn more about the science behind fermenting bread, check out this podcast. 
Some of you might be questioning why I'm using so many organic sugars in this recipe as this isn't normal for me. I think every so often it's nice to break from the norm and make something new and festive for a special occasion. I made these cinnamon rolls over Christmas and they were such a treat!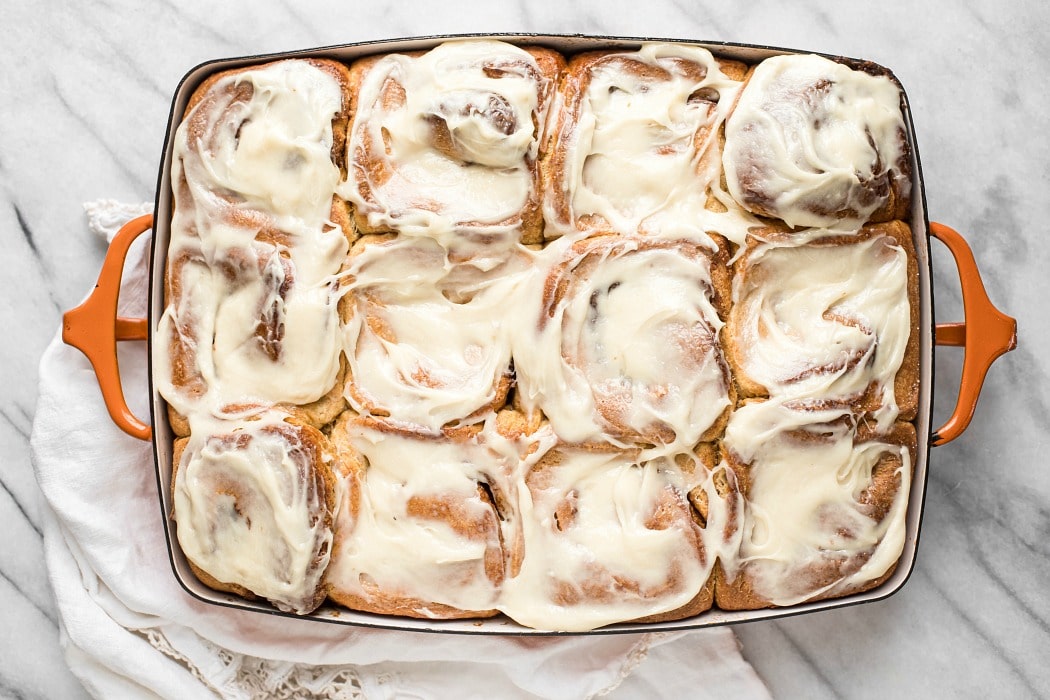 It's such fun to be able to serve cinnamon rolls at breakfast, so I tested this recipe with a 5 hour rise and an 8-10 hour rise. They both worked beautifully! 
One thing to note is that when you let them sit overnight, the rolls rise a bit higher than if you let them rise for just five hours. So, all twelve of the rolls might not be completely uniform in their height. It doesn't affect the flavor, but if you want all twelve rolls to be the exact same height, then a five hour rise would be best (the ones in the picture were with a five hour rise).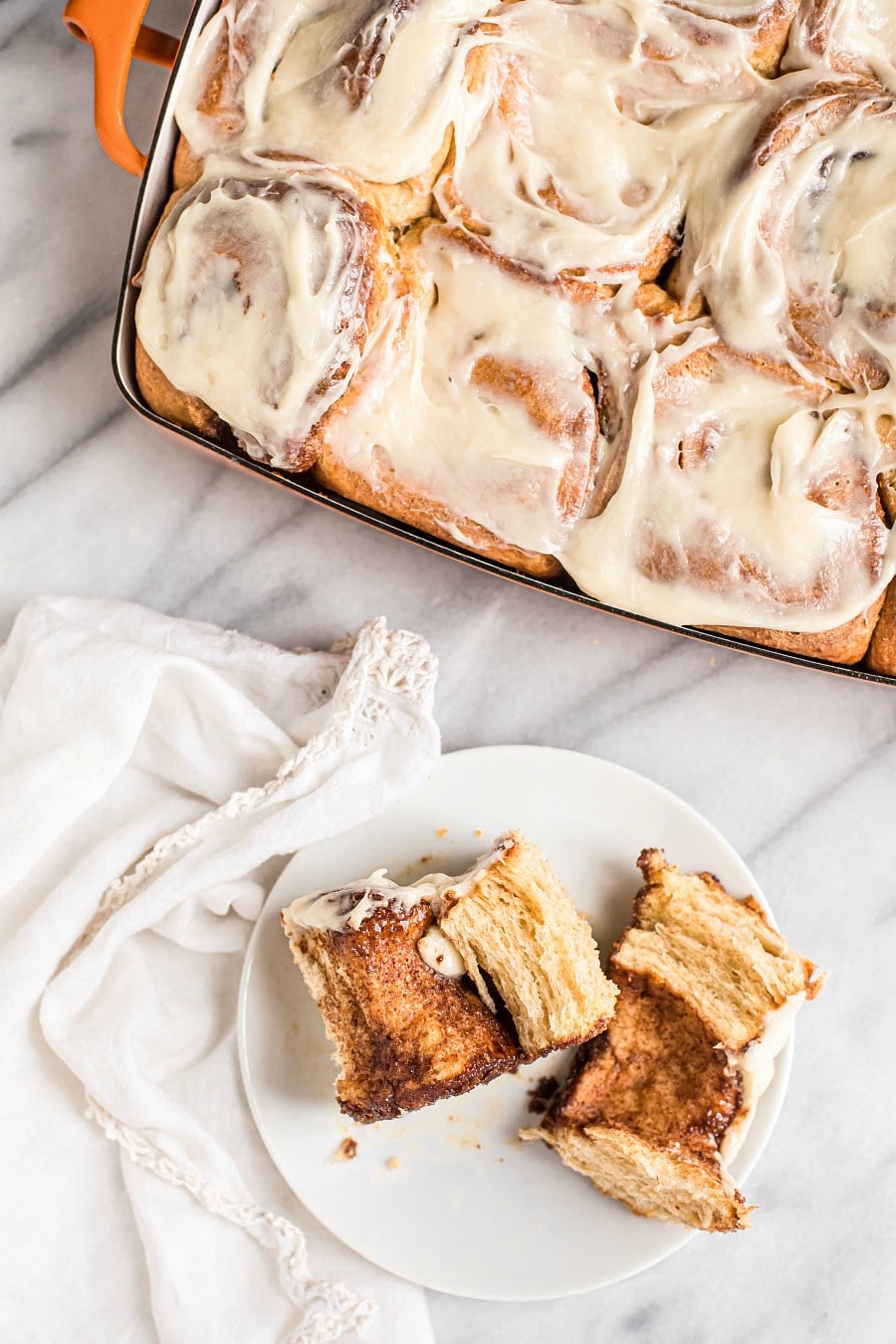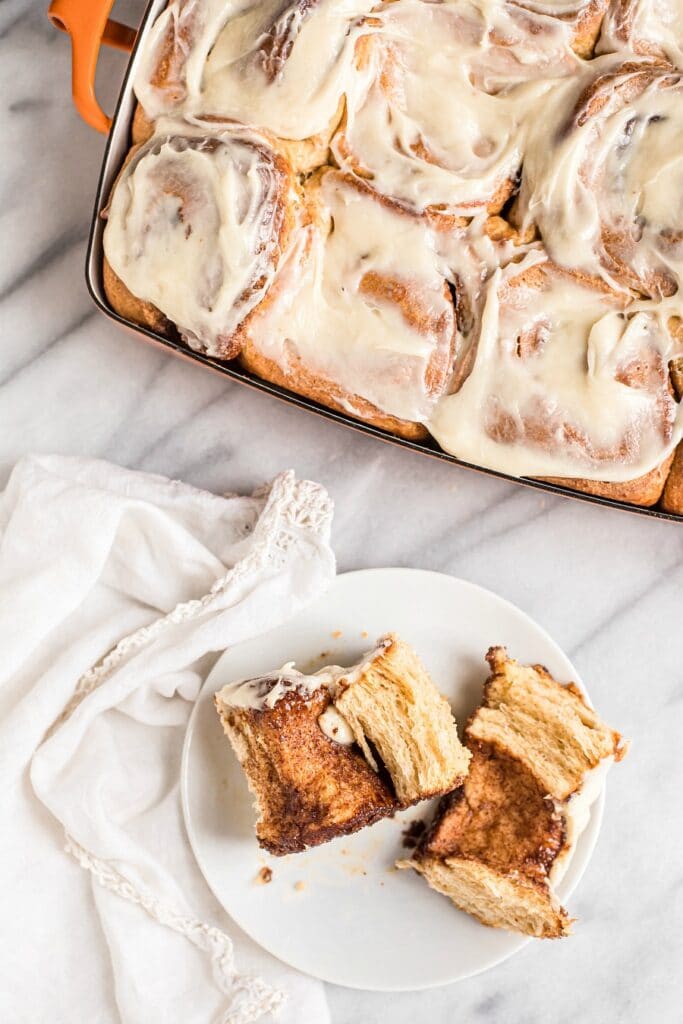 I realize that the recipe is very long, but keep in mind that you'll make the dough on one day, let it sit in the fridge for two days, make the rolls, let them sit on the counter and then bake. It's honestly not as complicated as it looks. 🙂 
I hope you enjoy this recipe as much as my family did!
Print
Fermented Sourdough Cinnamon Rolls
Keep in mind that the nutrition facts for this recipe listed below probably aren't correct. The nutrition analyzer doesn't take into effect the fermentation process which breaks down sugars and such. This recipe was adapted from Min's Kitchen brioche recipe. She has an amazing Instagram feed, so make sure to check her out!
For the Sweet Levain:
For the Dough:
210g

unsalted organic butter, melted and cooled

250g

spelt flour

250g

organic all purpose flour

250g

sweet levain (from above)

4

large eggs, room temperature

45g

whole milk, room temperature

9g

Celtic sea salt
For the Cinnamon Filling:
253g

organic brown sugar

1g

tablespoon ground cinnamon 

1g

Celtic sea salt salt

57g

unsalted butter, softened
For the Glaze:
113g

cream cheese, softened

14g

whole milk

4g

vanilla extract

154g

organic powdered sugar 
Instructions
For the Levain: The night before you want to make the dough, put flour, water, starter, and organic cane sugar in a mixing bowl. Stir the ingredients together until combined. Cover with a clean cloth and let sit overnight for at least 8-10 hours.
For the Dough: Place the butter, spelt, flour, sweet levain build (from above), eggs, cane sugar, whole milk and sea salt in the bowl of a standing mixer. Mix on low using the beater attachment for 5 minutes. After 5 minutes, remove the beater attachment and put on the dough hook. Mix for 8 minutes on medium.
Stretch and Fold: Cover the bowl with a clean cloth and let sit for 30 minutes. Stretch and fold the dough four times (watch this video and start at the 1:01 minute mark). After you stretch and fold the first time, place a clean cloth over the dough and let it sit for 30 minutes. Then, stretch and fold the dough again, place a clean cloth over the dough and let sit for another 30 minutes. Repeat two more times for a total of four times.
After the stretch and fold process, cover the dough really well with plastic wrap (or a lid, if you have one) and place the dough in the refrigerator. Let the dough ferment for 48-72 hours.
To Make the Cinnamon Rolls: Roll the dough out to an 12×9-inch rectangle. Using an offset spatula, spread the softened butter over the dough and then top with the combined sugar, cinnamon and salt. Roll up and cut into 12 rolls. Put rolls in a buttered 13×9-inch pan, cover with a cloth and let sit for 5 hours at room temp (they won't rise much until they go into the oven).
Or, if you'd like to bake the cinnamon rolls for breakfast, let the rolls sit, covered, at room temperature overnight for 8-10 hours. Keep in mind, because there will be a longer rising time, the rolls will rise a bit more when baked than if you only let them rise for 5 hours. They will taste exactly the same as the 5 hour rise option, but the rolls will be much taller.
To Bake: Preheat the oven to 350ºF and adjust the rack to the middle position. Bake for 50-60 minutes, until golden brown on top.
For the Glaze: Whisk together the cream cheese, milk, vanilla and powdered sugar until smooth. Using an offset spatula, spread the glaze evenly over the warm cinnamon rolls.
Photo Credit: Becky Winkler