Grilled hamburgers with sour cream and herbs is a fun twist on a classic. The sour cream gives the meat a cool flavor and the herbs add a springtime touch.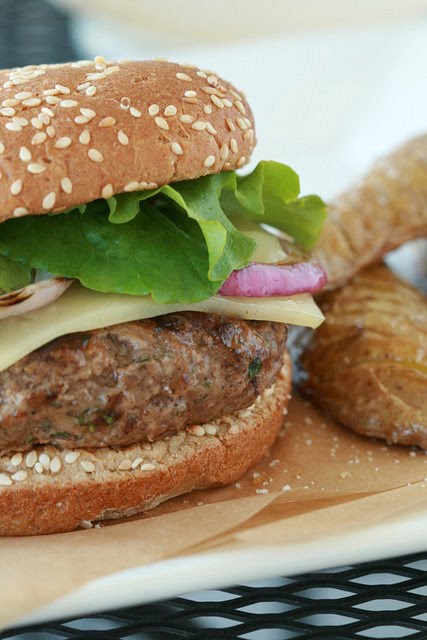 Grilled Hamburgers with Sour Cream and Herbs
Ingredients
1 pound ground beef (grass-fed preferred)
2 tablespoons sour cream
1 teaspoon fresh thyme, minced
1 teaspoon fresh rosemary, minced
1 teaspoon parsley
1/4 freshly ground black pepper
1/2 teaspoon sea salt
1 red onion, cut into 1/4-inch thick slices
2 teaspoons coconut oil
4 whole wheat or gluten free hamburger buns (or a large piece of iceberg lettuce for a grain-free option)
Condiments of your choice
Instructions
Gently massage ground beef, sour cream, thyme, rosemary, parsley, black pepper, and salt until just incorporated. Divide meat into four portions. Flatten each portion to 3/4-inch thick. Gently press center of patty down to create a slight depression, about 1/2-inch diameter. Cover and chill patties 1 hour and up to 8 hours.
Coat red onion slices with coconut oil and sprinkle with salt and pepper. Remove patties from refrigerator and grill to desired doneness. While the patties are grilling, also grill the onion slices until lightly charred.
Serve hamburger on whole wheat bun and topped with red onions and any condiments of your choice.
7.8.1.2
3190
https://deliciouslyorganic.net/grilled-hamburgers-with-sour-cream-and-herbs/
Copyright 2016 Deliciously Organic