A homemade devil snack cake is such a fun recipe to make with the kids. You also can use this cake recipe to make ding dongs or a splendid two layer frosted cake.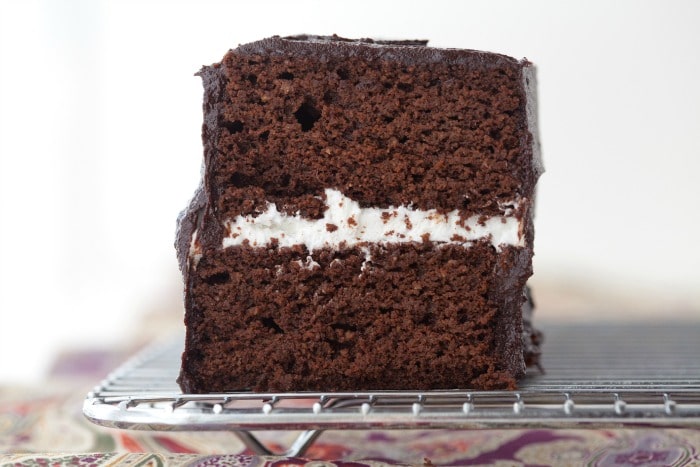 In fact, the flavors are so deep and rich you can serve the mini versions at your next dinner party and no one will know they're "snack cakes".
Print
Homemade Devil Snack Cake (Grain-Free)
Prep Time:

20

Cook Time:

40

Total Time:

1 hour 40 minutes

Yield:

Makes 10 3-inch cakes

Category:

Dessert

Diet:

Gluten Free
For the cake:
For the Filling:
For the Ganache:
1

cup

heavy cream

1

pound

organic dark chocolate, finely chopped

1 tablespoon

coconut oil
Instructions
Preheat the oven to 375 degrees and adjust rack to middle position. Line a 12 x 17-inch baking sheet with parchment paper. Using a pastry brush, brush butter or coconut oil all over the parchment and up the sides of the baking pan.
Pour batter into prepared pan and bake for 16-20 minutes, or until a cake springs back when lightly pressed. Cool completely. (If you have time, placing the cake in the refrigerator will make the cakes easier to handle when forming into snack cakes.)
Whisk together all of the filling ingredients for about 2 minutes until soft peaks form. Place the frosting in the refrigerator for 30 minutes (this helps the gelatin set a bit more and give the frosting more structure).
Place the heavy cream, chocolate and coconut oil in a heat-proof bowl and set over a pot of simmering water or double boiler. Heat over low and cook, stirring every-so-often until chocolate is melted. Whisk until smooth.
To assemble: Cut cake into 20 3×3-inch squares. (Make sure the cake is completely cooled. If not, it will be difficult to assemble the squares.) Spoon a few tablespoons of frosting on 10 of the squares and then top with second square of cake. Spoon 3-4 tablespoons of ganache on each cake and frost top and sides using an off-set spatula. These are best stored in the refrigerator until ready to serve.
Note: I only test the recipes on my site with the listed ingredients and measurements. If you would like to try a substitution, you are welcome to share what you used and how it turned out in the comments below. Thanks!
Keywords: homemade devil snack cake