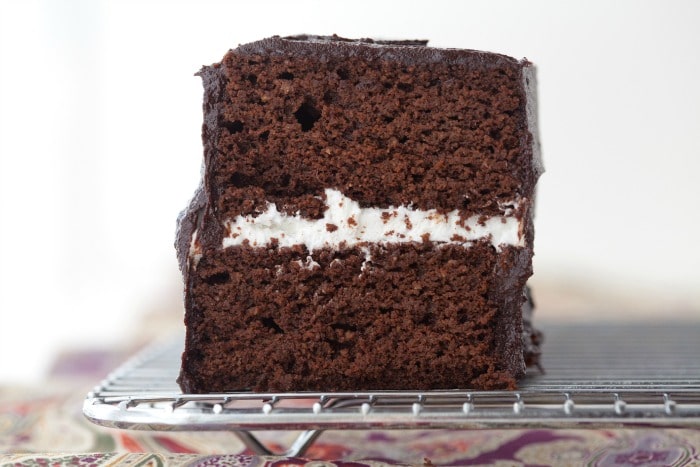 After experimenting for several years I'm now convinced you can make
anything
with unrefined, wholesome ingredients.  My repertoire now includes a homemade devil snack cake. You can use this cake recipe to make ding dongs or a splended two layer, frosted cake.
In fact, the flavors are so deep and rich you can serve the mini versions at your next dinner party and no one will know they're "snack cakes" (just don't announce it by saying "Ding Dongs for dessert").
Most likely because of my sweet tooth, I often get questions about the organic whole cane sugar I use in my recipes.  I wrote a guest post this week at Simple Organic explaining in depth why I love this sweetener and how to practically apply it to your baking and cooking.  It might answer some of your questions, and help you recreate some childhood memories, without the crazy chemicals.
Makes 10 3-inch cakes
Homemade Devil Snack Cake (Grain-Free)
Ingredients
For the cake:

For the Filling:

1 cup palm shortening
1/2 cup raw honey
2 teaspoons vanilla extract
2 tablespoons arrowroot flour
2 tablespoons coconut butter
1/2 teaspoon unflavored, grass-fed gelatin

For the Ganache:

1 cup heavy cream?
1 pound organic dark chocolate, finely chopped?
1 tablespoon coconut oil
Instructions
Preheat the oven to 375 degrees and adjust rack to middle position. Line a 12 x 17-inch baking sheet with parchment paper. Using a pastry brush, brush butter or coconut oil all over the parchment and up the sides of the baking pan.
Pour batter into prepared pan and bake for 16-20 minutes, or until a cake springs back when lightly pressed. Cool completely. (If you have time, placing the cake in the refrigerator will make the cakes easier to handle when forming into snack cakes.)
Whisk together all of the filling ingredients for about 2 minutes until soft peaks form. Place the frosting in the refrigerator for 30 minutes (this helps the gelatin set a bit more and give the frosting more structure).
Place the heavy cream, chocolate and coconut oil in a heat-proof bowl and set over a pot of simmering water or double boiler. Heat over low and cook, stirring every-so-often until chocolate is melted. Whisk until smooth.
To assemble: Cut cake into 20 3x3-inch squares. (Make sure the cake is completely cooled. If not, it will be difficult to assemble the squares.) Spoon a few tablespoons of frosting on 10 of the squares and then top with second square of cake. Spoon 3-4 tablespoons of ganache on each cake and frost top and sides using an off-set spatula. These are best stored in the refrigerator until ready to serve.
Note: I only test the recipes on my site with the listed ingredients and measurements. If you would like to try a substitution, you are welcome to share what you used and how it turned out in the comments below. Thanks!
7.6.4
3798
https://deliciouslyorganic.net/homemade-little-debbie-devil-squares/
Copyright 2016 Deliciously Organic
Posts may contain affiliate links. If you purchase a product through an affiliate link, your costs will be the same but Deliciously Organic will receive a small commission. This helps cover some of the costs for this site. We appreciate your support!