I absolutely love these chicken and black bean quesadillas! They're flavorful, filling, and easy to whip up for any meal.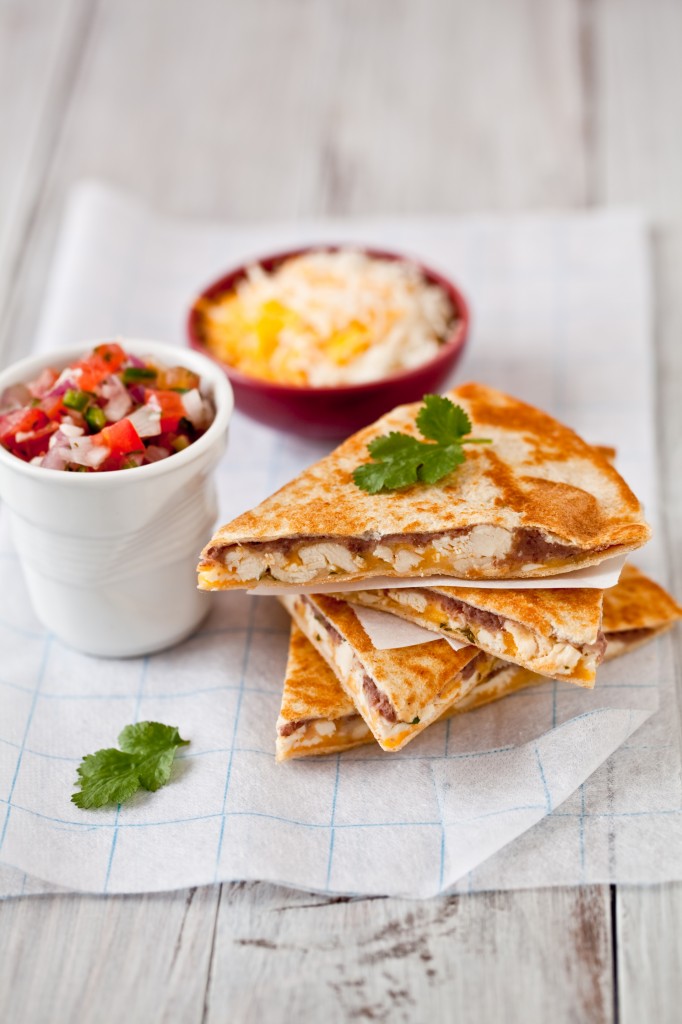 Chicken and Black Bean Quesadillas
The black bean spread will keep in the fridge for about two weeks and is perfect for late-night nachos.
Ingredients
Chicken Marinade:

2 boneless, skinless chicken breasts
2 tablespoons lime juice, about 1 lime
2 tablespoons red wine vinegar
1?4 cup (60 ml) extra-virgin olive oil
2 cloves garlic, minced
Sea salt and freshly ground black pepper
1 recipe black refried beans
Juice of 1 lime
1 teaspoon garlic powder
1/4 teaspoon sea salt
8 ounces Cheddar cheese, grated, about 1 cup
8 ounces Monterey Jack cheese, grated, about 1 cup
Juice of 1 lime
1/4 cup (60 ml) cilantro, chopped
8 gluten free or grain-free tortillas
Instructions
Place chicken in a large bowl. Add the lime juice, vinegar, olive oil, garlic, salt and pepper then toss until the chicken is well coated. Marinate at room temperature for 1 hour. Grill or broil chicken for 4 minutes on each side, or until a thermometer reads 160°F (70°C) when inserted into thickest part of the breast. Tent with foil.
Shred the chicken when cool enough to handle. (Shredded chicken can be prepared a day or two in advance and kept in the refrigerator, or store the cooked and shredded breasts in a covered container in the freezer for up to 3 months.)
Place beans, lime juice, garlic powder and salt into a medium bowl and stir until combined. Toss cheeses, lime juice and cilantro in large bowl.
Place 4 of the tortillas on a flat work surface. Spread a thin layer of beans on each tortilla, sprinkle with cheese and top with shredded chicken. Make sure not to put the cheese too close to the outside of the tortillas to prevent it from oozing out. Complete the assembly by placing a tortilla on top of each quesadilla.
Heat a large skillet over medium heat. Place 1 quesadilla in the skillet and cook until golden brown, about 1 minute. Flip quesadilla and cook until bottom is golden brown and cheese is melted. Serve alone or with some salsa or a generous dollop of guacamole.

For a more smoky flavor:

Grill the quesadillas over medium heat for 2 minutes per side.
7.8.1.2
4197
https://deliciouslyorganic.net/chicken-and-black-bean-quesadillas/
Copyright 2016 Deliciously Organic