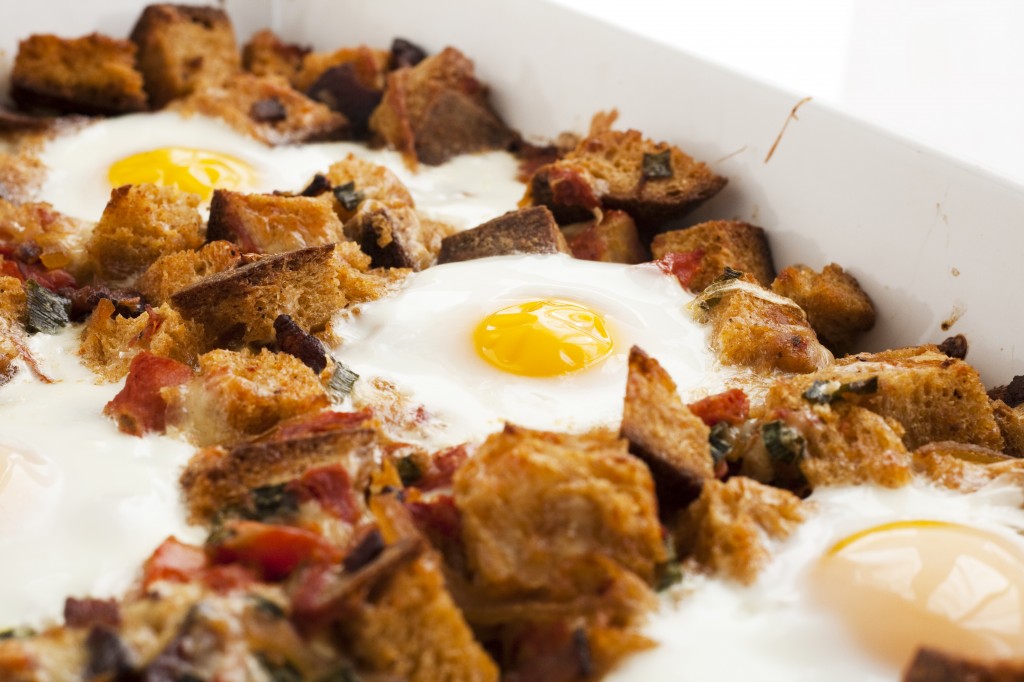 I finally found the breakfast to end all breakfasts. When friends and family come to visit, I'm usually stumped as to what to serve for breakfast. I want something that doesn't pull me away from my guests, but is good enough to make them want more. My family loves bacon, I love anything savory, and protein is a must in our house for the first meal of the day.
The beauty of this dish is that you can make it ahead of time. This way, instead slaving over a hot stove in a kitchen dusted in flour and filled with dirty mixing bowls, you merely pop this baby in the oven and visit with your guests.
Accompany this with fresh fruit, coffee, and maybe milk for the kids. It's filling, so no one will be itching for a snack an hour later.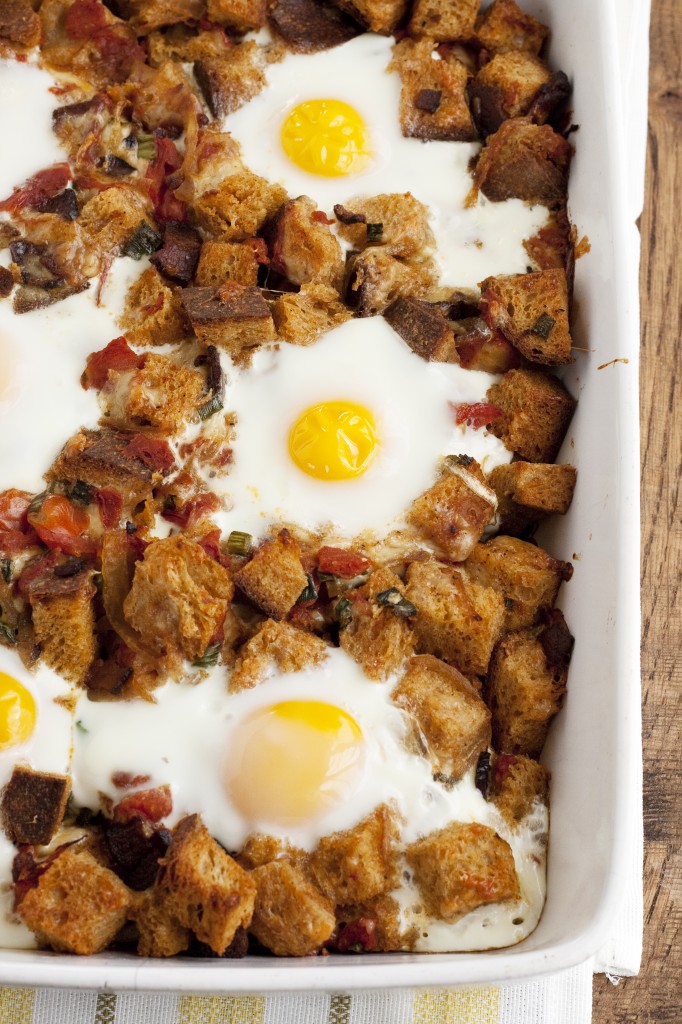 Remember if you buy from good sources of eggs, butter and bacon (organic and grass-fed or pastured) they provide healthy amounts of omega-3 fatty acids and linoleic acid. Sourdough made the old-fashioned or artisan way contains probiotics that are beneficial to the digestive system.
Packed with healthy fats, protein, and flavor – this ultimate breakfast dish really satisfies.
Bacon, Tomato, and Cheddar Breakfast Bake
Adapted from Food and Wine.
Ingredients
1 pound sourdough, cut into 1-inch cubes (or for a gluten-free/grain-free option use 1 recipe of these biscuits )
4 tablespoons unsalted butter, melted
12 ounces smoked bacon (nitrate-free and pastured, preferred)
1 large yellow onion, thinly sliced
1 (28-ounce) can diced tomatoes, drained and patted dry
4 cups cheddar cheese (I prefer raw cheddar)
4 green onions, chopped
1 3/4 cups chicken stock
Sea salt
6 large eggs
Instructions
Preheat oven to 350º and adjust rack to middle position. In a large bowl, lightly toss the sourdough (or biscuits) and butter and spread out on a large baking sheet. Bake for about 20-25 minutes until bread is golden.
Cook the bacon over medium-high heat in a large skillet until crisp. Transfer bacon to a plate lined with paper towels and pour out all fat except for 2 tablespoons.
Add the onion to the skillet and cook over medium heat until caramelized, about 10 minutes. Add the tomatoes and cook until almost all the liquid has evaporated, about 5 minutes.
Pour the onion mixture into a large bowl along with the bread, bacon, cheese, green onion, and stock. Stir until incorporated and season well with sea salt. Spread the mixture in a 9x13 baking dish (if you are making the gluten-free/grain-free version of this recipe then use an 11 x 7-inch baking dish) and cover with parchment paper and then with foil (I do this so the foil doesn't touch the food). (At this point, you can place the dish in the refrigerator and then bake in the morning.)
Bake for 30 minutes and then remove the foiland parchment. Bake an additional 15 minutes until the top is crispy. Remove the baking dish from the oven and, using a ladle, press 6 indentations into the bread mixture. Crack an egg into each indentation. Return the dish to the oven and bake for about 15 minutes until eggs are set, but yolks are still runny. Serve immediately.
7.8.1.2
3218
https://deliciouslyorganic.net/bacon-tomato-cheddar-breakfast-bake/
Copyright 2016 Deliciously Organic
This post is linked to Simple Lives Thursday