Lemon Meringue Ice Cream Pie has been my daughter's birthday pie for many years. I'm excited to share it with you today!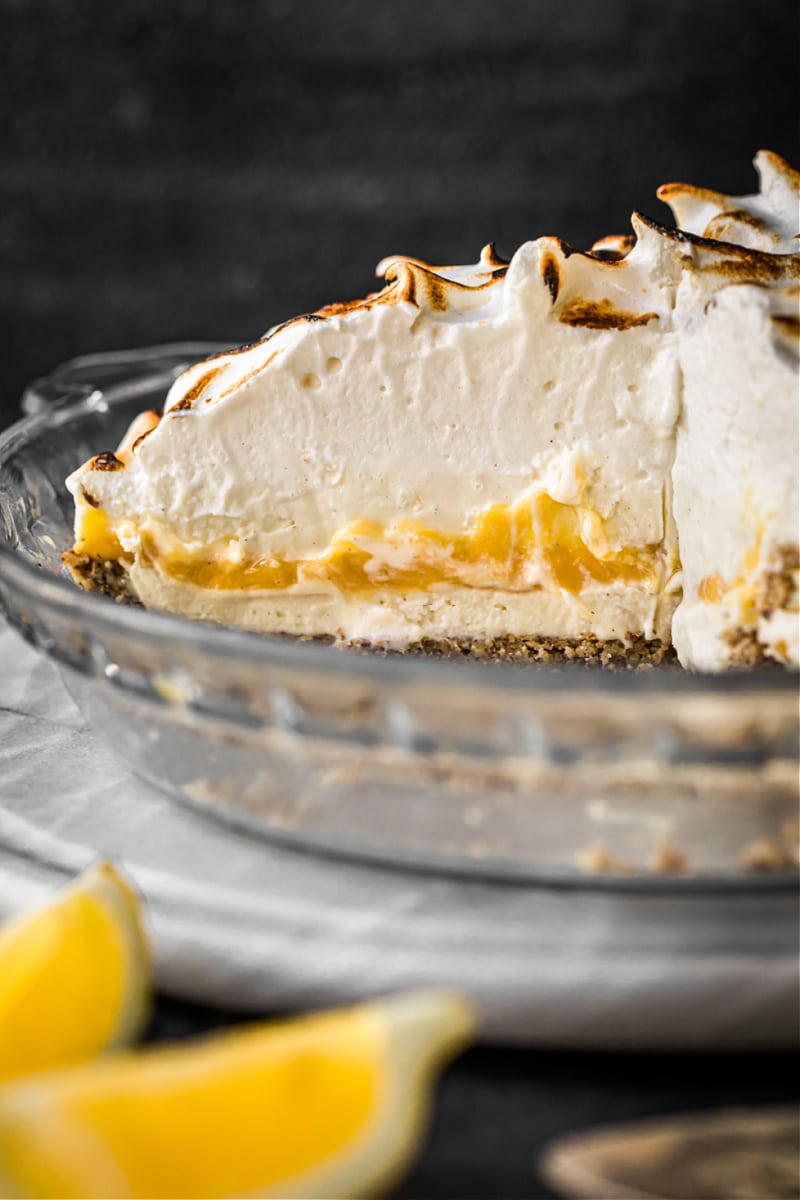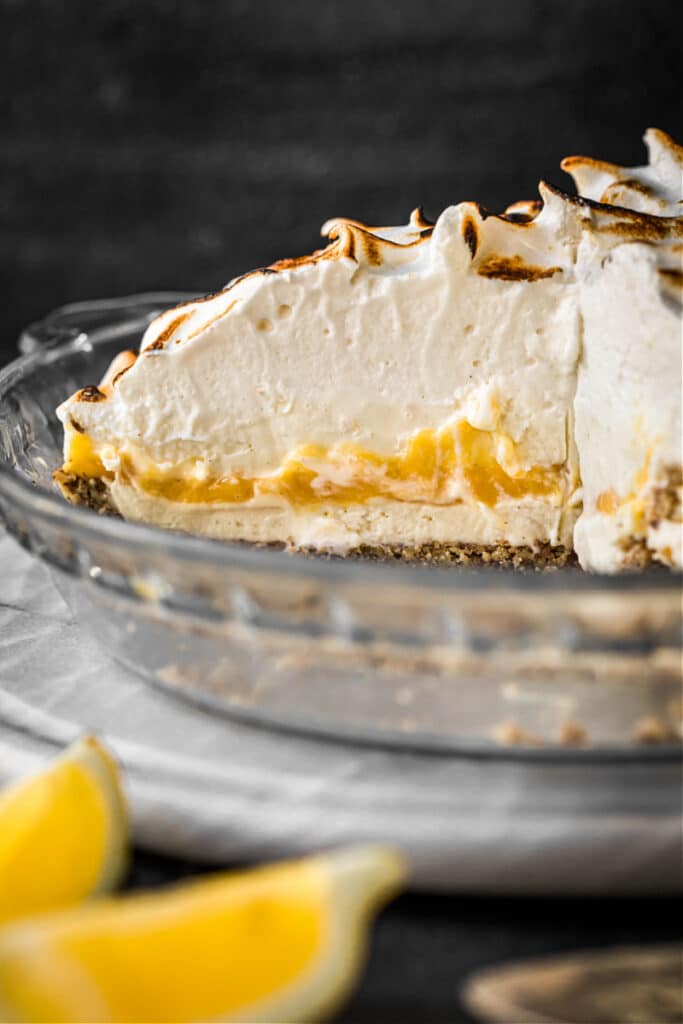 The crust is a simple combination of pecans, sugar and butter. And, it's topped with vanilla ice cream, lemon curd and then a meringue.
Sometimes I make ice cream for this pie and sometimes I buy a carton of organic vanilla. It really just depends on how much time I have. Here's a great vanilla ice cream recipe.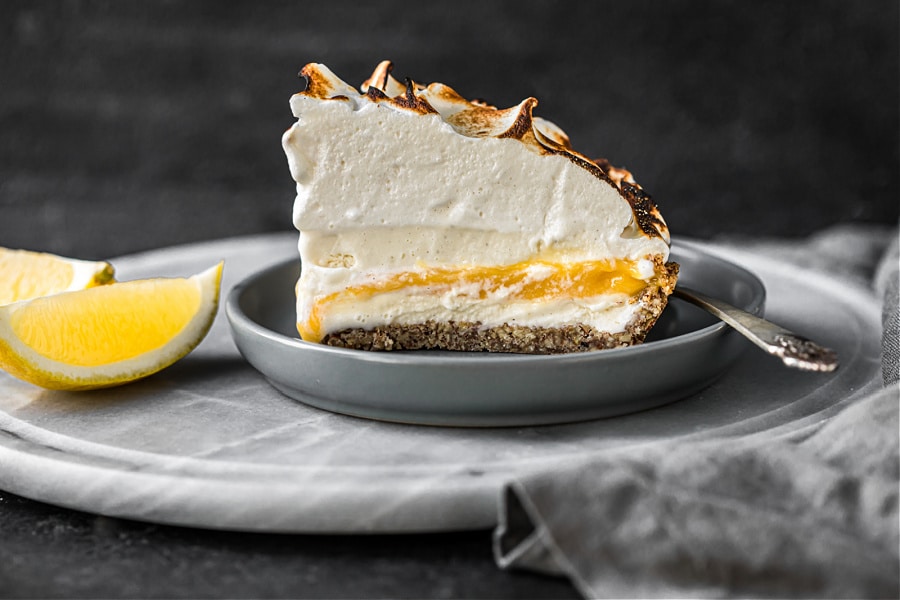 I think you'll love the combination of the tangy lemon, sweet cream and crunchy pecans!
Serves: Makes 1 9-inch pie
Lemon Meringue Ice Cream Pie with Toasted Pecan Crust
20 minPrep Time
50 minCook Time
6 hr, 10 Total Time
Ingredients
Lemon Curd:

2 large eggs
2 large egg yolks
6 tablespoons unsalted butter
3/4 cup light honey (such as clover)
6 tablespoons fresh lemon juice
Zest of one lemon

Crust:

1 1/2 cups soaked and dehydrated pecans , finely chopped
1/4 cup organic whole cane sugar or sucanat
1/4 cup unsalted butter or ghee, melted
3 cups organic vanilla ice cream, slightly softened (for Paleo, use a dairy free ice cream)

Meringue:

1 tablespoon arrowroot
1/3 cup honey
1/4 teaspoon cream of tartar
4 large egg whites
1/2 teaspoon vanilla
Instructions
For Lemon Curd:

Whisk eggs and egg yolks in a medium bowl. Melt butter in a large bowl set over a pot of simmering water. Whisk in honey, juice and zest; gradually whisk in egg mixture. Continue to whisk until thick and then curd registers 175ºF on a candy thermometer, about 8 minutes. Transfer curd to a small bowl. Press a piece of parchment paper on top of curd (so it doesn't form a skin) and chill for at least 4 hours. Can be made 2 days ahead.

For Crust:

Preheat oven to 400ºF and adjust rack to middle position. Mix pecans, whole cane sugar, and butter in a medium bowl until moist. Press pecan mixture into the bottom of a 9-inch pie plate. Bake for 10 minutes until golden. If crust slides down the side of the dish then use the back of a spoon to press crust back into place. Cool and then freeze for 30 minutes.
Spoon 1 1/2 cups ice cream over crust; spread evenly. Spread lemon curd over the ice cream and freeze until firm, about 2 hours. Spread remaining 1 1/2 cups ice cream over curd. Cover and freeze until firm, about 2 hours.

For Meringue:

Preheat broiler. Whisk 1 tablespoons arrowroot with 1/3 cup water in a small saucepan over medium heat until mixture begins to simmer and thickens. When mixture turns translucent, remove from heat. Set aside.
Whisk honey and cream of tartar together in a small bowl. Beat egg whites and vanilla in a large mixing bowl until frothy. Whisk in honey mixture, 1 tablespoon at a time until incorporated. Add arrowroot mixture, 1 tablespoon at a time until meringue forms stiff peaks. Pour meringue on top of pie and using a spatula, spread meringue out evenly. Place pie under the broiler just until the meringue turns golden. Serve immediately. Store leftovers in the freezer.
7.8.1.2
3384
https://deliciouslyorganic.net/lemon-meringue-ice-cream-pie-recipe/
Copyright 2016 Deliciously Organic