Peach and blackberry pie is one of my favorite ways to use summer fruits.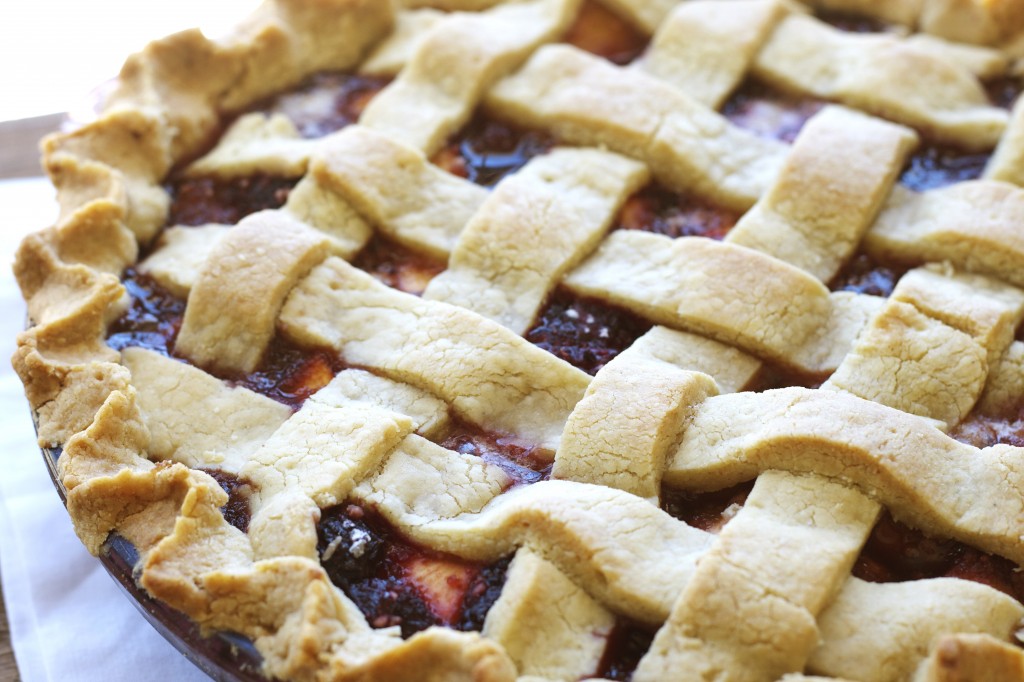 When I changed my diet to organic, real food, I discovered it's wise buy ingredients from many different sources. I have several places where I buy my food and I'll highlight a few over the next couple of weeks. One of my favorite resources is
Azure Standard
. Their site is a virtual "Whole Foods" at incredible prices. You can find anything from grain to meat to sunscreen. I buy a lot of my bulk grain, sweeteners, butter, spices, oils, and other items there.
Azure has drop-off locations throughout the US. You place your order online (they also have a catalog) and once a month, meet at a specific spot. A large truck pulls up and the driver hands you your goods. If you don't have a drop-off point near you, try finding a few friends who also want to order and split the shipping. I used this method while living in Florida and it worked beautifully. $30 for shipping isn't much when you split it among 5 friends.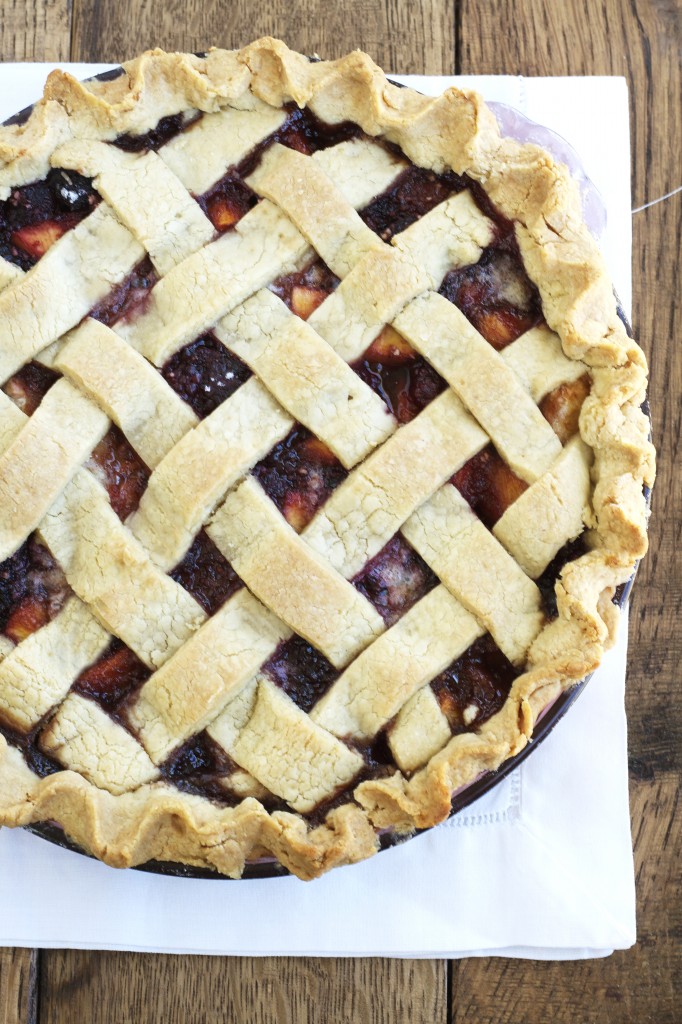 If you want to save even more, buy some of their food in bulk and divide the order with others. Recently, a friend and I ordered 25 pounds of organic brown rice ($32) and split it. That's enough brown rice for at least six months in our family. I also enjoy buying their organic spices, pouring what I need in glass jars, and freezing the rest. $11 for a pound of cumin versus $4 for a small jar at the grocery store means more money in my pocket.
I've been buying many of my gluten free grains and flours from Azure over the last year and their prices can't be beat. If you do a lot of whole grain baking, sourcing your ingredients this way will help save you money. They also have a blog which features many of their products and a Facebook page for updates. We all know it takes wisdom to make long-term, sustainable, positive changes. Finding affordable sources for excellent ingredients will help.
Serves: Makes one 9-inch pie
Peach and Blackberry Pie with Gluten Free Crust
Here is my recipe for a whole wheat pie crust if you prefer a whole wheat version. I chose coconut sugar for its subtle flavor, but if you don't have coconut sugar you can replace it with sucanat (keep in mind it will have a stronger flavor).
I got the inspiration for the filling from Cook's Illustrated.
Ingredients
For the crust:?

1 1/2 cups gluten free flour mix (I used Bob's Red Mill )
1 cup rice flour
1/2 cup oat flour (make sure it's gluten free)
3/4 teaspoon unflavored gelatin (I prefer Bernard Jensen gelatin )
1 1/2 teaspoons sea salt
1 cup unsalted butter, cold, cut into tablespoons

For the filling:

3 cups peaches, peeled, pitted, and sliced
3 cups blackberries, washed and patted dry
3/4 cup coconut sugar (also known as palm sugar)
3 tablespoons tapioca
2 teaspoons lemon juice
Zest of one lemon
3 tablespoons butter, cut into small cubes
Instructions
Place gluten free flour mix, rice flour, oat flour, gelatin and sea salt in a food processor. Pulse a few times to combine. Add butter and pulse until it looks like wet sand, about 8 (1-second) pulses. Add 10 tablespoons of ice water, 1 tablespoon at a time, and pulse after each addition. Pulse until dough gathers into large clumps. The dough should not be crumbly. If it is, add a tablespoon or two of water. Divide dough into 2 portions and wrap plastic wrap around each piece, pressing firmly to form into a disk. Refrigerate 30 minutes.
Place peaches, blackberries, sugar, tapioca, lemon juice and zest in a large bowl and stir until incorporated. Let fruit sit for 15 minutes to allow the fruit mixture to macerate.
Preheat oven to 400ºF, adjust rack to middle position, and place a large baking sheet on the middle rack (you will bake your pie on top of this baking sheet). Roll out one disk of dough on a generously floured surface into a 12-inch disk. Carefully roll dough loosely around the rolling pin and then unroll into pie dish. Fold the overhanging dough under itself and then crimp with your fingers or press against the lip of the pie dish with a fork. Pour filling into pie plate and scatter butter pieces on top.
Remove the second disk of dough from the refrigerator. If it's stiff and cold, allow it to sit on the counter for a few minutes to soften. Roll out dough on a generously floured surface into a 12-inch disk. Cut dough into 10 1/2-inch strips (long enough to span the length of the pie dish). Go to Elise's tutorial to see how to lay a lattice top for your pie.
Bake for 20 minutes at 400ºF then reduce oven temperature to 350ºF and bake until juices bubble and crust is golden brown, about 30-35 minutes longer. Allow pie to cool almost to room temperature before serving so the juices can thicken about 1-2 hours. The pie is best served the day it's baked.
7.8.1.2
4200
https://deliciouslyorganic.net/organic-real-food-on-a-budget-peach-and-blackberry-pie-recipe/
Copyright 2016 Deliciously Organic
SaveSave
SaveSave