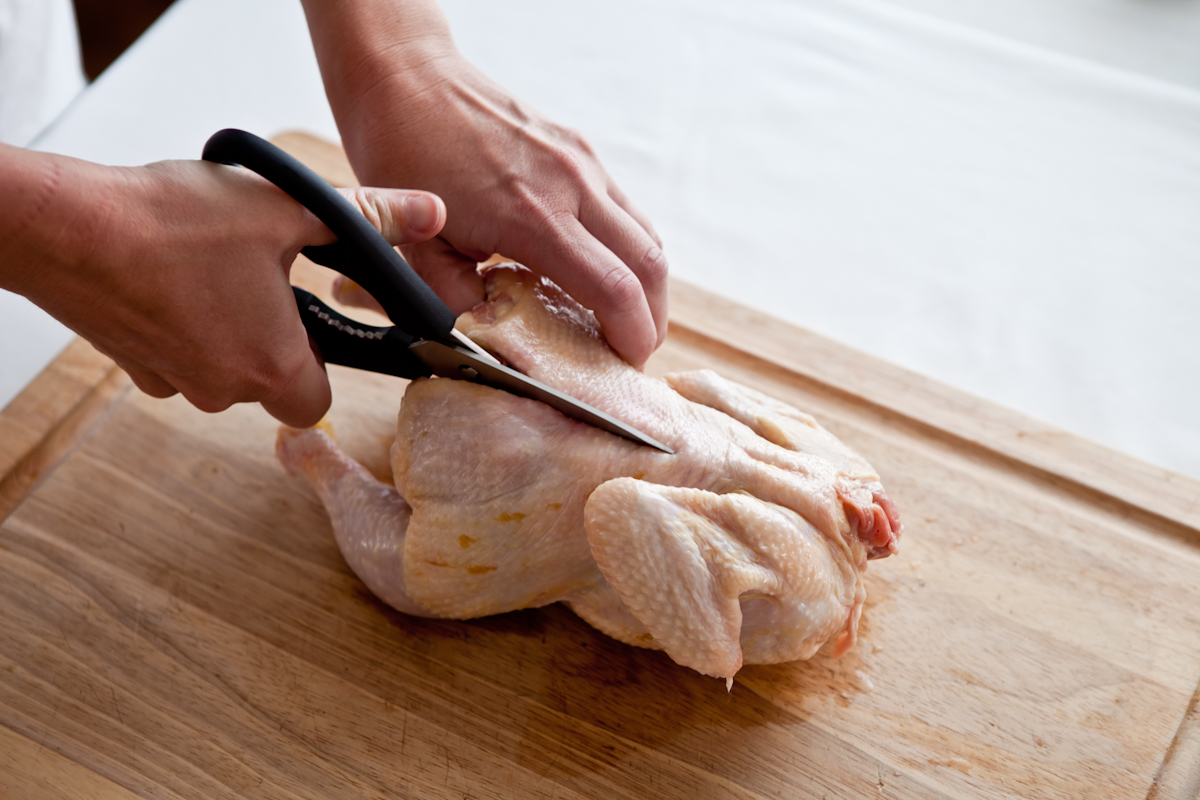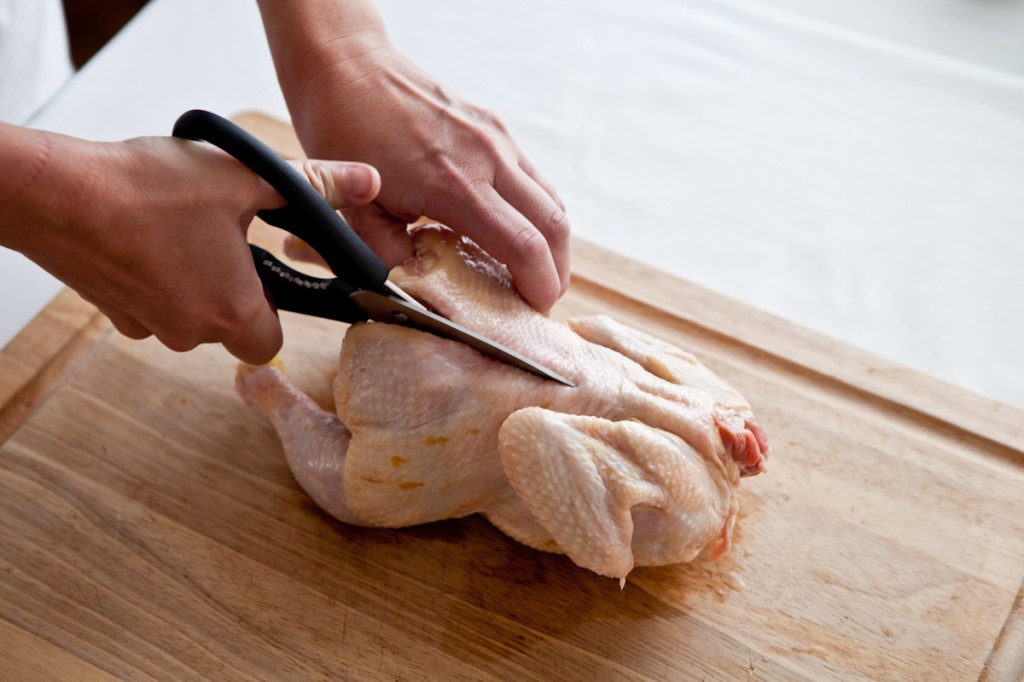 I often hear people say they'd like to change to a more organic, unprocessed diet, but . . . they think it's difficult and it's (always) expensive. I understand why people think this way. In a world where we're accustomed to buying a package of cheap food, throwing it in the microwave and serving dinner, many people have never learned the basic skills which allow the purchase of whole foods and their preparation without much fuss. It takes resolve to walk past the already-prepared supermarket rotisserie chicken and instead buy a whole chicken and prepare it ourselves. It takes a little practice to build our skills so preparation time decreases.
I love helping people overcome the obstacles between them and a more healthy diet. I want to dissolve the illusion that it's too difficult, too time consuming, and too expensive. I spent hundreds of hours with my editors and photographer honing and crafting my cookbook toward that purpose. We think of it as a tool kit full of new, uncomplicated dishes helping you reshape the recipes and flavors you love.
My favorite "quick" meal at home is butterflied chicken with vegetables. I can assemble the chicken and vegetables in less than 10 minutes, throw it in the oven and let it roast away while I tend to the home, kids, phone calls, or whatever comes my way. In about 45 minutes, I pull out a gloriously golden chicken with sweet, caramelized vegetables surrounding it and we all dig in.
I always buy whole chickens. Mainly because they're much cheaper (usually $5-7 less a pound) than chicken breasts and after the family eats dinner, we usually have some left over for a lunch or two the next day and then I use the carcass for chicken stock. Talk about an economical way to use an organic chicken! Many of my friends look at me funny when I tell them I butterfly my own chickens. Honestly it's not hard. You need a sharp pair of kitchen shears and your hands (put on some gloves if the raw meat makes you squeal).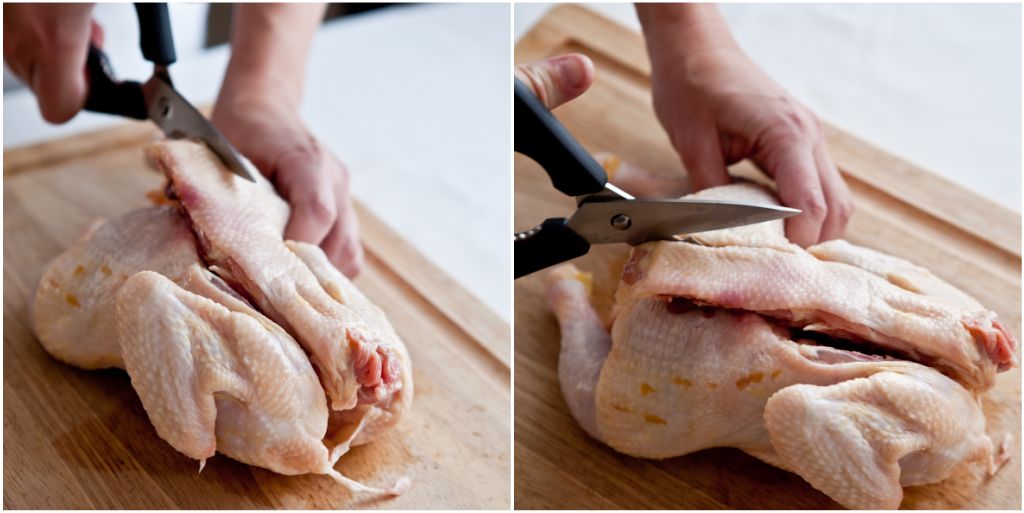 Turn the chicken breast side down. Using a sharp pair of kitchen shears cut along both sides of the backbone.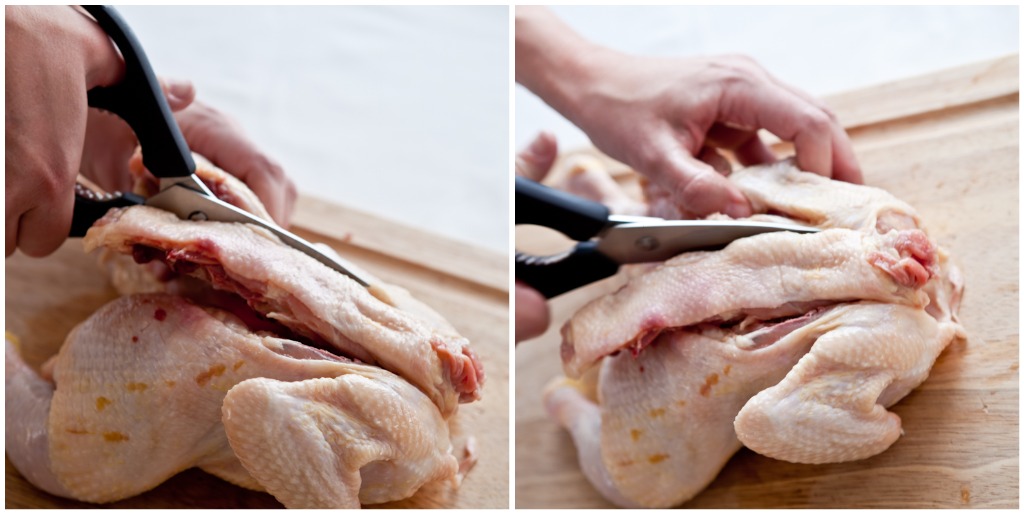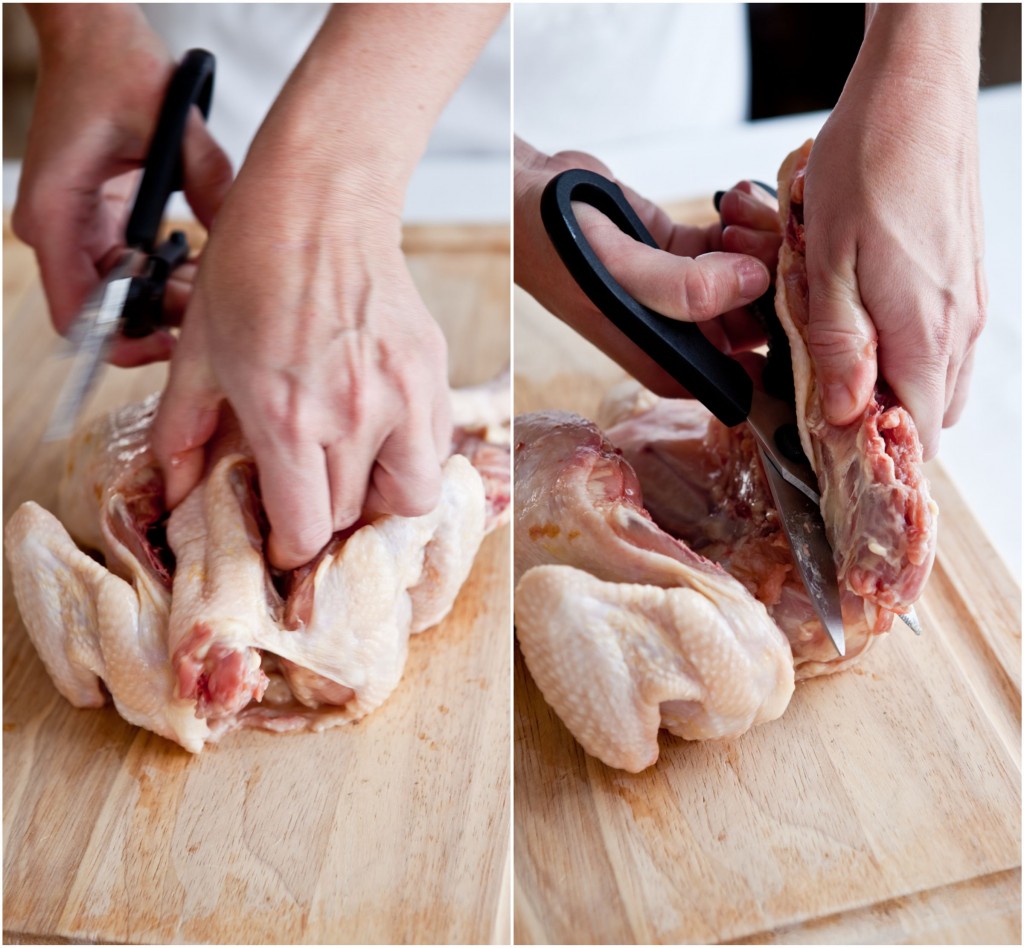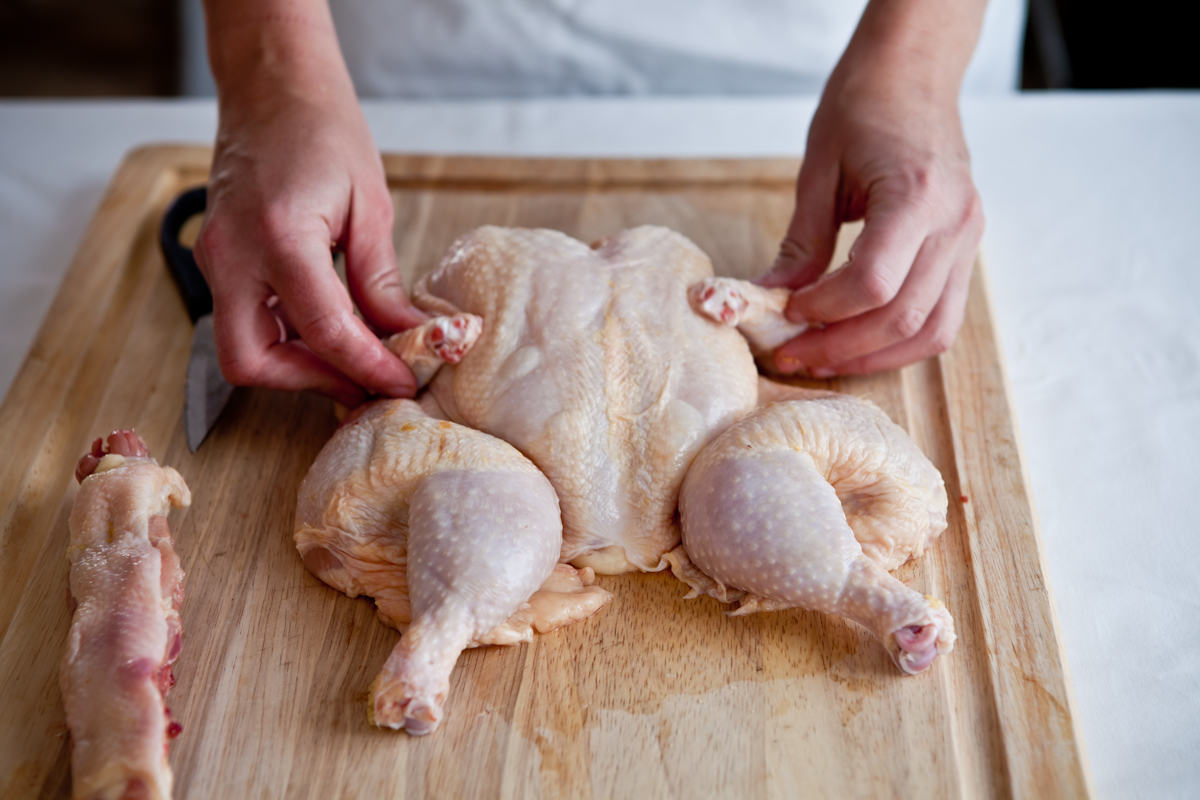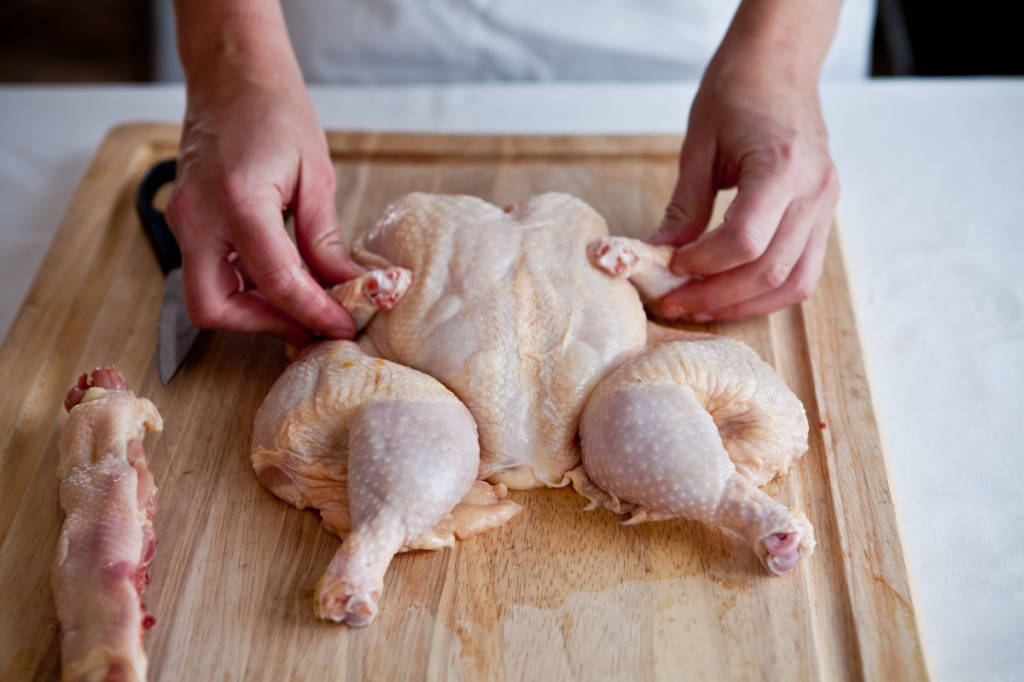 Turn the chicken over and point wings towards legs. (Make sure to reserve the backbone to include in your chicken stock.)
Doesn't seem so hard, does it? We took these photos when I was at Helen's home during the photo shoot for my cookbook (thank you Helen!). The butter with herbs is simply divine, so take a peek in your copy for the recipe.
If you're looking to make a change, but held back my worries about time and money, try this step:  Find a good source for organic pastured whole chickens, roast one, and use the whole bird for several nutritious meals. You may find it fits into your lifestyle and your budget.
Simple Butterflied Chicken with Roasted Vegetables
The vegetable measurements are simply a guide. You can add more, or use different vegetables depending on your taste and what's in season. If you're looking for ideas, you might consider leeks, broccoli, cauliflower, etc. If you've like to serve potatoes or a starchy vegetable along with your roasted chicken then cut them into wedges, toss with butter, salt and pepper and place in a baking dish and bake along-side the chicken.
Ingredients
1 4-5lb. chicken (organic and pastured preferred)
2 cups carrots, cut into 1/2-inch thick slices
1 red onion, cut into 1/2-inch thick slices
2 zucchini, cut into 1/2-inch thick slices
yellow squash, cut into 1/2-inch thick slices
3 tablespoons ghee or palm shortening, melted
Sea salt and freshly ground black pepper
Instructions
Preheat oven to 450ºF and adjust rack to middle position. Place chicken in a large roasting pan and surround with vegetables. Using a pastry brush, brush chicken with melted ghee and then pour remaining butter over surrounding vegetables. Toss vegetables gently and then season chicken and vegetables generously with salt and pepper.
Roast chicken for 30 minutes and then rotate pan 180 degrees. Continue to roast, about 25 minutes, until crisp and golden brown, and a thermometer reaches 160°F (70°C) when inserted in the thickest part of the breast. Remove from the oven and before serving, let the chicken rest for about 15 minutes to allow juices to redistribute.
7.8.1.2
3180
https://deliciouslyorganic.net/how-to-butterfly-a-chicken/
Copyright 2016 Deliciously Organic