Deliciously Organic is 10 years old, so let's celebrate with a Chocolate Cake with Chocolate Frosting! The cake is not only grain-free, but also nut-free and dairy-free so we can all enjoy!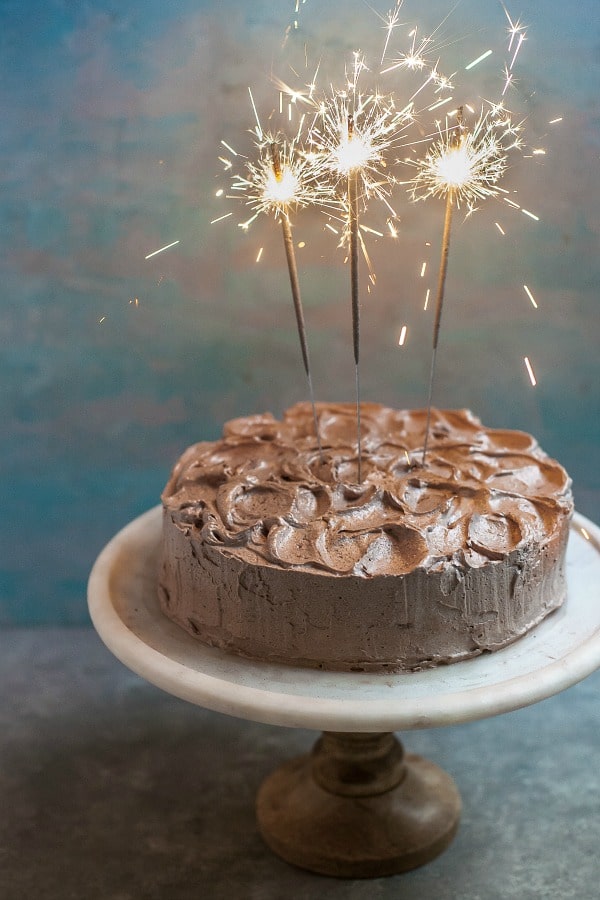 I started this blog ten years ago simply because I had friends who were attending my at-home cooking classes and kept asking me the same questions. I thought, "Well, I've heard about this thing called a 'food blog,' so I'll start one so I can have a helpful resource for my friends."
I never thought in a million years it would turn into publishing two cookbooks, having millions of readers each year, becoming a Nutritional Therapist for Biodynamic Wellness, and getting to know so many of you through this little corner of the internet.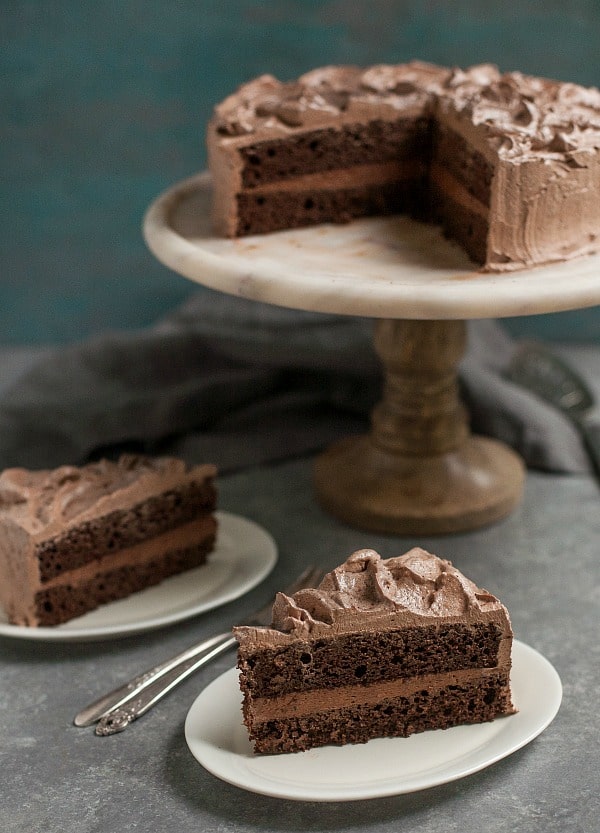 Thank you for coming back week after week and year after year and allowing me to share what I've learned with you!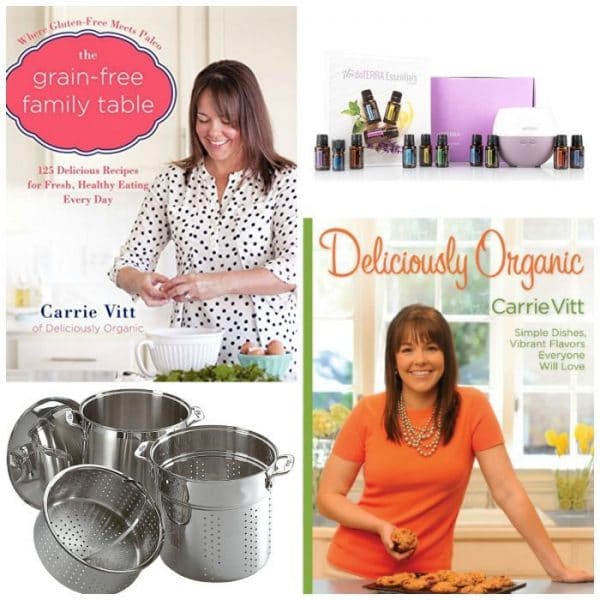 To add a bit more fun to things, let's do a good 'ole blog giveaway! Here's what one of you will have shipped to your front doorstep!
A copy of Deliciously Organic and The Grain-Free Family Table.
A doTERRA Home Essentials Kit – y'all know how much I love using essential oils, so I want to share the love with one of you! The kit comes with 15ml bottles of: lemon, lavender, Breathe, Digest Zen, OnGuard, Melaleuca, Peppermint, Frankincense, Oregano, a 5ml bottle of Deep Blue and a petal diffuser.
All-Clad 12-Quart Multi Cooker 3-Piece Stainless Steel Set – this is my favorite pot for making broth and soups, steaming vegetables, and more!
Take a look at the box below to see the 4 ways to enter. Good luck!
Print
Chocolate Cake with Chocolate Frosting (Grain-Free, Dairy-Free, Nut-Free) and a HUGE Giveaway!
For the Cake:
1 cup

coconut flour

1/2 teaspoon

Celtic sea salt

1 teaspoon

baking soda

8 ounces

Enjoy Life Chocolate Chips (or semi-sweet chocolate), melted

1/2 cup

maple syrup

8

large eggs

1/2 cup

dairy-free plain whole yogurt

1 teaspoon

vanilla extract
For the Frosting:
Instructions
Preheat the oven to 350ºF and adjust the rack to the middle position. Place the coconut flour, sea salt, and baking soda in a small bowl and whisk to combine. In a medium bowl, whisk together the 8 ounces melted chocolate, maple syrup, eggs, yogurt and vanilla extract. Whisk in the coconut flour mixture until smooth. Let the batter sit for 10 minutes.
Pour the batter into two 9-inch buttered cake pans. Bake for 20-23 minutes, until a cake tester inserted into the center comes out with a few moist crumbs. Cool for 10 minutes, then revert onto a cooling rack.
Place the palm shortening, maple syrup, vanilla extract, arrowroot, gelatin and melted chocolate in the bowl of a standing mixture and whisk for 3 minutes until light and fluffy.
To assemble: Place one cake layer on a cake stand and top with one third of the frosting. Spread frosting evenly on the cake. Place second cake layer on top and use remaining frosting to frost the top and sides of the cake.
Notes
I only test the recipes on my site with the listed ingredients and measurements. If you would like to try a substitution, you are welcome to share what you used and how it turned out in the comments below. Thanks!
Photography Credit: Becky Winkler