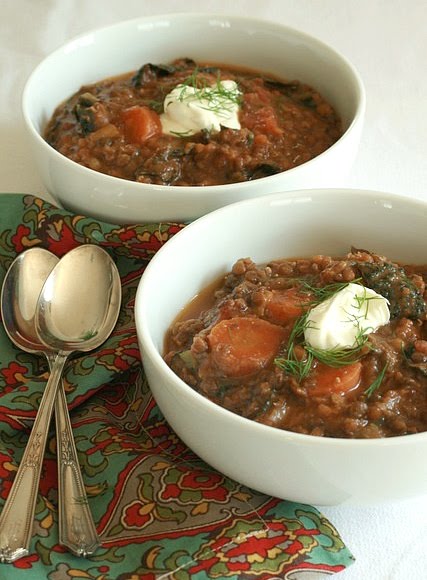 Every evening we make a point to sit down as a family and eat dinner together. It is a special time when the four of us can talk about our day and my husband and I usually end up laughing at the funny things our kids have to say say. Well, things have changed a bit this week. You see, my husband is a huge Olympic fan, like a watches-every-single-moment fan. Every day we've recorded 8+ hours, so when he comes home after a long day at work there's a lot of catching up to do. Every two years our house completely shuts down (as much as it can) for Olympic viewing, so this week we've spent almost every dinner in front of the TV, cheering.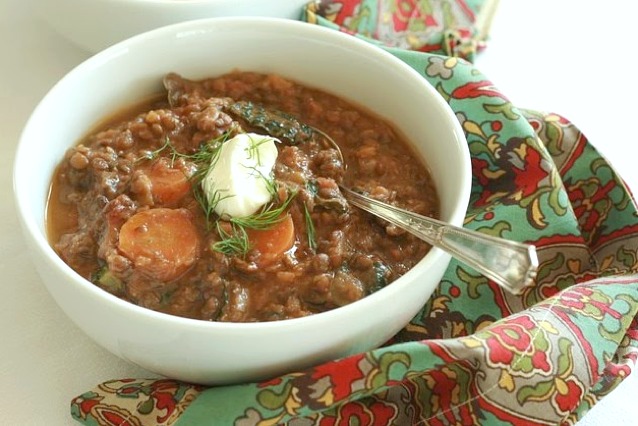 My kids weren't too thrilled to see this soup bubbling away in the pot, but I'm happy to report they ate every last spoonful and requested I make it again! It's a nourishing soup that is great for any meal of the day.
Lentil, Carrot, and Kale Soup with Creme Fraiche and Dill
If you prefer to reduce the goitrogens in the kale , then bring a small pot of water to boil, boil the kale for 8 minutes, remove and then add to the soup.
Ingredients
4 tablespoons unsalted butter
1 large leek, chopped
3 large carrots, cut into 1/2-inch thick slices
10 cups chicken stock (homemade preferred)
1/4 cup red wine (optional)
1 (28-ounce) jar crushed tomatoes (I prefer Eden Organic)
2 1/2 cups French lentils, soaked overnight, drained
2 teaspoons coarse sea salt
1 bunch of kale, chopped into bite-size pieces
juice of half a lemon
1/2 cup crème fraiche or sour cream
Dill, for garnishing
Instructions
Melt butter in a large stock pot over medium heat. Stir in leeks and carrots. Cover pot, turn heat to low and let vegetables sweat for 20 minutes.
Remove lid and add chicken stock, wine (if using), crushed tomatoes, and lentils. Bring to a boil and then lower heat and simmer for about 45 minutes or until lentils are soft. Using a ladle transfer about 4 cups of soup into a blender and blend until smooth. Pour pureed soup back into pot. Stir in kale and lemon juice. Season soup with salt and pepper if needed. Serve soup with a dollop of crème fraiche and a sprig of dill.
7.8.1.2
4160
https://deliciouslyorganic.net/lentil-carrot-and-kale-soup-with-creme-fraiche-and-dill/
Copyright 2016 Deliciously Organic