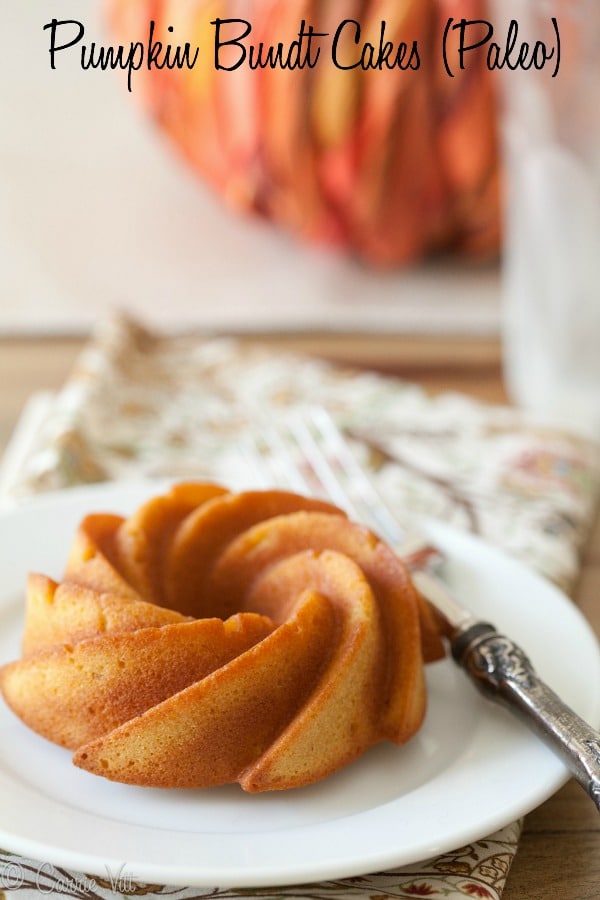 We've spent lots of time watching football this fall. My daughter is a cheerleader at our local high school, so our weeks are filled with time in the stands cheering on the team. My brother is a coach for University of Kentucky, so Saturdays we cheer on the Cats. Sundays, we route for my husband's favorite team – the Broncos.
Fun food helps round out the days when you're cheering on your favorite team. I recommend Sausage Balls or Apricot Zingers, a dish in the slow cooker, and something sweet.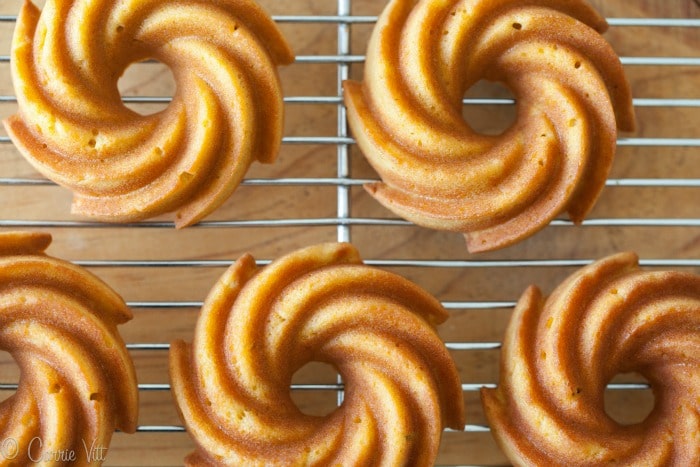 These Pumpkin Bundt Cakes are adapted from my Madeleine recipe in my grain-free cookbook. They're subtly sweet, have a nice hint of pumpkin and also travel really well.
When I posted a pic of these on Instagram, many of you asked for information on the Bundt cake pan. Here's the pan I used. While I love cooking with glass and stainless steel, I have yet to find a mini Bundt pan that's made with those materials. If you know of some, please share in the comments below!
Pumpkin Bundt Cakes (Grain-Free, Paleo)
Ingredients
4 large eggs
2/3 cup maple sugar
5 tablespoons coconut oil, melted and cooled
1/4 cup pureed pumpkin
1/4 cup plus 2 tablespoons coconut flour
2 tablespoons arrowroot
1 teaspoon pumpkin spice blend
1 teaspoon vanilla extract
Instructions
Preheat the oven to 350ºF and adjust the rack to the middle position. Thoroughly butter a mini Bundt cake pan.
Place the eggs and maple sugar in the bowl of a standing mixer with a whisk attachment. Whisk on medium-high for 8 minutes, then slowly whisk in the cooled coconut oil and pumpkin. Sift the coconut flour, arrowroot flour and pumpkin spice blend over the egg mixture and gently fold in until incorporated. Stir in the vanilla. Let the batter sit for 10 minutes at room temperature.
Spoon the batter into the buttered pan. Bake for 23-25 minutes, or until just turning golden brown on the edges. Let the cakes cool for 10 minutes and then invert them onto a cooling rack. Serve warm or at room temperature.
7.6.4
3312
https://deliciouslyorganic.net/pumpkin-bundt-cakes-grain-free-paleo/
Copyright 2016 Deliciously Organic