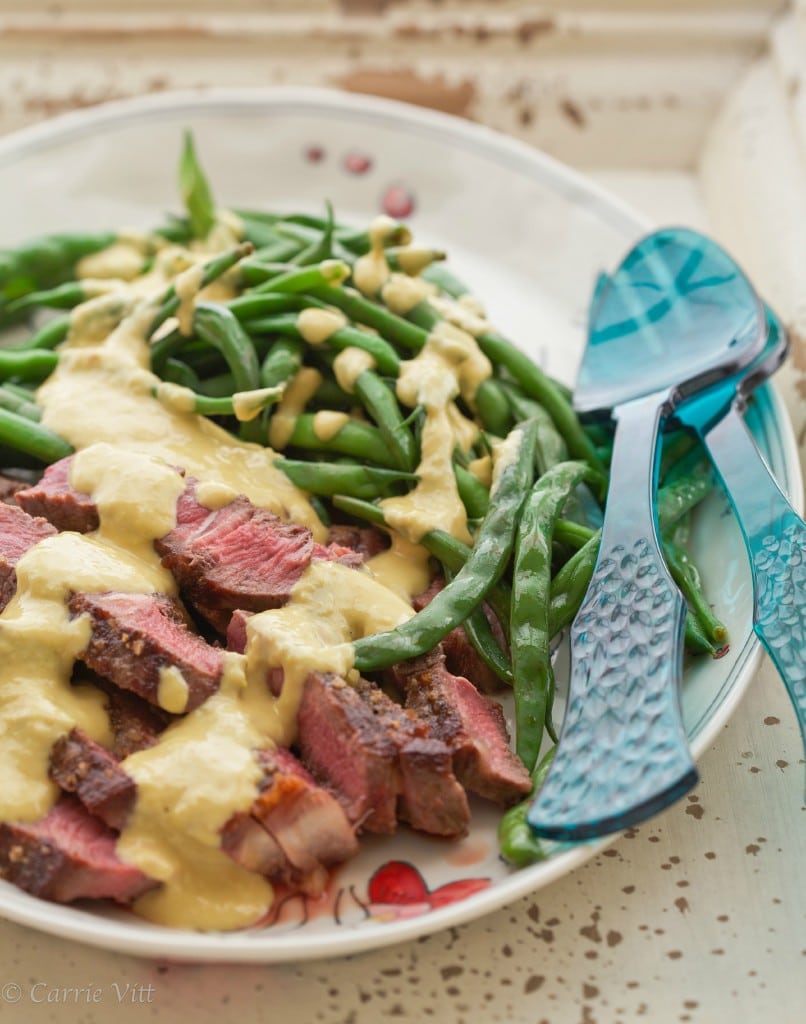 Our cross-country move is swiftly approaching, so I've spent some time cleaning out our fridge, freezer and pantry. It's made for some very interesting meals (my girls especially loved the grain-free waffles and buttered peas for dinner the other night!). Now that I'm down to the basics, our meals for the next few weeks will be very simple, but still homemade and unprocessed.
I know I'm probably in the minority, but I love to create meals out of what's in the kitchen. There's something fun and challenging about being given specific ingredients and then having to figure out how to make them into something appetizing. It always reemphasizes to me that good meals don't have to be complicated. A few good quality ingredients can go a long way. So, as I was rummaging through the kitchen I found a bit of steak in the freezer, some shallots, olive oil, Dijon and green beans. With a bit of creativity, we had a vibrant and delicious meal.
Grilled Steak with Green Beans and Mustard-Shallot Sauce
Ingredients
1 1/2 pounds sirloin steak (you can substitute with ribeye if desired)
Celtic sea salt
Freshly ground black pepper
1 pound green beans, washed and trimmed
6 tablespoons olive oil
1/4 cup Dijon mustard
1/4 cup red wine vinegar
2 medium shallots, chopped
3/4 teaspoon Celtic sea salt
Instructions
Preheat grill to medium-high. Season steak generously with sea salt and pepper. Grill to desired doneness. Let steak rest for 5 minutes, then slice thin, on the bias (against the grain).
Meanwhile, bring a large pot of water to boil. Place green beans in boiling water and cook for 3 minutes, until bright green but still very crunchy. Drain.
Place olive oil, Dijon, red wine vinegar, shallots and sea salt in a blender and blend until smooth (the sauce is very spicy on it's own, but the flavors will temper when the sauce is added to the steak and beans). Place steak and green beans on a large platter and pour sauce over top (or serve on the side). Serve immediately.
7.8.1.2
3145
https://deliciouslyorganic.net/sirloin-steak-green-beans-mustard-shallot-sauce/
Copyright 2016 Deliciously Organic