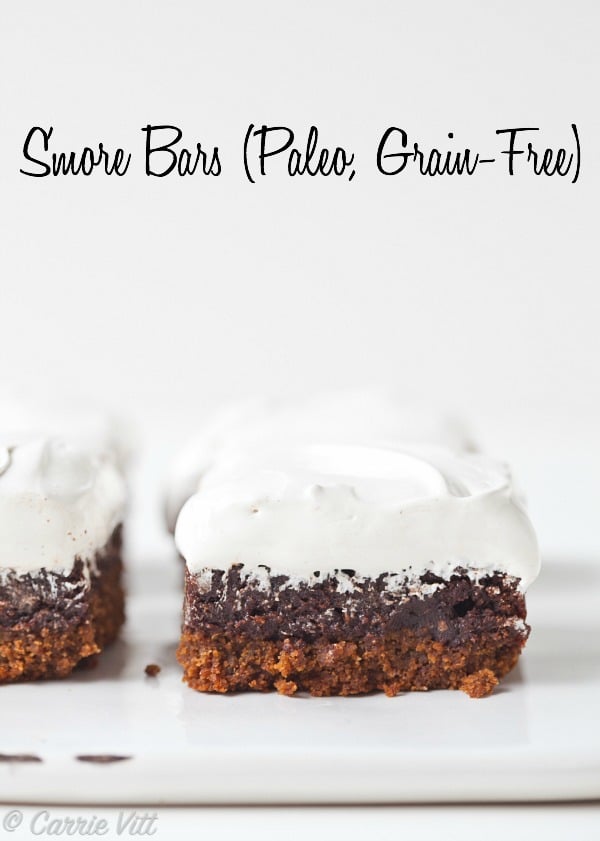 There's not many things that come close to the indulgence of chocolate, graham cracker and marshmallow. It's an iconic classic and today we're going to take it up a notch with homemade S'more Bars.
The recipe takes a few extra steps, but it's totally worth it! The bars have a grain-free graham cracker cookie crust, fudgy chocolate brownie middle and are topped with homemade marshmallow fluff. These S'more Bars are incredibly rich and can be cut into 16 squares for the perfect sweet bite.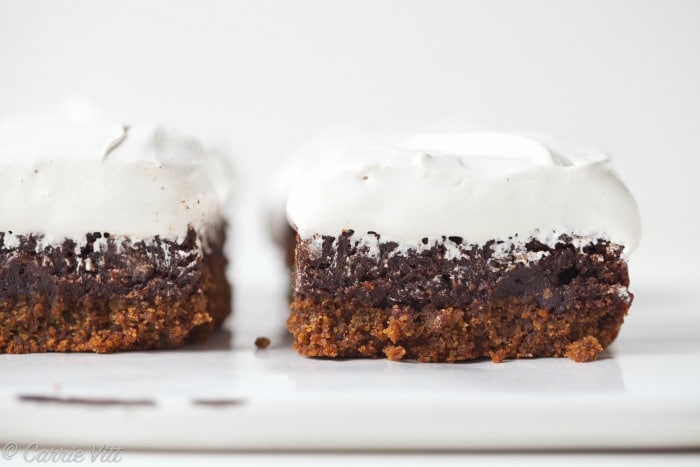 S'more Bars
The marshmallow fluff is adapted from Shauna's recipe.
Serves 16
For the crust:
1/2 recipe of grain-free graham crackers
4 tablespoons coconut oil, melted
For the brownie layer:
1 recipe of fudgy brownies
For the marshmallow layer:
1 1/4 cups maple syrup
1/8 teaspoon Celtic sea salt
2 large egg whites
1/4 teaspoon cream of tartar
2 teaspoons vanilla extract
Preheat the oven to 350 degrees F and adjust the rack to the middle position. Line an 8×8″ baking pan with two pieces of parchment paper (place two sheets of parchment paper perpendicular to each other in pan, pushing paper into the corners).
Place the graham crackers and melted coconut oil in the bowl of a food processor. Pulse until crackers are finely ground and are moist. Pour the cracker mixture into the prepared pan. Using your hands, press the crumbs to make an even layer. Bake for 10 minutes.
Spoon fudgy brownie batter over graham cracker crust and bake for 25 minutes. Cool completely.
Place the maple syrup and the salt in a medium sauce pan and bring to a boil over high heat. Continue boiling until the mixture reaches 240°F on a candy thermometer. While maple syrup is boiling, place the egg whites and cream of tartar in the bowl of a stand mixer fitted with a whisk attachment. Whip the egg whites to soft peaks on medium speed. (You should have the egg whites whipped and ready, waiting for your syrup to be drizzled in. If they're whipping faster than your syrup is coming to temperature, just stop the mixer until the syrup is ready.)
When the syrup reaches 240°F, reduce the mixer speed to low and slowly drizzle about 2 tablespoons of syrup into the egg whites to warm them. Slowly pour in the rest of the syrup (it should take about 1 1/2 minutes to add all of the syrup). Increase the speed to medium-high and whip for 7 minutes, until the marshmallow crème is stiff and glossy. Add the vanilla and whip an additional 2 minutes.
After bars have baked and cooled, hold onto the overhanging parchment paper and gently lift the brownies out of the pan. Place them to a cutting board. Pour the marshmallow fluff on top of brownies and spread evenly. To cut, dip a knife in hot water, wipe with a clean cloth and then slice. Repeat. Serve.
Note: I only test the recipes on my site with the listed ingredients and measurements. If you would like to try a substitution, you are welcome to share what you used and how it turned out in the comments below. Thanks!
Posts may contain affiliate links. If you purchase a product through an affiliate link, your costs will be the same but Deliciously Organic will receive a small commission. This helps cover some of the costs for this site. We appreciate your support!