A few weeks ago we discussed the importance thinking about our cookware. Today I'll highlight some healthier bakeware choices for all your baking and roasting needs.
Most bakeware sold in stores is made of an aluminum mixture. This aluminum can leach into our food. Non-stick and silicone-coated pans can also leach harmful chemicals and gases into food and the air, so I stick with stainless steel, ceramic, stone and glass.
Here are some of my favorite choices:
Baking Sheets: Stainless steel is a great choice for an all-purpose baking sheet. It heats evenly and is very sturdy. They are a bit more expensive than aluminum, but these pans last a lifetime. You can find stainless steel baking sheets at Amazon,  The Baker's Kitchen, and Azure Standard.
Loaf Pans: America's Test Kitchen taught me many years ago that a glass loaf pan is one of the best choices for baking. They heat evenly and are very affordable. I have two Pyrex loaf pans for baking needs. You can find these glass loaf pans at places like Amazon, Target and Walmart.
Muffin pans: Stainless steel is another great choice for a muffin pan. I either oil the muffin cups or line the muffin cups with unbleached parchment muffin liners or a 4×4 – inch square of unbleached parchment paper. You can find stainless steel muffin pans at Amazon or Mighty Nest.
Baking dishes: Ceramic and glass baking dishes are my favorites. When I make a casserole, I like a good, sturdy dish that heats evenly. I have 8×8-inch, 13×9-inch, and 11×7-inch baking dishes. These are three sizes commonly called-for in recipes. Pyrex glass dishes are a great option. Many times I've found white ceramic dishes at places like TJ Maxx and Marshalls at clearance prices.
Ramekins: These little ceramic bowls aren't a necessity, but I've found them very useful when making custards, individual pot pies and puddings. I prefer the 6-ounce size because it's more standard than the 4-ounce bowls. I also keep one on the counter next to the stove and fill it with Celtic sea salt. It keeps my salt readily available when I'm cooking and baking.
Stone Bakeware: Stone bakeware is a healthy choice. I prefer baking pizza on a heated stone since it produces a nice crispy crust. Keep in mind if you use stone bakeware, you'll probably need to add a few minutes of baking time because stone heats up very slowly in the oven. Pampered Chef and Williams-Sonoma sell nice stone bakeware.
Mixing Bowls: Glass Pyrex mixing bowls come in just about every size and are incredibly sturdy. You can purchase them in sets or individually. I have two 4-quart mixing bowls I use for everything. These bowls can be found at places like Amazon and Target.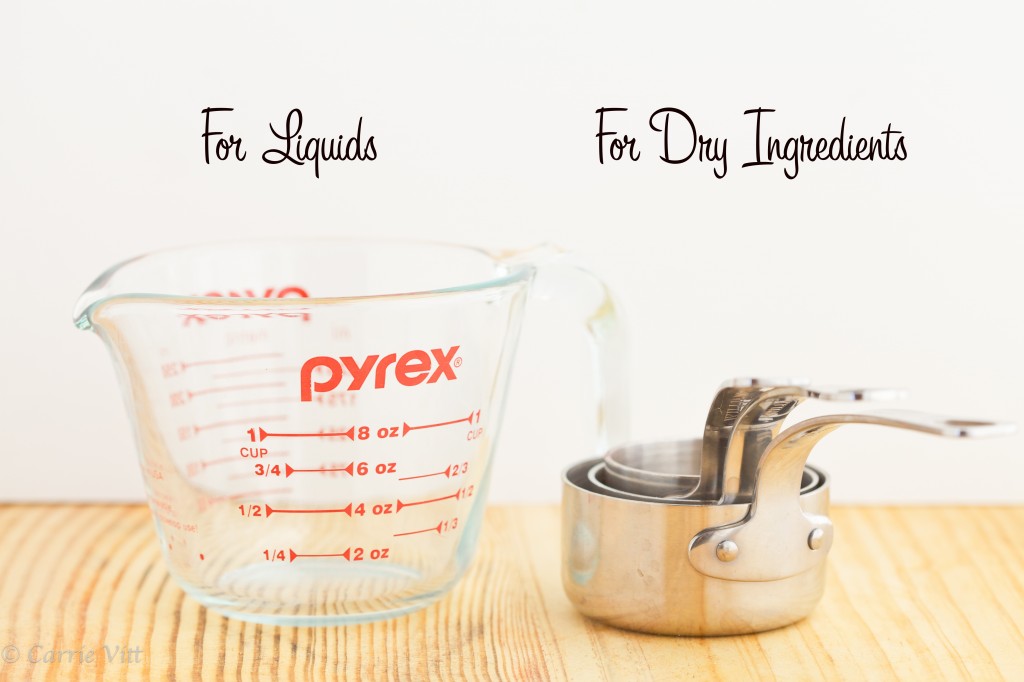 Measuring Cups: Did you know there is a difference between dry and liquid measuring cups? Liquids should be measured in measuring cups and dry ingredients like flour and sugar should be measured in dry measuring cups. This can make a significant difference in your baking, so it's a good idea to have both kinds. A good 'ole Pyrex measuring cup is cheap and will last for many years (I've had mine for 15 and the red measure marks on the outside are just starting to fade away). I've used many different dry measuring cups and one of my favorites is the Kitchenart adjustable half-cup scoop. It's compact and easy to use.
If you're looking for good prices, the best tip I can give is to find a restaurant supply company in your area. Typically, anyone can shop at these stores and I've found some amazing bargains, especially for basic white dishes and servingware.
These are my favorite basics to have in the kitchen. What are some of your favorites? Please share your ideas and links!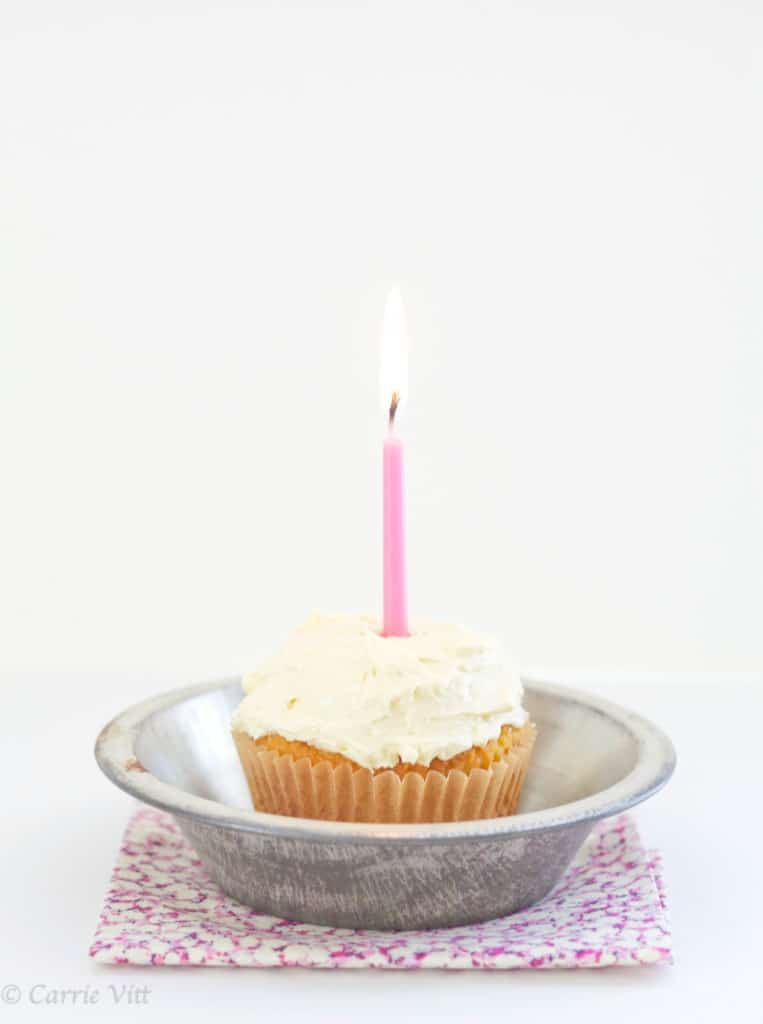 Like good bakeware, basic recipes are always nice to have on hand. A "white" cupcake recipe is a great because you can add different spices, extracts and flavorings to it. This grain-free cupcake is made with coconut flour and is a cinch to throw together. The maple buttercream I paired it with in this recipe isn't too sweet and you won't believe how creamy it is! No need to be afraid of the butter. Remember, organic butter is rich in omega-3 and helps fight inflammation. You can change out the maple syrup for honey, sucanat, coconut sugar etc. I only use 1/2 cup of sweetener and I find it's just the right "touch" of sweetness. But, if you prefer a frosting on the sweeter side you can increase the sugar by 1/4 cup without changing the integrity of the buttercream.
Print
"White" Cupcakes with Maple Buttercream (Grain-Free, Gluten Free, Paleo, Primal)
For the Cupcakes:
1 cup coconut flour
1/2 teaspoon Celtic sea salt
8 large eggs
1 teaspoon baking soda
1/2 cup plain whole yogurt (or a coconut yogurt)
5 tablespoons unsalted butter or coconut oil, melted
1/2 cup honey (I used clover)
1 tablespoon vanilla extract
For the Buttercream:
4 large eggs
1/2 cup maple syrup or honey
2 teaspoons vanilla extract
pinch of sea salt

1 pound unsalted butter, softened, each stick cut into tablespoons
Instructions
Preheat oven to 350ºF and adjust rack to middle position. Line muffin pan with unbleached muffin liners or oil with coconut oil or butter. Place all cupcake ingredients in the bowl of a food processor and blend until smooth. Spoon batter into 16 muffin cups and bake for 25-30 minutes, or until just turning golden brown on top and a cake tester inserted in the middle of the cupcakes comes out clean. Cool completely.
In the bowl of a standing mixer, combine eggs, maple syrup or honey, vanilla and pinch of salt. Set the bowl over a pot of simmering water. Whisk constantly until the mixture reaches 160 degrees, about 5 minutes. Beat egg mixture on medium-high with whisk attachment until light and billowy, about 8 minutes. Reduce the speed to medium and add butter one tablespoon at a time. When all of the butter is added, turn off the mixer and scrape down the sides of the bowl (at this point the buttercream might look curdled, but don't worry, it will turn creamy). Whisk the entire mixture for 1 minute on high until light and fluffy. Frost the cupcakes and enjoy!
Nutrition
Serving Size:

Makes 16 cupcakes