Heading off to college is an exciting time, but it also comes with the challenge of staying healthy because of the late nights, dining halls, fast food, etc. My oldest daughter Hannah just left for college, and together we came up with some fun ideas to help keep her healthy throughout the school year.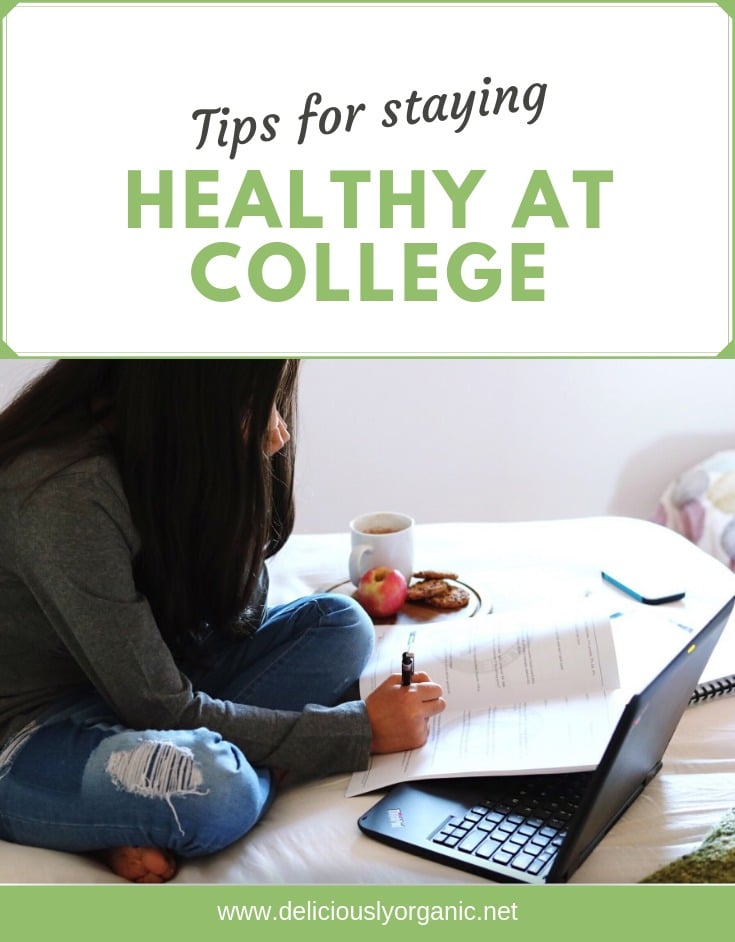 I'd like to mention that Hannah was completely on board with all of these ideas. I know not all college students will be on board with all of the things we decided to do, but you can always read the list and pick and choose which things you'd like to implement.

Healthy Foods
College cafeteria food isn't known to be the healthiest, and while the salad bar is an option, it won't provide all the nutrients needed to maintain optimum health during college.
One of the foods that will be lacking in the cafeteria foods is healthy fats. Most cafeterias use oils like canola oil, vegetable oil, soy oil, corn oil, etc. These fats cause inflammation and can wreck havoc on your health, so it's a good idea to make sure you also get healthy saturated fats in your diet on a consistent basis.
Healthy saturated fats are critical for the brain, help you handle stress better, and help keep your hormones balanced (this goes for guys and girls!).
Here are some ways to get in these healthy fats and other nutrient-dense foods:
1. Buy a small blender like a NutriBullet so you can make your own nutrient-dense smoothies.

This is an easy way to get in a healthy breakfast in the morning.
Here are some easy recipes:
Strawberry Protein Shake
Mango Smoothie
Spinach and Berry Smoothie.
Stock up on nutrient-dense foods such as:
Raw cheese
Whole milk yogurt such as Stonyfield, Strauss or Maple Hill Farms
Butter
Eggs
Avocados
Raw milk (or non-homogenized milk from Organic Valley or Kolana Farms)
Frozen organic fruit
Beef jerky
Chomp Sticks
Organic sliced meats such as turkey, roast beef, or ham
Almond butter
Justin's nut butter packets (great to throw in your backpack for a snack)
Fruit
Coconut oil
Raw honey or maple syrup
Nuts and seeds
3. Make your own oatmeal in your room. The microwave is most likely your only option, and while that's not ideal, it's better than nothing! Purchase sprouted rolled oats to eliminate the need to soak the oats overnight. Here's a great recipe.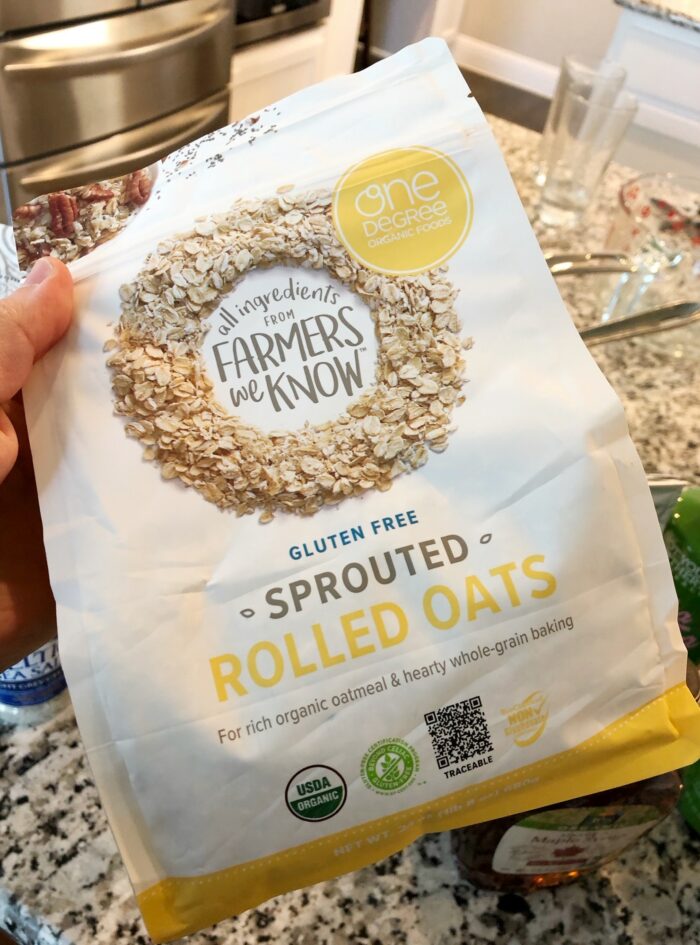 4. If your dorm has a kitchen, then bring along some tools to cook quick meals a couple times a week. Hannah has a kitchen in her dorm and cooking her own meals during the week is very important to her, so here are some tools she brought with her:
Saute pan
3-quart sauce pan
Large spoon
Spatula
Small cutting board
Paring knife
Measuring cup
Measuring spoons
Filtered Water
Drinking filtered water is an easy way to avoid extra chemicals such as chlorine and fluoride. These chemicals can cause thyroid hormone imbalance and aren't healthy for the brain.
Hannah brought a travel Berkey with her and put it in the shelf of the closet so she can have filtered water all year long. The bonus is that the water at her school doesn't taste great, so she was happy to have some good tasting water to drink!
Here are some newer options that I found since Hannah went off to college:
Water pitcher: This water pitcher is a fantastic option and it fits in a dorm fridge. It removes fluoride, lead, BPA, glyphosate, PFOAs, hormones & over 365 of the most harmful tap water impurities while retaining the natural minerals and nutrients found in the water. It's a very economical option! You can use the code ORGANIC15 to save 15% off your first filter system!
On-the-go Insulated Water Bottle: A client recently told me about this insulated filtered water bottle and I immediately purchased one. This is the perfect option for travel or school. My daughter's work at a summer camp and are excited to take these along so they can drink filtered water all summer long! You can use the code ORGANIC15 to save 15% off your first filter system.
Reducing Radiation Exposure
The radiation from cell phones and wifi have been shown via peer-reviewed research to cause a myriad of negative effects on the body. They can cause sleep and memory disturbances, immune dysfunction, altered brain development, reproductive dysfunction and more. To read the research, click here.
While there's no way to completely stay away from radiation today, especially while in college and living in a dorm, there are steps you can take to reduce your exposure. 
1. Turn your phone on airplane mode at night and set your phone on the other side of the room while you sleep.
2. Use a Defender Shield phone cover so that when you are talking on the phone or texting, you can reduce your exposure.
3. It's never a good idea to place a laptop on your lap or anywhere on your body when in use, so something like a Defender Shield cover/lap pad for your laptop can be really helpful to block the radiation. Hannah really liked this case because it doubles as a protective case and a lap pad.
Bedding
When you consider that you spend 8 or more hours in bed, it's a good idea to take steps to create a clean sleeping environment if possible.
Conventional cotton is a GMO crop, and while I haven't seen studies that prove that GMO cotton on the skin can cause health issues, I prefer to only use non-GMO cotton when possible, so we purchased white organic cotton sheets for Hannah's bed. Since organic cotton sheets are more expensive than conventional cotton, I always wait until they go on sale!
A second thing we did was add an organic latex topper to her dorm mattress. Since she is in a dorm, we have no control whether she's on a new mattress (that off-gasses), if the mattress has been sprayed with chemicals, etc. So adding a topper is an easy thing to add to the bed.
Another option is to bring in your own mattress, but a topper is a fraction of the cost, so we went with that. It also makes the bed incredibly comfortable!
Cleaning Supplies, Candles and Air Freshener:
Most cleaning products, candles and air freshener contain the ingredient "fragrance". These synthetic fragrances are chemicals that can cause hormone imbalance. So, using cleaner options is a much better way to go!
Fontana scented candles are a great option for naturally-scented candles. The lemon orange blossom and spiced latte are two of my favorites. Use the code CARRIE15 to save 15%.
Beeswax votives are also a good option. They have a mild, sweet scent and helps clean the air.
When it comes to freshening the air, a bottle of essential oil and a small diffuser is a great, natural option! Some my daughter's favorite oils to diffuse are: Lavender, Peppermint, Citrus Bliss and Balance. One 15ml bottle contains 300 drops, so a small bottle lasts a very long time!
A great all-natural cleaner to use is Aunt Fannie's All-Purpose cleaner. You can purchase it at Thrive Market or Amazon.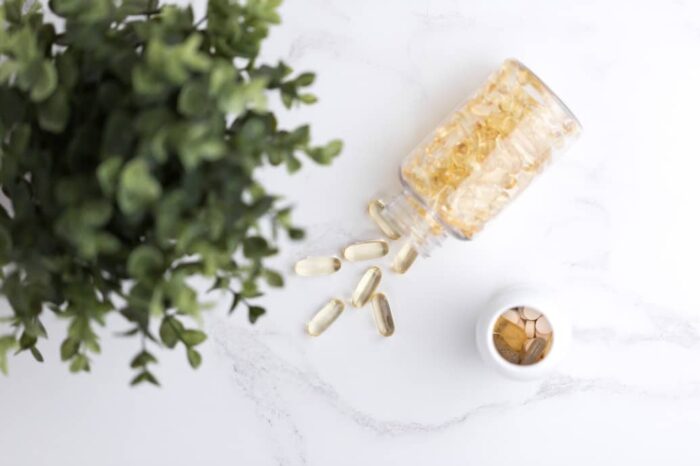 Supplements
Taking a few different supplements while in college is a great way to help keep the body healthy!
Pure Radiance C – this supplement is helpful to support the immune system and the adrenals.
Cod Liver Oil – this supplement contains natural Vitamins A and D which are critical for strong immunity and bone health, and also helpful for clear skin and the brain. My two favorite brands are Green Pasture (you can use the code ORGANIC10 to save 10%) and Standard Process.
BioSuperfood F1 – this supplement is helpful to protect the body while living in the midst of wifi and strong electromagnetic fields. 
Immunplex – this is a fantastic daily immune support supplement.
Drenamin – this is a great adrenal support supplement. Late nights and changing schedules can quickly create adrenal imbalance, which can then lead to hormone and blood sugar issues. So, supporting the adrenals daily can be very helpful.
Zypan – digestive support is so important during college. This supplement is helpful because it's a combination of digestive enzymes and hydrochloric acid (to help maintain proper ph balance). This can help with low stomach acid symptoms such as heartburn, bloating, gas, bowel inconsistencies, and indigestion.
I hope you find this info helpful! If you have additional tips you'd like to share, please leave them in the comments below.