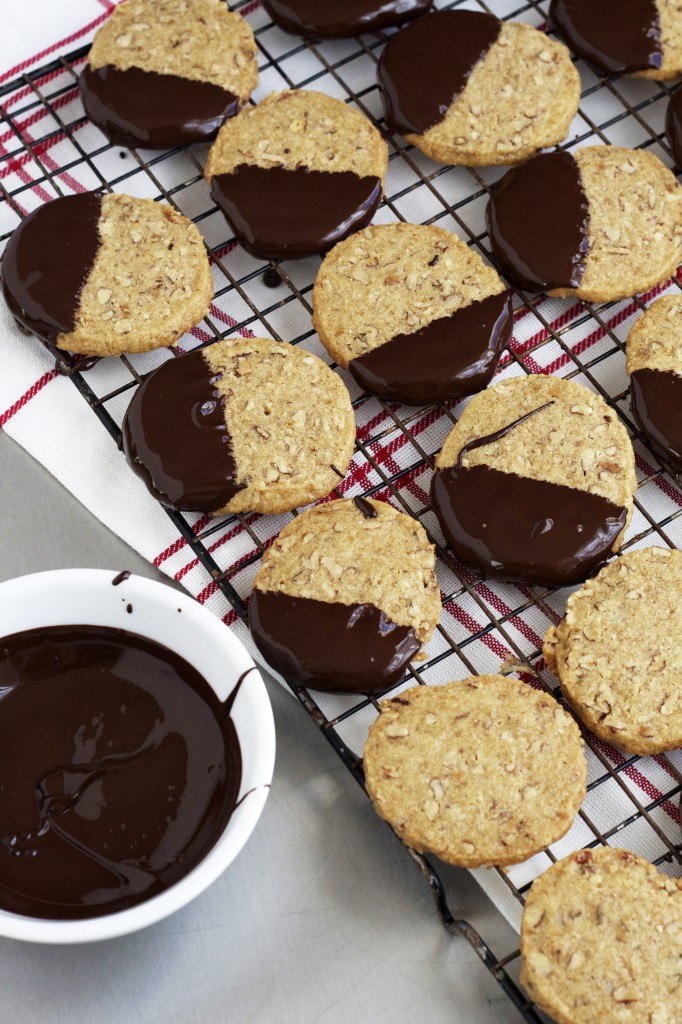 We passed Thanksgiving and sit right in the heart of cookie baking season now! Alice Medrich has been one of my favorite bakers for many years. My copy of her book "Pure Dessert" is well stained and tattered from repeated reference. Last month I was delighted a receive her latest book, "Chewy, Gooey, Crispy, Crunchy, Melt-in-Your-Mouth Cookies". This wonderful collection is full of cookie recipes for every age and every taste. Alice dots her baking wisdom throughout and many of the tips gave me "Ah-ha!" moments. What impressed me most about her current book is that she took out the time to create whole wheat and gluten free cookies. One of my biggest pet-peeves is when the title of a recipe says "whole wheat" and yet there is still white flour used. So when I saw several "actually, only whole wheat recipes," I was thrilled! I also truly appreciate the way Ms. Medrich thoroughly tests her recipes so we get only the best-of-the-best.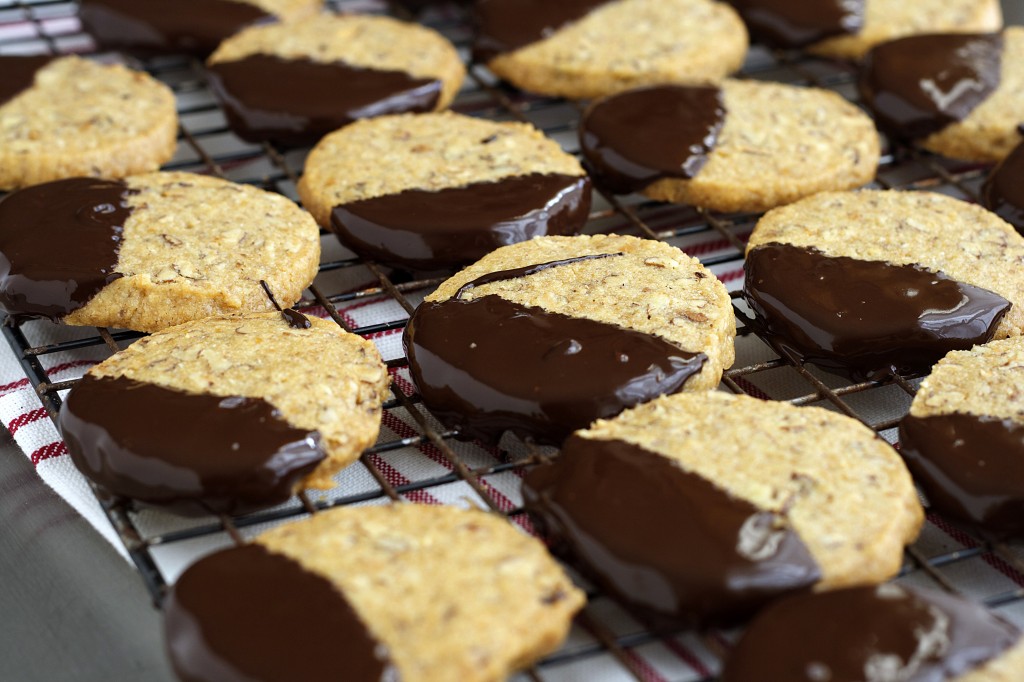 The first recipe I baked was her Whole Wheat Sable Cookies. I substituted maple sugar for the white sugar, added some chopped pecans (as she suggests), and then dipped them in bittersweet chocolate for a festive touch. These cookies are versatile and fun because you can change out the nuts according to your preference.
The book makes a lovely Christmas or hostess gift and with all the holiday baking this month, you should definitely add it to your collection, too!
Whole Wheat Maple Pecan Sables
Ingredients
14 tablespoons unsalted butter, softened?
1/2 cup maple sugar
1/4 teaspoon sea salt?
1 teaspoon vanilla extract?
1 cup chopped pecans?
2 cups whole wheat pastry flour?
4 ounces bittersweet chocolate, melted
Instructions
Beat the butter, maple sugar, salt, and vanilla in a medium bowl with an electric mixer until smooth and creamy, about 1 minute. Add the pecans and flour and mix until just incorporated. If there are any dry bits simply stir them into the batter with a spoon or knead the dough with your hands. Form the dough into a 12 x 2-inch log. Wrap tightly with plastic wrap and refrigerate for 2 hours.
Preheat the oven to 350ºF and adjust racks to the upper and lower thirds of the oven. Line two baking sheets with parchment paper. Unwrap the dough and using a sharp knife, cut the dough into 1/4-inch slices. Place the cookies 1 1/2 inches apart on the baking sheet. Bake for 12 minutes rotating pans half-way through baking, until the edges are just golden brown. Cool completely.
Dip each cookie in the melted chocolate and place on a cooling rack to dry. Serve when chocolate is set, about 1 hour.
7.6.7
4191
https://deliciouslyorganic.net/whole-wheat-maple-pecan-sables/
Copyright 2016 Deliciously Organic
This post is a part of Simple Lives Thursday
Posts may contain affiliate links. If you purchase a product through an affiliate link, your costs will be the same but Deliciously Organic will receive a small commission. This helps cover some of the costs for this site. We appreciate your support!