Here's some great recipes to make wholesome baby food.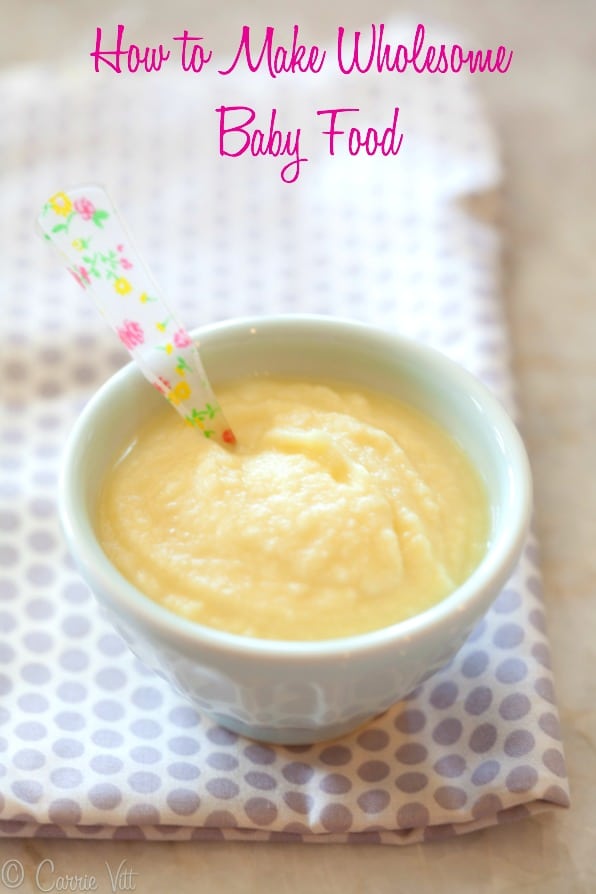 "How would you feel if you only got puréed vegetables and fruit for a meal? You'd soon be whiny and cranky from low blood sugar and crying for food" – Sally Fallon. I love this quote – it's something I never thought about when I was feeding my babies straight fruits and vegetable purées. Since then, I've learned that a high-fat diet is critical for growing babies. I think this idea is often missed when we're learning how to feed little ones.
Mother's milk is made up of 50-60% fat, over half of which is saturated fats with large doses of cholesterol. These fats are needed for the proper development and growth of your baby. "Experts agree that low-fat, low-cholesterol diets do not provide babies the basis for proper growth. Science supports that babies need most of their calories from fats in the first year, and U.S. governing agencies such as the FDA and AAP agree that babies should not be on any kind of fat-restrictive diet for at least the first 2 years." Dr. Erlich
Homemade baby food is very easy to prepare; the key ingredient in every meal – whether you're serving fruit, vegetables, or meats – should be healthy fats.
Here's a list of healthy fats:
Coconut oil
Organic lard or tallow
Ghee
Duck Fat
Pastured Egg yolks (a fabulous first food for babies!)
Avocado
Organic, grass-fed butter
"Milk fats and animal fats give energy and also help children build muscle and bone. In addition, the animal fats provide vitamins A, D and K necessary for protein and mineral assimilation, normal growth and hormone production". Sally Fallon
So if you're feeding your baby sweet potatoes, mix in some ghee, coconut oil or butter to help that little body assimilate the fat-soluble vitamins. The same goes for fruits, even applesauce – add some fat. If you're looking for some good recipes, I highly recommend these two books: The Nourishing Traditions Book of Baby and Childcare and Super Nutrition.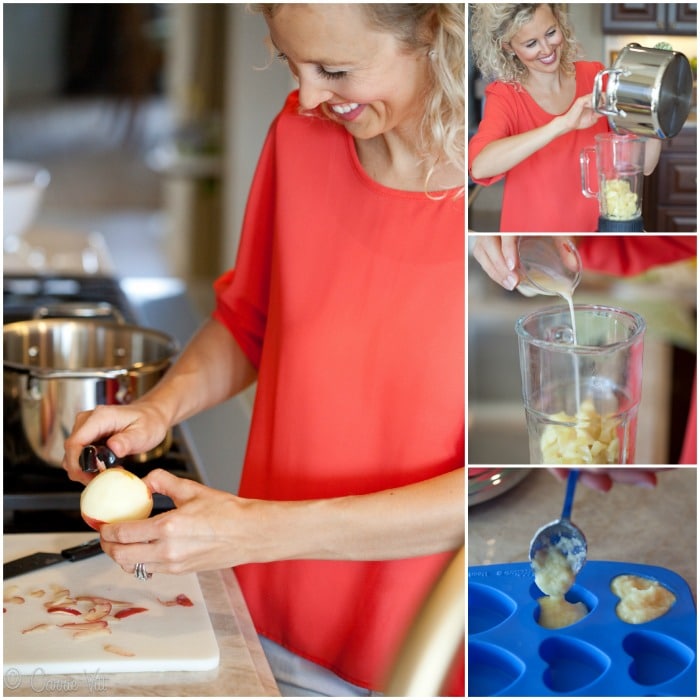 I spent an afternoon teaching my friend how to make wholesome baby food for her little girl. We had such fun!
What if you're traveling, or don't always have time to make homemade baby food? I suggest purchasing some organic baby purées then adding coconut oil to the mixture before serving it.
What about feeding babies grains, nuts and seeds? I thought the information from Sally Fallon's baby and childcare book was very helpful on this topic. She suggests, "Grains, nuts and seeds should be the last foods introduced to babies. This food category has the most potential for causing digestive disturbances or allergies. Babies do not produce the needed enzymes to handle cereals, especially gluten-containing grains like wheat, before the age of one year. Even then, it is a common traditional practice to pre-digest grains by soaking them in water and a little yogurt or buttermilk overnight for up to twenty-four hours. This process jump-starts the enzymatic activity in the food and begins to breaking down some of the harder-to-digest components." Fascinating!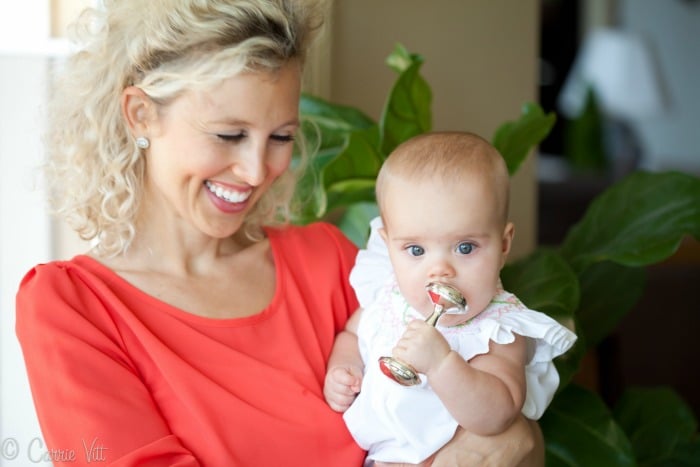 I recently discovered a company called the Little Green Pouch that makes dishwasher-safe, freezer-safe reusable food pouches to help parents make smarter and healthier food choices for the whole family. The idea is to help us control the types of food we give to our children. The Little Green Pouch makes it convenient and easy to feed a baby homemade purées, yogurt or apple sauce – even on the go.
The pouches are great for traveling. I especially love the little spoon that can be attached at the end for little babies. Just squeeze the bag and out comes the food right onto the spoon! I really wish I'd had some of these when my girls were little. It would've made road trips, traveling or even a long day of errands so much more simple!
Little Green Pouch is kindly giving away a collection of their products to one lucky winner! Here's what they're giving away:
1 large starter kit
2 (four-packs) of the large 7-ounce pouches
1 funnel
1 baby bottle brush
See widget below to enter:
Print
Fruit or Vegetable Puree for Babies
You can use a variety of different fruits and vegetables for this recipe such as: apricots, peaches, carrots, squash, sweet potato, etc. Recipe adapted from Super Nutrition.
Prep Time:

10

Cook Time:

10

Total Time:

20 minutes

Yield:

Makes about 1 1/2 cups

Category:

Main Dish

Diet:

Gluten Free
6

organic apples (cored, peeled and cut into 1-inch pieces)

2 tablespoons

coconut oil or ghee

2

–

4

tablespoons unsweetened coconut milk, mother's breast milk, or organic formula
Instructions
Melt the coconut oil or ghee in a large sauté pan over medium-low heat. Swirl the pan to coat. Add the apples and cook, stirring occasionally until very soft, about 10 minutes.
Pour apples into a blender and add 2 tablespoons of the milk of your choice. Puree until smooth (you may need to add another 1-2 tablespoons to thin out the puree until it's the desired consistency). Cool completely. Spoon puree into an ice cube tray (I used a heart mold tray) and freeze. Once frozen, pop out the cubes and store in an airtight container in the freezer. Thaw individual cubes when you need a meal for your little one.