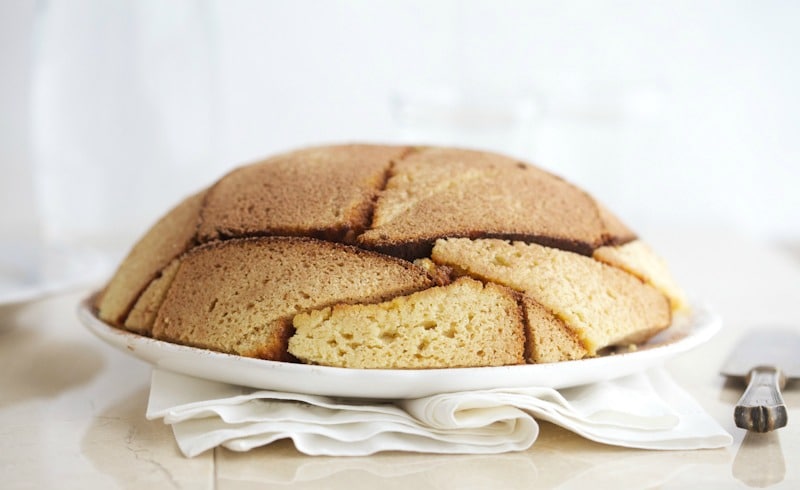 I think I might be having too much fun with desserts. I haven't developed a new sweet-tooth, but am fascinated and challenged by just how many recipes there are to create without grains.
I fell in love with this dessert many years ago, when I bought a copy of Everyday Italian. It's a classic Italian book full of accessible recipes. I pull it off the shelf every few weeks and thumb through – always feeling inspired. Some cookbooks just do that for me. Maybe the recipes aren't elaborate, but the copy, photos and combinations of recipes speak to me in a way that other cookbooks can't. I'm sure you have a cookbook or two like that in your collection.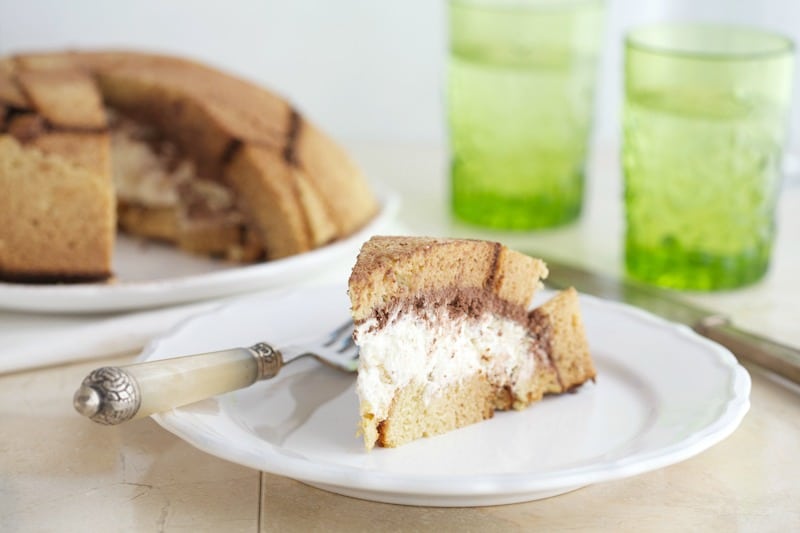 Zuccotto is a fancy-looking dessert made from everyday ingredients. A pound cake, some whipped cream, chocolate, extract, brandy and almonds. That's it. The "fancy" part is the way it's all organized. The pound cake is cut into triangles and pieced together in a lined bowl. The cream is whipped – once with chocolate, the second time with almonds and extract. The bottom of the dessert is once again lined with cake. It's chilled in the refrigerator where it forms a mold and the finale is a dusting of cocoa powder. It will get many "oohs" and "aahs" at the table. I enjoy making it for guests because the entire dessert can be assembled the day before. You can substitute the almond extract for another, leave out the nuts or keep them, or add other ingredients to the mix. Use your imagination and enjoy the possibilities!
Zuccotto (Grain Free, Paleo, Primal, Gluten Free)
Ingredients
1 coconut cake, completely cooled (I used this recipe and baked the cake batter in a loaf pan at 325ºF for 30 minutes, or until golden brown)
1/4 cup brandy
2 cups heavy cream (or very cold coconut milk , using this method to whip it )
3 1/2 ounces semisweet chocolate, melted, and cooled
1/2 teaspoon almond extract
1 tablespoon honey (I used clover)
1/2 cup slivered almonds, chopped
Unsweetened cocoa for dusting
Instructions
Line a 1.5 quart mixing bowl with plastic wrap, so that the wrap hangs over the side. Cut cooled cake into 1/3 inch-thick slices and then cut each slice in half on a diagonal, forming 2 triangles. Line the bottom and the sides of the bowl with cake slices. Using a pastry brush, brush brandy over the triangles in the bowl. You should have about 10 triangles leftover, reserve these.
Whip 1 cup of heavy cream until soft peaks form. Fold in melted chocolate and spread over the cake, covering completely and creating a well in the center. Pour remaining 1 cup heavy cream and almond extract into a clean bowl. Turn mixer on medium-high and slowly add honey. Whisk until soft peaks form. Fold in the almonds. Spoon the cream mixture into the center of the well of the filling. Brush the remaining cake slices with brandy, and arrange them, brandy side down, to cover the filling. If needed, trim the pieces of cake to fit. Using the overhanging plastic wrap, cover the entire cake and chill in the refrigerator for at least 3 hours (I usually let the cake sit overnight).
To serve, open the plastic wrap and invert the cake onto a platter. Remove the bowl and plastic wrap. Sift cocoa powder over and serve.
7.6.4
781
https://deliciouslyorganic.net/zuccotto-grain-free-paleo-gluten-fre/
Copyright 2016 Deliciously Organic
Posts may contain affiliate links. If you purchase a product through an affiliate link, your costs will be the same but Deliciously Organic will receive a small commission. This helps cover some of the costs for this site. We appreciate your support!