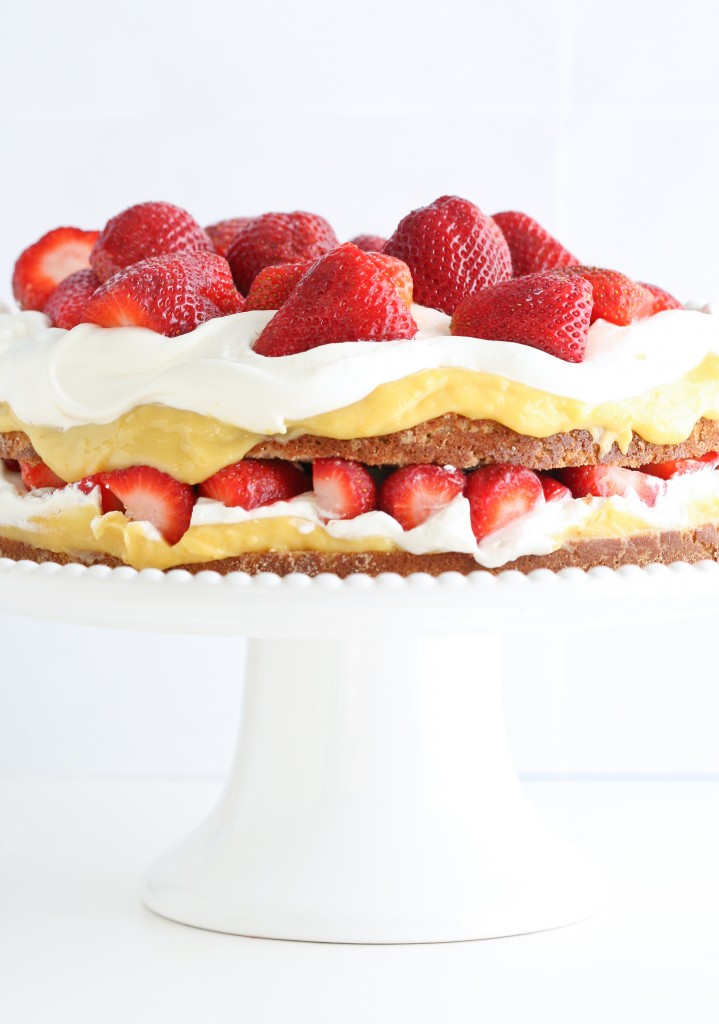 Before beginning my grain-free journey, I had a terrible sweet tooth. I couldn't go a day without some form of sweet: honey, maple syrup, sucanat, fruit, etc. I ate whole grains, good fats, vegetables, organic meats, and all the good stuff for years, but could never quite kick the sweet tooth. In September, things changed. By eating a diet void of grain, I eliminated the high blood sugar spikes throughout the day which in turn caused my cravings for sweets to subside.
I started using less and less sweetener in my cooking as the months went along. I had enjoyed 2 teaspoons of honey in my coffee. Now I'm down to about 1/2 a teaspoon. Anytime I bake, I cut the sweetener in half and sometimes still find it too sweet. Last weekend when I traveled to New York City (a city full of tempting sweets) I went three days (three days!) without eating anything sweet.
I've talked to other friends who've had the same experience, and have been shocked by the results. I recently finished the book Deep Nutrition — one of the best books on eating I've ever read! Dr. Cate shares, "A study done in Iraq on sweet taste habituation showed that the more sugar we eat, the less we taste it, and the less we taste it, the more we eat." My personal experience agrees with these results.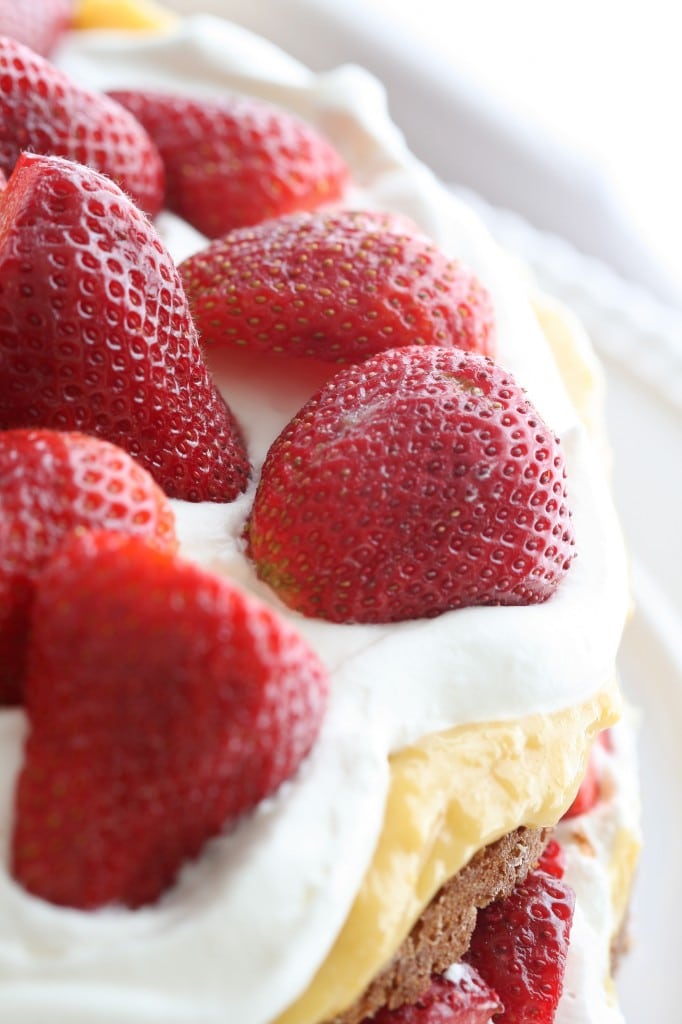 So why a cake when I'm talking about eating less sugar? If I were to have made this cake a year ago, I would have added a lot more sweetener. The lemon curd comes from a previous post, but I decreased the honey by 1/4 cup. The sweetness from the curd, cake and berries is plenty, so I elected not to sweeten the whipped cream. This cake feeds ten and the total sweetener in a modest slice is about 1.5 tablespoons per person. Not bad for a special occasion dessert.
I challenge you to start cutting down on the amount of sweeteners you use in your baking, cooking and eating. If you enjoy a cup of coffee or tea in the morning, start decreasing the amount of sweetener you add. If you consume a lot of grains or fruit, try to slowly reduce. Hopefully your cravings will begin to subside and you'll be one step closer to an even healthier life.
Coconut Cake with Lemon Curd, Strawberries and Whipped Cream (Grain Free, Paleo, Primal)
This coconut cake recipe, makes for a great grain free layer cake. Double the recipe, make a buttercream frosting and you've got an amazing birthday cake!
Ingredients
For the Cake Batter:

1 cup coconut flour
1/2 teaspoon Celtic sea salt
8 large eggs
1 teaspoon baking soda
1/2 cup plain whole yogurt (or a coconut yogurt)
6 tablespoons unsalted butter or coconut oil , melted
1/2 cup honey (I used clover)
1 tablespoon vanilla extract

For the Lemon Curd:

8 tablespoons unsalted butter or 6 tablespoons coconut oil
1/2 cup honey (I used clover)
4 large eggs
3 large egg yolks
1/4 cup lemon zest (make sure the lemons are organic)
1/2 cup freshly squeezed lemon juice (about 6-8 lemons)
1/8 teaspoon Celtic sea salt
2 cups heavy cream or coconut milk , whipped
2 cups strawberries, tops removed, cut in half
Instructions
Preheat oven to 350ºF and adjust rack to middle position. Butter a 9" round cake pan and dust with coconut flour (this will ensure the cake doesn't stick). Place all cake ingredients in the bowl of a food processor and blend until smooth. Pour batter into the buttered cake pan and bake for 40-45 minutes, or until just turning golden brown on top and a cake tester inserted in the middle of the cake comes out clean. Cool for ten minutes, then run a knife around the edges and invert onto a cake platter. Cool completely.
Melt butter in a double boiler set over medium heat. Whisk together honey, eggs, yolks, zest, juice and salt in a large measuring cup. Slowly, while constantly whisking, pour in egg mixture and continue to whisk for 6-8 minutes until thick like pudding. Pour curd through a fine mesh sieve over a medium bowl, cover and chill in the refrigerator for 2 hours or until cold.

To assemble:

Cut cake in half. Spoon half of curd mixture on top of bottom cake layer and spread evenly. Spoon half of whipped cream on top of curd and spread evenly. Top with 1 cup berries. Place second cake layer on top and repeat with curd, cream and berries, Serve.
7.8.1.2
3363
https://deliciouslyorganic.net/grain-free-gluten-free-coconut-cake-recipe-lemon-curd-strawberries-cream/
Copyright 2016 Deliciously Organic