Near infrared sauna therapy can be used to help the body with a variety of health issues such as: joint and muscle pain, thyroid disease, circulation, digestion, tissue and cell repair and detoxification. It also helps support the liver, kidneys, pancreas, spleen, thyroid, and the central nervous system.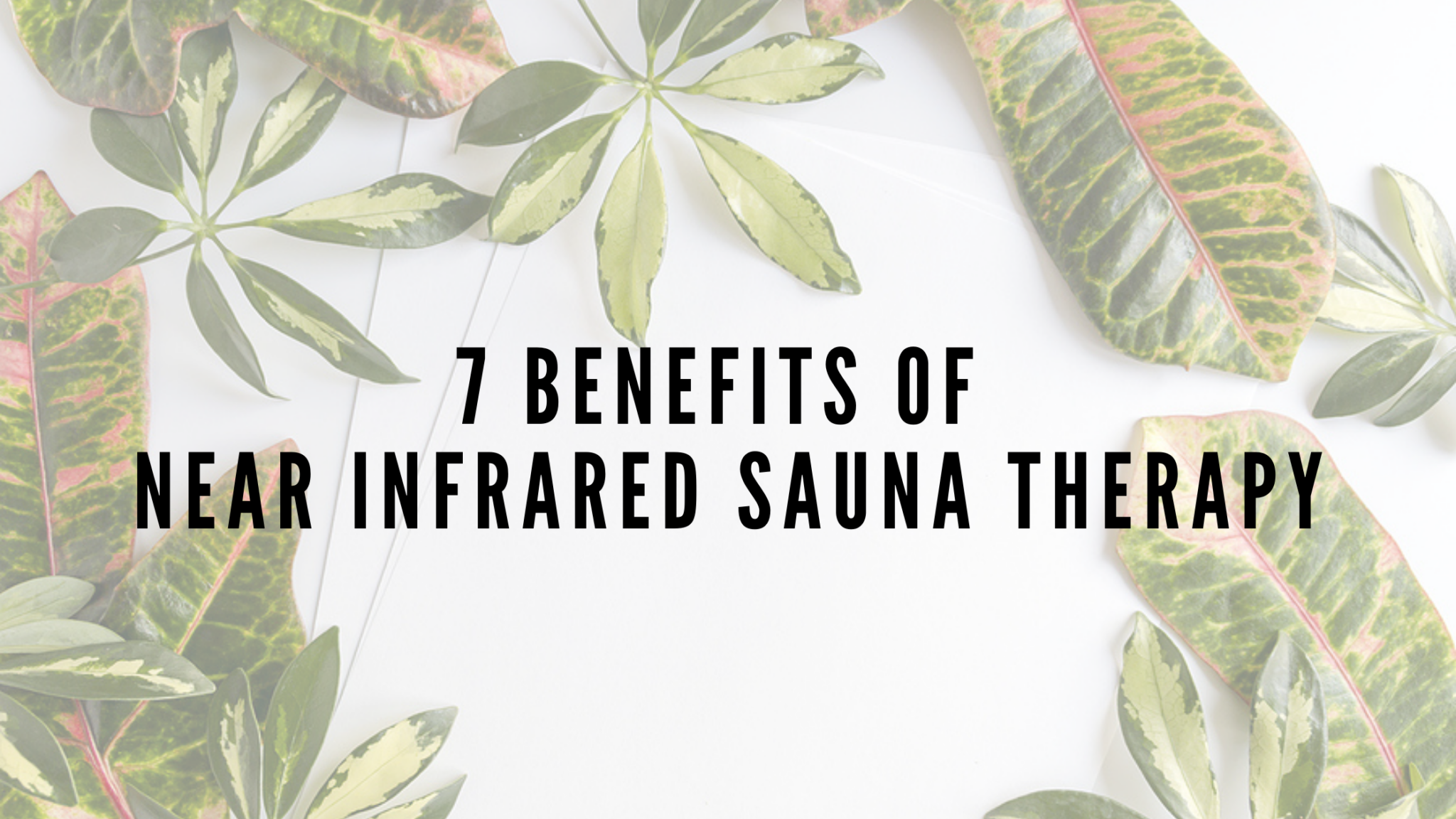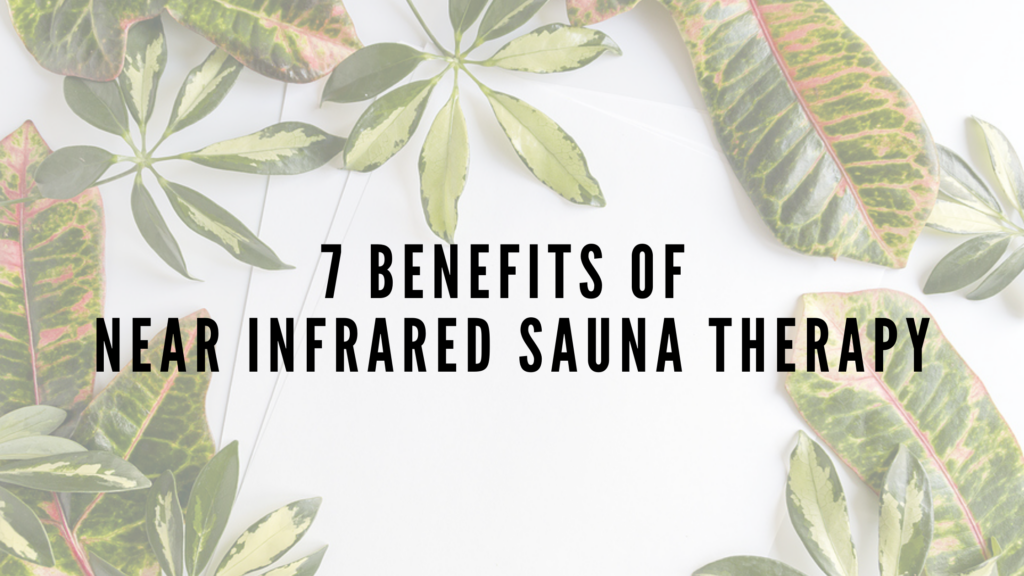 Never before in history have people been exposed to such a great variety of toxic chemicals. More than 80,000 chemicals available in the U.S. have never been fully tested for their effects on our health. According to the EPA, toxic chemicals are responsible for up to 80% of cancer deaths. In our current world, it's important to take steps to reduce this toxic load on our bodies. A great way to do this is with near infrared sauna therapy.
Sauna therapy was very important to my detox routine when I battled Hashimoto's. The infrared sauna works by heating the body's temperature several degrees above normal, making the body attempt to reduce its temperature by driving blood to the surface and sweating. The heating, and the body's response to heating, can produce many beneficial physiological effects.
A study from Finland that tracked more than 2,000 Finnish men for nearly 20 years on average found that those who used saunas on a regular basis reduced their risk of heart failure, coronary heart disease, and had longer lifespans. The study also found that more sessions per week provided more health benefits.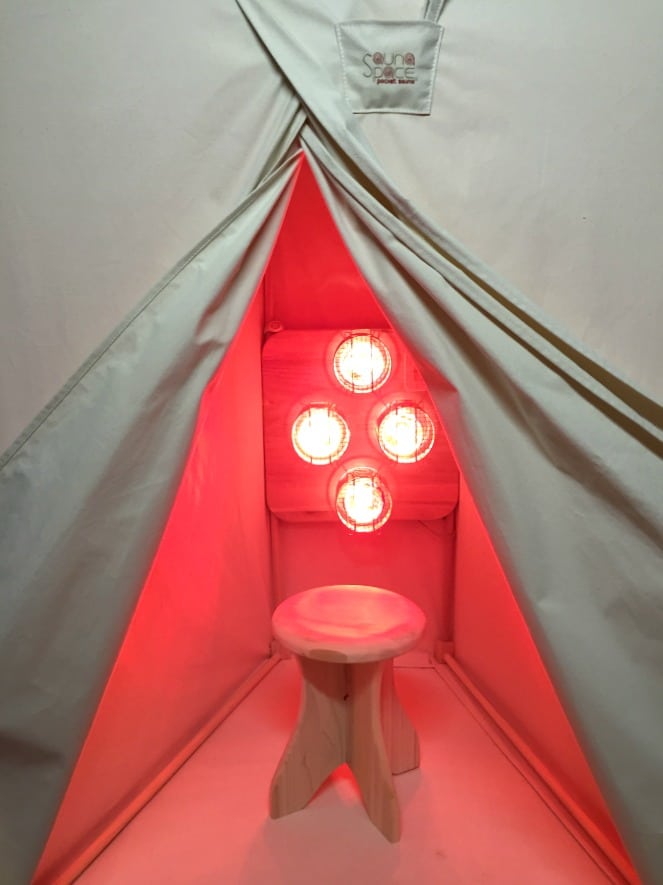 This is a picture of the SaunaSpace Faraday Lumanati at my house.
1. Detoxification
Did you know that prescription and over-the-counter drugs may remain in the body for 30 years or more? Sweating can help flush these toxins from the body. According to Lawrence Wilson, M.D., "Heating the body helps destroy bacteria, viruses and tumors. Sweating promotes the elimination of toxic chemicals, radioactive particles and other toxins. It also increases the skin's ability to eliminate poisons."
2. Exercise Benefits
Infrared sauna therapy can provide many of the benefits of exercise with less expenditure of energy. This can be especially helpful if you're struggling with a disease and don't have much energy to exercise. Sauna therapy can increase circulation, lower elevated blood pressure, and improve oxidation of the tissues.
3. Fewer Abnormal Cells
Many of us have damaged or mutated DNA due to the effects of toxic chemicals and ionizing radiation. Heating the body using infrared sauna therapy can help kill weaker mutated cells and help prevent their reproduction by slowly improving the ratio of healthy cells to genetically damaged cells. For those of you that may have the MTHFR mutations, this could be a key piece of information to helping you improve your circumstances.
Hyperthermia is a well-researched therapy for cancer according to the National Cancer Institute and American Cancer Society. Dr. Wilson explains that tumors don't tolerate heat well, so raising the body temperature may hasten their death.
4. Pain Relief
Infrared light therapy can help reduce pain and other symptoms of rheumatic disease. It's also been shown to help reduce chronic back pain. According to Dr. Wilson, "Studies indicate it may have direct effects on peripheral nerves and it may modulate the levels of prostaglandins in inflammatory conditions such as arthritis."
5. Relaxation
Sweating helps stimulate blood flow and circulation throughout the body (just like exercise does). Increased circulation helps relax the body. I've personally experienced this and can't even tell you how much the sauna helps my stress level. Remember, stress is like gasoline on a fire for almost all diseases, so reducing stress can play a huge role in the healing process.
6. Thyroid Health
Exciting research has shown that red light therapy (aka low level laser therapy or LLLT) can be helpful for the thyroid. 
This placebo-controlled clinical trial showed how LLLT was effective at improving thyroid function (increased production of T4) and helped reduce autoimmunity by lowering thyroid peroxidase antibodies (TPOab).  
Another study concluded that "the preliminary results indicate that LLLT promotes the improvement of thyroid function, as patients experienced a decreased need for LT4, a reduction in TPOAb levels, and an increase in parenchymal echogenicity."
This study shows how LLLT improves the function of the thyroid tissues.
A long-term follow-up study concluded that LLLT has been deemed safe for the treatment of hypothyroidism that is caused by autoimmune thyroiditis.
Additionally, this study showed how LLLT can create a "significant increase in serum TGF-β1 levels 30 days post-intervention in the PBM group, thus confirming the anti-inflammatory effect."
Not only can it improve the thyroid, but the red near infrared light is also helpful to balance out harmful EMF levels that we all come in contact with on a daily basis from our computers, phones, wifi, tablets, etc. Science has shown near-infrared light therapy to be one of the most effective approaches to aid the body in healing itself from the type of mitochondrial dysfunction caused by EMF.
To sum things up, red light therapy can help increase T4 production, reduce TPO antibodies, reduce inflammation, improve thyroid function, and balance EMF levels. How amazing is that?!
7. Improved Eyesight for those over 40
I've noticed that when I use the sauna the red light helps improve my eyesight. I know this sounds crazy, but on days that I use the sauna (or their photon light) I don't need to use my reading glasses. I couldn't figure out why this was happening, and then I learned that The University College London found that declining eyesight is improved by looking at deep red light. How amazing is that?! I wasn't crazy after all!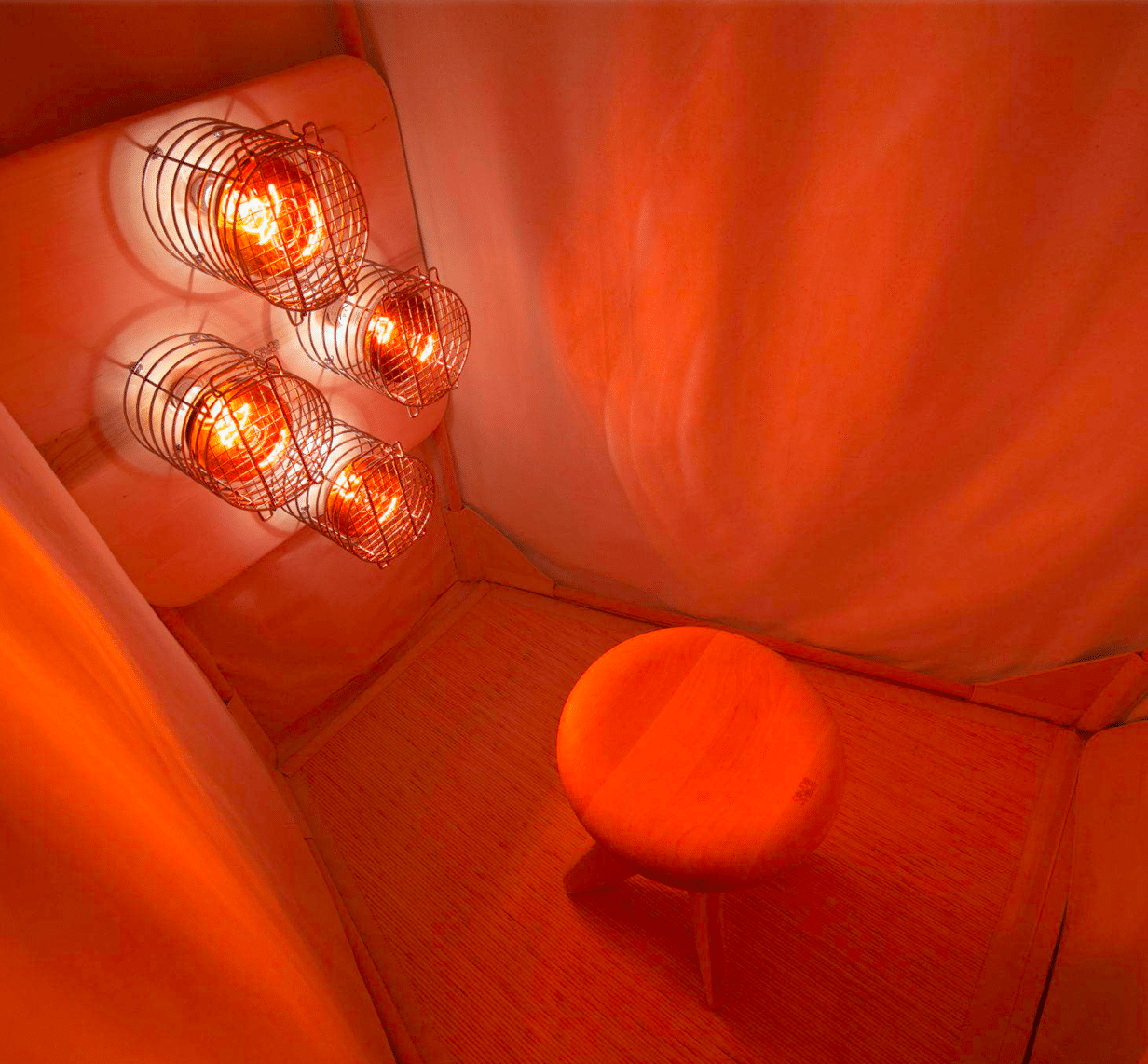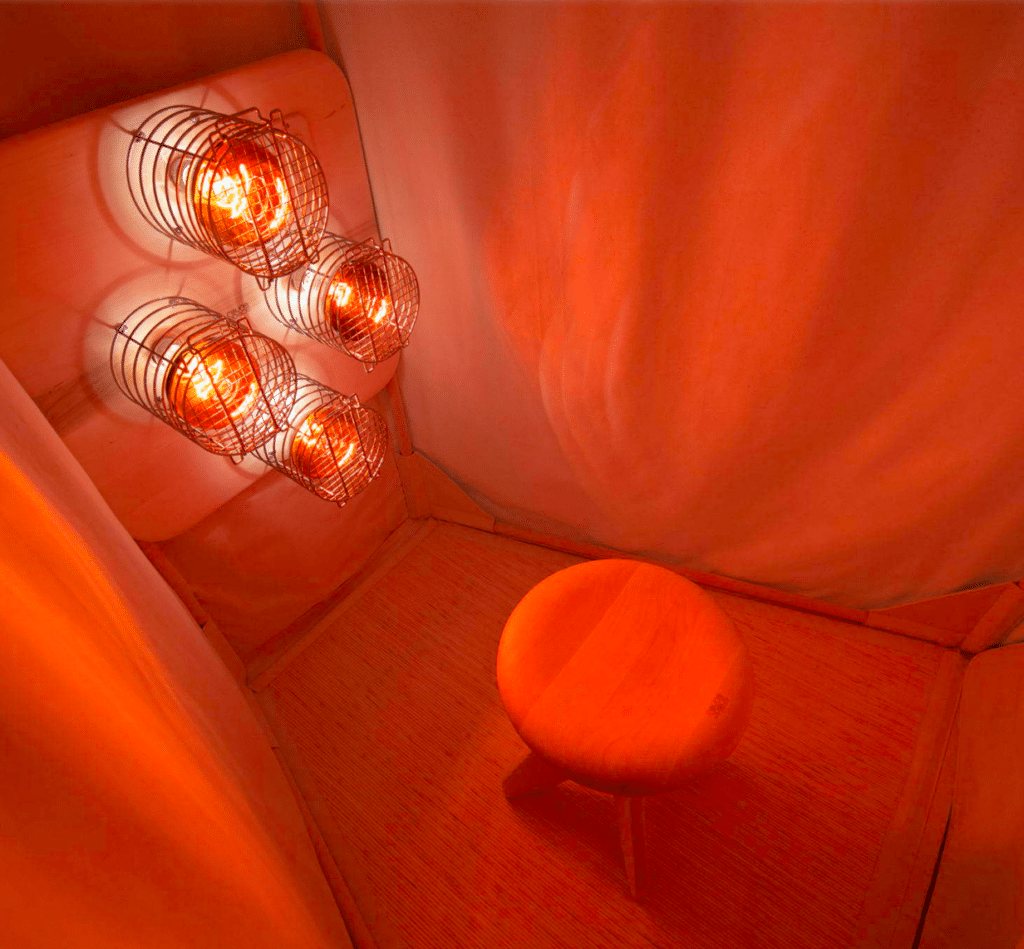 Why I chose a Near Infrared Sauna instead of a Regular Sauna:
1. Infrared light is beneficial at its specific wavelength of 600nm – 950nm. The phototherapy benefits it provides are totally unique to this narrow band of the sunlight's spectrum.
2. The NIR (near infrared) light directly activates various cellular processes that promote cellular healing, detoxification, increased metabolism, and more.
3. NIR light is safe for the eyes and can heal cellular damage in the eyes.
4. Here are some of the healing benefits of NIR: alkalinization of the cells, nerve tissue regeneration, wound healing, increased collagen production, relaxation of the central nervous system, and more effective toxin elimination.
5. NIR has ultra-low EMFs.
6. Provides sufficient heat for effective hyperthermic therapy.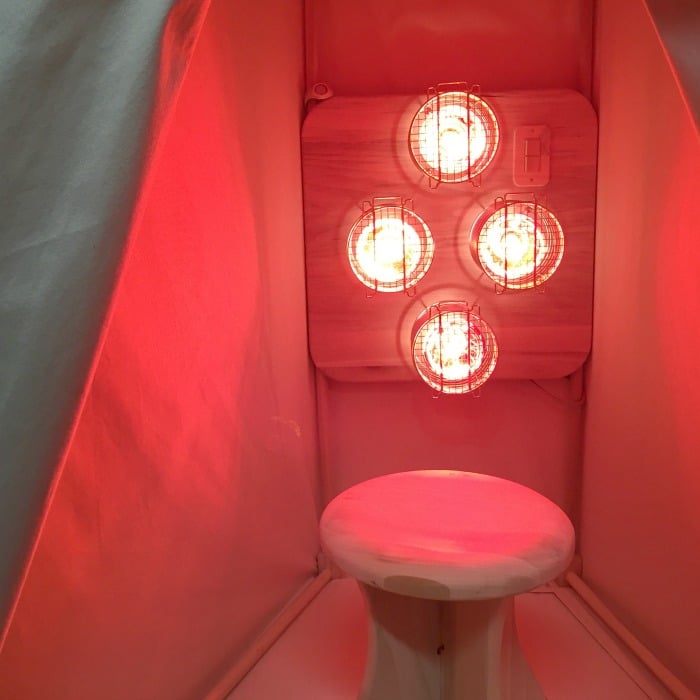 I always thought of a sauna as a huge cedar room – usually at a health club or gym – that occupy tons of space and cost several thousand dollars. I'm excited to tell you that SaunaSpace makes a wonderful near infrared sauna that costs much less than competitors' and takes up only a fraction of the space!
Their Luminati or Faraday saunas can be set up in the corner of a room in about 45 minutes, without tools. They can be easily broken down and set back up if you want to travel with it or if you move often. I set mine up in the garage, and I have friends who've put their sauna in a closet or the corner of a bedroom.
About 5 years ago, I started using the Luminati sauna from Sauna Space and recently upgraded to the Faraday Sauna. Both saunas are absolutely fabulous choices.
I chose to upgrade to the Faraday earlier this year because their new system uses a shielding system that protects me from all EMFS and 99.999% of RF. How amazing is that?!
Here are some differences I noticed when upgrading to the Faraday Sauna:
1. It's quite a surreal experience to sit in a space that completely blocks out all EMFs, RFs, etc. The level of calm that the body experiences is something I honestly can't explain with words. The body needs to be in a parasympathetic state in order to detox, so being in a completely calm, EMF-free environment only increases the level of detoxication that takes place.
2. My mind is able to completely shut off when I'm in the Faraday sauna. I used to listen to a podcast or read when using the sauna, but when I upgraded to the EMF-free sauna I prefer to just sit and let my mind rest.
3. Their new handcrafted ThermaLight incandescent bulb is much more powerful than their original red bulbs that they previously used. The new bulb delivers 2-4x more red and near-infrared radiance than any bulb currently on the market. I notice that I now sweat much more quickly with the ThermaLight bulbs. 
How do you use the near infrared sauna?
I recommend starting with 15-20 minute sessions and then work up to 40 minutes or so. I rotate a quarter-turn every 5 minutes so that all sides of my body receive the benefit of the light.
If you are struggling with adrenal, hormone or thyroid imbalance, then it's very important to not do long sessions when you first begin. Fifteen minutes 2-3x a week is usually sufficient. As you are working to heal your body and your hormones and energy balance out, then you can usually start to increase the time you spend in the sauna.
3. If the heat from a sauna is too much for you right now, or you'd like a more econimal place to start, the Photon light from SaunaSpace is a great option. Click here to learn more about the photon light, its benefits, and how to use it.

I contacted SaunaSpace and asked them if they could offer a coupon code for you and they agreed! Use the code ORGANIC5 to save 5% off anything on their site.


---


Originally posted on March 2015 and updated September 2020.