Refried black beans are a healthy, nutrient-dense carbohydrate that goes with so many different main dishes. I really enjoy the creamy beans cooked with onion and garlic then smashed and stirred with some healthy fat.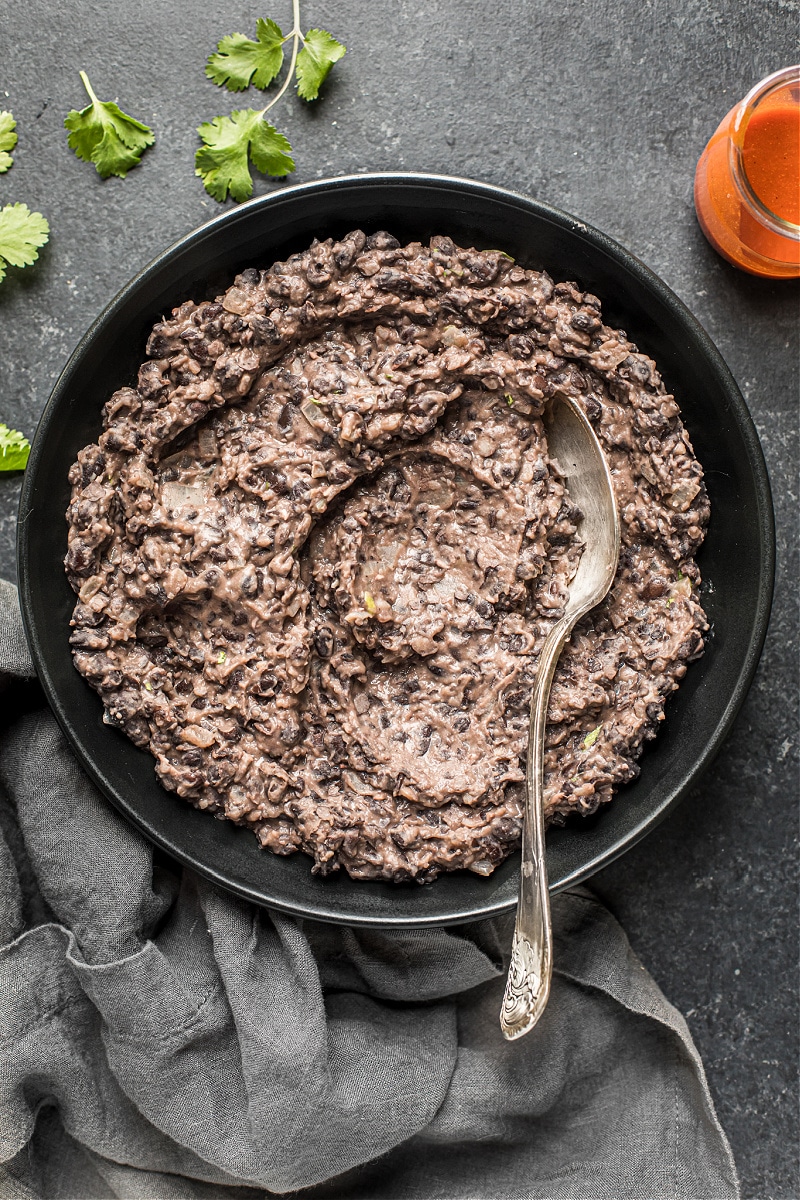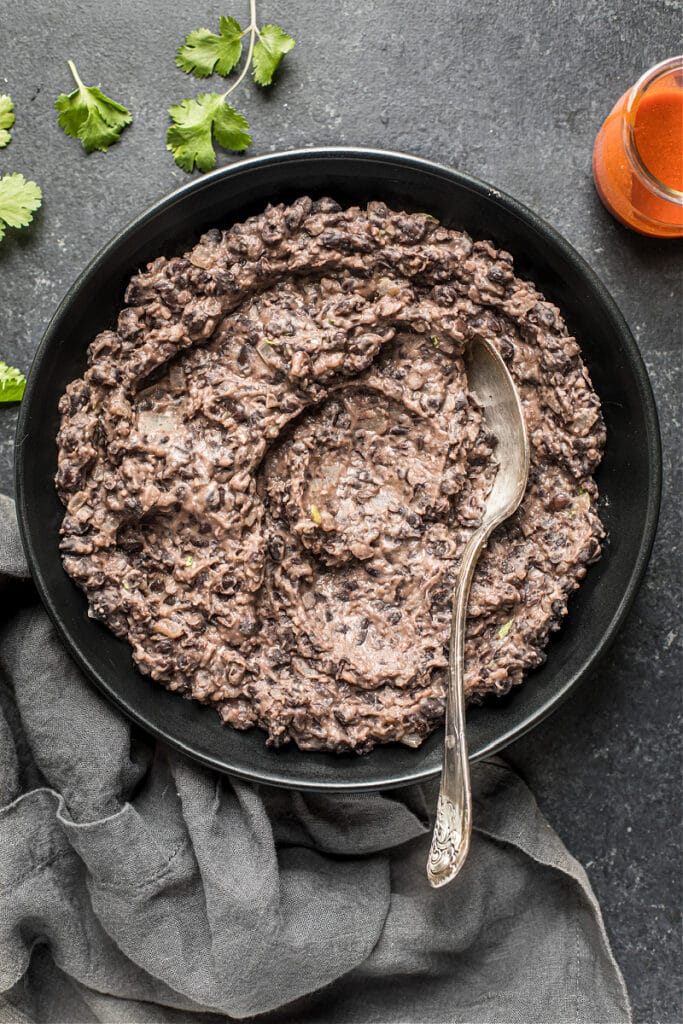 The traditional refried bean recipe uses pinto beans, but our family loves using black beans. The recipe can be prepared on either the stove or a slow cooker and it keeps in the fridge for 4-5 days. You can top it with sour cream (if you can eat dairy), tomatoes, fermented salsa, cilantro, or raw cheddar.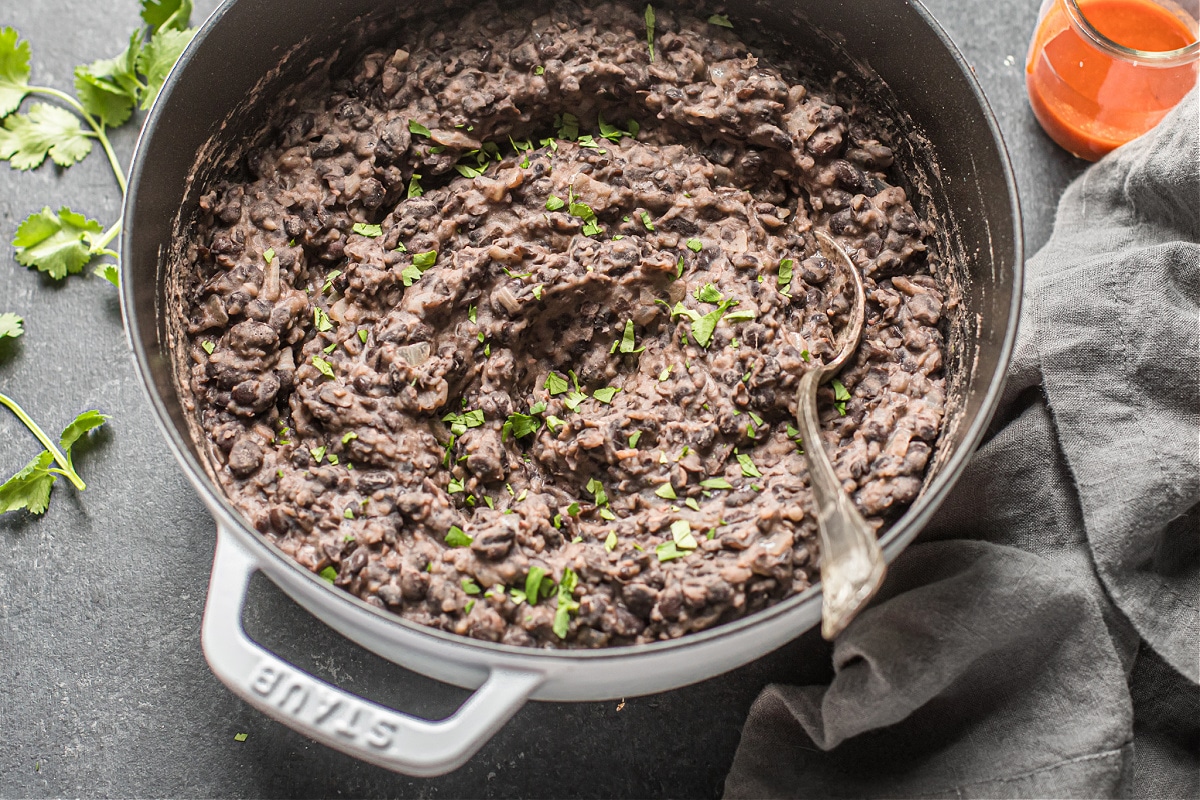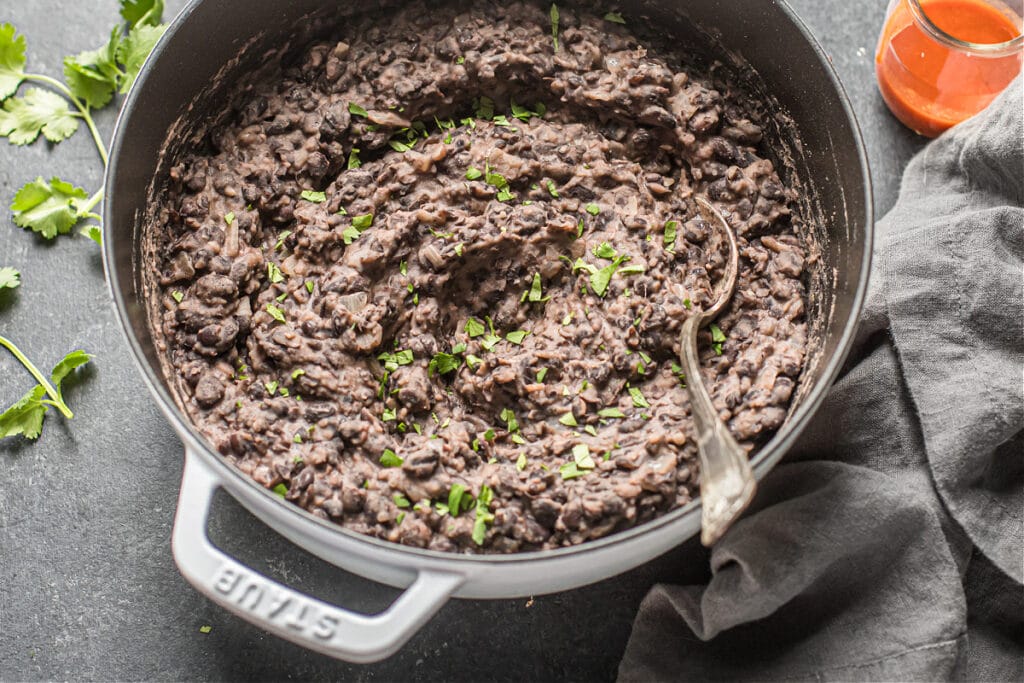 What about the phytic acid? As long as you soak the beans overnight in water and then drain them before cooking, you remove most of the phytic acid from the beans. This helps keep the digestive tract happy when eating a healthy portion of beans.
Ingredients
1 pound black beans
1 onion, peeled and cut in half (divided)
4 cloves garlic, peeled
4 tablespoons ghee or palm shortening
Tabasco or organic hot sauce
1 tablespoon Celtic sea salt
Instructions
Place beans in a large mixing bowl and cover with water (the water should be at least 4 inches above the beans). Let the beans soak overnight at room temperature.
The following day, drain the beans and place them in a large pot. Cover with clean water and add half of the onion and the garlic cloves to the pot. Bring the mixture to a boil and then lower to a simmer. Simmer for about 3-4 hours until tender. (If you find the water level is decreasing too quickly while cooking, simply add a bit more water to the pot.)
Drain the beans, reserving the cooking liquid. Remove the onion and garlic cloves.
Place the empty pot back on the stove over medium heat and add the ghee. Chop the remaining 1/2 onion and place in the pot. Cook the onion in the ghee until translucent, about 5-7 minutes. Pour the beans into the pot, add about 4 dashes of hot sauce and the sea salt, and mash the beans with a potato masher (LINK) or fork. Add more liquid while mashing if necessary until the beans are the desired consistency. Add additional salt to taste. Serve.
7.8.1.2
3426
https://deliciouslyorganic.net/black-refried-beans/
Copyright 2016 Deliciously Organic