I know Brussels Sprout Gratin is more of a Thanksgiving dish, so maybe I'm getting ahead of myself, but it's so good I decided share it with you now.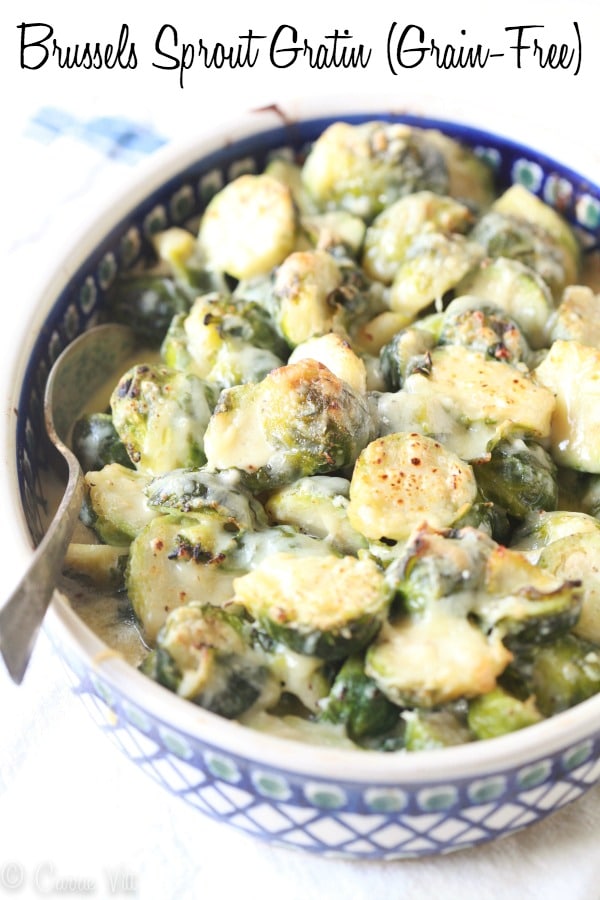 The Brussels sprouts are simmered in water which helps reduce the goitrogens (remember – this is a good thing to do if you battle thyroid issues). The sprouts are then combined with a creamy cheese sauce and baked in the oven. You can substitute any mild cheese you'd like. Breadcrumbs sprinkled on top would be a nice touch, too – if you can tolerate grains.
Print
Brussels Sprout Gratin (Grain-Free)
3

pounds

Brussels sprouts, trimmed and cut in half

2 tablespoons

unsalted butter

3

cloves garlic, minced

1 tablespoon

arrowroot

1 1/2

cups

whole milk

1 teaspoon

Celtic sea salt

1/4 teaspoon

freshly ground black pepper

14

ounces

gruyere cheese, grated and divided
Instructions
Preheat oven to 375ºF and adjust rack to the middle position. Place the Brussels sprouts in a pot, cover with water and bring to a boil over high heat. Then lower the heat to medium-low and simmer the sprouts for 8 minutes. Drain and then rinse with cold water. Lay a clean towel on the counter then pour the sprouts on the towel and gently press the sprouts to soak up any excess water.
Place the butter and garlic in a large saucepan over medium heat. Cook until the butter melts and the garlic sizzles. Whisk in the arrowroot and then slowly whisk in the milk, salt and pepper. Continue to cook, whisking often until the mixture begins to thicken. Add 10 ounces of the grated cheese (that's about 1 1/4 cups), and stir until the cheese is melted and the sauce is creamy. Stir in the Brussels sprouts and combine until all sprouts are coated with the sauce. Pour the mixture into an 11×7-inch baking dish. Sprinkle the remaining grated cheese on top. Bake for 25 minutes, or until the top is just beginning to turn golden brown. Cool for 10 minutes. Serve.