We welcome lighter meals when warmer temperatures arrive. Chicken Lettuce cups top my list of easy meals because you can make the chicken mixture ahead of time and store it in the fridge for three to four days until you're ready to use it. If you want to change things up a bit and use a sturdier wrap, Paleo wraps are a good option, or you could use the delicious herbed crêpes from my cookbook.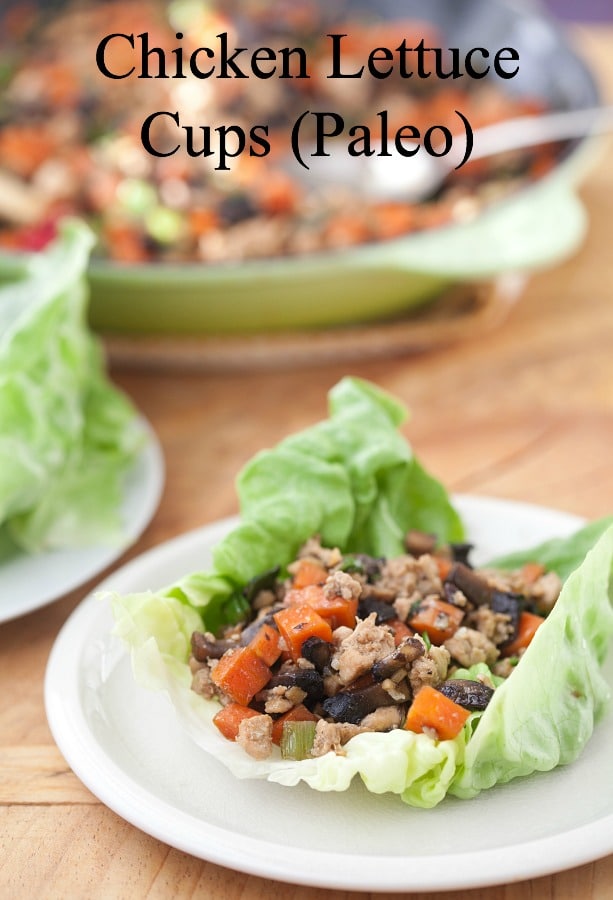 If you aren't fond of coconut oil's flavor, palm shortening substitutes nicely in this recipe.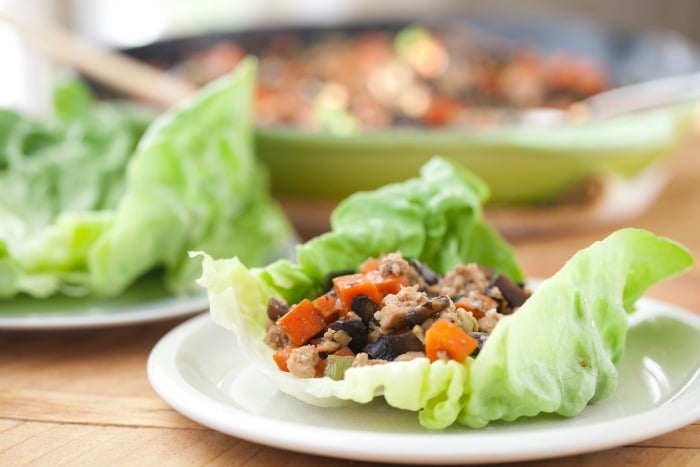 Chicken Lettuce Cups
Serves 4
Cooking Time: 25 minutes
For the Chicken:
1 pound ground chicken
1/4 cup fermented tamari sauce or coconut aminos
1 tablespoon sherry cooking wine (this makes a huge difference in the flavor of the entire dish!)
For the Vegetables:
2 tablespoons coconut oil or palm shortening, divided
6 ounces shiitake mushrooms, chopped
2 carrots, chopped
6 green onions (green and white parts), chopped2 cloves garlic, minced
1 tablespoon minced fresh ginger
2 tablespoons fermented tamari sauce or coconut aminos
2 teaspoons sesame oil
For the Wrap and Toppings:
1 head leaf lettuce or Bibb lettuce
1/2 cup chopped cilantro (optional)
1/4 cup chopped cashews (optional)
Place chicken, tamari and sherry in a medium bowl. Stir to incorporate. Let the chicken marinate for 30 minutes.
Heat 1 tablespoon of coconut oil in a large sauté pan over medium heat. Swirl the pan to coat. Add the chicken and cook, stirring occasionally until cooked through and the meat starts to turn golden brown, about 5-7 minutes. Pour the cooked chicken into a bowl and set aside.
Add remaining 1 tablespoon coconut oil to the pan and swirl to coat. Add the mushrooms and cook for about 10 minutes until they release their moisture and the edges are just becoming golden brown. Add the carrots and cook for another 5 minutes, stirring occasionally, until the carrots are cooked and the edges are turning golden brown. Stir in the green onions and sauté for 3 minutes, stirring occasionally.
Make a well in the center of the pan and add the garlic and ginger. Cook the garlic mixture in the middle of the pan for about 45 seconds until aromatic and then stir the garlic mixture into the rest of the vegetables. Pour the chicken back into the pan and stir in the tamari and sesame oil.
To serve: Place a lettuce leaf on a plate and spoon a few tablespoons of the chicken mixture onto the lettuce. Top with cilantro and/or cashews, if using. Serve immediately.
Note: I only test the recipes on my site with the listed ingredients and measurements. If you would like to try a substitution, you are welcome to share what you used and how it turned out in the comments below. Thanks!