Chocolate chestnut mousse cake is the perfect holiday dessert to make for the upcoming Christmas season.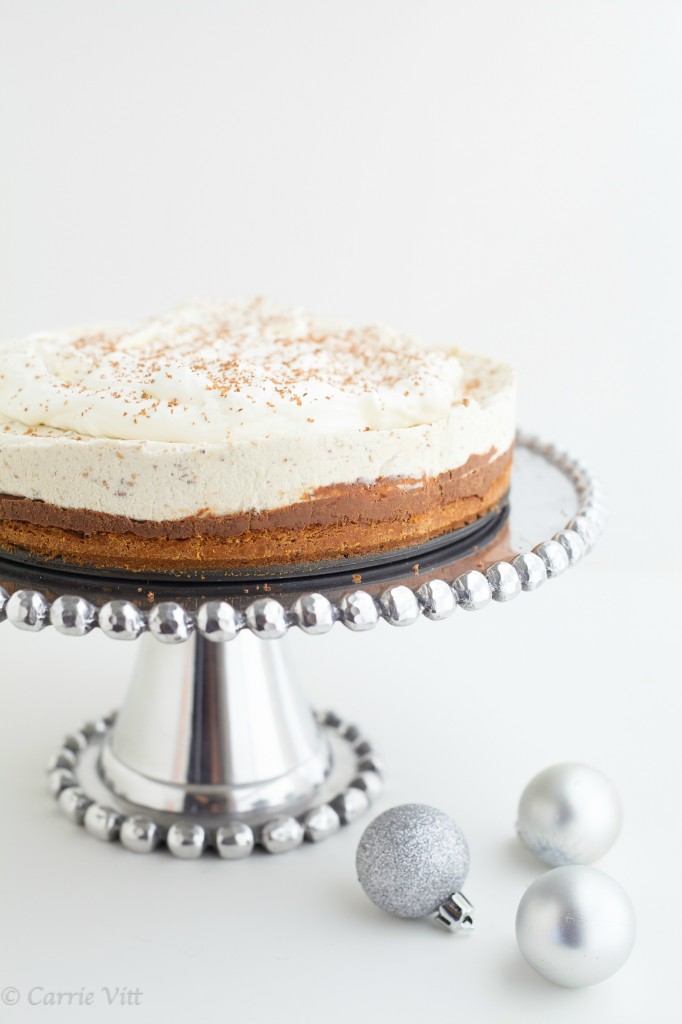 I hope you had a restful Thanksgiving with family and friends. We laid low and stayed home – just the four of us. We played games, danced, listened to lots of Christmas carols and put up all our Christmas decorations. Taking a few days to reflect, recharge and reconnect was exactly what our family needed.
Even though we're beginning to talk Christmas, cookies, cakes, and hors d'oeuvres, I'm looking ahead at 2013 and would love some input from you. We currently provide classic, gluten free, grain free, and specialty meal plans and we're investigating new services. Would you be interested in weekly or biweekly Paleo/dairy free meal plans? We're also making lists for challenges and series to walk you through and would like to know what you're looking for. Would you like to see another grain free challenge? How about a series on changing your pantry and fridge to unprocessed foods? We're all ears, so please let us know in the comments below!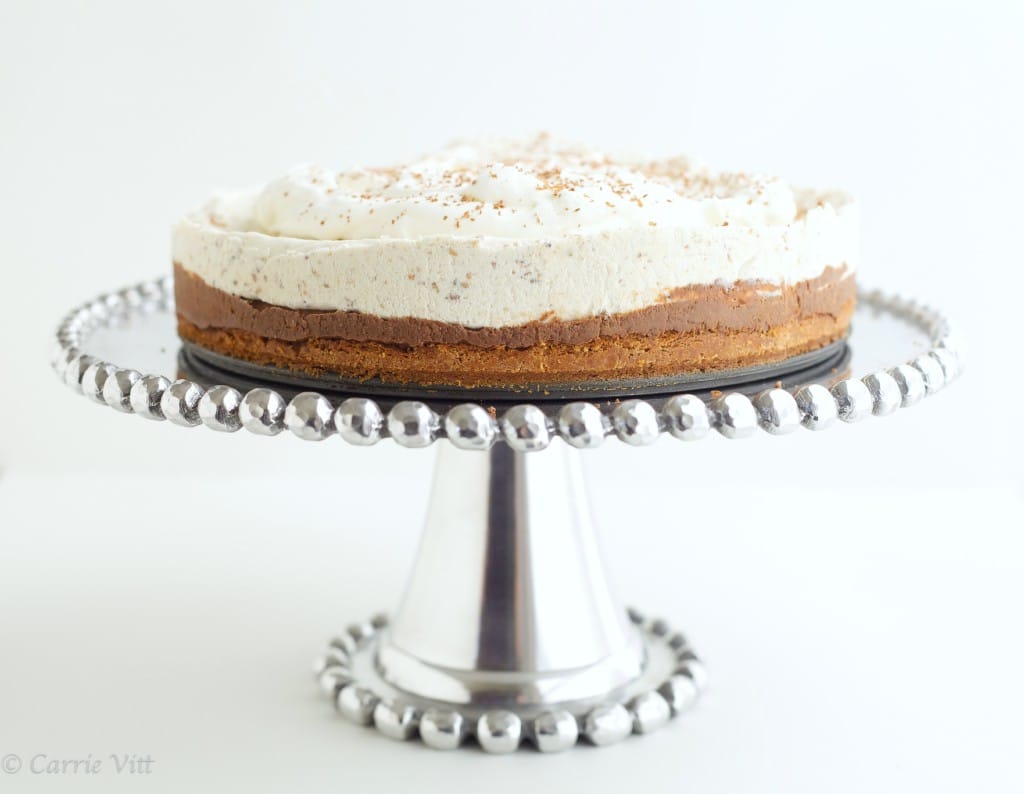 Now, on to the cake – it's the holiday season! Why not start it off with a bang featuring chocolate, chestnuts, cream and a cookie crust? Enjoy a lovely, cloud-like filling with the essence of chestnut and cocoa throughout. You can make this cake days ahead of time and store it in the freezer – perfect for a Christmas party.

Print
Chocolate Chestnut Mousse Cake (Grain Free, Paleo, Dairy Free)
If you like your desserts a bit sweeter, you can increase the amount of chocolate to 4 ounces, or add 1-2 tablespoons more maple syrup to the chestnut mousse.
Inspired by Martha Stewart Living
Prep Time:

25 minutes

Cook Time:

30 minutes

Total Time:

7 hours

Category:

Dessert

Diet:

Gluten Free
Cookie Crust:
2

cups

almond flour

2 tablespoons

coconut flour

2 tablespoons

cocoa powder

1/2 teaspoon

unflavored gelatin (I prefer Bernard Jensen)

1 teaspoon

arrowroot (optional)

1/4

cup

maple syrup

3/4 teaspoon

Celtic sea salt

8 tablespoons

unsalted butter or ghee, cold, cut into tablespoons
Chestnut Mousse:
1

cup

peeled, roasted chestnuts, ground until fine

1

cup

whole milk or coconut milk

4 tablespoons

maple syrup, divided
Pinch of Celtic sea salt

3

large egg yolks

1 tablespoon

arrowroot flour

1 tablespoon

vanilla extract

1 tablespoon

unsalted butter or coconut oil

2

ounces

bittersweet chocolate, melted*

1 1/2

cups

heavy cream or coconut milk, whipped (if using whipped coconut milk, use this method)
Cocoa powder or chocolate shavings to garnish
Instructions
Preheat oven to 350ºF and adjust rack to middle position. Place almond flour, coconut flour, cocoa powder, gelatin, arrowroot and sea salt in the bowl of a food processor. Pulse 2-3 times to combine. Add maple syrup and butter and process until dough forms a ball. Press dough into the bottom of a 9-inch spring form pan. Bake for 12 minutes. Cool.
Place ground chestnuts, milk, 2 tablespoons maple syrup and salt in a medium saucepan over medium heat. Bring to a simmer, stirring occasionally. In a medium bowl, whisk egg yolks, arrowroot and remaining 2 tablespoons maple syrup. Using a ladle, slowly add a spoonful of the hot chestnut mixture to the yolk mixture, whisking constantly. Slowly add now tempered yolk mixture to the hot chestnut mixture, whisking constantly. Continue to cook and whisk until thick like pudding, about 3 minutes. Pour mixture into the bowl of a mixer, add butter and vanilla and beat for 5 minutes on medium speed. Pour half of chestnut mixture into a medium bowl. Whisk melted chocolate into 1/2 of the chestnut mixture. Pour chocolate/chestnut mixture over the cookie crust. Using an offset spatula, spread evenly over crust. Whip 1 cup of heavy cream until soft peaks form. Fold into remaining chestnut mixture and spread over the chocolate/chestnut mixture. Cover with plastic wrap and place in the freezer for 6 hours.
Run a knife around the edge of the cake and then release from the pan. To serve, whip remaining 1/2 cup cream and spread overtop of cake. Garnish with cocoa powder or chocolate shavings.
*If you'd like to make your own chocolate, you can combine 2 tablespoons melted unsalted butter or coconut oil, 6 tablespoons cocoa powder, and 1 tablespoon maple syrup.
Keywords: chocolate chestnut mousse cake