Chocolate Framoboise Cake is completely indulgent and perfect for a special celebration.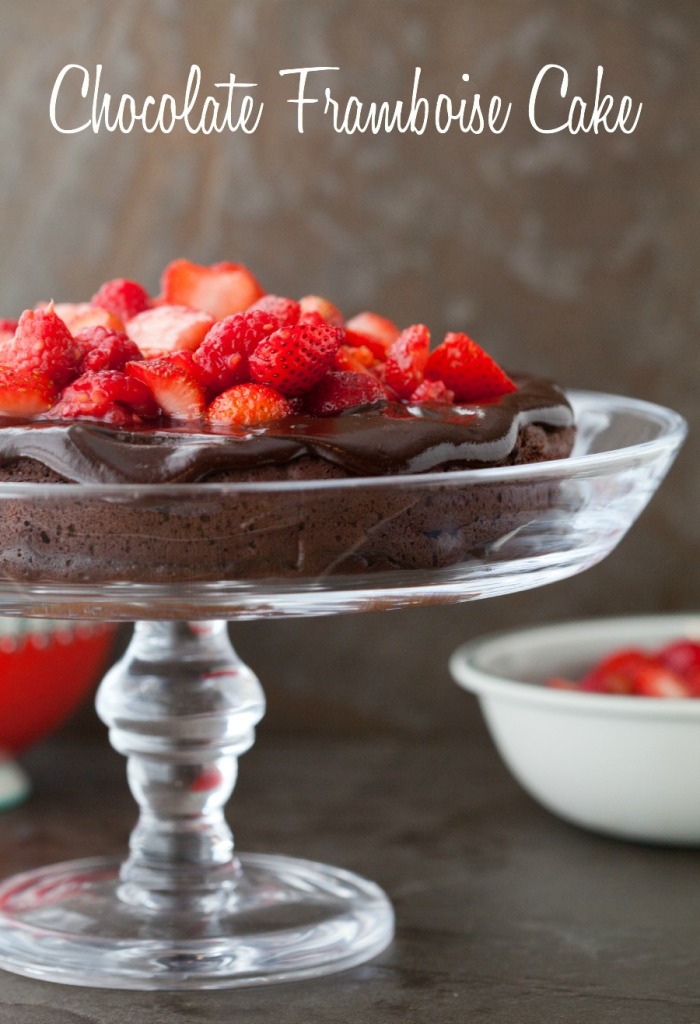 The original recipe called for Cassis, but I had a hard time finding it, so I used Framboise and it turned out beautifully. Keep this recipe bookmarked as it would be a lovely dessert for the holidays in a few months!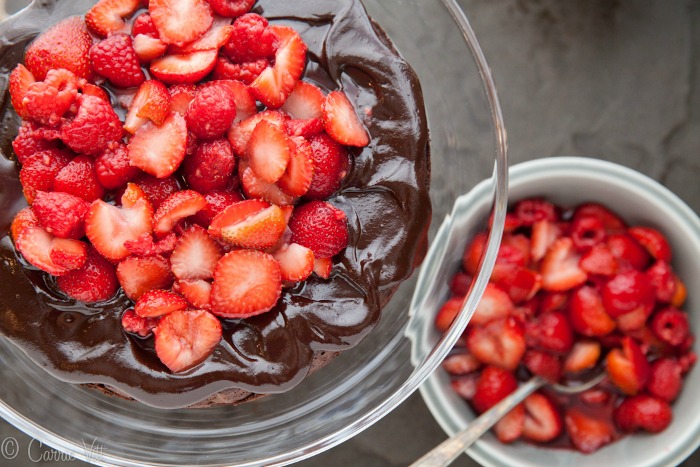 Ingredients
For the cake:

12 tablespoons unsalted butter
10 ounces bittersweet chocolate (I used Enjoy Life Chocolate Chips )
1/2 cup unsweetened cocoa powder
6 tablespoons Framboise or Chambord
1 teaspoon pure vanilla extract
5 large eggs, room temperature
1/3 cup coconut sugar
1/4 teaspoon Celtic sea salt

For the glaze:

6 ounces bittersweet or semisweet chocolate (I used Enjoy Life Chocolate Chips )
1/4 cup heavy cream (or coconut milk for Paleo)
2 to 3 tablespoons Framboise or Chambord
1/2 teaspoon pure vanilla extract

For the Fruit:

1 pint fresh raspberries
1 pint fresh strawberries, hulled and sliced
2 tablespoons raw honey
1/3 cup Framboise or Chambord
Instructions
Preheat the oven to 350 degrees F and adjust rack to middle position. Butter a 9-inch round springform pan. Line the bottom of the pan with parchment paper and spread another thin layer of butter over parchment paper (this will ensure the cake comes completely out of the pan).
Place the butter and chocolate in a heat-proof bowl set over a pan of simmering water, stirring occasionally until smooth. Cool for 5 minutes. Whisk in the cocoa powder, Framboise, and vanilla and set aside.
In the bowl of an electric mixer fitted with the whisk attachment (you can also use a hand mixer), beat the eggs, sugar, and sea salt on high speed for 3 to 5 minutes, until pale yellow and triple in volume.
Pour the chocolate mixture into the egg mixture fold them together with a rubber spatula. Pour the batter into the buttered pan and bake for 30-35 minutes, until just barely set in the center. Cool for 30 minutes and then release the sides of the pan. Invert the cake carefully onto a flat serving plate, remove the parchment paper, and cool completely.
For the glaze, melt the chocolate and cream together in a heat-proof bowl set over a pan of simmering water. Stir until smooth. Whisk in the framboise and vanilla. Cool for 10 minutes and spread over just the top of the cake.
Toss the berries gently with the honey and cassis. Let the fruit mixture sit for 10 minutes. Top the cake with the berries and serve.
7.8.1.2
3320
https://deliciouslyorganic.net/chocolate-framboise-cake/
Copyright 2016 Deliciously Organic