Back in the 80's the chocolate Swiss roll cake was a big deal. When I was four, I remember poring over my mom's food magazines and dreaming of a chocolate roll filled with sweetened whipped cream (I was also a bit obsessed with the Martha Stewart cookbooks, perhaps foreshadowing what was to come later in life!).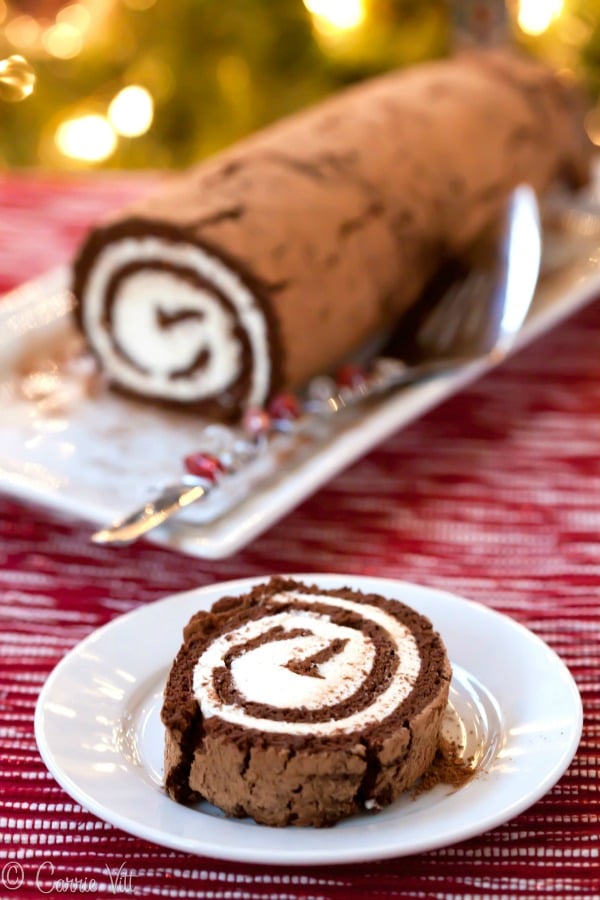 My mom brought in a chocolate Swiss roll cake for my preschool Christmas party and I proudly told all my friends that my mom made the decadent cake.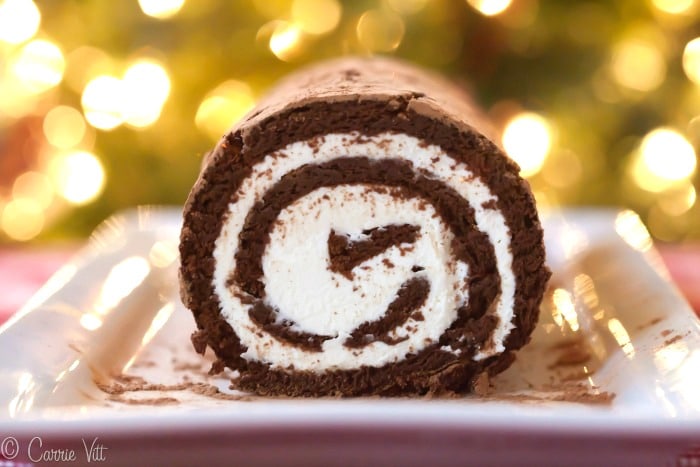 Last week I decided to go back in time a bit and make my childhood dream cake. It was a huge hit with my kids! I was so pleased when they "oohed" and "ahhed" over it and asked me to make it on Christmas day.
It's very simple to make and you can flavor the whipped cream however you want – orange liquor, almond extract, peppermint or maybe a splash of amaretto. A dusting of powdered sugar or cocoa provides the perfect flourish.
Chocolate Swiss Roll Cake (Grain-Free, Paleo)
Adapted from Southern Living.
Ingredients
4 ounces semisweet chocolate (I used Enjoy Life Chocolate Chips ), melted
5 large eggs, separated
3/4 cup coconut sugar (you can substitute with organic whole cane sugar if desired)
3 tablespoons unsweetened cacao powder
1 cup heavy cream (for a dairy-free option, use this method to whip some coconut cream)
1 tablespoon raw honey or maple syrup
Instructions
Preheat oven to 325°F and adjust rack to middle position. Using a pastry brush, oil a 15 x 10 jelly-roll pan . Place a piece of unbleached parchment paper on top and then oil again. (This will ensure the cake doesn't stick to the pan.)
Place egg yolks and 3/4 cup sugar in a mixing bowl and beat at high speed with an electric or standing mixer for 3 minutes, or until the mixture is thick and pale yellow. Whisk the egg mixture into the melted chocolate.
Beat egg whites at high speed with an electric mixer until stiff peaks form; fold into chocolate mixture.
Pour batter onto prepared baking sheet and spread evenly using an off-set spatula. Bake at 325° for 15 to 18 minutes or until puffed. Remove the cake from the oven and place a damp kitchen towel over cake in pan. Cool completely on a wire rack, about 30 minutes.
Remove the damp towel. Place a 20- x 15-inch piece of parchment paper on work surface. Dust cake with cocoa, and invert onto parchment paper. Carefully peel parchment paper from top of cake.
Pour the cream and honey into a mixing bowl and whisk until stiff peaks form. Spread cream mixture over top of cake, leaving a 1-inch border on all sides. Lift and tilt parchment paper at 1 short side, and carefully roll up cake, jelly-roll fashion, using parchment paper to lift and roll cake. Wrap rolled cake in parchment paper, and place on a serving platter. Chill 2 to 8 hours. Remove and discard parchment paper. Serve cold.
7.8.1.2
3317
https://deliciouslyorganic.net/chocolate-swiss-roll-cake-recipe-grain-free/
Copyright 2016 Deliciously Organic