This grain-free coffee cake is not too sweet, but nice and moist, with a crumbly topping.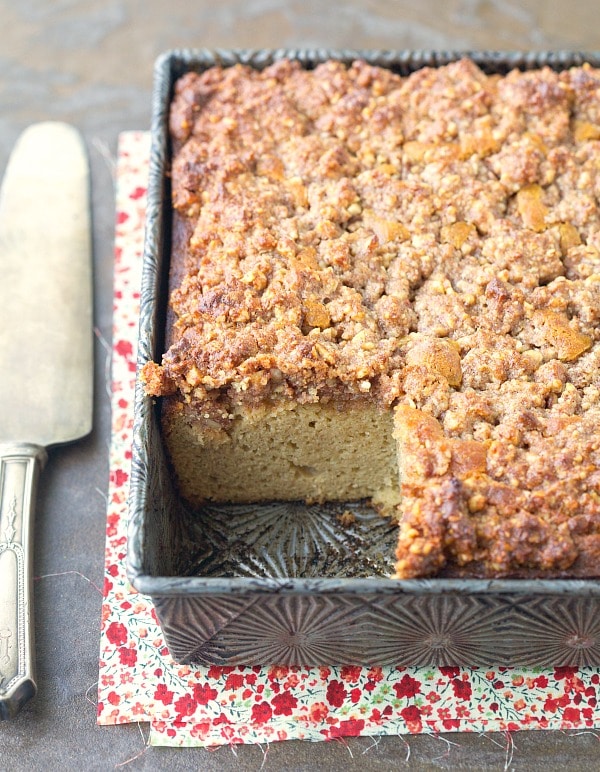 The coconut flour absorbs lots of moisture so that's why there are so many eggs in the recipe. It's not a typo! 🙂
It makes a great addition to a weekend breakfast or brunch. I hope you enjoy it as much as we did!
Coffee Cake (Grain Free, Gaps, Paleo, Primal)
This cake can also be made without the topping for a simple snack cake. Also, if you prefer a sweeter cake, you can increase the honey to 3/4 cup.
Ingredients
1 cup coconut flour
1/2 teaspoon Celtic sea salt
1 teaspoon ground cinnamon
8 large eggs (organic and pastured preferred)
1 teaspoon baking soda
1/2 cup plain whole yogurt (use strained plain, coconut milk yogurt for Paleo)
5 tablespoons unsalted butter or coconut oil , melted
1/2 cup honey (I used clover)
1 tablespoon vanilla extract

Topping:

1 1/2 cups nuts - almonds, pecans, cashews, etc. (or sunflower seeds, pumpkin seeds, etc. for a nut-free alternative)
2 teaspoons cinnamon
4 tablespoons honey (I used clover)
4 tablespoons unsalted butter or coconut oil, cold, cut into tablespoons
Instructions
Preheat oven to 325ºF and adjust rack to middle position. Place all the batter ingredients in a food processor or blender and blend until smooth. Pour batter into a buttered 8 x 8 - inch baking dish. Wipe out food processor bowl with a paper towel or cloth. Place nuts, cinnamon, honey and butter in the bowl of a food processor. Pulse until nuts are coarsely chopped and ingredients bind together. Drop spoonfuls of topping over batter and then using a butter knife, swirl the topping into the top layer of the batter. Bake for 40-45 minutes until golden brown. Let cool for 20 minutes. Cut and serve. Coffee cake is best served the day it is prepared.
7.8.1.2
907
https://deliciouslyorganic.net/coffee-cake-coconut-flour-recipe-gluten-free/
Copyright 2016 Deliciously Organic