Most days we stick with simple meat, vegetables, healthy fats, and raw dairy, but sometimes it's fun to go outside the box and make something a bit more nostalgic like these grain-free corn dogs.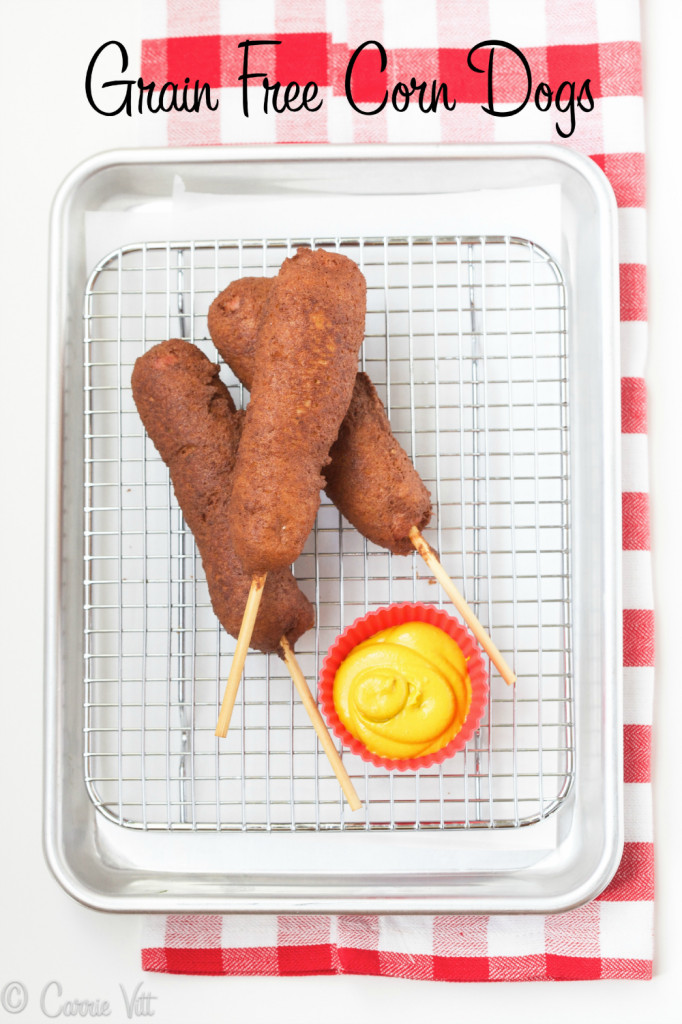 A fried corn dog takes me back to my annual date with Dad at the Texas State Fair. We would ride the rides, say "Hi" to Big Tex, and grab a corn dog on a stick, dipping it into bright yellow mustard. As we walked hand-in-hand with the smell of fall in the air, I felt like everything was just perfect. After going grain-free almost 2 years ago, I never imagined I'd eat a grain-free corn dog, but it can be done! I used Organic Prairie All-Beef Hotdogs and I bought some tallow from US Wellness meats. I love that I can occasionally fry food for the family with a healthy, stable fat filled with omega-3 fatty acids, linoleic acid, and good nourishment for the body.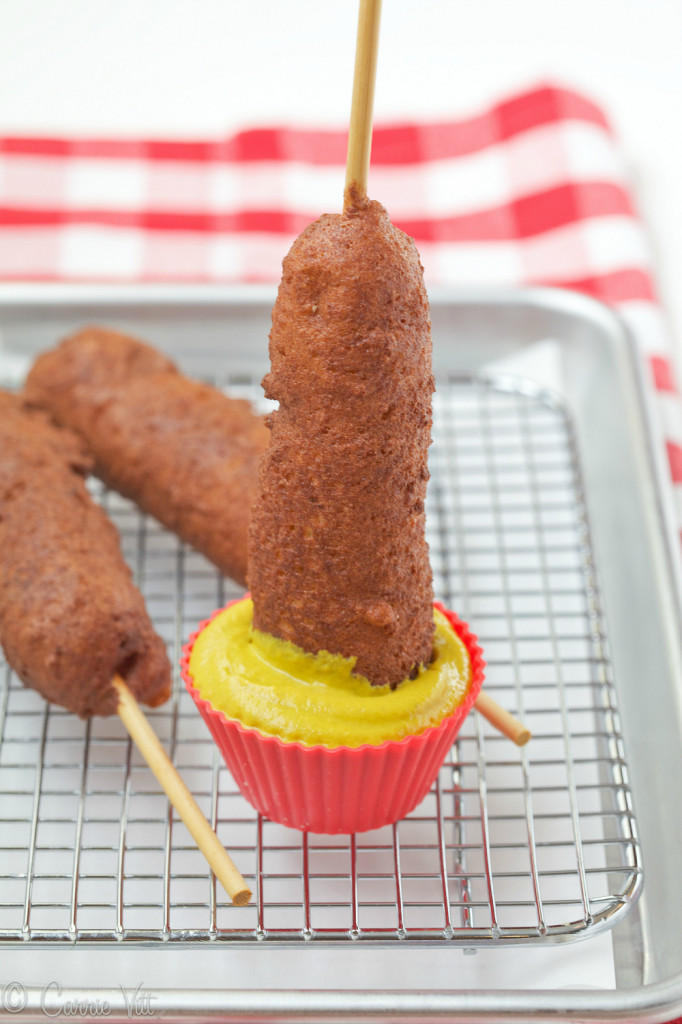 A few tips when making corn dogs – It's best to use room temperature hotdogs, sturdy sticks, and heat the tallow to the right temperature before frying. Grain free flours tend to brown quickly, so fry these corn dogs quickly then put them in the oven to finish cooking. You can make them in advance and keep them warm in the oven for about 1 hour. They're an ideal food-on-a-stick for a kid's birthday party!
Print
Grain Free Corn Dogs (Paleo, Primal, Gluten Free)
Prep Time:

15 minutes

Cook Time:

35 minutes

Total Time:

1 hour 20 minutes

Category:

Main Dish

Diet:

Gluten Free
For the batter:
1/2

cup

cashews (I prefer to use soaked and dehydrated cashews)

1 1/2

cups

almond flour

2 tablespoons

coconut flour

3/4 teaspoon

unflavored gelatin (I prefer Great Lakes or Bernard Jensen)

1/2 teaspoon

Celtic sea salt

1 1/2 teaspoons

baking soda

4

large eggs

4 tablespoons

unsalted butter or coconut oil, melted

2 teaspoons

apple cider vinegar

8

organic hotdogs or sausages
Instructions
Place cashews and 1/4 cup water in a small bowl and let soak for 30 minutes.
After 30 minutes, heat tallow in a large pot over medium-high heat until 350ºF. Preheat oven to 300ºF and adjust rack to middle position. Pour cashews and water mixture into the bowl of a food processor. Blend until smooth, scraping down the sides a few times to ensure all cashews are pureed. Add almond flour, coconut flour, gelatin, salt, baking soda, eggs, butter and cider vinegar to the cashew mixture. Process until smooth. Pour batter into a loaf pan (this will make coating the hotdogs much easier). Insert a stick halfway into each hotdog. Submerge the hotdog into the batter and roll around to coat (you can use a small spoon to help with this if needed). Immediately place in the hot tallow. Fry 1-2 minutes until all sides are golden brown. Place corn dog on a baking sheet lined with a cooling rack. Repeat with remaining ingredients. Place corn dogs in the oven and bake for 15 minutes (this will finish the cooking process). Serve with condiments of your choice.
Nutrition
Serving Size:

Makes 8 corn dogs