Cranberry Bread is a classic holiday quick bread you can serve at breakfast, as a light dessert, or dried and used in bread pudding. This subtly sweet grain-free loaf arrives heavily scented with vanilla and dotted with tangy cranberries.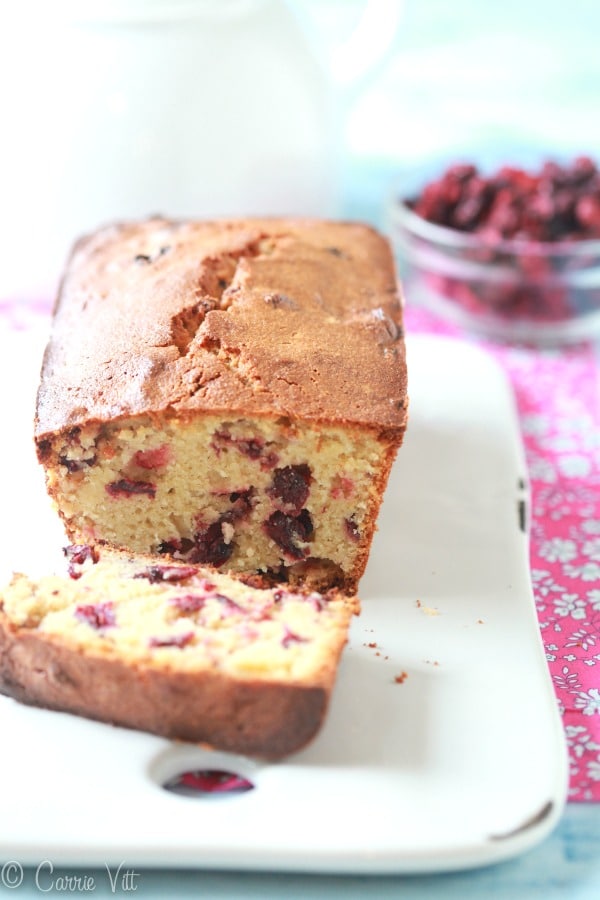 I use dried, unsweetened cranberries in this recipe and plump them with rum (you can use orange juice if you prefer). I chose dried instead of fresh because the fresh cranberries added too much moisture and caused white splotches throughout the dough.
Some of you might prefer added orange flavor. If so, you can plump the cranberries in orange juice and use orange zest instead of lemon.
Usually when I test recipes multiple times, my family grows weary of eating the "test cases." This time, they devoured each loaf as it came out of the oven. In light of that,
consider making two loaves – one probably won't last long!
Print
Cranberry Bread (Grain-Free)
Yield:

Makes one 9x4" loaf
Instructions
Place the cranberries and rum in a small saucepan and heat over low. Continue to cook, stirring occasionally, until the berries soak up the rum and the liquid is gone (the cranberries will be damp – don't cook the cranberries until they're completely dry). Set aside and cool completely.
Preheat the oven to 325ºF and adjust the rack to the middle position. Butter and flour a 9"x4" glass baking pan. Place the cooled butter, maple sugar, eggs, sour cream and vanilla in a large mixing bowl and whisk until combined.
In a separate bowl, combine the almond flour, coconut flour, gelatin, baking powder, salt and lemon zest. Pour 1/3 of the flour mixture into the wet mixture and stir to combine. Add 1/2 of the remaining flour mixture and stir until combined. Add the remaining flour mixture and stir until combined. Fold in the plumped cranberries. Pour the batter into the prepared loaf pan and let sit for 5 minutes before placing in the oven. Bake for 1 hour and 15-25 minutes, or until golden brown and when tested with a cake tester, the tester comes out clean (I know this seems like a long time to bake the loaf, but it takes this long for the batter to bake all the way through).
Cool for 10 minutes, then invert onto a cooling rack. Cool completely. Serve.