One of the many ways I try to avoid additives and preservatives is by making homemade vanilla extract. It still amazes me how many preservatives and additives are in the little things we use in the kitchen. Take a look at the ingredient list on bottle of vanilla in your pantry; there should only be three ingredients – vanilla beans, alcohol, and water. Most vanilla extract sold in stores is not a pure product. Some vanilla extract contains a petroleum product called, "
ethylvanillin
" and some Mexican vanillas don't even use real vanilla beans but instead use "tonka" beans which can be toxic if consumed in high doses. Other ingredients found in vanilla extracts are: caramel coloring, sugar, and corn syrup. If you are doing your best to bake with whole, organic ingredients then it's a good idea to make sure your vanilla, spices, and condiments are coming from good sources also.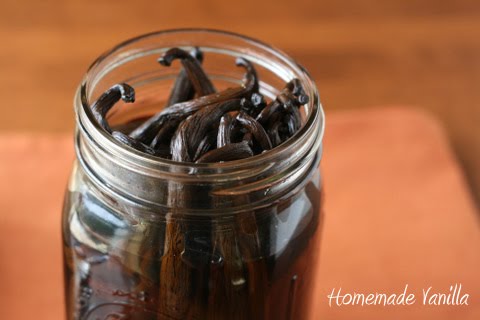 After chatting a bit with some of the ladies from Rodelle (a company that sells some amazing organic vanilla) they informed me that in order for vanilla to be classified as an "extract" you need 18-20 vanilla beans per 750ml of alcohol. They also told me that in order to get the best flavor out of your beans you can chop them up before adding them to the alcohol, or let the whole beans ferment in the alcohol for at least 2 months. Homemade vanilla lasts a couple of years if kept in a cool dark place and there is the added benefit of having wonderful fermented vanilla beans in your pantry to be used in your baking.
A few months ago I decided to make my own, so I bought 25 vanilla beans from
Amazon
 (about $14 with shipping), and a bottle of organic vodka ($14). I was able to make a large 24 ounce jar of pure vanilla extract. (I normally would have paid over $60 for the same amount of organic vanilla extract.) The best part is that as you use your vanilla, you can top it off with some more vodka to make more!
Homemade Vanilla Extract
To cut down on the fermenting time, you can chop up your beans and let the mixture sit for 3 weeks instead of 2 months. I prefer to use whole beans because then I have whole vanilla beans to use when the occasion arises.
Ingredients
1 24 ounce mason jar (or other jar of your choice)
1 1/2 cups good vodka (organic preferred)
Instructions
Place vanilla beans in the jar and pour vodka over the beans. Make sure the lid is on tight and store in a dark, cool place (my pantry is about 75 degrees throughout the year). If using whole beans, let the vanilla sit for 2 months. If you chopped your vanilla beans, let vanilla sit about 3 weeks before using. Shake bottle before each use. As you use up the vanilla, you can add more vodka to make the beans go further.
7.8.1.2
4153
https://deliciouslyorganic.net/homemade-vanilla/
Copyright 2016 Deliciously Organic