Fermented sourdough chocolate chip cookies are a new favorite in our house! The cookies ferment in the fridge for 72 hours, which makes them a healthier alternative for dessert.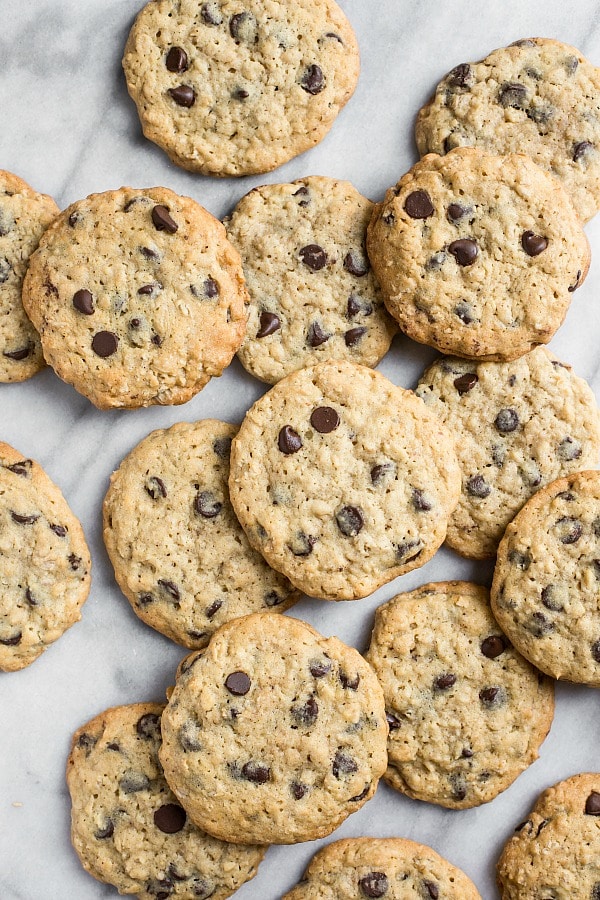 As I've mentioned before, a grain-free diet isn't meant to be lifelong. Once you've taken the proper steps to heal, you can slowly add properly prepared grains back into your diet with the help of your nutritionist.
Fermented sourdough bread or brioche can often be tolerated by those with gluten sensitivities, and can be a good first bread to try after you've been avoiding grains for a long period of time. A fermented sourdough cookie can be a fun treat as well! 
The process of slow fermentation allows the bacteria to break down the carbohydrates and gluten and also neutralizes the phytic acid, making it easier for the body to digest. Fermented sourdough also contains healthy resistant starch and doesn't raise blood glucose levels as much as conventional wheat cookies. 
To make sourdough cookies, you'll need a sourdough starter. I personally used the Culture's for Health Sourdough Starter and just followed the directions on the box. It's easy to do, but you can also make the starter with just flour and water. 
You can put different add ins such as pecans, flaked coconut, raisins, cranberries, etc. in your cookies to change up the flavors. 
I hope you enjoy this recipe as much as I do!
Print
Fermented Sourdough Chocolate Chip Cookies
1 cup

unsalted butter, room temperature

3/4 cup

organic cane sugar

1/2 cup

organic brown sugar

1/2 cup

bubbly sourdough starter (see information about the starter in the post above)

2 teaspoons

vanilla extract

1

large egg

2 cups

organic all-purpose flour

1 cup

organic rolled oats, ground fine in a food processor or blender

1/2 tsp

baking powder

1/2 tsp

baking soda

1/2 tsp

Celtic sea salt

1 1/2 cups

semisweet or dark chocolate chips (I use Enjoy Life)
Instructions
Place the butter and sugars in the bowl of a standing mixture and, using the beater attachment, mix on medium for 2 minutes. Scrape the sides of the bowl. Add the sourdough starter, vanilla and egg and mix on low until combined.
In a separate bowl, combine the flour, oats, baking powder, baking soda and salt. With mixer on low, slowly add the dry ingredients to the wet. Then add chocolate chips and mix until just incorporated.
Cover the bowl tightly and place in the refrigerator for 72 hours.
To bake: Preheat the oven to 350ºF and adjust the rack to the middle position. Using a 2-inch cookie scoop, scoop the dough into balls and put on a baking sheet lined with parchment paper. Gently press on each cookie to flatten it a bit (so that it doesn't have a dome on top). Bake for 14-16 minutes until just golden brown on the edges.
Photo Credit: Becky Winkler