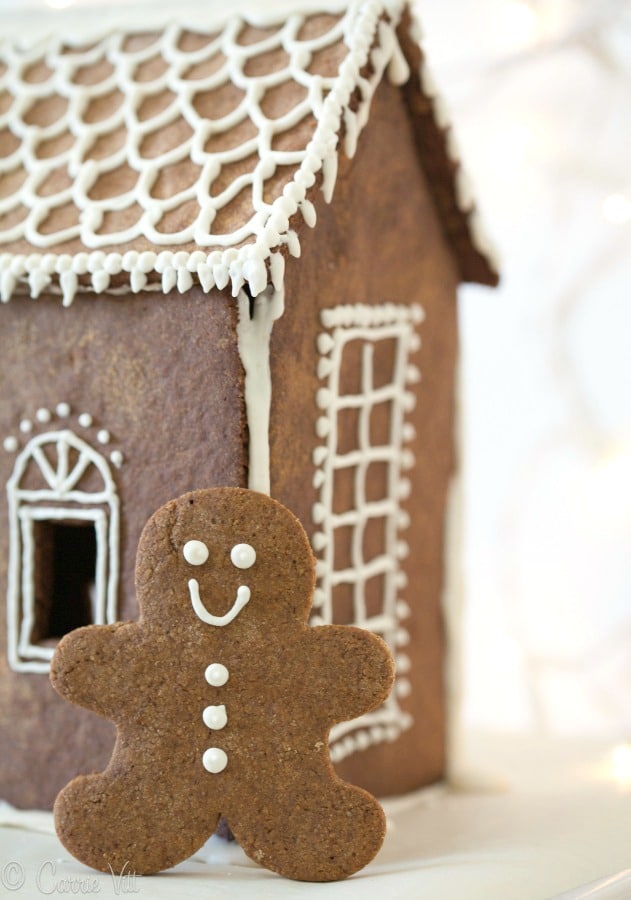 Welcome to the holiday season! I'm kicking-off December with Grain-Free Gingerbread men and a Gingerbread house. This dough is easy to work with: you don't have to worry about it getting to warm and it shapes nicely. You can use the dough to make cut-out gingerbread men or to build a gingerbread house with a template.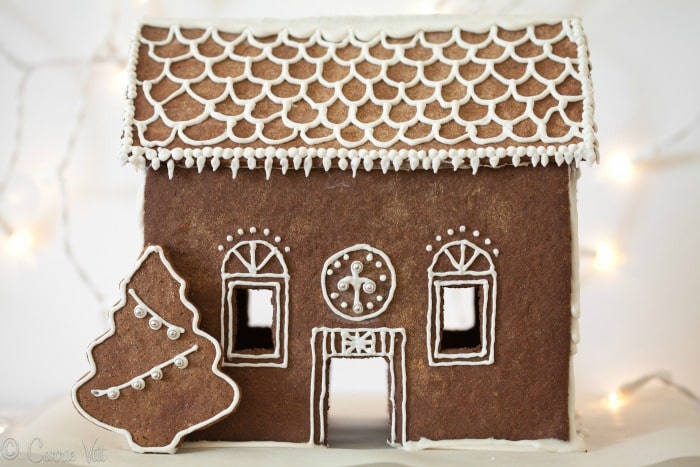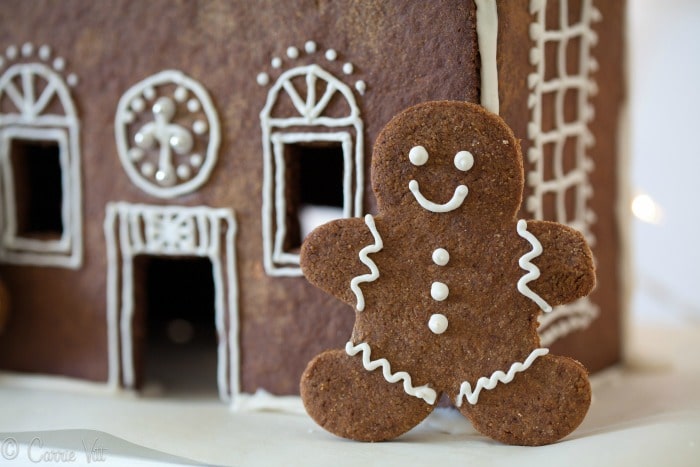 I don't usually use powdered sugar in my baking, but I don't know of any other way to achieve a true royal icing that will hold a gingerbread house together. Make sure to buy grain-free powdered sugar like this, since powdered sugar usually contains cornstarch. If you'd like to let unleash your creativity and decorate the gingerbread men using a more wholesome frosting, check out my dairy-free icing recipe on page 271 of my new cookbook then grab some natural food coloring so your palette can match your holiday spirit.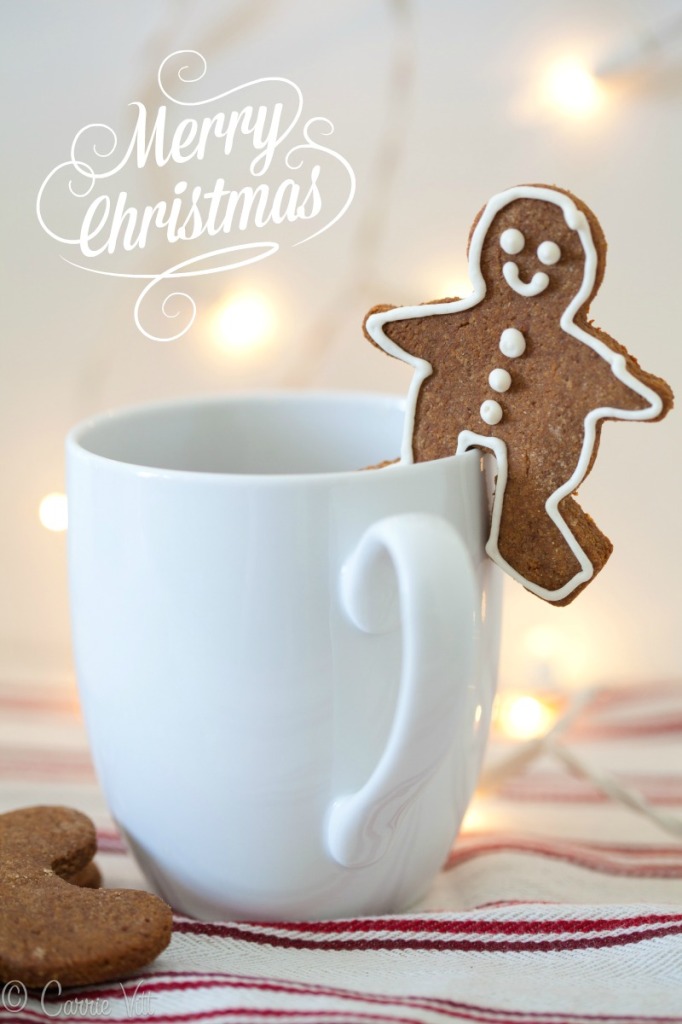 Other holiday recipes you may want to check out in my new cookbook (and remember, there's a dairy-free adaptation for each and every recipe, so you can enjoy these recipes no matter your dietary restrictions!):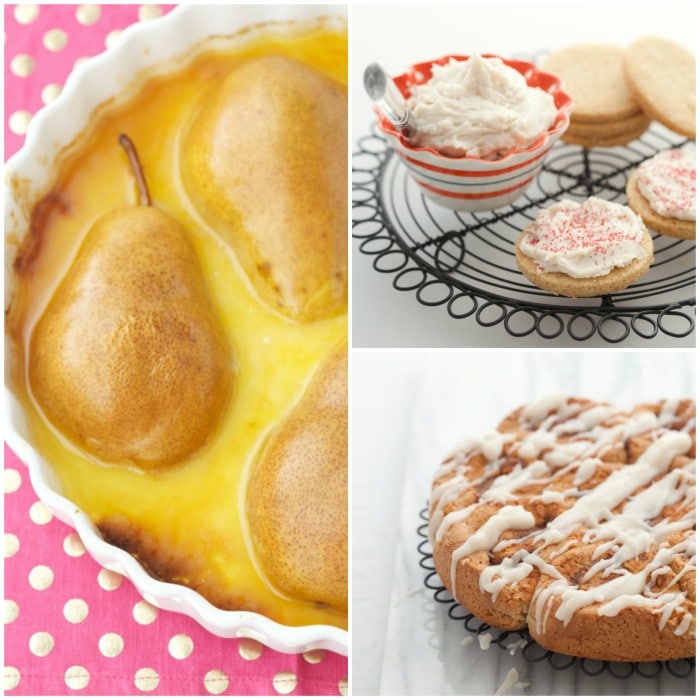 Baked Pears and Cream
A subtly sweet, easy-to-assemble dessert. You can substitute with apples, add cinnamon, ginger or pumpkin pie spice or add a splash of amaretto or brandy just before serving.
Grain-Free Cinnamon Rolls
A soft but sturdy dough swirled with a sugary-cinnamon filling and topping with a white vanilla glaze. I'm making these on Christmas morning for the family!
Slice and Bake Cookies with Dairy-Free Icing
This is a recipe from the Kid's chapter and is easy enough for the kids to make themselves. You can add chopped nuts or dried fruit to the dough for variations.
Grain-Free Gingerbread Men & Gingerbread House
Makes one Gingerbread house or about 28 gingerbread men (depending on the size of the cookie cutter). I used this template for the gingerbread house.
For the cookies:
4 cups almond flour (I tested this recipe with Honeyville almond flour as other almond flours tend to produce a crumbly cookie)
6 tablespoons coconut flour, plus additional for rolling out the dough
1 cup coconut sugar (you can substitute with maple sugar, sucanat or organic whole cane sugar)
1 teaspoon unflavored grass-fed gelatin
1 1/2 teaspoons Celtic sea salt
2 teaspoons ground cinnamon
1/2 teaspoon allspice
1 teaspoon ground ginger
10 tablespoons pastured lard or palm shortening, chilled
1/2 cup molasses
2 large eggs
For the Royal Icing:
I used this recipe or see page 271 in my new cookbook for a delicious dairy-free icing
Directions:
Preheat oven to 350 degrees F and adjust the rack to the middle position. Place the almond flour, coconut flour, coconut sugar, gelatin, sea salt, cinnamon, allspice, and ginger in the bowl of a food processor. Pulse 2-3 times to incorporate. Add lard and pulse for eight 1-second pulses. Add molasses and eggs and process until the mixture comes together to form a dough.
Sprinkle a clean flat surface with coconut flour and roll the dough out until it's 1/4-inch thick. Cut the dough into cookies, using a gingerbread man cookie cutter or cut using a template to make a gingerbread house. Place cut-out cookies on a baking sheet lined with unbleached parchment paper. Bake cookies for 11 minutes. (If making a gingerbread house, bake the frame of the house for about 15 minutes, or until the edges are turning golden brown. You want the house to be a bit overdone, so that it holds its shape when propped up to make a house. If you under-bake the sides and roof of the house, you can put it back in the oven for a few minutes to crisp up the cookie. Just make sure to let it cool again to room temperature before assembling the house.)