Beef and Broccoli Stir-Fry is an all-time favorite in our house, and this version amps up the nutrients for you!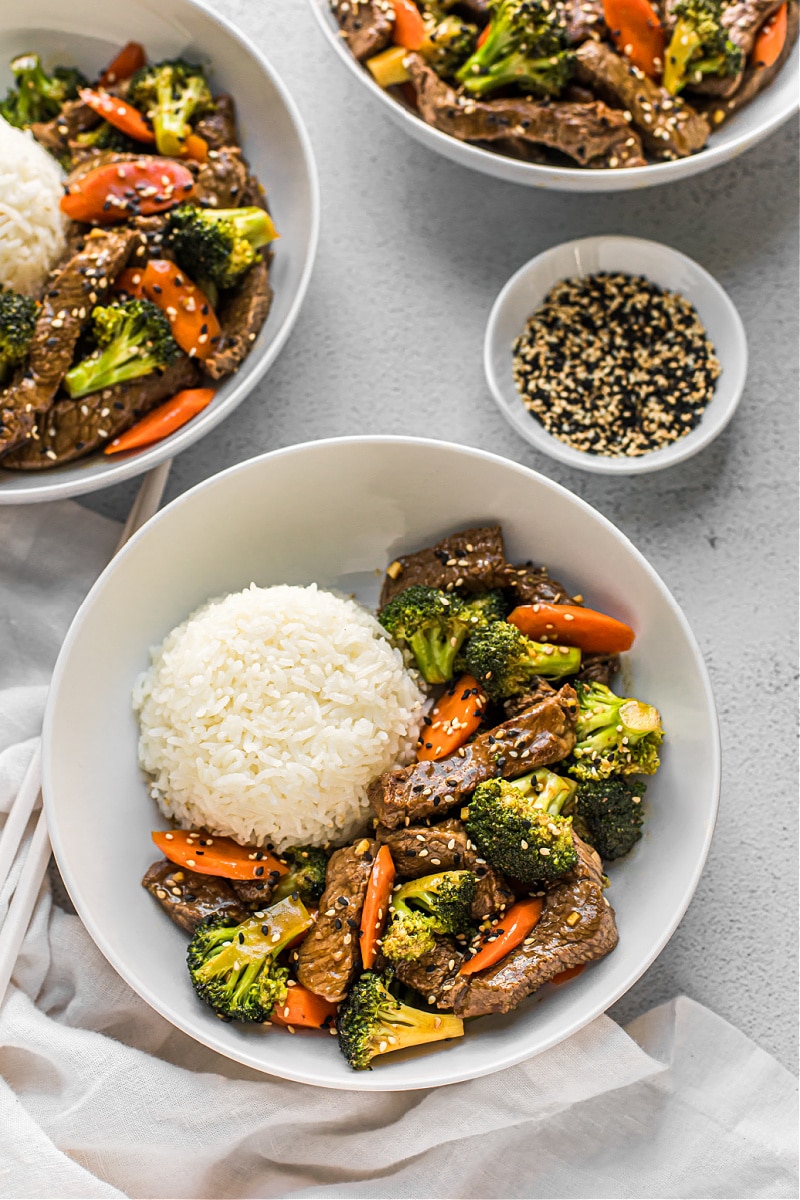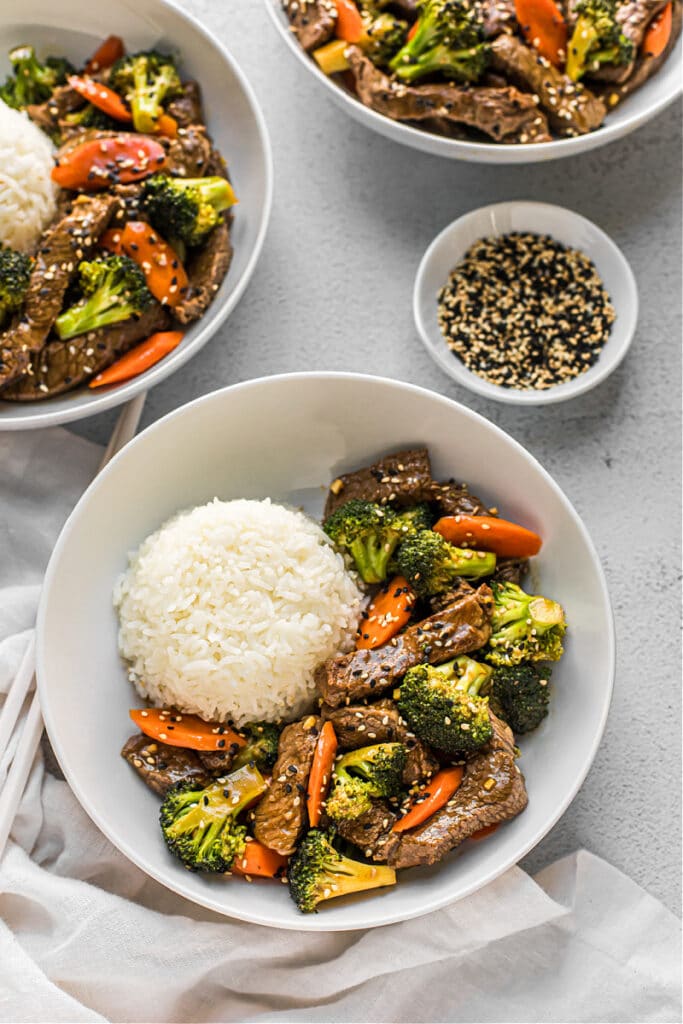 Most stir-fry are cooked with processed PUFA oils such as canola, soy or vegetable oils. These oils are very inflammatory and should be avoided. A good alternative can be coconut oil, if cooking at a medium heat, or duck fat or palm shortening when cooking at medium-high heat.
Another ingredient that can be problematic is soy sauce. Soy sauce contains gluten, so it often needs to be avoided for those with thyroid disease or autoimmunity. Instead, I recommend using Nama Shoyu for a great substitution. It is a truly fermented and raw tame that contains probiotics that are healthy for the cut. Oshawa makes tamari the old-fashioned way and is what I use in my cooking at home.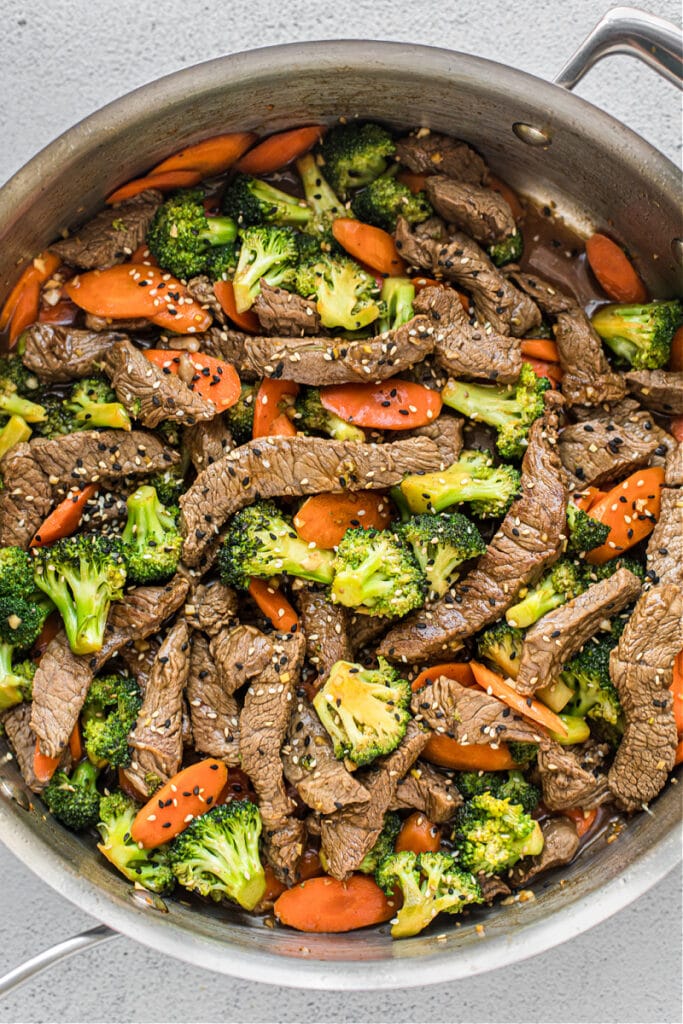 I think many people are intimidated by stir-fry and they shouldn't be. Yes, the list of ingredients is usually pretty long, but after the sauce has been whisked and the vegetables and meat chopped, a stir-fry can come together in a matter a minutes. One of my all-time favorites is Beef and Broccoli.
When I was a kid, it was a such a treat to eat at Cathy's Wok & Grill, owned by Catherine Liu, a dear family friend. She's the author of Chinese Cooking the American Way – a fabulous book!
My favorite dish of hers was beef and broccoli, and this is my version of this classic recipe. If it's going to be a busy day, I'll prep the ingredients in the morning so when I come home I can have dinner on the table in about 15 minutes.
Print
Beef and Broccoli Stir-Fry
Inspired by Chinese Cooking the American Way (This book is out of print, but there are dozens of sellers on Amazon selling her book for as low as $1.67. What a deal!) FYI – She calls for msg in many recipes (the book was written in the early 90's), so I substitute the msg with sea salt, fermented tamari, or coconut aminos.
Prep Time:

5 minutes

Cook Time:

20 minutes

Total Time:

45 minutes

Category:

Main Dish

Cuisine:

beef and broccoli stir-fry
For the Steak Marinade:
For the Ginger and Garlic Mixture:
2

cloves garlic, minced

1 tablespoon

minced ginger

1 teaspoon

coconut oil]
For the Garlic Sauce:
For the Vegetables:
3 tablespoons

coconut oil, divided

1

head broccoli, cut into bite-size pieces

4

carrots, diagonally sliced into thin coins

1 tablespoon

sesame seeds (optional)
Instructions
Toss together the sirloin, tamari and sherry in a small bowl. Let sirloin marinate for 20 minutes at room temperature. Whisk the garlic, ginger, and 1 teaspoon of the coconut oil in a small bowl. Whisk together sherry, chicken broth, tamari, sesame oil, garlic, arrowroot and honey in another small bowl. Pour 2 tablespoons of water in a small bowl and set near the stove along with a lid for your skillet. (If you don't have a lid, use a few pieces of foil.)
Heat a large 12-inch skillet over medium heat for 2 minutes. Add 2 tablespoons of coconut oil to pan and swirl to coat. Place sirloin in one single layer in skillet and don't stir (meat should sizzle – if it doesn't the pan isn't hot enough). Cook sirloin for about 1-2 minutes until bottom side is brown. Turn, using tongs, and cook until brown on the bottom, about 1-2 minutes. Transfer sirloin to a clean bowl.
Add remaining 1 tablespoon of coconut oil to now empty skillet and heat until just shimmering. Add broccoli and carrots. Stir continuously for about 1 minute. Add 2 tablespoons of water and quickly cover skillet with lid. Leave lid on skillet for about 30 seconds. Remove lid, and let cook, stirring continuously, until all of the water has evaporated.
Make a well in the center of the vegetables and add the ginger-and-garlic mixture. Stir ginger and garlic mixture in the middle of the pan for about 45 seconds and then combine with the rest of the vegetables. Add sirloin slices (and any accumulated juices) and garlic sauce to pan. Toss until sauce begins to thicken and ingredients are well coated. Sprinkle with sesame seeds if using. Serve immediately.