Boy have I missed granola lately! It makes for a quick snack, packs easily for trips, and forms the perfect substitute for store-bought cereal.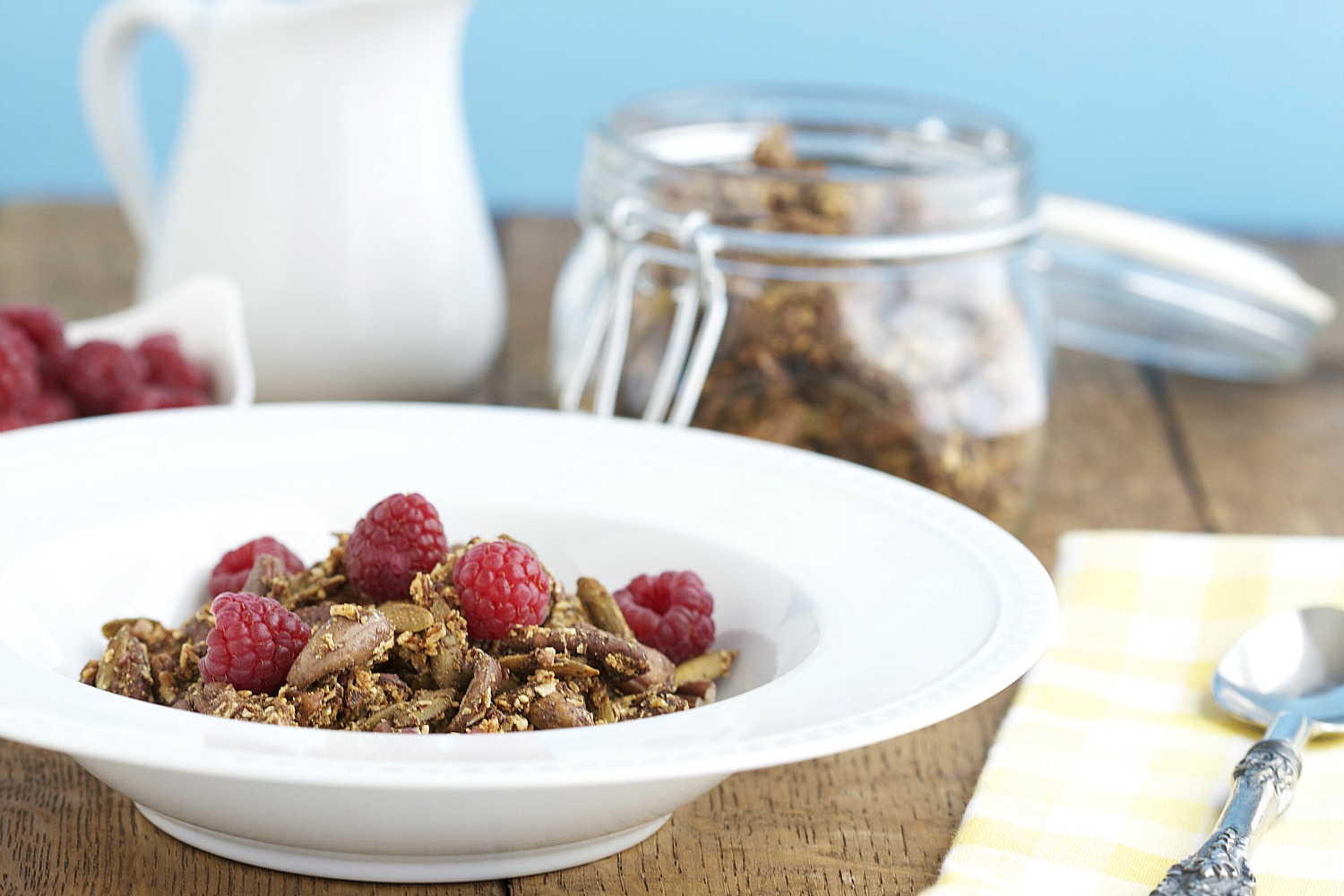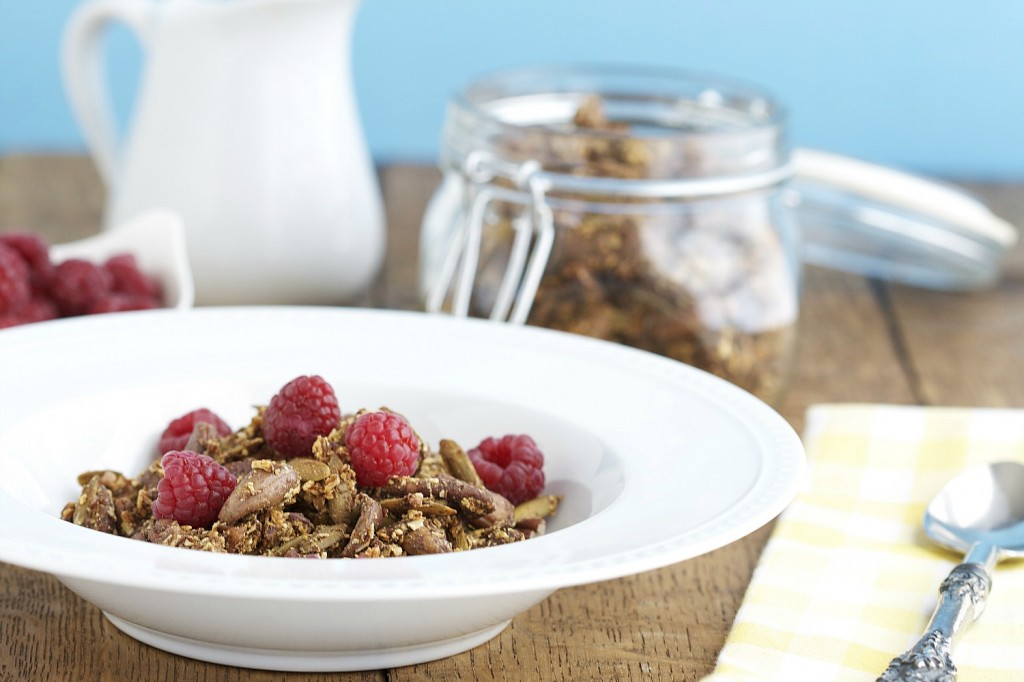 I've avoided granola for the past few months because it's usually loaded with grains, but I've kept my eyes open for another option. Recently, I was chatting with Molly, hearing about the new animals and other recent developments over at Apricot Lane Farms. We came up with this recipe together. . . seeds, nuts, ground flaxseed, coconut, and date paste to sweeten. For this version, I added some pumpkin pie spice, but you can try substituting spices or add any number of dried fruits for variety.
I used ground flaxseeds and dehydrated the granola at a low temperature. You may be tempted to accelerate the process at a higher setting, but keep in mind that flaxseed oil is very sensitive to heat. It has a smoking point of 225 degrees F, so a higher heat will oxidize the oils found in flaxseeds. Keep this in mind when you bake or cook with flaxseed oil or flaxseeds. It's best to use flaxseeds or flaxseed oil when dehydrating or in cold dishes.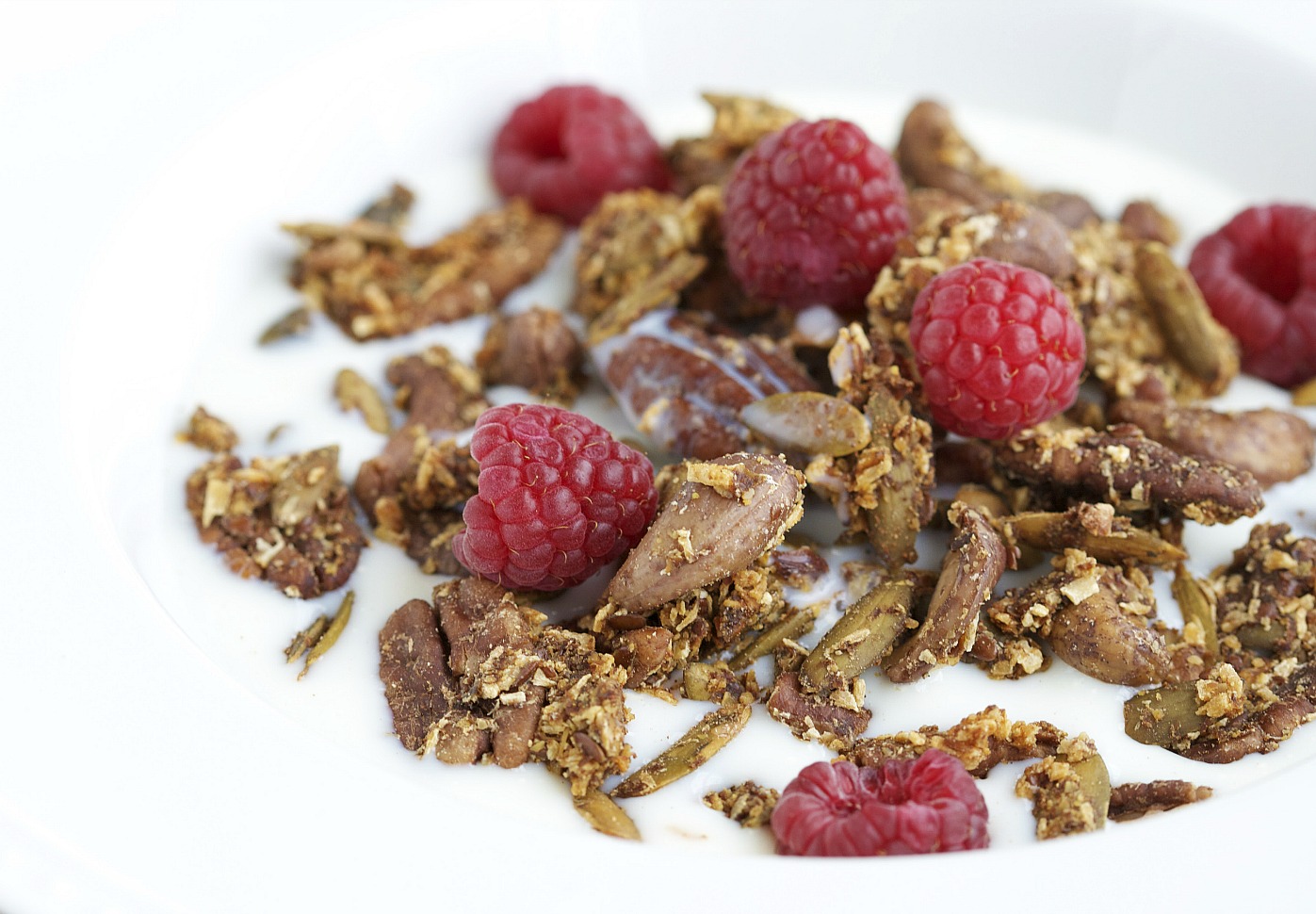 Serves: Makes about 7 1/2 cups
Grain-Free Granola Recipe
I soak the nuts and seeds to help release the phytic acid (phytic acid can cause digestive issues for many). One evening, soak the nuts and seeds overnight. The next evening, dehydrate the granola in the oven. It takes a little bit of patience, but hardly any hands-on work. Also, keep in mind that this granola isn't super sweet. If you'd like a sweeter granola, then add more date paste to taste (I'd start with an extra 1/4 cup).
Ingredients
For the granola:

2 cups cashews
2 cups raw pecans
2 cup raw pepitas (pumpkin seeds)
1 tablespoon Celtic sea salt
1/2 cup ground flaxseed
1 cup unsweetened coconut
1 cup date paste (recipe below)
2 teaspoons vanilla
1/2 teaspoon pumpkin pie spice

For the Date Paste:

1 cup medjool dates, pitted
1 cup hot water
Instructions
Place cashews, pecans, and pepitas, and 1 tablespoon sea salt in a large bowl. Cover with room temperature water. Stir to combine. Leave out on the counter for 8-24 hours. Preheat oven to 170 ºF and adjust rack to middle position. Drain and combine mixture with flaxseed, coconut, date paste, vanilla and pumpkin pie seasoning. Pour mixture out onto a large baking sheet lined with parchment paper. Spread into an even layer. Dehydrate in the oven for about 10 hours or until granola is crunchy. Store in an airtight container for 3-4 weeks.
For the date paste: Place dates in a blender or food processor. Turn blender or processor on and slowly add in hot water. Leave the machine on for about 1 minute, until smooth. Pour into a glass jar and store in the refrigerator.
7.8.1.2
3208
https://deliciouslyorganic.net/granola-grain-free/
Copyright 2016 Deliciously Organic