Homemade Hamburger Helper has become a family favorite, and it's easy to whip up too!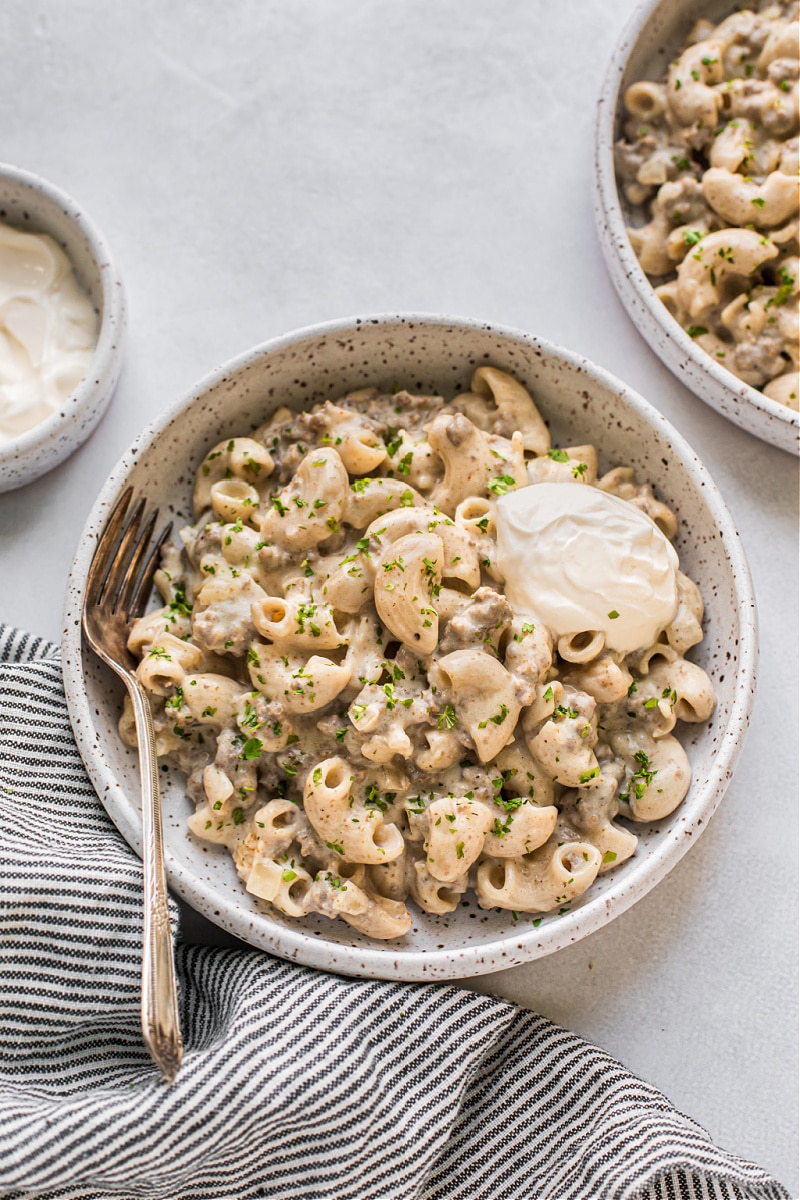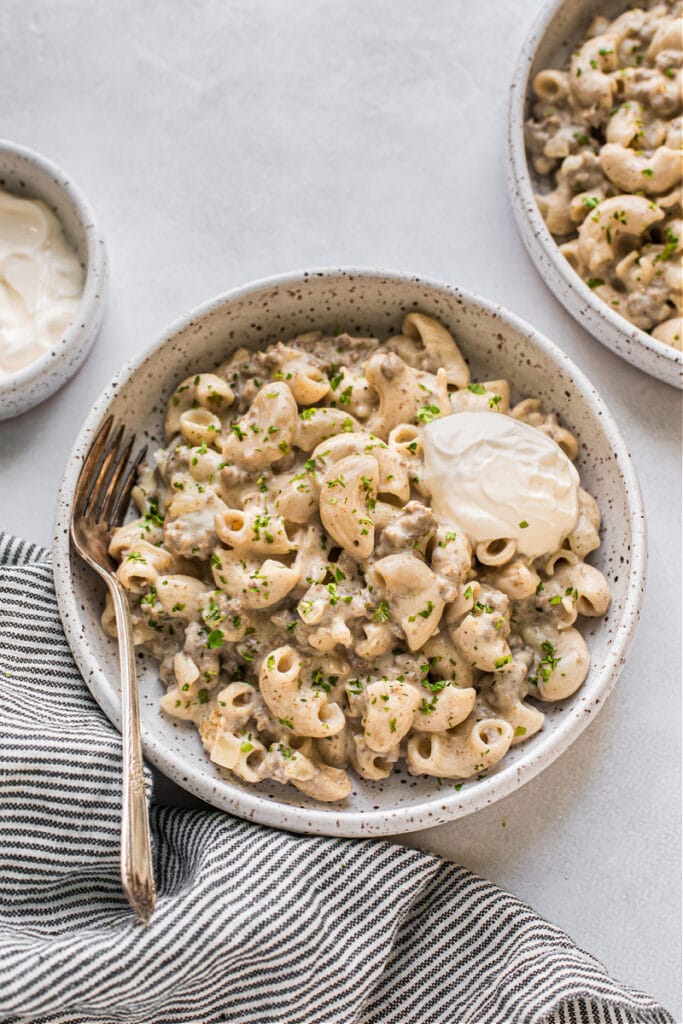 How many of you have purchased a cardboard box with pasta and a "seasoning mix" hoping for a quick but wholesome meal? I think we might all be able to raise our hands. I bought them in my early 20's even though I was already an experienced cook. I look back now and I can't really understand why I did, but I think the convenience allured me.
The oncept is pretty fabulous – brown some meat, pour in water, milk, seasoning, and pasta. Twenty minutes later you have dinner. Plus they come in so many different flavors. Have you read the ingredients though? It includes ingredients such as: enriched macaroni, modified whey, vegetable oil, sodium phosphate, and anti-caking agents. I think we can do better than that!
In this recipe, I used whole food ingredients including butter, raw cheese, Jovial rice pasta, onion, ground beef, paprika, sea salt, sour cream and some arrowroot to create the creamy sauce.
Last week I was working on recipes that are healthier than the boxed versions and can still be on the table in 25 minutes. The first one I came up with is this Homemade Hamburger Helper.
It was a huge hit with the kids, they ate every last piece of pasta left in the pot. It's a great meal for those hurried nights when you want to get something on the table without all the fuss.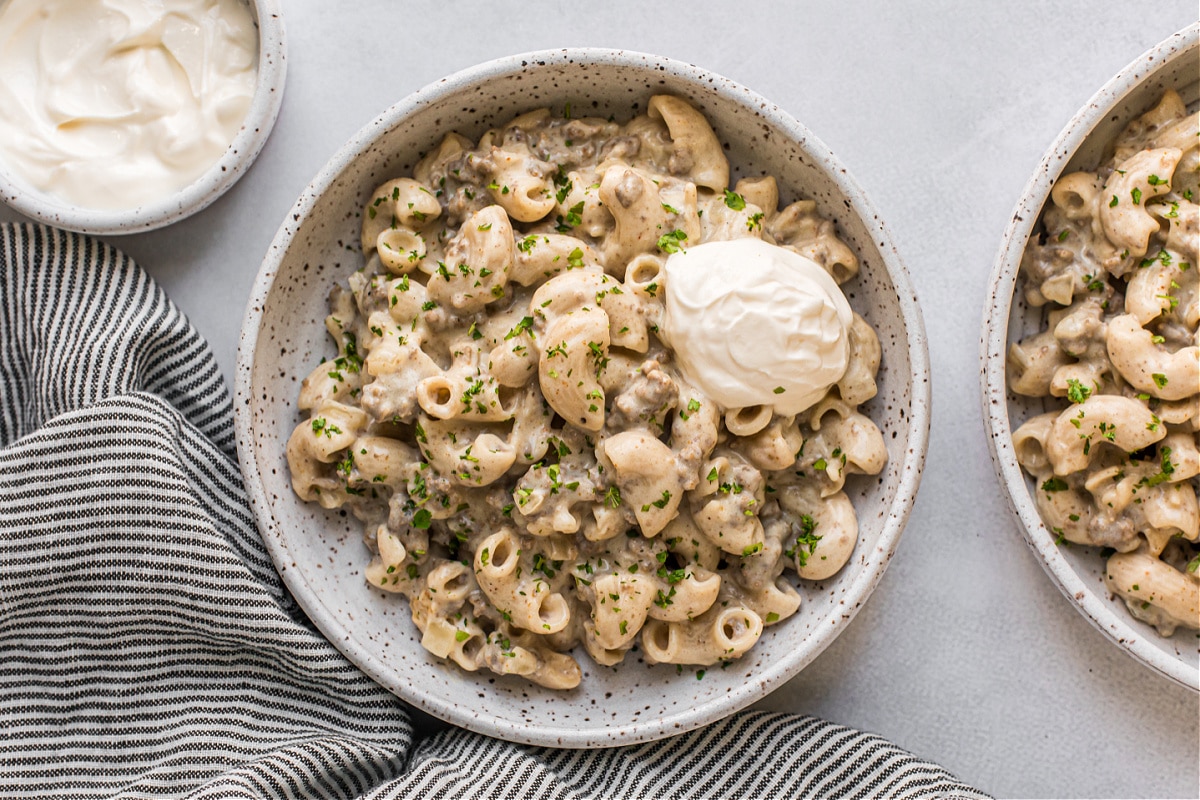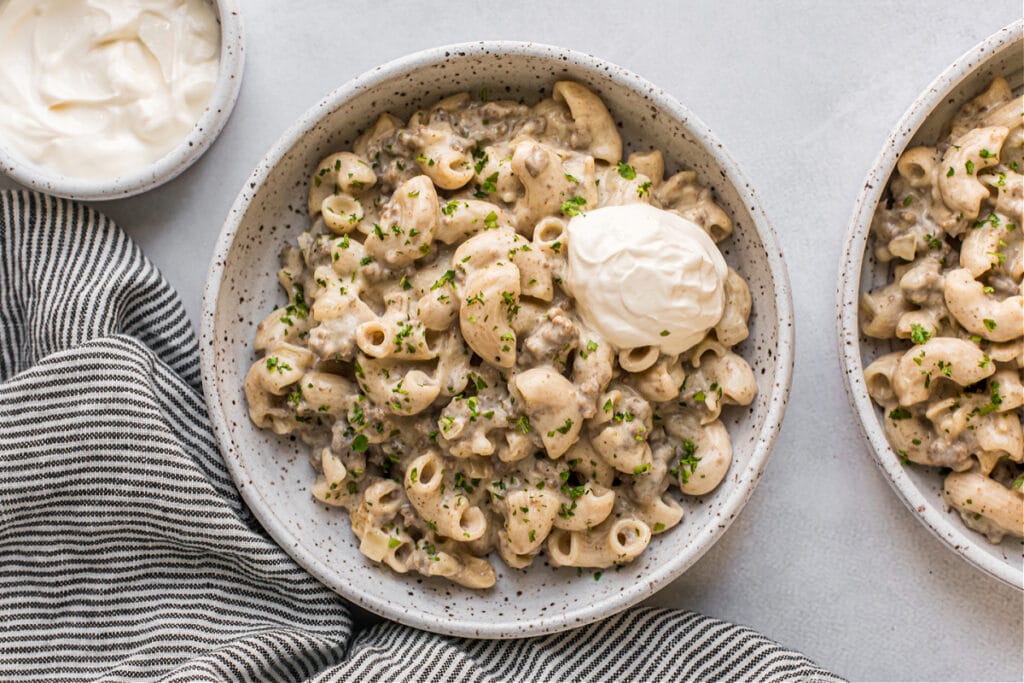 Make a quick salad while the pasta's cooking then scoop ladles full in bowls and top with a dollop of sour cream. Dinner. Done.
Carrie Vitt
Homemade Hamburger Helper
If you'd like to make this grain-free, here is the adaptation: Reduce the milk and cream to 1/2 cup each and omit the water. When you add the arrowroot, just sprinkle it over the mixture in the pot and then pour in the cream and milk. Simmer until thick, about 2-3 minutes. Stir in cheese and sour cream. Serve over grain-free pasta (such as Capellos) or serve over a baked potato.
10 minPrep Time
15 minCook Time
25 minTotal Time
Ingredients
1 tablespoon unsalted butter
1/2 yellow onion, diced
1 pound grass-fed ground beef
2 cloves garlic, minced
2 teaspoons paprika
2 teaspoons sea salt
1 1/2 cups hot water
1 1/2 tablespoons arrowroot
1 cup whole milk
1 cup heavy cream
8 ounces sprouted whole wheat or rice pasta elbows
1 1/2 cups cheddar cheese
1/2 cup sour cream or creme fraiche
Sea salt and freshly ground black pepper
Instructions
Heat the butter in a large saucepan over medium heat. Add onion and saute until soft, about 5 minutes. Add beef to pan, break apart meat, and cook until browned. Make a well in the center of the pan and add the garlic, paprika and salt. Stir in the middle of the pan until fragrant, about 30 seconds, and then stir spices into the beef mixture. Whisk together hot water and arrowroot and pour into beef mixture. Stir in milk, cream and pasta. Bring to a boil and then decrease heat to low and place lid on top. Cook for 10 minutes or until pasta is tender. Remove pot form heat and stir in cheese and sour cream. Season with salt and pepper to taste. Serve immediately.
7.8.1.2
3199
https://deliciouslyorganic.net/homemade-hamburger-helper-recipe-gluten-free/
Copyright 2016 Deliciously Organic