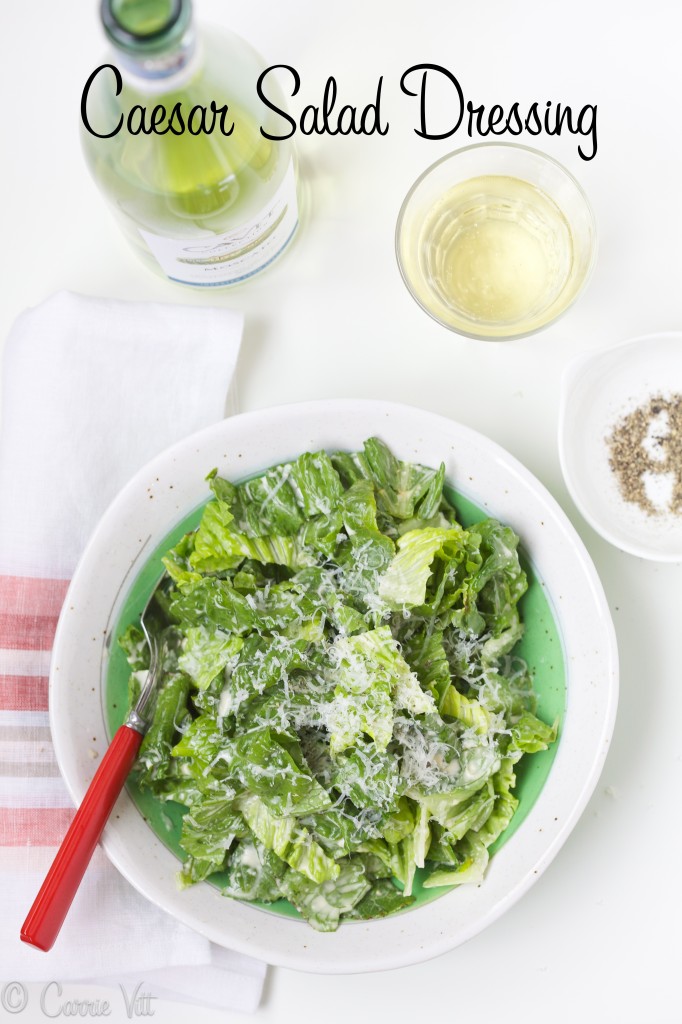 The other night, we hosted several families from our squadron for dinner. We had a great time getting to know some of the people who serve in our squadron. I served baked Shrimp Scampi, Caesar Salad, Grain-Free Cheesy "Cornbread", and Vanilla Ice Cream with Homemade Magic Shell. You can find the "Cornbread" recipe in the grain-free adaptations to my first cookbook, Deliciously Organic. One 11-year old guest said, "That was the best salad dressing I've ever had!" I was delighted he enjoyed a healthy salad in our home. Many asked for the recipe, so I'm sharing my Mom's Caesar Salad Dressing I've made since I was a kid. You can simply toss it with romaine and serve or add extra protein via grilled chicken or shrimp.
Caesar Salad Dressing
Traditional Caesar salad dressing is made with raw eggs. When using raw egg yolks, I buy organic, pastured eggs and wash the egg shell water before cracking (salmonella comes from sick chickens so make sure and use good quality eggs). If you're not comfortable with raw yolks, you can purchase pasteurized eggs at the grocery store.
Ingredients
1 large clove garlic, minced
1 1/2 tablespoons fresh lemon juice
1/4 teaspoon Worcestershire sauce
2 tablespoons red wine vinegar
1/2 teaspoon Dijon mustard
3 anchovy fillets (don't worry, the dressing won't taste fishy)
1 raw organic, pastured egg yolk
1/4 cup plus 1 tablespoon extra-virgin olive oil
1/2 teaspoon Celtic sea salt
Instructions
Place garlic and lemon juice in a bowl and let sit for 10 minutes (this will help take the "bite" away from the garlic). Pour garlic mixture into a blender. Add remaining ingredients to blender and blend until smooth. Adjust salt to taste. Serve.
7.8.1.2
3463
https://deliciouslyorganic.net/caesar-salad-dressing/
Copyright 2016 Deliciously Organic