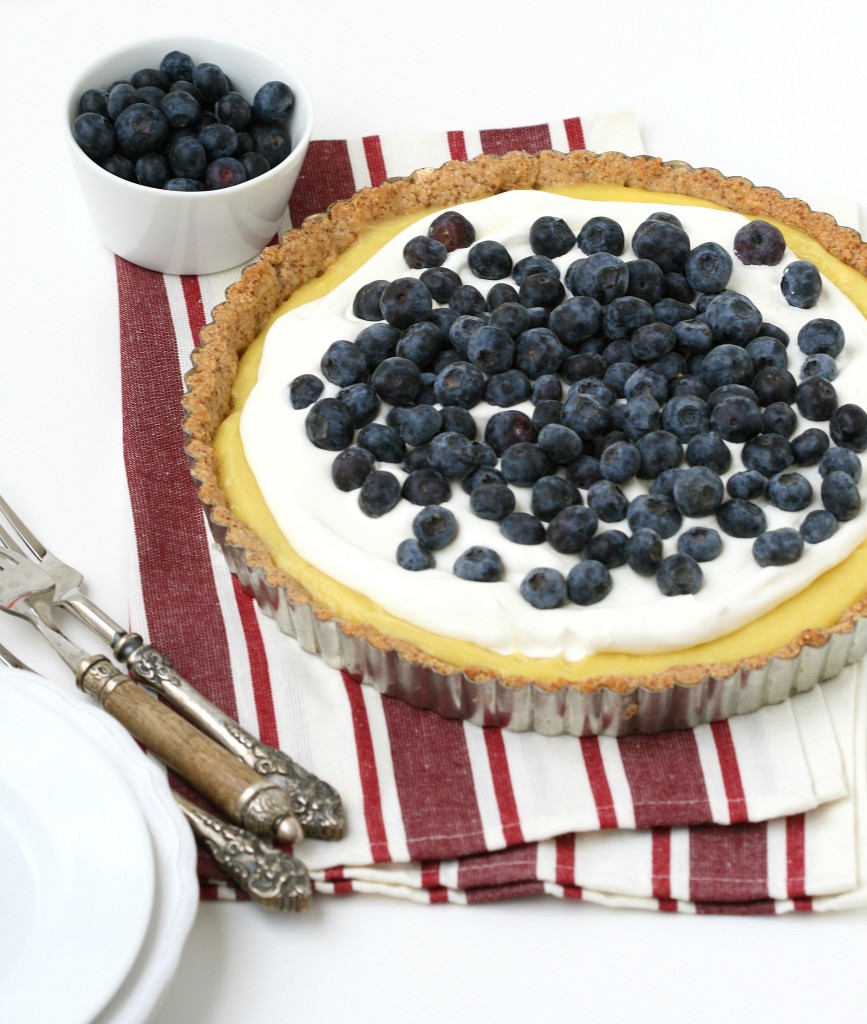 Life's moving a bit too fast for our family lately and we realized we needed some downtime to unplug and slow down. John and Molly invited us to their home – Apricot Lane Farm – just at the right time. There, we enjoyed the beauty of nature, listened to the wind blow through the trees, smelled the fragrant air, and relaxed.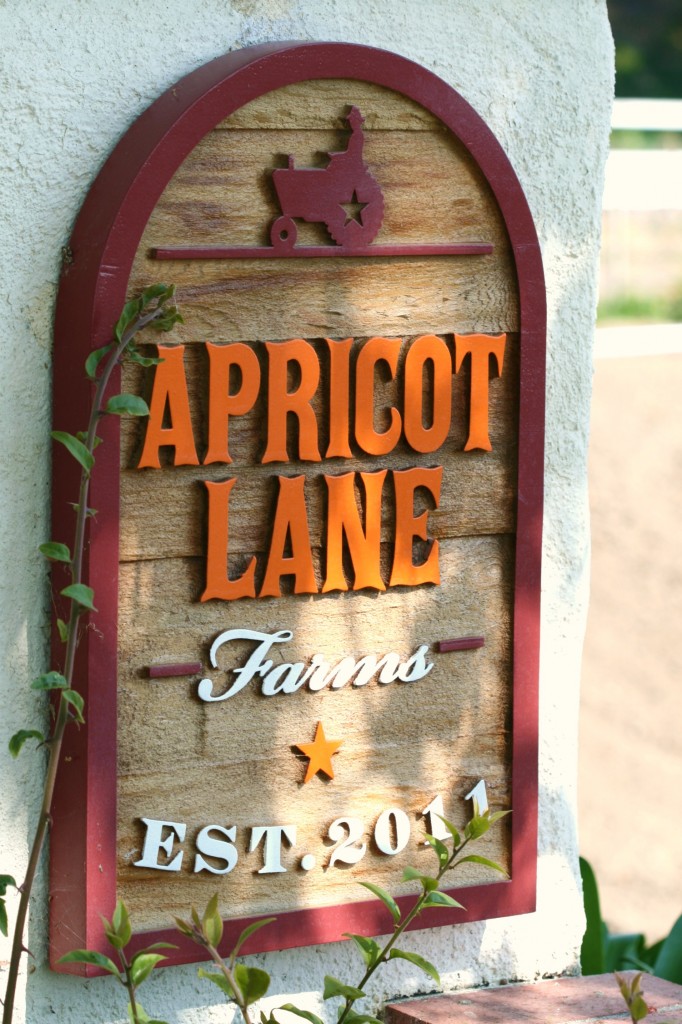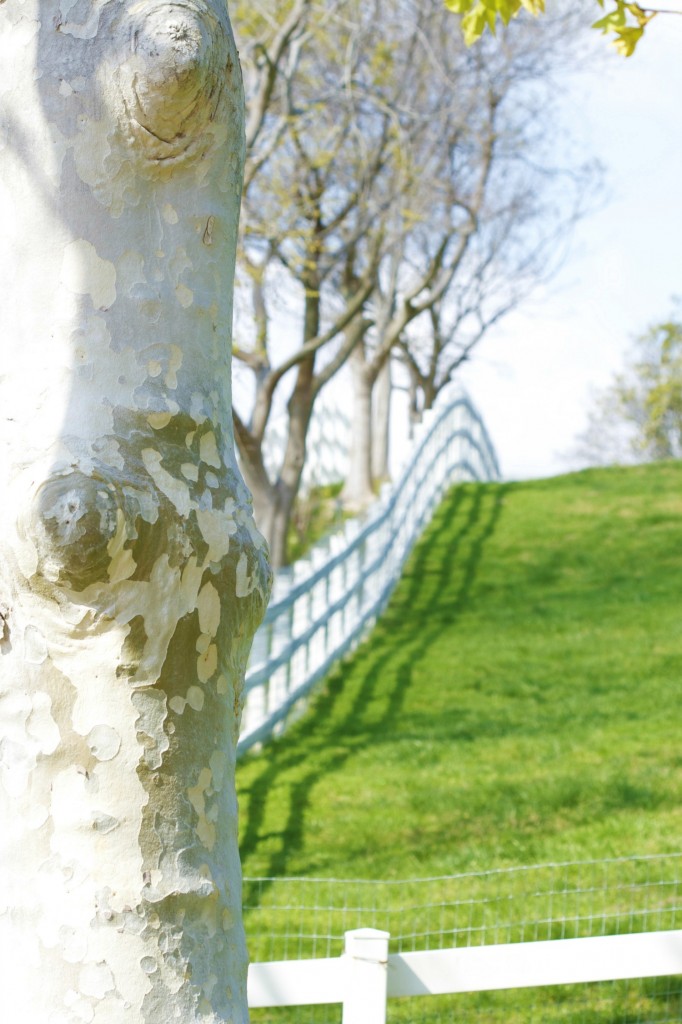 John and Molly have been working hard! Apricot Lane was founded last year and they're working to make the entire farm biodynamic. Picture 380 acres of Southern California beauty: beautiful rolling hills, fruit orchards, a vegetable garden, and now animals on the open pasture.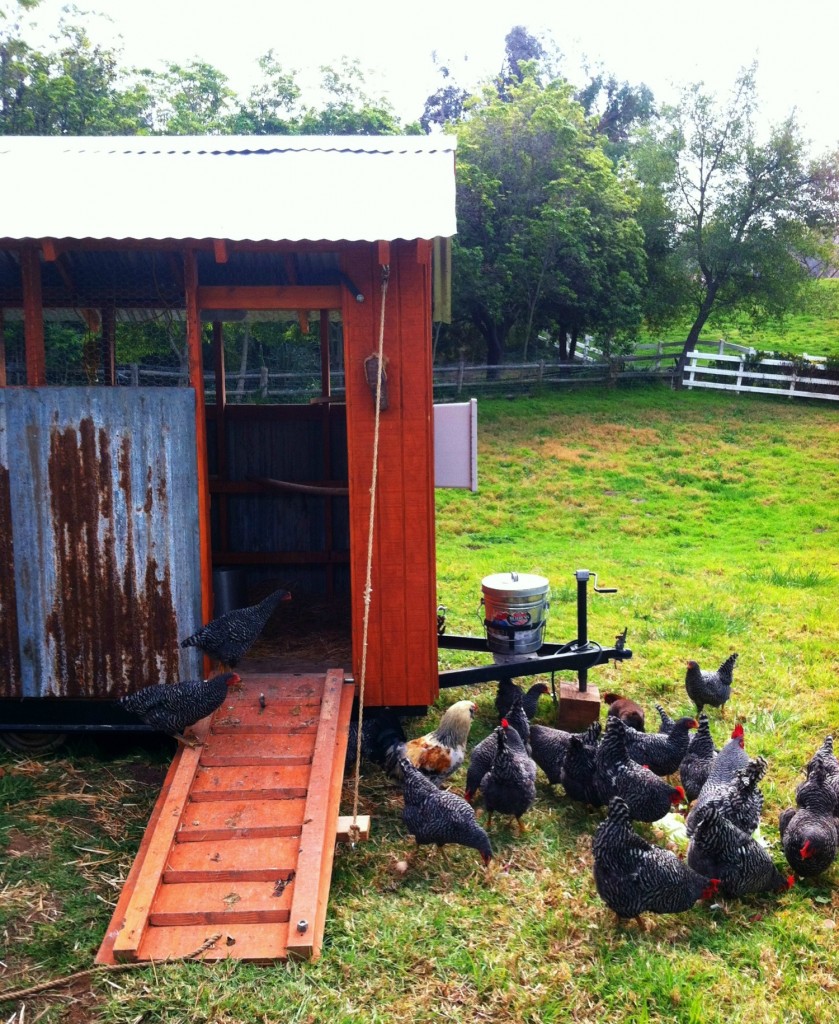 The kids loved feeding the chickens, gathering eggs, visiting the "shaggy cows", and petting the sheep.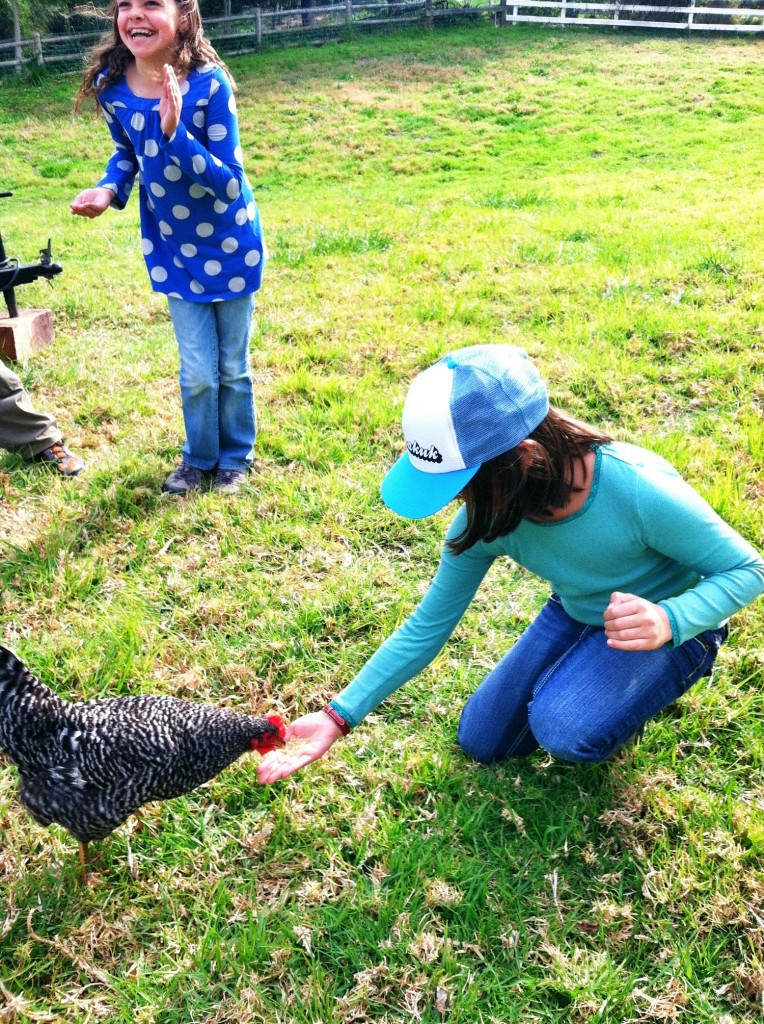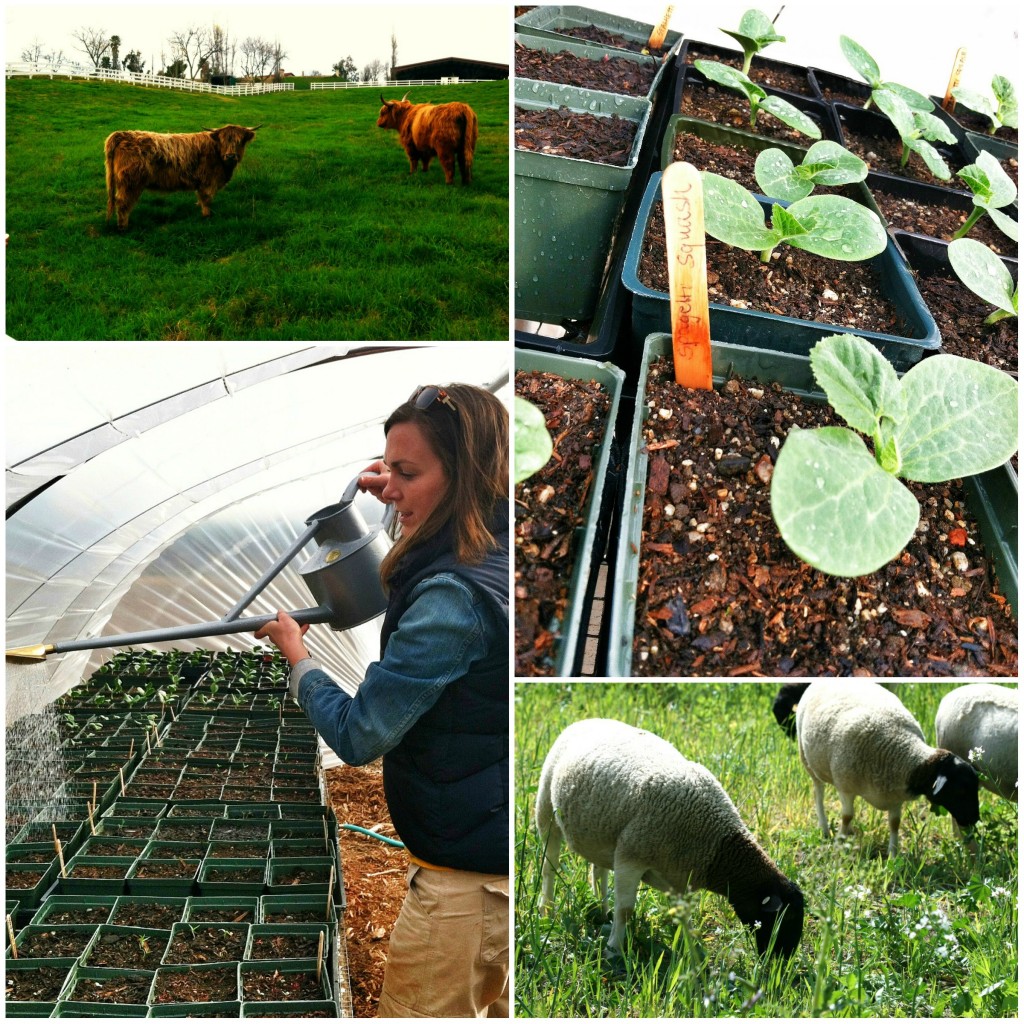 Molly is an amazing cook (love her blog!), so we ate very well. We enjoyed hamburgers with grilled red onions topped with a caramelized onion and garlic mayonnaise, kabocha squash fries, and roasted vegetables for dinner. The kids ate quickly, changed into their suits and ran for the hot tub while the adults lingered over a glass of wine by the fire. Good friends and good food – just the kind of evening we needed.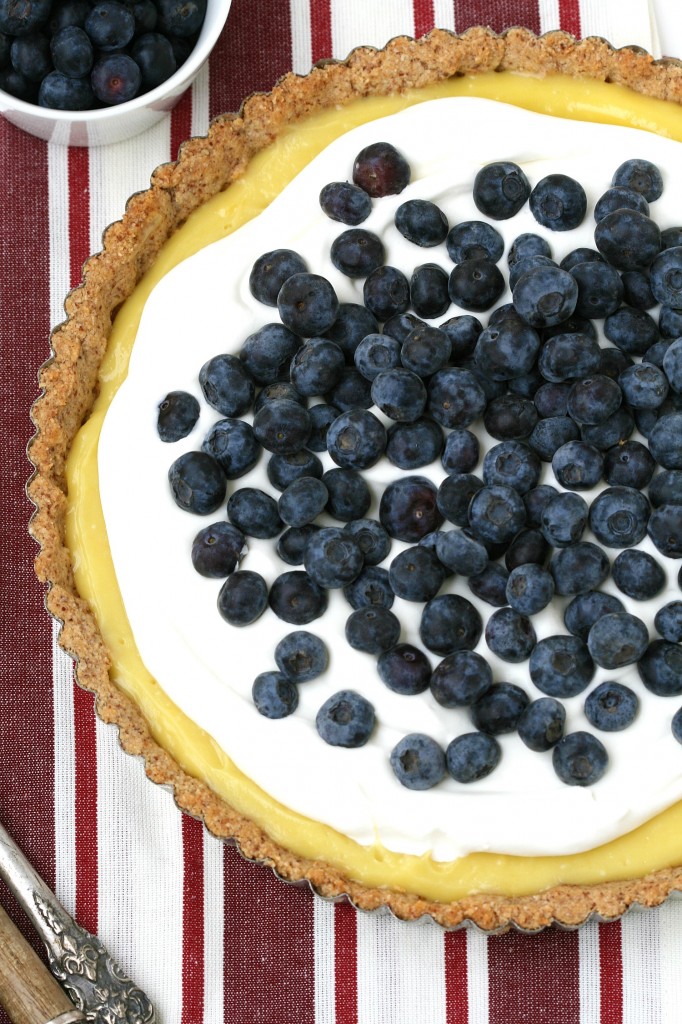 Some of us in the family are on the Gaps diet, so when Molly asked me to make dessert, I had to get creative. After I mulled over many possibilities, I settled on a lemon tart with a cookie-shortbread crust, whipped cream and berries. Please don't be jealous – we're already getting beautiful plump berries at the market and the lemons came off the tree that afternoon. I was honestly stunned at how delicious the tart turned out. Instead of sucanat or honey, I chose honey-sweetened coconut, dried and then ground in my spice grinder. It makes a pretty fantastic substitute for sugar.
Thanks to John and Molly for your warmth and hospitality. What a blessing for our family.
Lemon Tart (Gaps, Grain Free)
Filling adapted from Barefoot in Paris.
Ingredients
For the sweet coconut:

1/2 cup shredded unsweetened coconut
2 tablespoons honey

For the crust:

2 cups almond flour
2 tablespoons coconut flour
1/2 cup sweet, dried coconut
1/2 teaspoon unflavored gelatin (I prefer Bernard Jensen )
3/4 teaspoon Celtic sea salt
1 stick unsalted butter, cold, cut into tablespoons

For the filling:

1 stick (8 tablespoons) unsalted butter, room temperature
3/4 cup light honey (such as clover)
4 large eggs
3 large egg yolks
1/4 cup lemon zest (make sure the lemons are organic)
1/2 cup freshly squeezed lemon juice (about 6-8 lemons)
1/8 teaspoon Celtic sea salt

For the whipped cream (For Paleo or Gaps - you can whip coconut milk using

this method

):

1 cup heavy cream (or whipped coconut milk)
2 tablespoons honey
2 cups blueberries, or berries of your choice
Instructions
Preheat oven to 350ºF and adjust rack to middle position. Heat honey in a small saucepan over low heat. Pour over coconut and toss until coated. Spread evenly on a baking sheet lined with parchment paper. Bake for 8-10 minutes until just turning golden brown. Cool. Grind in a spice mill (or coffee grinder) until fine. (Can be stored in an airtight container for 8 weeks.)
Place almond meal, coconut flour, coconut, gelatin, and sea salt in the bowl of a food processor. Pulse 2-3 times to combine. Add butter and process until dough forms a ball. Place dough on a piece of plastic wrap, form into a 9-inch disk, and wrap tightly. Chill in the refrigerator for 30 minutes. Remove dough from wrapping and press dough on bottom and up sides of a 10-inch round buttered tart pan. Bake at 350 degrees F for 12-14 minutes until golden brown on the edges.
Place butter and honey in the bowl of a standing mixer. Beat butter and honey together until smooth. On low speed, add eggs and egg yolks one at a time, and then add the zest, lemon juice and salt. It will look curdled, so don't worry!
Pour the lemon mixture into a medium saucepan and cook over medium-low heat for 8-10 minutes until thick, whisking constantly. Cook, whisking constantly, until the mixture reaches 175ºF on an instant-read thermometer (don't let the mixture boil). Pour into a bowl and cool for 20 minutes.
Pour cooled lemon filling into baked tart crust. Cover with a piece of parchment paper, and chill in the refrigerator for 3 hours.When tart is chilled, pour cream into the bowl of a standing mixture. Whisk on high while slowly pouring honey into bowl. Whisk until soft peaks form. Spread whipped cream evenly over lemon filling and top with berries.
7.8.1.2
3365
https://deliciouslyorganic.net/lemon-tart-apricot-lane-farms/
Copyright 2016 Deliciously Organic